Original URL: http://www.theregister.co.uk/2012/04/30/review_lenovo_ideapad_u300s_ultrabook/
Lenovo U300s Ultrabook
'Ang on, lads, I've got an IdeaPad
Posted in Personal Tech, 30th April 2012 11:00 GMT
Review A body made from a single piece of aluminium. Uh-huh. A case held shut with magnets. Righty. A multi-gesture trackpad with a glass surface. Ohhh-kayyy, I think I can see what's happening here.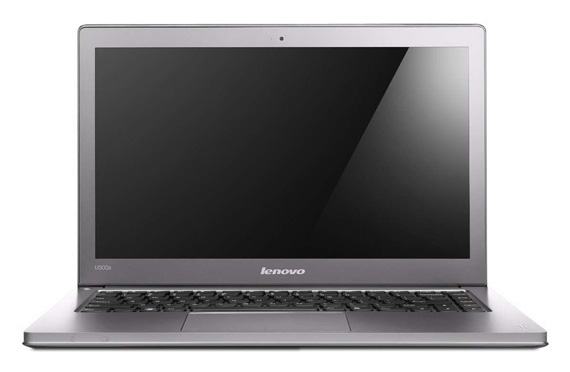 Lenovo IdeaPad U300s Ultrabook
With the IdeaPad U300s, Lenovo wants to convince you it has created the most attractive Ultrabook yet to hit the market. Certainly it compares well with Apple's MacBook Air, offering a more powerful processor and a decent spec for a couple of hundred pounds less. There is a classy feel to the IdeaPad U300s, from its understated front logo to the matt charcoal outer colouring. It is perfectly weighted so that it won't topple backwards when you lift the lid.
And - joy - there is a total absence of those unnecessary garish component stickers that you get on other computers: you know, the ones that leave sticky, fluff-gathering snot-blobs next to your keyboard after you try to remove them. In terms of clean, user-focused design, I rate this computer a 9.5 out of 10.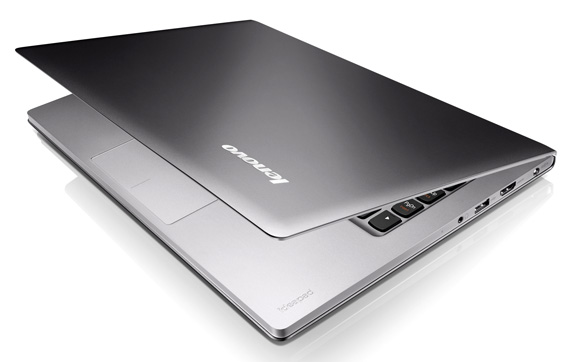 Sharp edges, single-piece aluminium case, glass-topped trackpad... remind you of anything?
The keyboard is pleasant to use, being responsive to a light touch but just bouncy enough to withstand the force of most heavy-handed typists. Better still is the beautifully smooth, 10.5 x 7cm trackpad. A simple notch line indicates optional left- and right-click areas, otherwise the full surface of the pad is clickable. Of course, you would almost never want to press down the whole trackpad to click it since you don't have to: the Synaptics ClickPad 8.0 drivers support touch-clicks and double-touch selections.
You can use two fingers for scrolling, pinch-zooming and rotation (the latter in a handful of programs only), and there is support for three-finger sweeps (to move forward or back) and four-finger flicks (to switch between programs or reveal the desktop). I found the touch sensitivity - which can be adjusted - just right for the way I like to work.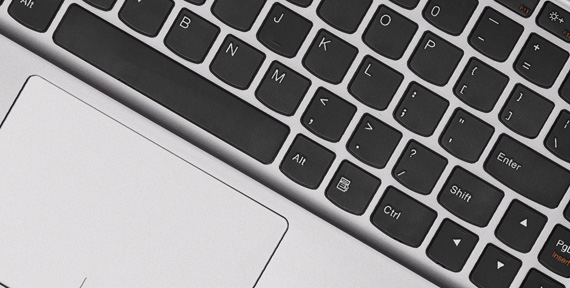 Lenovo's design is understated and tasteful
Screwdriver nerds may be interested to read that Lenovo says the IdeaPad U300s employs a novel cooling method in which air is sucked in through the keyboard by two fans and ejected through a vent on the left-hand edge of the computer. If this is what really keeps it cool, then I can attest that it works: the IdeaPad U300s barely got lukewarm. Also, the fan noise varies between almost silent and completely silent.
Light sleeper
The two USB ports (one 2.0, the other 3.0) are sensibly located on opposite sides of the body so that fat USB dongles and drives don't obstruct each other. This isn't great news if you use clunky old USB peripherals that require connection to two ports simultaneously in order to draw extra power, but it's probably time you ditched that kind of crap anyway.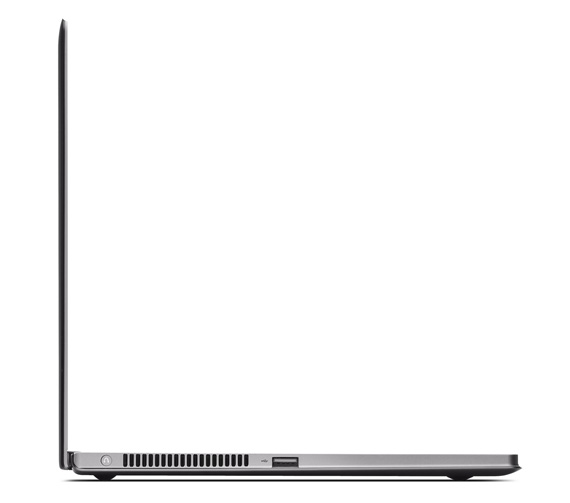 A pair of fans draw heat away from the main board from the vent on the left-hand side
I don't keep banging on about USB 3.0 for nothing, you know. There's an HDMI port but no VGA, which is a typical sacrifice in Ultrabooks. An audio in/out combo port rounds up the list of physical connections: no Ethernet, no third USB.
In common with many other Ultrabooks with SSD drives, the IdeaPad U300s has a hidden Windows 7 recovery partition. With an eye on keeping things user-friendly, Lenovo has fitted a little One Key Rescue button on the left-hand side of the computer, just around the corner from the system on/off button. Pressing One Key Rescue begins a full boot that pauses to let you access the recovery partition or access the BIOS settings.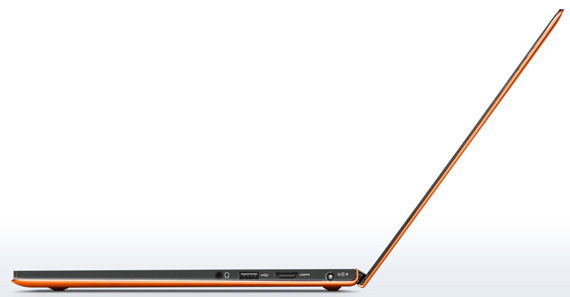 No time to sleep?
A normal boot, however, skips all of this time-wasting 'Hello, I'm a BIOS' nonsense, diving straight into Windows 7 with laudable speed. RapidBoot (booting the IdeaPad U300s from cold) took 32 seconds, while RapidStart (restarting after having closed the lid) took just 7 seconds.
It was impossible to time how long it took for the IdeaPad U300s to restart from Sleep mode (as selected from the Start bar) because it was immediate. I mean precisely that: having sent the computer to Sleep and left it alone for a few minutes, I pressed the power button and Windows was back up and running before I could trigger my stopwatch.
Benchmark Tests
PC Mark 7 Results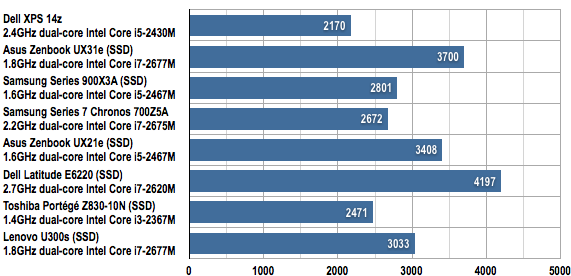 Longer bars are better
Powermark Results

Battery life in minutes
Longer bars are better
Power management looks pretty good on the IdeaPad U300s. Although Lenovo's preferred battery settings dim the screen brightness too much for my liking, I had no trouble playing around on this computer on and off throughout the day without seeing a 'battery low' warning.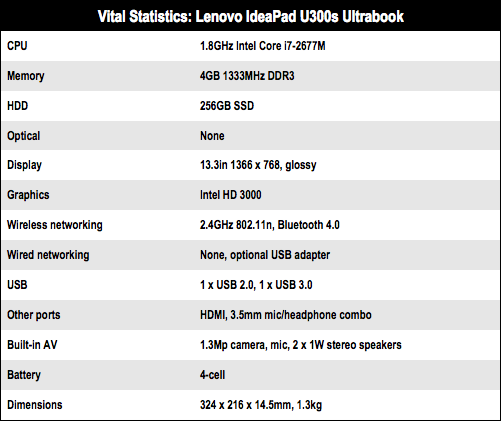 Taking charge
Lenovo claims the battery will last 8 hours between recharges, while the Powermark intensive battery life benchmark estimates this should be 4 hours. Realistically, unless you're a sit-down-and-work-non-stop kinda guy (or wasting your day watching cat videos on YouTube), I reckon you should get an easy 6 hours.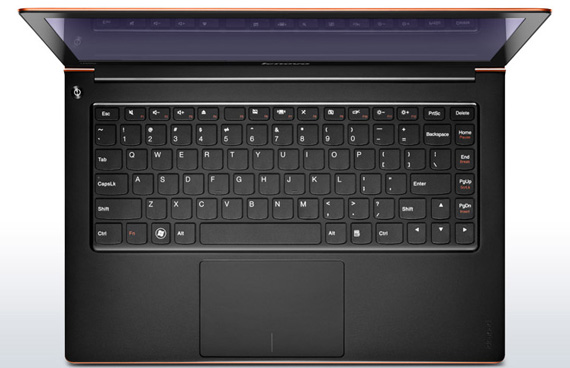 A water-resistant lining under the keyboard protects the computer from spills
One of Lenovo's claims is bang on, though: I plugged my fully depleted IdeaPad U300s into the mains and the battery was already 50 per cent charged within half an hour. A sneaky but effective recharge at Costa Coffee while enjoying a soya latte and shaking my head over a crumpled copy of the Daily Express has become a realistic proposition at last.
Before I go, let's round up the negative points.
First, I want to make it clear that the SRS Premium Surround Sound coming out of the built-in speakers is as tinny and shite as on any other portable computer. It's loud enough for a boardroom but it still sounds like it's coming out of a can.

Put the tape measure away – you can trust us on this.
Second, my test unit appeared to suffer from a minor manufacturing fault that prevented precision alignment between the display and the main body of the computer when closed. When turned on end, the closed IdeaPad U300s would gape open, the misalignment possibly weakening the strength of the magnetic closure system.
Third, the kind of results I saw in performance benchmark tests are not a great deal better than those I have achieved with certain Intel Core i3- and i5-based Ultrabooks. Asus's i5-based Zenbook UX21E, for example, actually performed better than the IdeaPad U300s, provides an additional VGA port and weighs less, yet costs just £850. Indeed, the benchmark results are baffling with some test cycles delivering figures below the 3000 mark and a boot from cold producing its best score.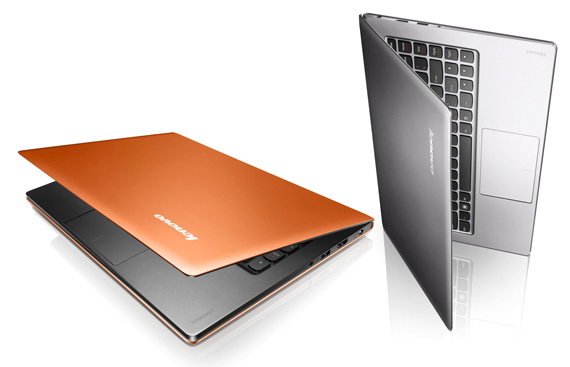 Lenovo's advertising makes a big show of a rather spanky orange edition... that is unavailable in the UK
Verdict
Once you've tried the IdeaPad U300s, you won't want to use any other computer... says one of Lenovo's Beijing-based engineers as part of the slick advertising for this smart Ultrabook. I don't happen to agree - well, I'd be nuts if I did because I'd be out of a job - but I can see why Lenovo is very proud of the U300s. It's a good computer that looks very stylish in an classy, understated manner, runs all day on a single battery charge and is pleasant to use.
My problem is that there are other extremely good alternatives already on the market, notably from Asus, Acer and hell yes Apple, and that's just the companies beginning with 'A'. There is more Ultrabook goodness to come this year, too, so I can't imagine the IdeaPad U300s holding its own for long. But even if it did, the price would have to drop significantly below £1,200 before it could be forcefully competitive. ®
More Notebook Reviews

Toshiba
Portégé
Z830-10N
Dell
Latitude
E6220
Asus
Zenbook
UX21E
Samsung
Series 7
Chronos 700Z5A
Acer
Aspire S3
Ultrabook