Original URL: https://www.theregister.co.uk/2012/04/30/fusion_io_q3fy2012/
Server flash-pusher Fusion-io is running out of steam
Record revenues ... but firm still reports $5m Q3 loss
Posted in The Channel, 30th April 2012 08:02 GMT
Fusion-io is something of a contradiction. If it's so hot why isn't it making bucketloads of cash? That's the question that comes to mind after hearing hot server flash product market Fusion-io reported a loss of almost $5m in its third fiscal 2012 quarter.
Fusion revenues were a record $94.2m – 40 per cent more than a year ago and $10.1m up on the previous quarter – meaning 12 per cent sequential growth. In fact the revenue number was higher than the $85.6m expected by Wall St.
Should we whisper it? Is Fusion-io's growth rate slowing? Look at the chart below. It actually looks as if it is accelerating after slight growth over the past three quarters. But then there's the forecast of no growth for the next quarter, as we shall see.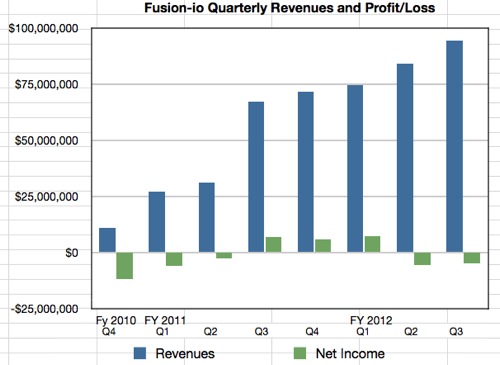 Andrew Nowinski of Piper Jaffray thinks there is a lot of growth to come: "Fourth quarter revenue is expected to remain flat (but still above the Street) due to the delayed qualification at the company's OEMs. These are typical growing pains of a young company in rapid growth mode. More importantly, the demand environment remains exceptionally strong as evidenced by the strong growth in both core and strategic customers."
He also reckons Cisco is likely coming on board in July as an OEM customer which indicates more revenues to come.
Income-wise Fusion is not doing well, with two quarters of losses after three profitable ones. Its CFO, Dennis Wolf, indicated why, saying: "We believe our vision is resonating with customers and strategic partners, and we will continue to prioritise the expansion of our market footprint along with investment in innovation."
Operating expenses this quarter were $4m, 100 per cent up on a year ago, and its gross margin went down to 52.1 per cent from 53.2 per cent.
The company wants growth more than profits at this stage of the game. It's also limited by having relatively few and relatively large customers as a major part of its revenue stream thus far. It can't easily ramp up sales through such customers, which include Apple and Facebook, and its OEM channels.
Revenue in the fourth quarter is expected to be around $94m again; no growth there then.
Nowinski was not fazed by this: "Management expects revenue to remain flat in [the fourth quarter], but stated this is not indicative of the demand environment. The bookings suggest demand is significantly higher, but due to the ongoing qualification process at OEM partners, Fusion-io must wait to recognise the revenue until the products actually ship. ... we view this qualification delay as typical "growing pains" of a young company in rapid growth mode."
It's a queer business when a quarter of no growth is equated to rapid growth. Investors will have to hope he's right. ®