Original URL: https://www.theregister.co.uk/2012/04/27/something_for_the_weekend_computer_nostalgia_is_bollocks/
Computer nostalgia is 10 PRINT 'BOLLOCKS'
Memory wobblier than a Sinclair Rampack
Posted in Personal Tech, 27th April 2012 11:00 GMT
Something for the Weekend, Sir? "The music is reversible but time is not. Turn back! Turn back! Turn back! Turn back!"
A good sign that you've reached middle age - apart from making mid-1970s ELO references - is when you discover a colleague's date of birth and can remember exactly what you were doing on that day.
The sign of old age is almost the same, except that you can't remember.
So while I still have a few marbles left, I thought I would take the opportunity of Reg Hardware's Retro Week by reminding colleagues young and old that nostalgia is a fake.
On my first day working at a certain free daily morning newspaper in 2007, I was struck by a large whiteboard over the news sub-editors' desks. Literally, I was struck by it because it hadn't been fixed to the wall properly. Thank you, thank you. I'm here all week.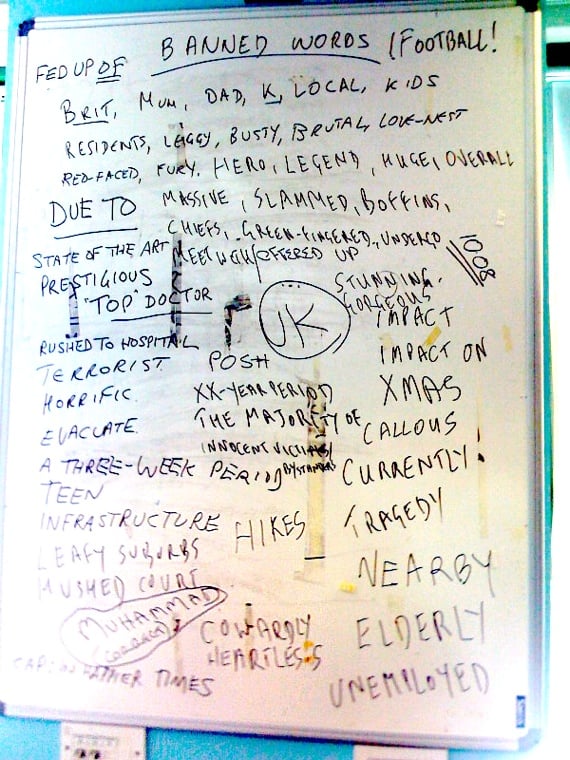 No, of course, I was struck emotionally by what was written on the whiteboard: someone had written 'Banned Words' at the top and begun listing journalistic clichés that had to be avoided - 'like the plague', if you like.
The multitude of suggestions that filled the board, chaotically inserted all in different handwriting, suggests that the invitation was a red rag to a... Ah, you won't catch me out that easily.
One of the clichés to be avoided was 'in happier times', which I suspect to be the official catchphrase of the Daily Mail letters page. 'In happier times' is a cliché which implies that things were better in the past.
Ah, the past, it was fantastic, wasn't it? We were much happier then, weren't we? Those were happy, happy times, you know, what with being in the past and all that.
Utter cock.
When the Sinclair ZX Spectrum was launched 30 years ago, I had no money, no hope, no future and - most importantly of all - absolutely no chance of ridding myself of a virginity that threatened to persist for the remainder of my teenage years and beyond. 'In happier times', my arse.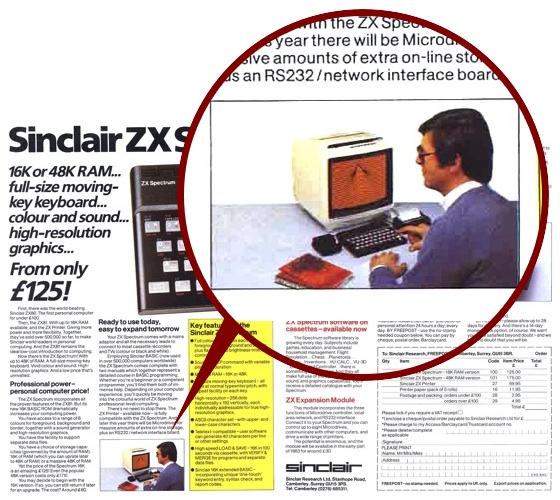 Sinclair's Spectrum: for Simon Bates wannabes...
The problem is that when I began reminiscing about the Spectrum, I fooled myself into believing that I had actually seen one at a younger neighbour's house shortly after it came out. After a call to check, it was pointed out to me that the kid down the road couldn't have afforded the money for a Spectrum on his paper-round earnings.
In fact, he had a ZX81, for which he paid £35, the other £35 being funded by his parents, and this was a year earlier in 1981.
The ZX81 had to be the worst waste of £70 ever devised. It was a lot of money back then. It still is, when you consider that all you could do with this 'home computer' was spend hours watching a cassette tape fail to load a game again and again until it was time to go home for tea.
Computers made a questionable impact on me at the time. There was a room full of Commodore Pets at school, but we only used those for printing out dot-matrix Ascii art images of Snoopy.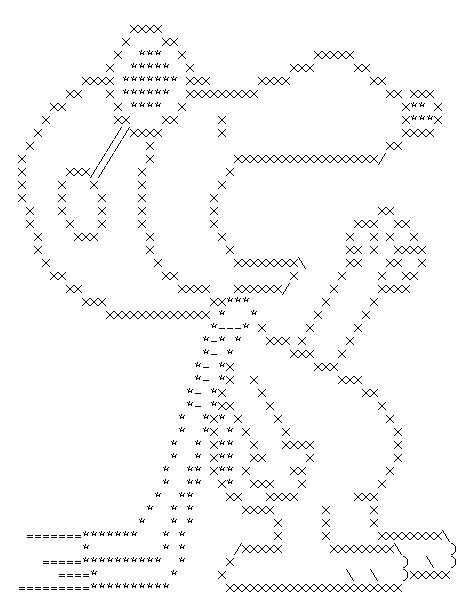 With apologies to Charles M Schultz
The school even had a link to a local mainframe in Bradford but the teacher wouldn't let us touch it after a fellow pupil was implicated in 'the Space Invaders incident' in which a pirated copy of the famous game was found to be playing incessantly on data processing screens across the city.
Fancy a POKE?
This was a time, I should point out, when schoolchildren like me would go into electrical shops such as Comet on the prowl for home computers on display that we knew the shop assistants didn't know how to operate. We would sneakily tap in the following code...
10 PRINT "BOLLOCKS"
20 GOTO 10
30 RUN
... and then literally run. Snigger. Happier times, eh?
Despite this, and although the ZX81 was clearly a pile of shite, I do remember dearly desiring a Spectrum. Why? I clearly didn't know how to program and my family only had one TV set, but this little computer looked just fantastic. It was small! It had a rainbow stripe! It had rubber keys! It looked even better than my eldest brother's brick-like Pong console and that had an awesome fake wood-grain formica finish.
My desire grew to immense proportions (ahem) the year after its launch when Pete Shelley released his second solo album, 'XL-1'. The last track on side 2 was a program for the ZX Spectrum.
Here's what it said on the front cover of the album: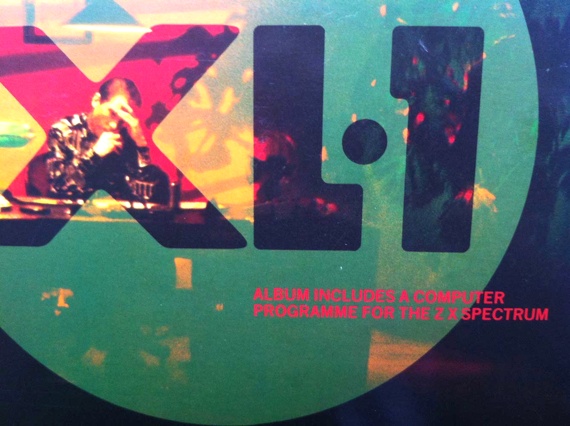 This is what it said on the back: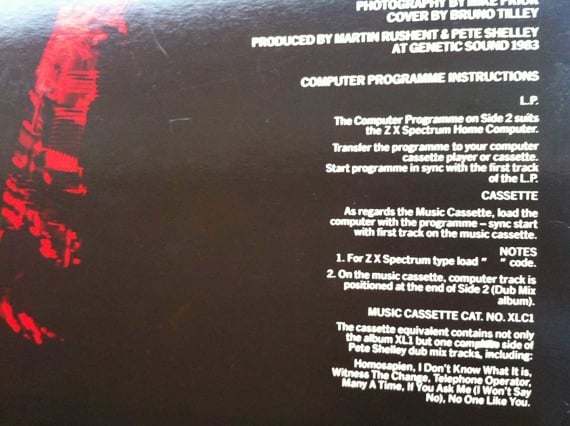 Here you can even see the track on the LP itself! Amazing!!!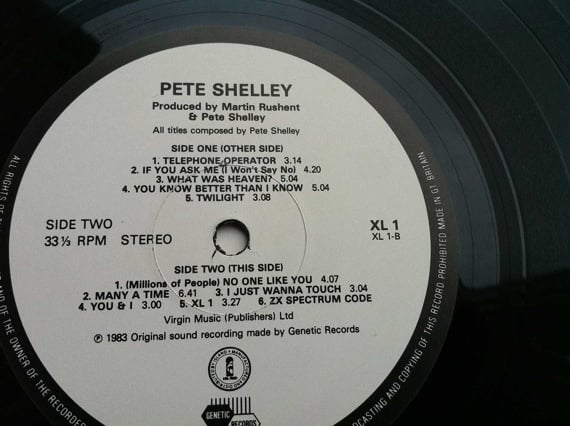 All I had to do was put a cassette recorder mic next to a speaker on my home hi-fi and tape the hideous screeching of this track, and load it back into a Spectrum - plugged into my family's only TV, of course - whereupon I was supposed to begin playing the album - the hi-fi was in a different room from the TV, by the way - and then launch the program as soon as the first song kicked in. I would then be treated to a visual feast of colourful animated lyrics that performed in time with the music.
Unfortunately, I didn't own a Spectrum. In 1983, I still had no money, no hope, no future and my virginity still resolutely intact. OK, I had a little money as I worked at Leeds-Bradford airport as a baggage-handler all summer before entering university, but I spent it all in record shops.
To this day, I have yet to experience this Spectrum program alongside Pete Shelley's synth-pop classic. Apparently, it looks like this…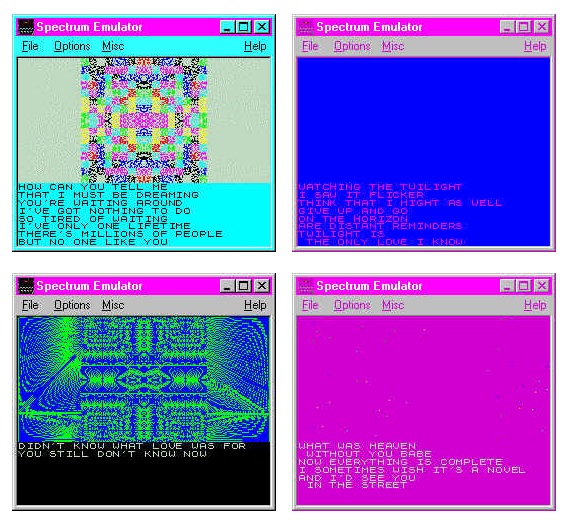 …which to my eye still suggests it could be a fabulous experience on a par with spending an evening amid mixed-sex company in a student flat watching Jane Fonda's Barbarella at midnight while toking.
Hmm, maybe that's another false memory. I was never hip or sexy - my mullet saw to that. It was decades before it occurred to me that Pete Shelley's Homosapien was a song about gay love.
"Homosuperior, in my interior..." Who'd have guessed?
Despite never having owned a Spectrum or even tried to find a way of getting the 'XL-1' audio program into a Spectrum emulator in more recent years, I am beginning to suspect that my false nostalgia for this little computer that I loved because I thought it looked good has remained a subliminal influence in my life.
For example, I wasn't working at the aforementioned newspaper as a reporter or an editor, but as an IT training contractor. And you know what I'm like with computers.
Here's a photo of my current Oyster travelcard wallet: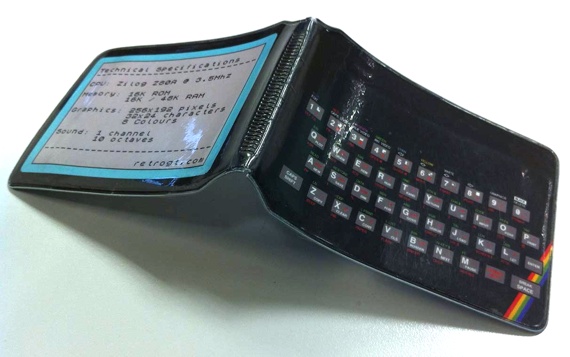 It was a birthday present from my daughter. That says it all, really. ®
Bootnote I said it would happen, you knew it would happen. I bought an Apple iPad 3 last weekend. I now invite trolls to abuse me below. Lord knows, I deserve it.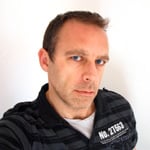 Alistair Dabbs is a freelance technology tart, juggling IT journalism, editorial training and digital publishing. He regards all his experiences with computers in the 1980s as formative, including those after-work hours slaving over a monochrome IBM PC at his first job in London, trying to help Larry buy "lubbers".