Original URL: https://www.theregister.co.uk/2012/04/26/retro_week_product_roundup_12_1980s_classic_micros/
Twelve... classic 1980s 8-bit micros
6502 and all that
Posted in Personal Tech, 26th April 2012 06:00 GMT
Retro Week Roundup

Those were the days, my friend. And, indeed, we thought they'd never end, as we hopped, skipped and blooped our way through Jet Set Willy's mansion, traded between distant worlds in Elite and yet still found time to hack up our own arcade clones in any of a dozen variations of the Basic programming language.
Those of us who hadn't moved on to machine code, that is. Oh, how we threw about our LDA #45s, OUT (C),Ds and CMP $4400,Xs with joy and abandon.
And in a world before the banality of standardisation become commonplace, all our micros were wonderfully incompatible. The Dragon 32 would blow fire on a Vic-20 cassette, the BBC Micro sneer at software coded for the Spectrum.
They're all gone now, of course, out-evolved by IBM and its imitators, and by Apple; by Windows and the Mac OS. Only Linux still holds some of that 80s sense of new worlds waiting to be discovered. Perhaps Raspberry Pi will allow us to return to them.
In the meantime, here are ten of the micros that opened our young eyes to the possibilities of tech.
Acorn Atom

Acorn co-founder Chris Curry had quit working for Clive Sinclair to pursue his goal of creating a computer kit for enthusiasts. The result was the Acorn Series 1 motherboard, launched in March 1979. Acorn's next machine, it was decided, needed to a complete system, albeit one they expected users to assemble themselves.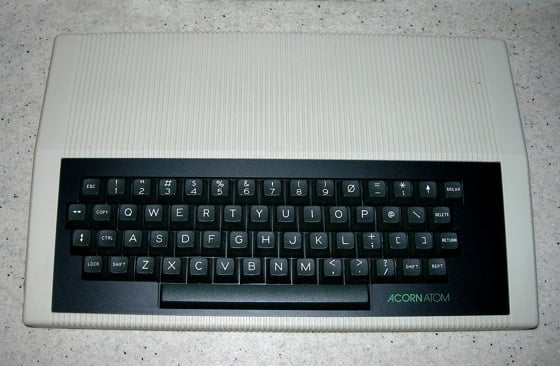 Source: Archivus
The result was the Atom, essentially a revised Acorn Series 1 - which had been designed by Sophie Wilson - wrapped in a casing styled by Alan Boothroyd. The team originally wanted a membrane keyboard, of the kind Sinclair had put on its ZX80 kit in early 1980, but Curry insisted on a full keyboard as a differentiator.
The Atom was a hit, with more than 10,000 sold during its lifespan. But these were the very early days of the UK home computing scene, and better was to come.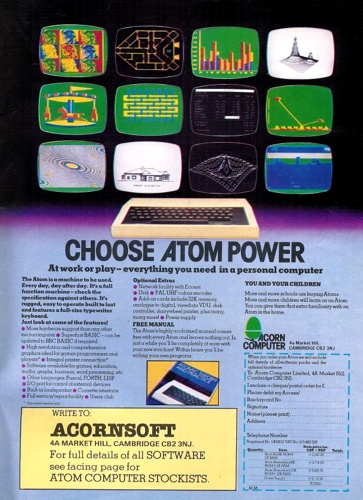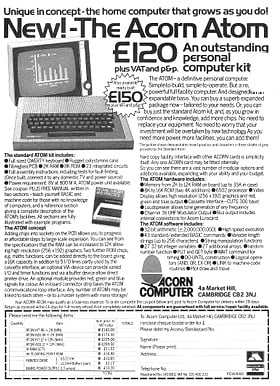 Release Date March 1980
Price £120 (kit) £170 (pre-built)
CPU 6502 @ 1MHz
Memory 2KB
Developers Chris Curry, Alan Boothroyd, Chris Turner, Sophie Wilson, Nick Toop
Amstrad CPC 464

Alan Sugar's Amstrad was a well known maker of cheap hi-fi kit in the late 1970s and early 1980s, but the firm didn't jump into the computer business until much later than others had. Perhaps that's why it survived so much longer than its rivals did - it even bought out Sinclair Research, in 1986.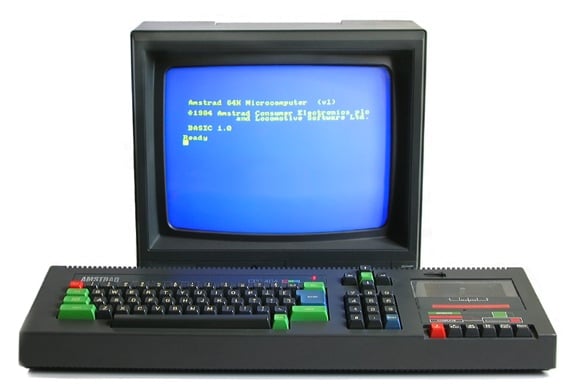 Source: Wikimedia
That came later - first, in 1984, Amstrad released the CPC64. Based on the Z80A chip clocked to 4MHz, it had 64KB of memory, a full-size keyboard and - unusually for the time, but in tune with Amstrad's passion for integration - a built in cassette player. Later versions gained more memory and 3in floppy drives.
The CPC 464's low price, familiar brand and a rapidly growing library of games software ensured success. Punters may have poo-poo'd Amstrad's hi-fi but they liked its computers. Over the lifetime of the CPC line, some 3m machines were sold. The CPC 464 was discontinued in 1990.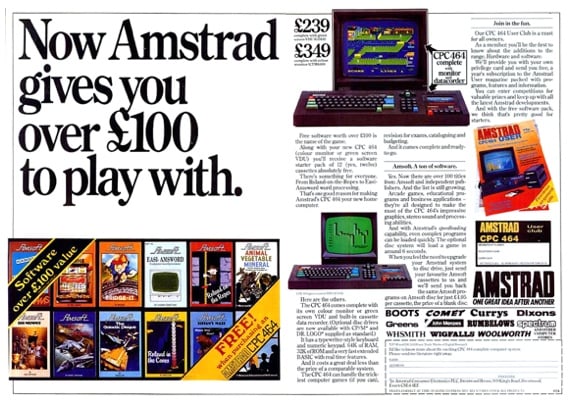 Release Date March 1984
Price £249 with mono monitor, £349 with color screen
CPU Z80A @ 4MHz
Memory 64KB
Developers Amstrad's Bob Watkins, Ambit's Roland Perry, MEJ Electronics' Mark Jones, Locomotive Software
BBC Micro

Designed and built in just a few days, the prototype computer created by Acorn as the follow-up to its Atom would go on to win a key BBC contract to produce a machine to tie in with the Corporation's computer literacy project. Refined, the prototype became the BBC Micro, one of the most powerful, most desired but priciest home micros of the early 80s.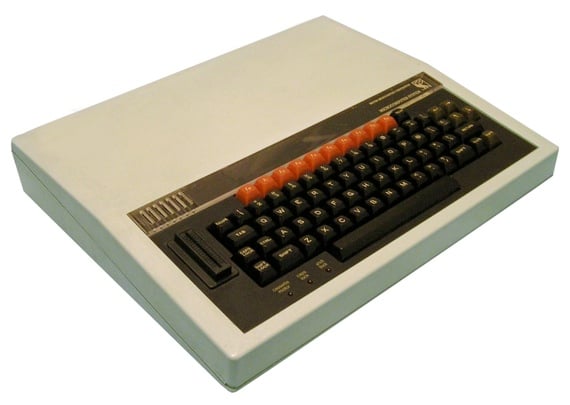 The BBC Micro would become the computer most likely to be found in schools - closely followed by Research Machines' 380Z and 480Z - though it never achieved quite the mass following that arch-rival Sinclair's Spectrum garnered.
But with support for networking, a user-definable IO port, the ability to connect to other CPUs - including an early Risc chip that would become the first ARM part - a Rom chip slot and eight graphics modes, including Teletext, it was tech'd up to the hilt.
Check out our full history of the BBC Micro here.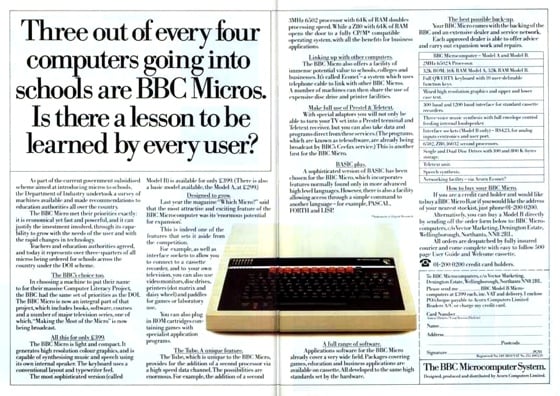 Release Date December 1981
Price £299 (Model A) £399 (Model B)
CPU 6502 @ 2MHz
Memory 16KB (Model A) 32KB (Model B)
Developers Acorn's Chris Turner, Steve Furber, Sophie Wilson, Nick Toop; Cambridge University's Ramanuj Banerjee
Camputers Lynx

One of the less well-remembered early 1980s UK home computers, not least because fewer than 30,000 were sold. Designed by John Shireff, the Lynx was launched in 1983 with 48KB of memory, a 4MHz Z80A processor. Models with 96KB and 128KB - and slightly faster CPUs - were launched too, as was a 5.25in floppy drive. All of them ran exclusively in a 256 x 252, eight colour graphics mode at a time when most other machines booted into a low-res text mode, reserving hi-res graphics for games.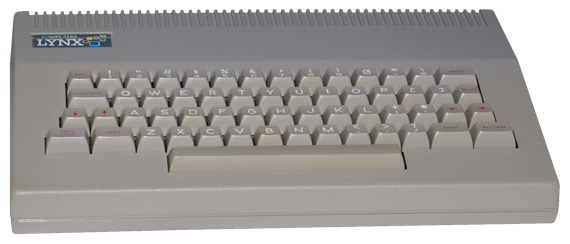 Source: The Retro Bytes Portal
Yet games were the Lynx's problem: it barely had any. The maching was pricey too, and so punters opted for better-marketed, cheaper alternatives. In such a cut-throat market, Camputers proved unable to survive and collapsed 18 months after the Lynx's launch. The machine was acquired by Aniston Technology six months later, but a mooted re-launch never took place.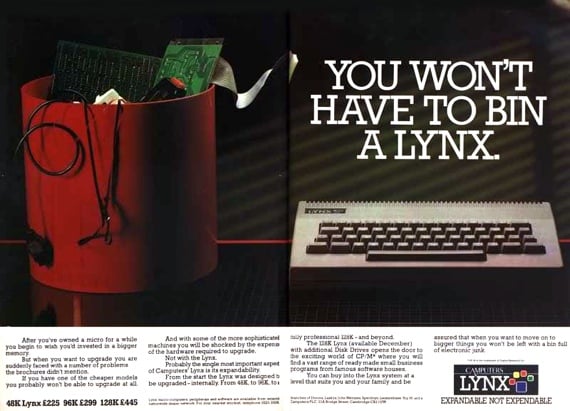 Release Date June 1983
Price £225 (48KB model) £299 (96KB model)
CPU Z80A @ 4MHz (48KB model) Z80A @ 6MHz (96KB Model)
Memory 48, 96 or 128KB
Developer Camputers' John Shireff
Commodore 64

US computer giant Commodore planned two possible successors to its popular 1981 machine, the Vic-20: an all-out games machine, the Max, and a higher-spec beast for more power-hungry users. Yes, most 1980s computer users played games, but the Max was a flop, but the Vic-40 - soon restyled the Commodore 64 - was anything but. It went on to be much more popular than its predecessor and possibly the most popular home computer of its era.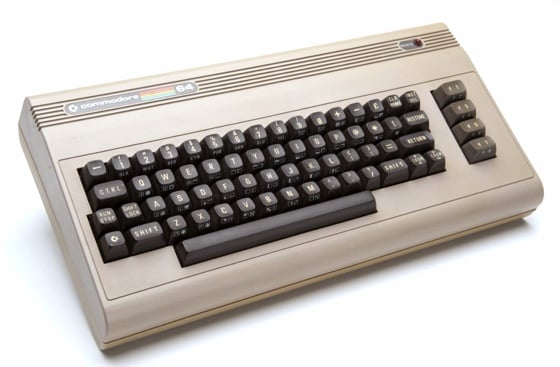 Like the Vic-20, the 64 was a hit with gamers, thanks to its powerful sound system and then novel sprite graphics technology. Yet it was strong enough to stand up against more 'serious' machines like the Apple II, IBM PC and Tandy TRS-80, against which Commodore pitched the machine too.
It led directly to the first portable colour computer, the Commodore SX64, and other follow-ups, but was finally discontinued in 1989. By then Commodore had the Amiga...
Check out our full history of the Commodore 64 here.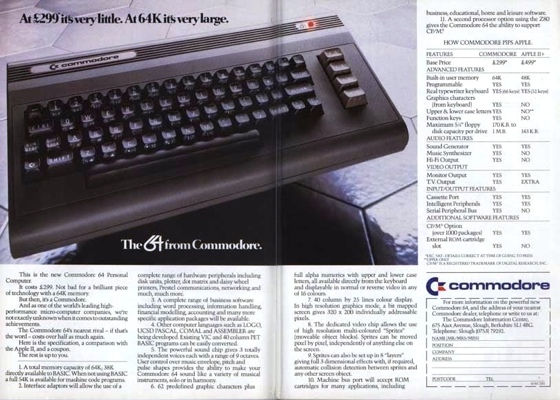 Release Date June 1984
Price £299
CPU 6510 @ 1MHz
Memory 64KB
Developers Commodore's Robert Russell, Albert Charpentier; MOS' Bob Yannes
Commodore Vic-20

Commodore has made its name with the business-oriented Pet, which by 1980 was still selling well in the company's home, the US. But company boss Jack Tramiel was worried that Japanese firms would break into the market with cheaper, more colourful machines. His solution: beat them to it.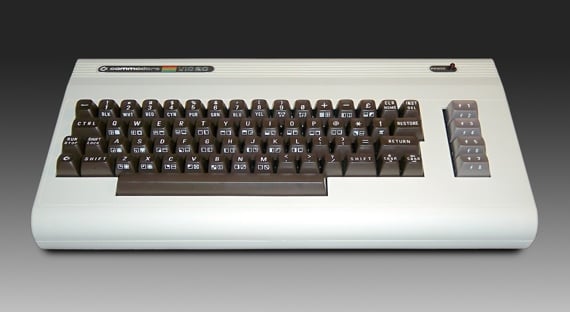 Source: Wikimedia
The result was the Vic-20, based on chips from Commodore's semicondutor spin-off MOS and designs from the firm's in-house hardware team. Tramiel naturally launched it in Japan first, as the Vic-1001, in September 1980, before introducing it to a Stateside audience in January 1981. It shipped over here later in the year.
The Vic-20 proved hugely popular, with more than 2.5m of them shifted in its four-year lifetime. Here in the UK, despite its colour capability and full-size keyboard its struggled against the Sinclair ZX81, available for half the price.
Release Date January 1981
Price £199
CPU 6502A @ 1MHz
Memory 5KB (3.5KB used)
Developers Commodore's Chuck Peddle, Bill Seiler, Albert Charpentier, John Feagans, Yashi Terakura; MOS' Bob Yannes
Dragon 32

Thanks to its use of Microsoft Color Basic, the Welsh-made Dragon was a near duplicate of Tandy's TRS-80 Color Computer but with a non-calculator keyboard and better ports. It had 32KB of Ram and Motorola's 0.9MHz 6809E CPU, more sophisticated than the popular Z80A and 6502 chips, but much less well known by UK programmers.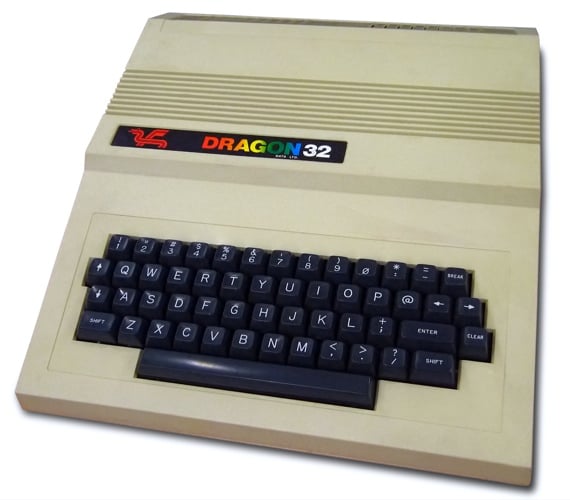 Source: Wikimedia
The upshot: a paucity of home-grown games. Though one firm, Microdeal, imported a stack of US titles, there was a real sense among buyers that the Dragon was a machine with little software.
Even so, Dragon Data, went on to sell a fair few of its machines - 40,000 by 1983 - and launched a follow-up 64KB version in September 1983. But Dragon Data's owner, toy maker Mettoy, had money troubles. Despite a government cash injection, DD was eventually acquired by GEC at the end of '83. GEC pulled the plug in May 1984, right after announcing a portable version of the 64 and a Dragon with two CPUs.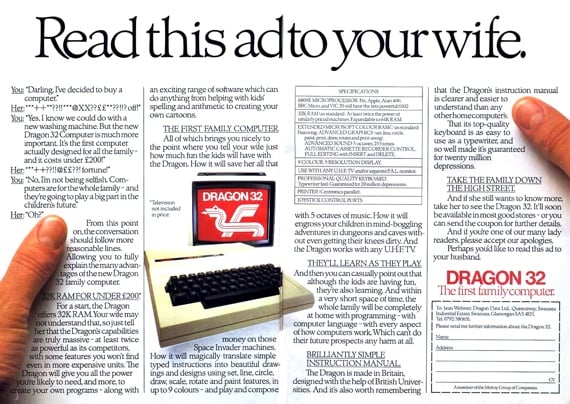 Release Date August 1982
Price £199
CPU 6809E @ 1MHz
Memory 32KB
Developers Hardware: Lyndon Davies. Software: Microsoft, Duncan Smeed
Grundy New Brain

The ill-fated NewBrain first appeared in prototype form in 1980, though its story goes back to 1978. It wouldn't be released until 1982.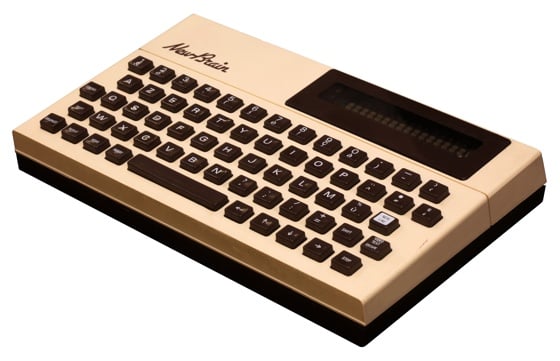 The machine started out at the then government co-owned Sinclair Radionics as the successor to the MK14 computer kit the company released in 1977. Radionics was broken up and the computer project ended up at another goverment firm, Newbury Labs, which made display screens. It was pitched to the BBC for the Corporation's computer literacy project, but it was rejected.
The NewBrain prototype eventually left Newbury for Grundy, in 1981, where it was queued up for production the following year.
The NewBrain was unusual in that it sported a 16-character calcultor-style display on the AD model, though it could also be connected to a TV or a monitor. If you had the money, you could pack up to 2MB of memory into it.
Impressive, but not enough to win buyers in 1982, not when it was a monochrome machine in an era of colour computing. Worse, Grundy punched out more NewBrains than it could sell and in 1983 was forced to cut its losses.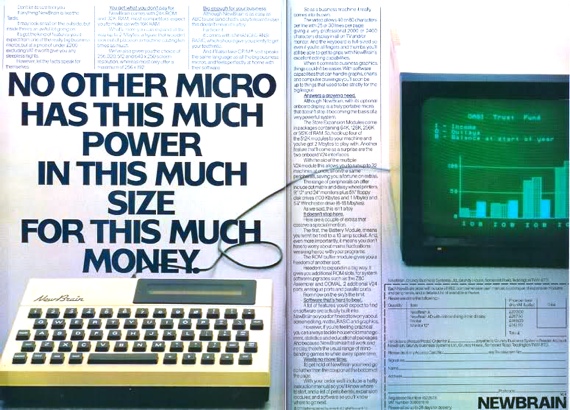 Release Date July 1982
Price £233 (Model A) £267 (Model AD)
CPU Z80A @ 4MHz
Memory 32KB
Developers Mike Wakefield, Basil Smith
Jupiter Ace

With the designer of the Sinclair ZX Spectrum's electronics and the writer of Sinclair Basic behind it, you'd have thought the Jupiter Ace couldn't fail to succeed.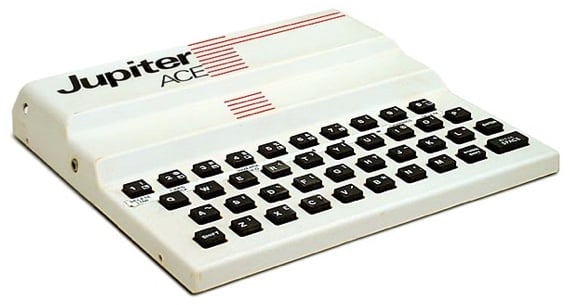 But Ricard Altwasser - the hardware guy - and software wizard Steve Vickers made two mistakes. In place of the then increasingly well known Basic programming language, they implemented "revolutionary microcomputer language" Forth. That appealed to an emerging group of programming nerds, but for the bigger gang of schoolkids keen to hack micros, it wasn't a language they spoke.
And while the 3.25MHz Z80A, 1KB Ram-based Ace was a cheap £89.95, it was a black-and-white machine at a time when all its key rivals were colour, even the Spectrum, which the two had just completed.
Launched in the autumn of 1982, the Ace was followed in 1983 by the Ace 4000, which featured a slightly redesigned case and motherboard. The Ace 16+ - a regular Ace plus a 16KB Ram pack - was announced in the summer of 1983, but it wasn't enough to stop the company collapsing the following November.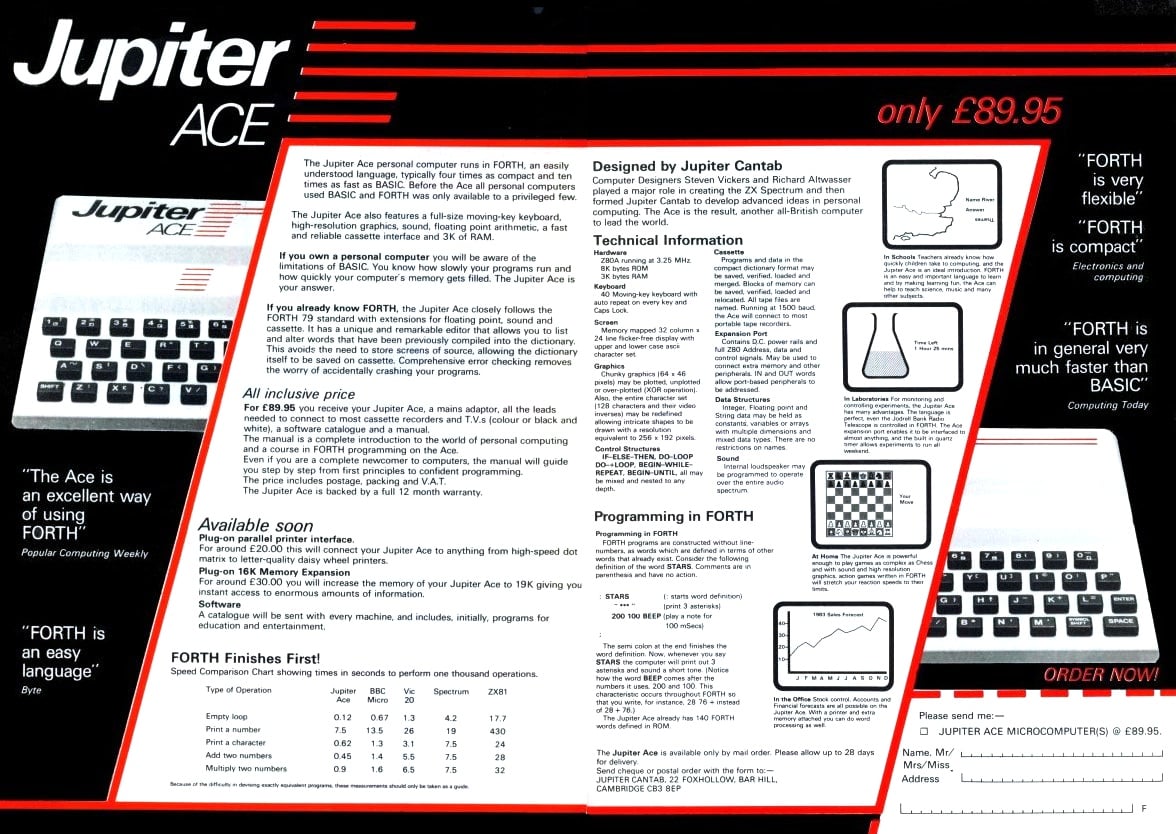 Click for full-size image
Release Date September 1982
Price £90
CPU Z80A @ 3.5MHz
Memory 3KB
Developers Richard Altwasser and Steve Vickers
Oric-1

Developed by Tangerine Computer Systems offshot Oric Products International, the Oric was intended to compete head-to-head with the Sinclair Spectrum by offering a BBC Micro-level Basic and audio experience in the familiar compact, "pregnant calculator" form-factor.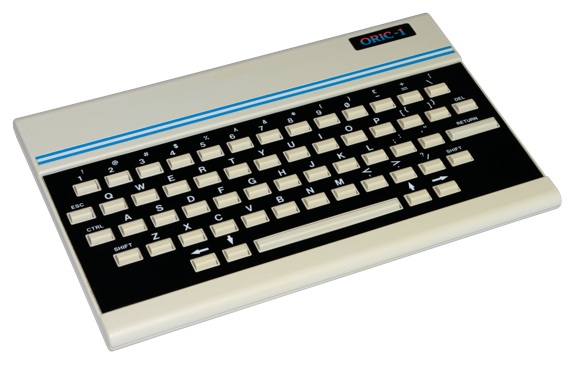 Source: The Retro Bytes Portal
Inside sat a 1MHz 6502A CPU and 16KB or 64KB of Ram, though the latter reserved 16KB to hold a copy of the Basic interpreter, so it was marketed as a 48KB machine - a rare instance in the IT biz of being totally honest with the specifications.
It was a good machine, but it didn't pull in the punters. It's estimated that some 160,000 sold in the UK, and 50,000 in France. When the Oric 1 production facility burned down in October 1983, it seemed like the end had come.
But Oric struggled on, now with a new owner, Edenspring, releasing a follow-up machine, the Atmos, in 1984. In February 1985, Edespring pulled the plug. Oric was then acquired by French firm Eureka, keen to maintain the machine's Gallic fanbase. It released the Stratos that year and the Telestrat the next, only to shut up shop in 1987.
Release Date January 1983
Price £129 (16KB) £169 (48KB)
CPU 6502A @ 1MHz
Memory 16KB or 64KB (48KB usable)
Developers Paul Johnson
Sinclair ZX81
You could say the ZX81 was its predecessor, the ZX80, done right. Both sported comparable specs, but the ZX81 was cheaper and, thanks to designer Rick Dickinson, much better looking. The vacuum-formed ZX80 looked liked someone's dad had made it. The ZX81 looked like a real computer.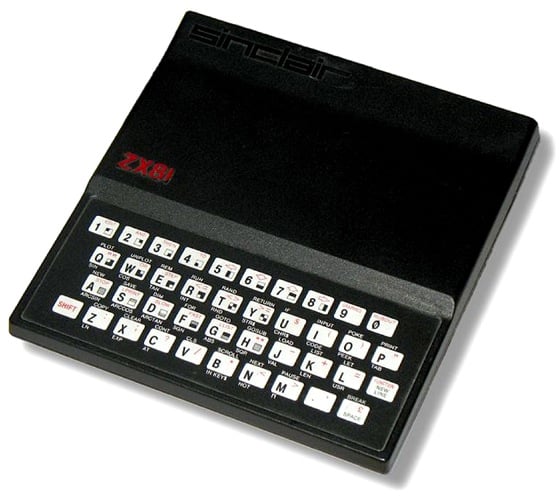 Sinclair pulled 21 of the ZX80s chips into a single part, in the process cutting the cost of production sufficintly to double the Rom for a better Basic and offer the ZX81 for £30 less than its predecessor.
It was an immediate hit with hobbyists - and sales skyrocketed when newsagent chain WHSmith took the machine on. More than 350,000 were sold in the first year. Could Sinclair top it?
Check out our full history of the ZX81 here.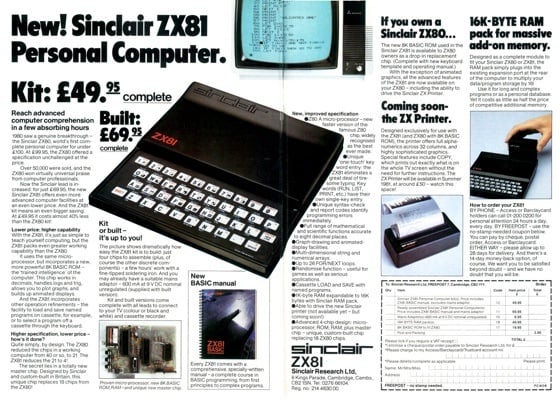 Release Date January 1983
Price £50 (kit) £70 (pre-built)
CPU Z80A @ 3.25MHz
Memory 1KB
Developers Sinclair's Richard Altwasser, Rick Dickinson; Nine Tiles' Steve Vickers, John Grant
Sinclair ZX Spectrum

How do you follow up a hugely successful machine? You address all the complaints made about the previous one. And that's essentially what Sinclair did with the Spectrum.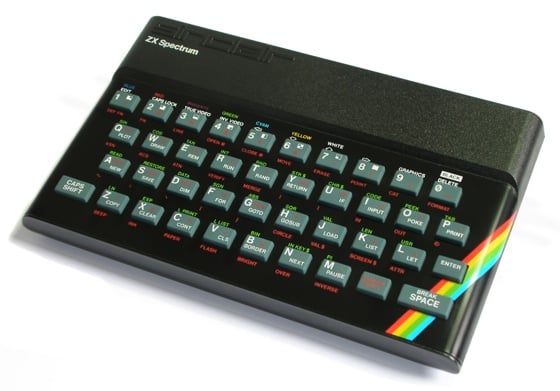 Source: Wikimedia
The ZX81 was black and white, was slow, had only 1KB on on-board memory and lacked moving keys on its keyboard. So the Spectrum, introduced 13 months later, could do colour, came with a fully mobile keyboard (kind of), a faster CPU (just about) and more Ram.
Sure, it was more expensive, but was still well under £200 and half the price of a BBC Model B. It was compact too, and very quickly there were tons and tons of games for it. No wonder it became the UK's best-selling home micro.
Check out our full history of the ZX Spectrum here.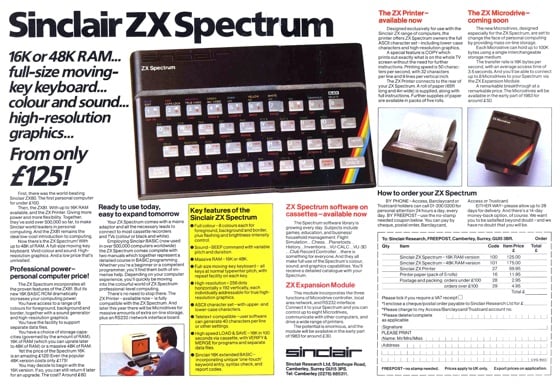 Release Date April 1982
Price £125 (16KB) £175 (48KB)
CPU Z80A @ 3.5MHz
Memory 16KB or 48KB
Developers Sinclair's Richard Altwasser, Rick Dickinson; Nine Tiles' Steve Vickers