Original URL: https://www.theregister.co.uk/2012/04/26/apple_commands_enterprise_smartphone_tablet_usage_says_good/
Good Tech: Apple dominates mobile enterprise
iPad 2, iPhone 4S choices of big biz
Posted in Personal Tech, 26th April 2012 12:03 GMT
Apple CEO Tim Cook said this week he wants to get more iPads into big business. The latest figures from enterprise gadget management software company Good suggests it's already happening.
Good's RIM-rivalling software comprises a client component that is activated from a company's servers. Good said the iPhone 4S accounted for 37 per cent of device activations in Q1, followed by the iPad 2, with 17.7 per cent of activations.
The iPad 3, which only went on sale in the last month of the quarter, took fourth place in Good's chart, accounting for 4.3 per cent of the quarter's activations - though 12.1 per cent of March's activations.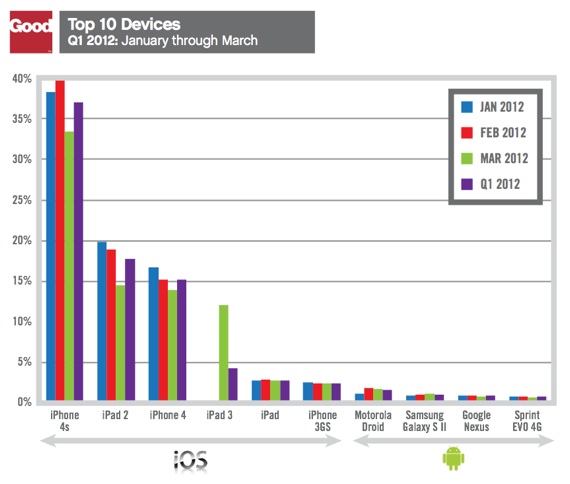 The iPhone 4 accounted for just over 15 per cent of activations across the three-month period. It took third place - in fifth was the iPad (2.8 per cent) followed by the iPhone 3GS (2.5 per cent).
Android gadgets make up the rest of the chart, with the Motorola Droid (1.6 per cent) followed by the Samsung Galaxy S II, the Google Nexus and the HTC Evo 4G.
Activations of iOS and Android devices as a whole were up 50 per cent on Q4 2011's total, Good said.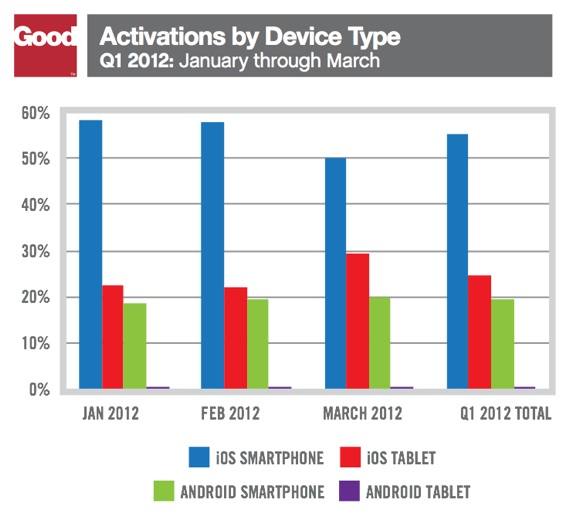 The company has only just begun to support Windows Phone, so we'll have to wait until Q2's numbers are out to see how well the likes of the Nokia Lumia 800 and 900 are doing.
As Good competes with RIM, there's no BlackBerry support.
Good's customer base extends across many sectors and territories - they include "eight of the top ten financial institutions, seven of the top ten healthcare organizations [and] half of the Fortune 100" - but there's an emphasis on financial services, and business and professional services, a leaning reflected in the relatively high numbers of activations in those industries. ®