Original URL: https://www.theregister.co.uk/2012/04/25/retro_week_ten_eight_bit_classic_games/
Ten... eight-bit classic games
An Antique Code Show Special
Posted in Personal Tech, 25th April 2012 06:00 GMT
Retro Week

I live with geeks, and when they aren't at hackfest they are in the front room playing Vindicators and Spyhunter on a Friday night. I think they only tolerate my presence because my dad works at CERN and I used to be able to program Turbo Pascal before all that PCP melted my frontal lobe.
One topic of conversation I use to ingratiate myself in their sausagefest inner circle is 8-bit gaming. The Commodores and Spectrums of the 1980s had to rely on simplicity and engaging gameplay rather than processing power to keep me hooked, and reminiscing about when games used to be original is always amusing.
And 8-bit gaming defined my childhood and was ultimately responsible for my father's unfulfilled dream that I might be a microserf rather than a hipster deadbeat. As modern entertainment systems grow more elaborate it is left to the geeks in my living room to ensure 8-bit gaming never dies!
Ant Attack

The first true isometric 3D game, Ant Attack was created by Scot sculpture student Sandy White who was obviously partial to a bit of MC Escher. Being able to play a heroine was memorable, as was the thought of setting out to rescue my poor unfortunate hostage boyfriend. The 3D graphics are really impressive, especially when I am surrounded by the giant ants that patrol the Walled City of Antescher. Climbing or jumping stairs and walls to investigate the city while avoiding the deadly attention of ants was exhilarating. Frantic key bashing due to overly complex controls meant it was usually luck rather than skills that saw me avoid snapping mandibles.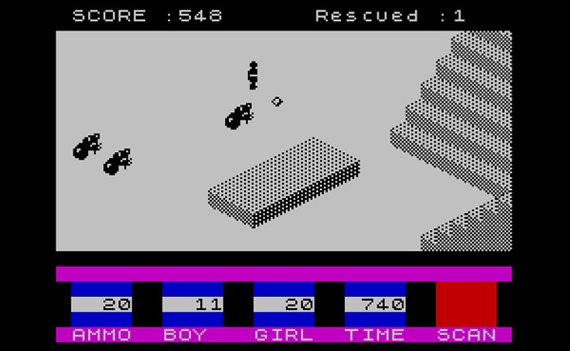 Chuckie Egg

Unlike Adrian Mole, Nigel Alderton's teenage dream involved chicks of a different kind. Somewhat of a hero to my housemates, Nigel took his Spectrum code to A&F and in the process created a nice little earner. I play Hen-House Harry, a pocket-sized hero and my task is to frantically run through eight barns collecting a dozen eggs from each within a time limit. Along the way I must avoid deadly chickens that would be only too happy to hen-peck me to death. I'm always sure to steal their seeds to collect more points and pause the timer. Rushing at a super fast pace between ladders and platforms Chuckie Egg's sheer kinetic pace and energy makes it an 8-bit classic. Beware the duck!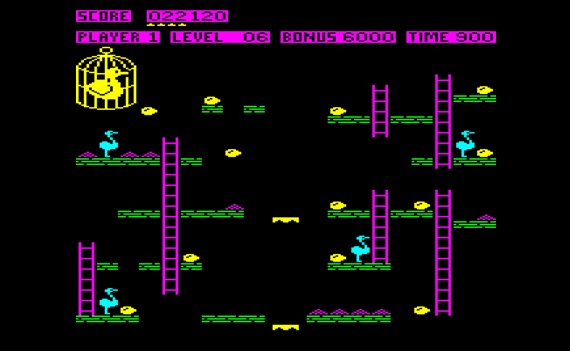 Elite

I am Commander Jameson - no, not Jenna Jameson - and I am flying a wireframe 3D spaceship through a vast galaxy trying to make a buck while avoiding the Thargoids. Elite is a space trading or rather exploration video game, originally published by Acornsoft in 1984 for the BBC Micro. My starting point is the Lave space station where I invest in different types of cargo to fill the hold of my Cobra Mk III and the figure out where to voyage in space to make my fortune. Elite's wireframe 3D was revolutionary at the time, and using my keyboard bashing skills I accelerate, decelerate, rotate, dive and shoot just fast enough to outwit space pirates and not come a cropper in too many intergalactic dog fights!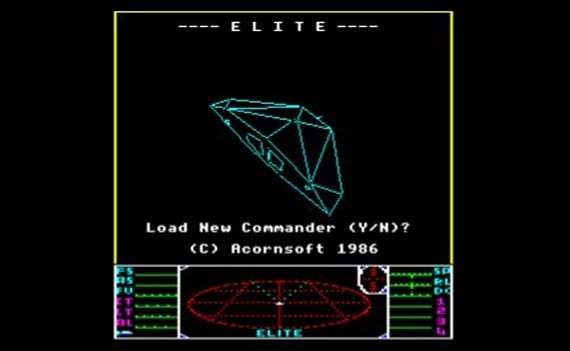 Released
1984
Developers
Ian Bell, David Braben
Publisher
Acornsoft
Platforms
BBC Micro
More Info
Ian Bell's Elite page
The Hitch-hikers' Guide to the Galaxy

Don't panic, it's not on the Spectrum like almost every other game in this list! I'm old enough to remember Ascii dungeons, so this text-based adventure game based on the famous radio series - and you though it started out as a book... - and helped along by the author may sound like hard work to younger folk but goes surprising well with a cup of tea and a towel. The object of the game is to find the legendary lost planet of Magrathea but I'm going to have to collect and sort through a vast amount of tat to find it. I am still amused and intrigued by Hitchhiker's logic puzzles - just don't mention the babel fish. It's the source material that makes this game fun. Text prompt, type answer and just don't act too clever.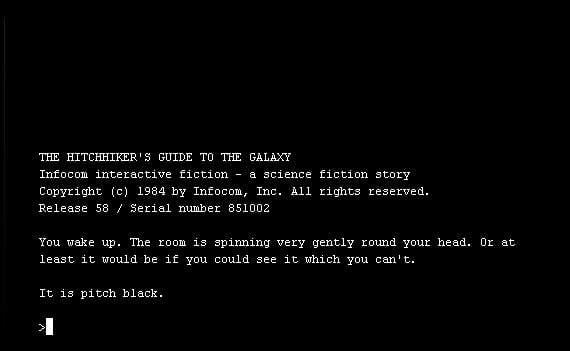 Hungry Horace

Looking like a copyright infringement of my arcade fave, Pacman, I play Horace, nabbing food in the form of flowers from around a park while avoiding the park's overzealous security forces. Horace is an iconic cartoon-style character, all eyes and feet, and keen to gobble a dropped lunch. The bell causes the parkkeepers to panic and, like the ghosts in Pacman, they become edible for a short time. It's speed and versatility that make Hungry Horace a classic. Getting evicted from the park like a member of Occupy London, Horace obviously didn't fare too badly and was later seen skiing and fighting spiders.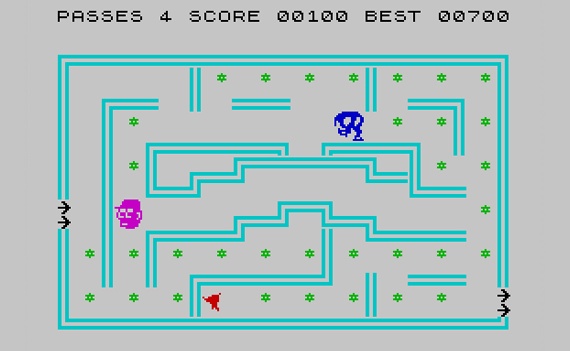 Jet Pac

Jet Pac - from the prolific Stamper brothers - was so addictive yet with so simple a premise: rebuild my spaceship, fuel up then blast off. Ah, but this being a game of the shoot-'em-up genre there are some pesky aliens who would thwart me is my simple goal. Luckily, I have a laser gun in built into my jetpack to deal with such circumstances. Ledges strewn with spaceship parts, fuel pods and bonus point niknaks are all easily navigated with a simple thrust. Blasting off takes me to a new planet each with new aliens to avoid or attack. Shame Jetpac Refuelled, released in 2007, just couldn't live up to the original.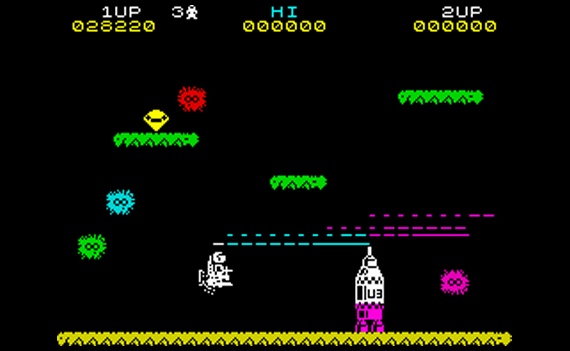 Released
1983
Developers
Tim and Chris Stamper
Publisher
Ultimate Play The Game
Platforms
Sinclair Spectrum, Vic-20
More Info
Moby Games' Hungry Horace page
Knight Lore

Having just finished the Diablo III beta only to be left gagging for more, Knight Lore is a compelling 8-bit memory. This 3D isometric dungeon crawler sees me play Saberman, a "werewulf" looking to be released from my lupine curse by a kindly wizard Melkhior who dwells in Knight Lore castle. Navigating the castles rooms, I loved this game's cutesy RPG graphics. With only 40 days and nights to complete my task before becoming a werewulf forever, I speedily collect charms while trying to avoid being impaled on a spiked ball or spooked by a malevolent apparition. The intricately designed puzzles and levels make this game an 8-bit wonder and really set the standard for fantasy games to come.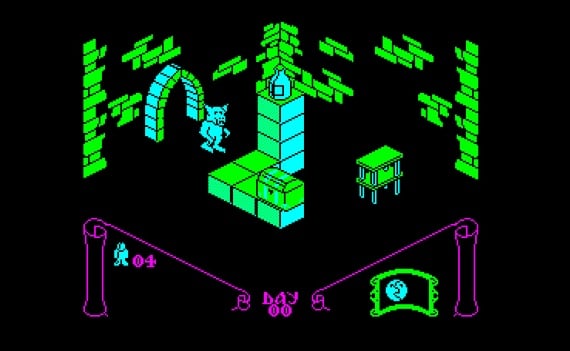 Manic Miner

Created by Matthew Smith and released by Bug-Byte Software, this suitably named jittery platformer is teeth-grindingly addictive because of its simplicity. Miner Willy has his hands full retrieving flashing objects from 20 technicolored caverns before his oxygen runs out, all the while avoiding vicious penguins, flapping toilets, evil performing seals and my all-time favorite floating head, Eugene. This game has real character even though created from the most basic animations. It was funny and frustrating. Precision timing is needed to avoid death by a misjudged millimetre! Manic Miner's ear bleedingly constant in-game music haunts my dreams like the squark of a data cassette loading hideously coloured levels of vexation.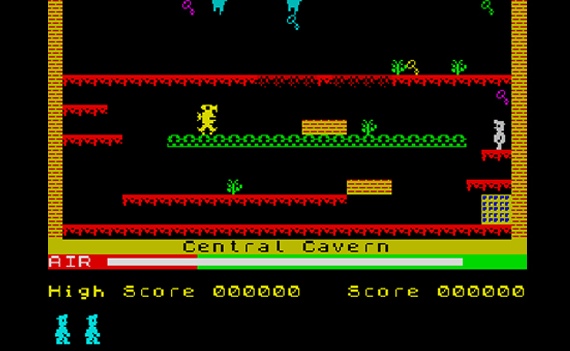 Phantom Slayer

The world's first first-person shooter? Could be... Phantom Slayer drops you into a windey 3D maze populated by the titular phantoms who'll kill you with a single touch. Fortunately, you have a blaster and two or three shots will take 'em out. The snag: you can't see them until they're in front of you. You carefully step through the maze, pounding heart ready to leap out when you suddenly hear - only when their near - the thud-thud-thud of their tread. Simple, scary and incredibly addictive.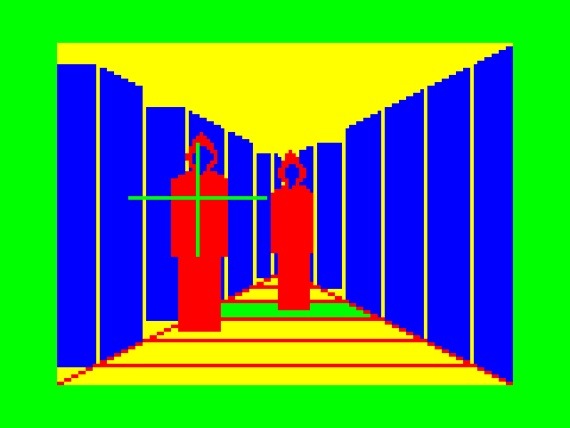 Tranz AM

"The year is 3472!" Coming across all 2D Mad Max, Tranz Am sees me race a souped-up Red Racer against the Deadly Black Turbos in good old apocalyptic USA - well, a yellow spotty screen - to collect and locate eight trophies. Starting in the center of the screen I try to avoid suicidal roadhogs as the landscape speedily scrolls past. I have to avoid the rocks and boulders of such ostentatious locations as El Paso while making sure to fill up at every available petrol pump as running out of gas is always a concern! A map of the US shows me fuel pumps and cities while a speedometer, fuel and temperature gauges let me feel slightly more in control of this death defying road trip. Who needs GTA?