Original URL: https://www.theregister.co.uk/2012/04/24/hds_hus/
HDS swaps out AMS for HUS file-block-and-object stuffed box
Hitachi Command and control...
Posted in The Channel, 24th April 2012 10:34 GMT
Hitachi Data Systems (HDS) has replaced its mid-range AMS storage array with the Hitachi Unified Storage (HUS) array that stores block, file and object data in one box. It is managed by the Hitachi Command Suite which is now a single software management facility for all HDS products.
HDS claims "HUS stores multiple data types with more flexibility and more balanced scalability than any other midrange solution" and it is the "first enterprise-class unified storage solution."
HUS scales capacity to almost 3PB within a frame, and has so-called dynamic virtual controllers that automatically correct performance problems and provision storage resources quickly. Hitachi Dynamic Provisioning pools and grows file and block storage. Filesystems can be up to 256TB in size with a single namespace.
There are three HUS models: the HUS 110, 130 and 150. As a block-storage platform, they replace the three-model AMS range underneath the enterprise-class VSP.
It includes thin provisioning and page-based automated data tiering, plus five nines (99.999 per cent) data availability. The file tiering is native whereas HDS asserts its main competition uses a third-party product.
HUS, we are told, has integration with the Hitachi Data Discovery Suite for search and the Hitachi Content Platform (HCP) for archive. HDS tells us competing products are not integrated with tiering.
The storage giant adds that provisioning is simplified through virtual LUN ownership. HUS workloads can be dynamically balanced to maintain predictable performance. The array can achieve required performance levels for sequential, random workloads and file access.
HUS apparently scales in capacity, predictable performance, replicated data, block volume size and file system size. The claim is that it is "the fastest midrange storage system available today for block and file data access".
The table below shows host access ports and some software details.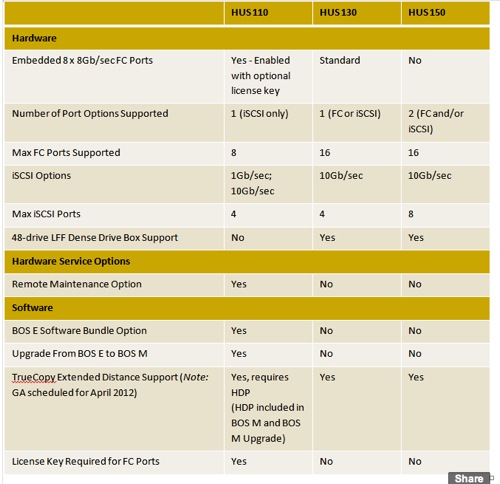 HUS port and SW feature matrix
Our understanding is that the BOS E software bundle is only available on the HUS 110. This bundle does not include Dynamic Provisioning, ShadowImage or Copy-on-Write Snapshot. It provides a lower entry price for the HUS 110 when these software products are not required.
We are told by a channel source that:
The entry-level HUS110 is iSCSI by default with Fibre Channel (FC) an optional licensed feature. FC is included with the HUS130 and HUS150.
The HUS110 lacks wide striping (HDP), which is included with the HUS130 and HUS150.
The HUS110 lacks dynamic tiering. That will come to the HUS130 and HUS150 as an optional licensed feature towards the end of 2012.
Object data
HUS supports object data with an object-based filesystem that adds metadata to each imported or created file and enables automated tiering and migration, snapshots, clones, replication across a WAN and data searches. HUS also supports the Hitachi Content Platform (HCP) as "a true object store" with custom metadata. HCP can share HUS capacity with file and block applications from the same storage pool. HDS says this is more space-efficient and cost-effective than having a separate object storage silo.
The number of customers who are actively looking for file, block and object storage is open to question. With the growing popularity of object storage products such as those from Amplidata, Caringo, CleverSafe and Scality, there will be more consciousness of object storage, but El Reg storage desk feels customers looking for object storage may well look for a dedicated box because the application set is large and distinct from traditional file and block storage.
HDS implicitly supports this view by describing the HCP as "true" object storage. Having object storage capabilities in HUS is a nice differentiator and good positioning for the future, which includes the sale of HUS arrays into existing HCP shops.
Data protection and management
HDS has launched Hitachi Application Protector (HAP) software to provide application-aware, snapshot-based data protection, backup and recovery services for Microsoft Exchange, SQL Server and SharePoint. Admin staff can use the Microsoft Management Console to protect data sets from these apps using HAP. The snapshots are described as "crash consistent" and enable application-aware backup and recovery.
HDS claims HUS supports four times the number of snapshots per volume than NetApp. It also says automated archiving reduces primary backup data sets.
The Hitachi Command Suite is said to be service-oriented and provide unified management across all HDS storage models: Block (eg, Hitachi Virtual Storage Platform); file (Hitachi NAS Platform, Hitachi Unified Storage); content (HCP); and specialised appliances (Hitachi Data Ingestor). It enables admin staff to configure, analyse, mobilise and protect data, and has a business intelligence layer providing service-centric functions.
HDS says HUS simplifies virtualised application management and deployment for both block and file requirements, including SQL Server, SharePoint Server and Exchange Server, VMware View (VDI), and Oracle databases.
Roadmap
HDS says it wants to transform data centres into information clouds with seamless access to block, file and object data which resides in a fluid (shades of Dell) and virtualised environment. Before the end of 2012 it will:
introduce a new unified storage product "that will redefine the capabilities available to medium and large enterprise customers". This suggests that the VSP is gaining file and object storage capabilities alongside its block storage;
introduce a new Hitachi NAS Platform F series of products as entry-level unstructured data store; and
launch a purpose-built backup appliance based on HDS-developed deduplication technology.
HDS has long lacked a deduplicating disk-to-disk backup appliance and will now be able to compete with HP's StoreOnce and EMC's Data Domain offerings.
Overall the HUS array will be positioned against EMC's VNX product, which provides both file and block storage but not object storage. It will also seem to compete with NetApp's mid-range FAS3000 arrays, which also provide both file and block storage, and IBM's Storwize V7000. Looking at HP's product range the HUS will compete with its legacy EVA storage and, we rethink, overlap the upper end of the iSCSI P4000 arrays and the lower-end of the Fibre Channel 3PAR arrays.
We understand HUS is up to three times faster than the AMS products and has up to twice the usable capacity. Sources tell us that AMS sales have been languishing and HUS – with its enlarged set of features and capacity, scalability and performance improvements – should remedy that.
HDS did not provide price and availability information with its announcement. ®