Original URL: https://www.theregister.co.uk/2012/04/19/netapp_smartphone/
NetApp offers system check-up from iPads, smartphones
Support-call monitoring on IOS and Android
Posted in Storage, 19th April 2012 08:34 GMT
NetApp has endorsed tablet and smartphone access to its support system and users can now monitor support case status from their iPad, iPhone or Android phone.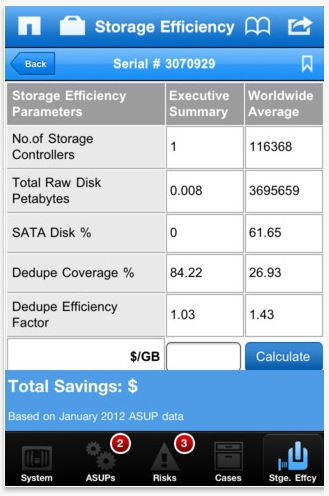 NetApp support case status monitoring app
There's been no formal announcement but if you point your web browser here you'll find a page entitled AutoSupport at your fingertips. It leads on to iPad, iPhone and Android device pages. You then get told this:
NetApp Support provides information about Cases, Contact Details, AutoSupport, Storage Efficiency, and Fitness of your NetApp storage systems. The application is available to NetApp Customers, Partners, and Employees helping users to enhance operational and storage efficiency.
The iPad and iPhone apps are the same; in other words NetApp does not take advantage of the iPad's larger screen. The app is basically a support case status checker for smartphones with some bells and whistles. It's nifty but doesn't go very far ... yet.
Other suppliers, like Xio, allow you to manage their storage from your touch-screen device. ®