Original URL: https://www.theregister.co.uk/2012/04/18/ten_smartphone_survival_accessories/
Ten... smartphone survival accessories
Protect and deploy
Posted in Personal Tech, 18th April 2012 06:00 GMT
Product round-up As the weather starts to improve and the knobbly knees of British sun seekers start gracing the public eye, weekends away untangling guy-ropes and blowing up inflatable mattresses draws close. But the organic world of planet Earth is no safe place for a man of modern comfort, and taking a survival kit with you specifically for your gadgets isn't such a bad idea.
There's a plethora of suitable accessories and we couldn't include them all. Of course, you might want to mull over a pair of in-ear headphones, in-car accessories or even touchscreen gloves. Those who enjoy cycling trips away might look towards fitting a dynamo for charging devices on the fly. Rugged memory cards and other small toolkit inclusions are also ten a penny. The list goes on.
Either way, our smartphones need nurturing and shouldn't be forgotten when packing bags. Here's ten add-ons to contemplate.
BioLite CampStove

If you've left home without a battery boost and plan to hit the campsite with nothing more than a stove and a penknife, then perhaps you should consider upgrading your cookery apparatus to something more 21st Century.
The BioLite CampStove burns sticks, pine cones and other biomass fuels, converting the heat generated into usable electricity. So while you commingle various canned cuisines over your campfire, you can plug in your phone for a much needed juice boost too.
As they haven't quite hit the shelves yet, we've not had the opportunity to give one a go, but they're certainly a valuable camping accessory. Biolite isn't the only company pitching such a stove, either. The PowerPot Kickstarter project seeks funds for a similar saucepan-based version. Doesn't quite look as good, though.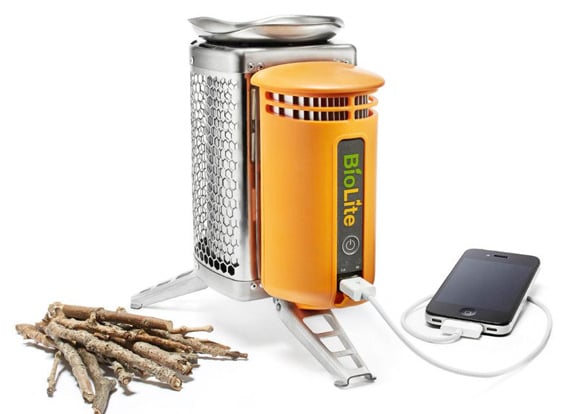 Price
$129 (£81)
More info
Biolite
Joby GorillaPod Mobile

Heavy nights on the campsite lead to shaky hands in the morning, which can be a problem when trying to get a steady shot of the wild animals grazing nearby. Packing a tripod for your mobile would have been laughed at a decade ago, but with Nokia touting resolutions of 41Mp and Facebook's acquisition of Instagram for $1bn, smartphone photography has become a serious matter.
The Joby GorillaPod has been holding it up for a number of years now, the company launching a version for smartphones after the success it achieved with its digital camera tripods. Attaching to a phone or portable player though either adhesive strips or suction cups, as well as to small cameras through a standard quarter-inch adaptor screw, it can hold your device steady from practically any awkward position.
Bend it, shape it, anyway you want it. Just make sure you pack it first.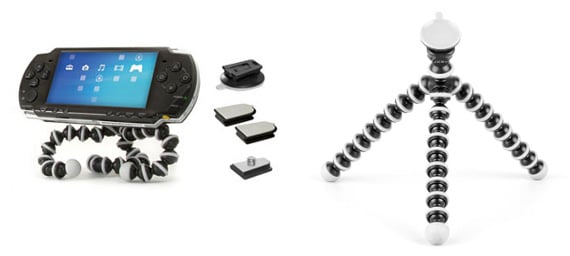 Price
£12
More info
Joby
MHL Cable

Leaving home without the right cable kit can be frustrating and often ends in unnecessary profit for outlets like Maplin. An MHL cable or adaptor kit is one such cord, particularly handy for giving presentations, or for those who love to force holiday snaps upon patient family members.
Manufacturers such as LG has been kind enough to include mini HDMI ports on its devices, but for those without, MHL is the way forward.
It essentially creates an HDMI output through a handset's micro USB port and plays content on HD tellies or other compatible displays. You never know when you might need it, but it's undoubtedly a convenient cable to keep in the kit and worth deliberation.


Price
£15
More info
Amazon
MicroSim Cutter and Spacer

A simple Sim adaptor might be the last thing you'd expect to see here, but with many of today's smartphones adopting Micro Sims - and Apple even proposing an all-new, diddier format - a Sim cutter and spacer is definitely a useful item to have around.
When I switched back to a regularly sized Sim recently, I was crying for one, and was instead made to wait 24 hours while my provider activated my old card. And that's no good when batteries die and you're forced to use your wife's old brick to make that important call from the campsite.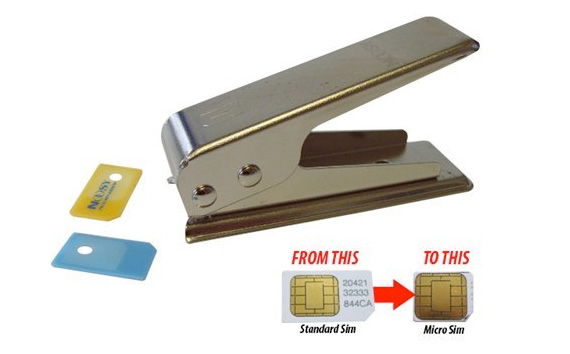 Price
£4
More info
Amazon
OneCable Sync and Charge

Those who travel with an entire bag of tangled cables, or collection of adaptor heads, often waste far too much precious holiday time when battery-drained devices come calling. The importance of a minimalist kit can't be stressed enough and as a regular sufferer of cable clutter myself, any answers are warmly welcomed.
This OneCable Sync and Charge cord surely looks the part, with an Apple connector, micro USB and mini USB on one side, connected to a regular USB on the other. A retractable cable mechanism keeps everything neat and tidy too. Voila: one string to rule them all. And it's only a tenner.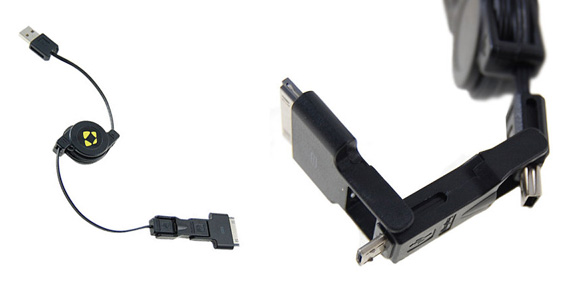 Price
£35
More info
Mobile Fun
Proporta TurboCharger 7000

Battery depletion is one of the most common issues among smartphone users but while the market is inundated with relevant juice-boosting fixes, surfing for the right one can quickly become a confusion.
The capacities of these packs are always on the rise, but a device's battery needs are too, so make sure you opt for something sizeable enough to replenish your kit sufficiently.
Regardless of the tech, Proporta's TurboCharger 7000 should charge several times from full through its impressive 7000mAh capacity. It comes with a range of interchangeable connector heads too, as well as a retractable cable for tangle-free storage.
While the higher capacity means you'll fork out a much higher sum, there are a few goodies thrown in too, including a USB to vehicle ciggie-lighter adaptor, and various AC plug socket converters.


Price
£55
More info
Proporta
T-Tech by Tumi International Travel Adapter

It may be obvious to pack an adaptor for charging your device abroad, but with an abundance of these on the market, the right choice is crucial, particularly if you're always hopping between regions.
Those with the cash might like to look forward to this T-Tech by Tumi, released next month, which features slide out power plugs for Europe, the US, Australia and Asia. There's an AC socket, as well as two USB 2.0 ports, which deliver enough power for tablet devices.
OK, so you'll still need to bring a USB cable or power lead, for which you might want to chew over a tangle-saving retractable setup such as the aforementioned OneCable, however the T-Tech looks unrivalled when it comes to AC adaptors, winning an innovation award at CES 2012.
Of course, there are plenty of more inexpensive options available too, such as these adaptors from ReTrak. It all depends on how much you're willing to splash and the destination of your holiday, really.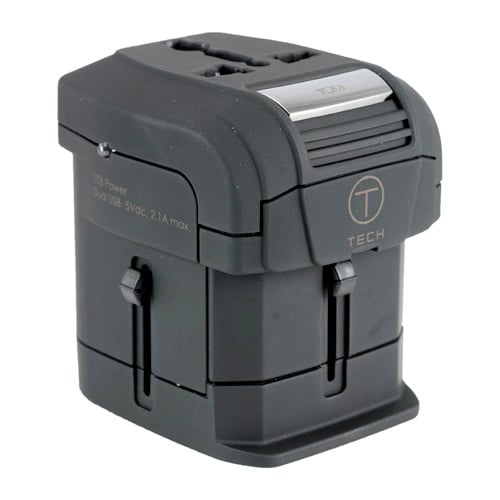 Price
£TBD
More info
Jasco
Vodafone Sure Signal

If you know you'll be in a remote area without a decent 3G signal, a Femtocell can utilise a nearby broadband hub to produce the connection you need.
Vodafone offers such hardware with its Sure Signal service, which utilises a box built by Alcatel-Lucent and lets you route incoming and outgoing calls through t'internet. Some 32 numbers can be registered to use the device, with four handsets able to connect simultaneously. As long as the network connection is 1Mb/s or faster, the femtocell will run smoothly, apparently.
With 3G connectivity so vastly spread, Femtocell tech is rather niche. Still, it's nice to see Vodafone stick with it, Three's version has just rolled out, and O2 is following suit after trials with the tech late last year. You can read Bill Ray's assessment of Vodafone's first Sure Signal box here on Reg Hardware.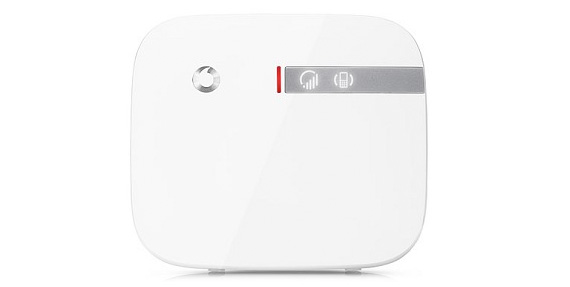 Price
£50
More info
Vodafone
Waterproofing

A couple of Zagg-like sleeves or screen protectors are always worth having around to prevent scratches, but you never know when you'll be caught in a tropical storm, or thrown from your canoe.
There are various options to combat this, with a waterproof case such as a BeachBuoy, the obvious one. But while these mean you can take your device diving and use the touchscreen at depths of 5m, it's hardly a case you'd want your blower to wear on a constant basis. It's unlikely to be there for your phone the moment you clumsily drop it down the can on a tipsy night out.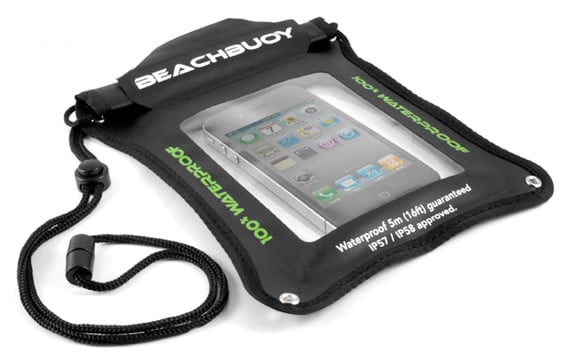 There is a solution, though, quite literally, from US company Liquipel. The firm provides a service that coats smartphones in its liquid armour, rendering devices completely waterproof without noticeable difference. This starts at $59 (£37) and while there doesn't appear to be an option for us folk over the pond, the company said it was in close talks with manufacturers about making its appliance a standard. If that happens, the waterproof accessories market faces difficult times ahead.

Price
£12
More info
Clove
Zomm Wireless Leash Plus

Since we looked at Zomm's Bluetooth keyring attachment in 2011, the company has launched an improved version, still aiding those who misplace their phone or forget to bring it as they leave the house, but adding support for iOS users too.
The poker chip-sized fob not only reminds owners when they're distancing themselves from their handset, but doubles up as a speakerphone handsfree kit and will contact emergency services - or a pre-programmed number - after an extended push of its solitary button.
Lose keys and the app'll direct you back to them too. Considering that happens on a daily basis in my house, the Zomm fob is a very beneficial piece of kit. You can read a full review of the company's first Wireless Leash here on Reg Hardware too. ®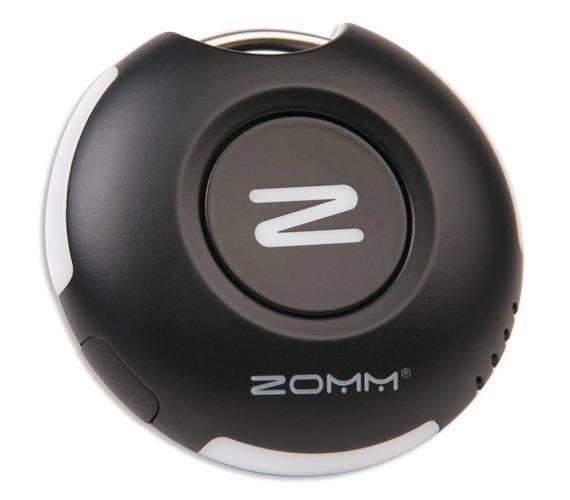 Price
£100
More info
Zomm