Original URL: https://www.theregister.co.uk/2012/04/17/review_toshiba_regza_46yl863_3d_led_tv/
Toshiba Regza 46YL863 46in Smart TV
A visible difference
Posted in Personal Tech, 17th April 2012 06:00 GMT
Review Powered by a multitasking image processor and dressed by Danish design house Jacob Jensen, Toshiba's 46YL863 is not your run-of-the-mill 3D TV. Indeed, its maker's herald it as one of the most sophisticated TVs ever. But can it really justify such hyperbole?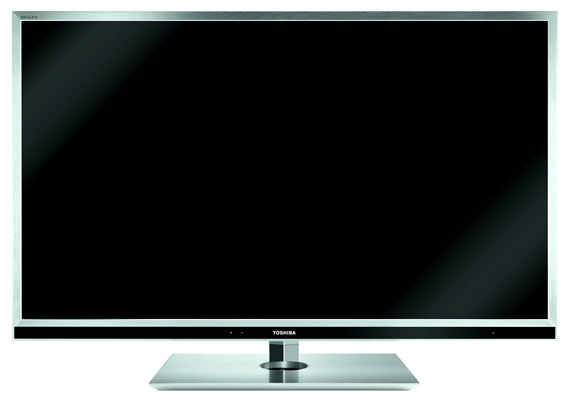 Cell mate: Toshiba's Regza 46YL863
The Regza 46YL863 reviewed here, along with its black clad but otherwise identical WY stablemate, ostensibly share a lineage with Toshiba's Japanese-only Cell TV. That high-end model shoehorned the PlayStation 3's Cell processor into a standalone tuner, to create a supercomputer-powered tellybox.
Unfortunately, this wizard wheeze transpired to be unscalable, as the Cell processor required massive heat sinks to remain stable. For a while engineers toyed with the concept of combining the bulky external tuner with a Blu-ray player, before retiring the concept entirely and announcing CEVO Engine as a similarly positioned replacement.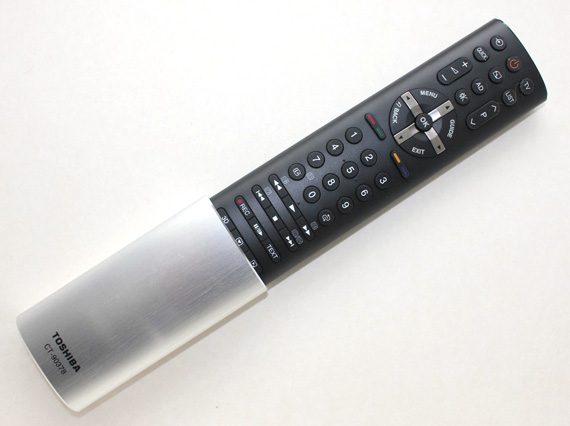 Jensen buttons?
In truth there's little that links Cell to CEVO Engine, apart from the fact that it also hails from Toshiba's highly talented semi-conductor division. But it is powerful enough to munch through complex picture processing algorithms that would cause lesser screens to splutter and choke. 

Indeed, 2D picture quality on this TV is extremely impressive.
The brand's proprietary Resolution+ picture enhancement technology really pulls detail from images, both standard and high definition, without unnatural looking side-effects. The set's black level performance is also smooth and deep. The screen employs a Pro-LED backlight that supports 32 zones of controllable local dimming; there are precious few illumination anomalies.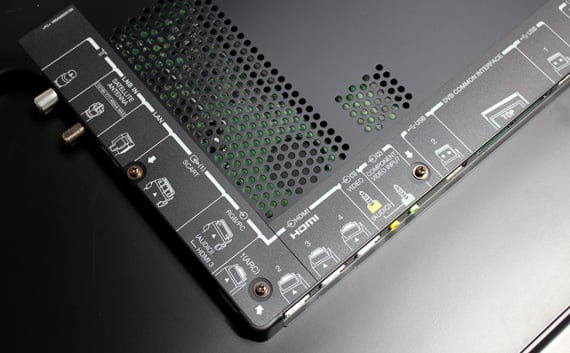 Plenty of interfacing options
One of the more curious features on-board the 46YL863 is facial recognition. A bezel camera is used to register up to four faces, supposedly to personalise the viewing experience. When it works you get a big box pop up on the screen offering the hearty greeting: Welcome Personal Mode A. My better half, hitherto to be known only as Personal Mode B, appeared to be less photogenic, which seemed to confound the TV's camera.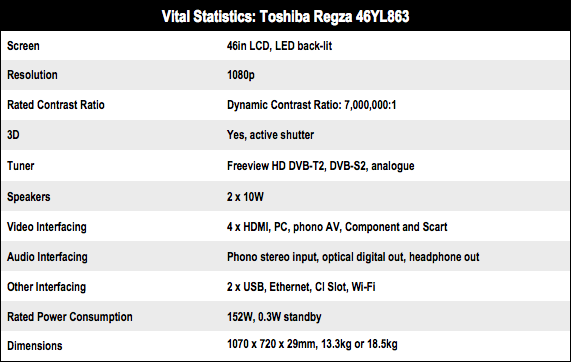 Motion carried
Perhaps more useful is a motion sensor which dims the screen into a low energy mode when it thinks there's no one in the room (or Personal Mode B has fallen asleep on the sofa).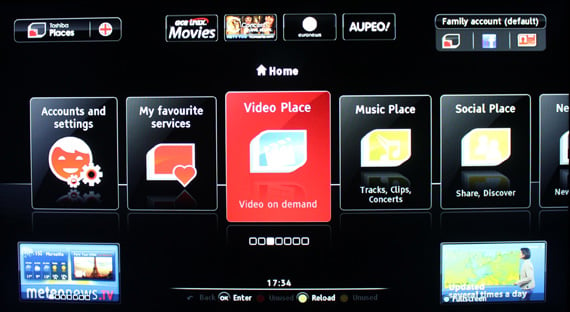 Toshiba Places
Net functionality is generally good. Within Toshiba's connected portal Places you'll find Dailymotion, Box Office 365, Woomi, Cartoon Network, Acetrax, facebook and Flickr. BBC iPlayer and YouTube are also available, but have been hived out and given their own spot within the menu tree. Incidentally, Wi-Fi is built in, so networking this set presents few logistical challenges.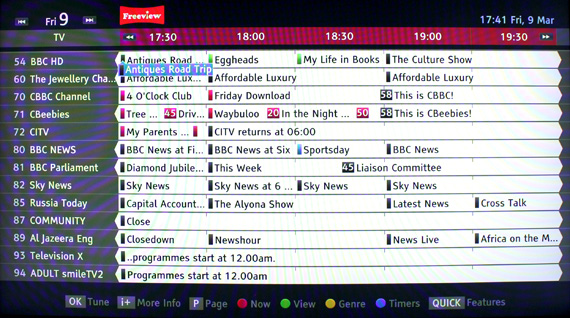 EPG
Media playback from USB is similarly solid. Video support covers AVI, MKV, MP4 and MPEG2, with MP3, AAC and WMA for audio. However, across a network performance video support is virtually non-existent.

 On the plus side, the TV allows timeshifting to USB. Up to eight external drives can be registered to the set. As a backup to a real PVR, this may well prove useful.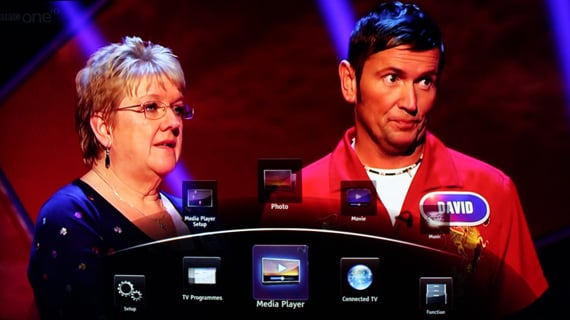 GUI
3D comes in the flickering form of Active Shutter technology; one pair of USB rechargeable spectacles is included in the box. Stereoscopic images are certainly brighter than many rival screens and there's an exaggerated sense of depth. But with no depth control or parallax adjustment, images can't be saved from pronounced crosstalk.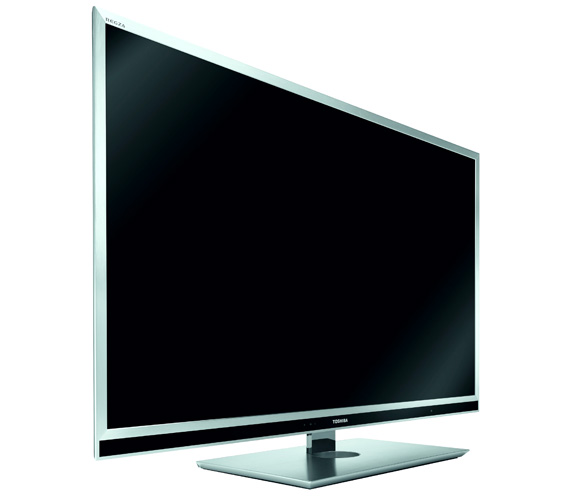 Some nice touches, but the picture is the smartest performer of them all
The set's 2D to 3D conversion is another task handled by the swotty CEVO chip, but it's not particularly compelling. Frankly, if George Lucas can spend millions post converting Star Wars with 'meh' results, this TV isn't likely to do any better.
The set's audio performance could be kindly described as strident. While there's a sibilant edge at volume, an integrated subwoofer does a fare job of adding mid-bass. For casual listening though, it's fairly acceptable.
Verdict

Overall, the Toshiba Regza 46YL863 is a stylish flatscreen capable of a great HD performance, but it's not the complete package. Poor 3D and unconvincing DLNA streaming prevent it reaching premiere league status. ®
More TV Reviews

Philips
42PFL7666
Samsung
PS64D8000
Ten...
smart TVs
Toshiba
Regza
40RL858
Sony
Bravia
KDL-55HX923