Original URL: https://www.theregister.co.uk/2012/04/17/review_panasonic_pt_at5000e_projector/
Panasonic PT-AT5000E LCD projector
Fully loaded home Hollywood
Posted in Personal Tech, 17th April 2012 11:00 GMT
Review Panasonic has notched up some memorable firsts when it comes to home cinema projection. Not only was it the first brand to introduce a native 16:9 widescreen model, it led the way with Full HD too.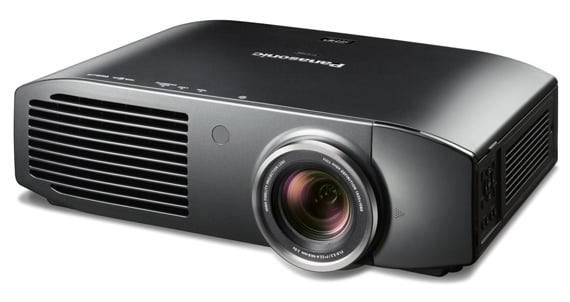 Putting on a display: Panasonic's PT-AT5000E
Its latest cineaste offering, the PT-AT5000E (known as the PT-AE7000E Stateside) doesn't mark any such milestones, but it is the company's first 3D compatible projector. It's also Panasonic's best home cinema projector to date.
Its outstanding performance is in no small part down to the high speed LCD panels used within. Driven at a dizzying 480Hz, their high refresh rate, combined with proprietary overdrive technology, delivers crisp, nuanced pictures and pretty much puts paid to lingering 3D crosstalk.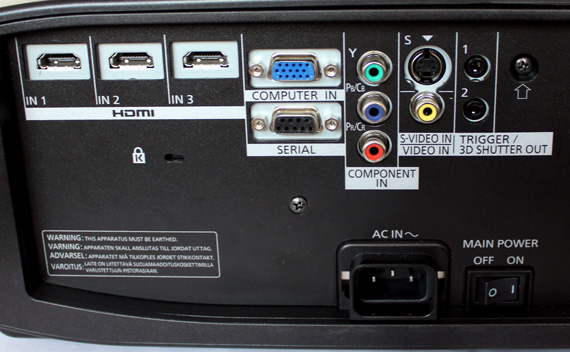 Alas, no DVI nor DisplayPort interfacing, but for home AV kit it has all the right connections
Beneath the lid is plenty of new technology. Picture processing is handled by a freshly-baked dual core IC, while the optical block is now capable of extreme dynamic contrast (quoted at 300,000:1) and 2,000 lumens of brightness.
This dazzling output serves 3D particularly well, as Panasonic's glasses are notoriously absorbent. Even filtered by aggressive active shuttering, images appear well balanced. Watching 3D on this projector is actually a brighter, more entertaining experience than donning goggles at the local multiplex.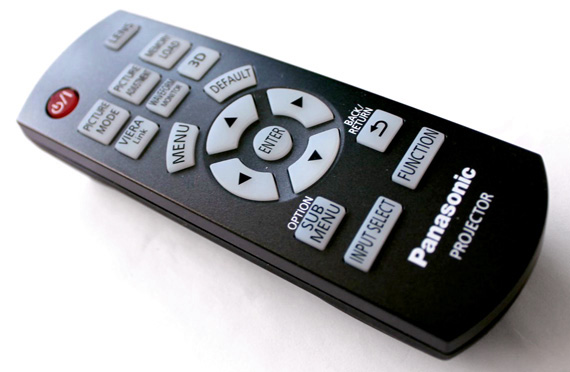 Backlit remote
Sure, you can find crosstalk if you look hard enough, but for real world viewing it delivers remarkably crisp 3D results. Avatar – still one of the best looking stereoscopic Blu-rays available – is CBeebies clean, and even difficult discs such as Monsters vs Aliens appear largely free of ghosting.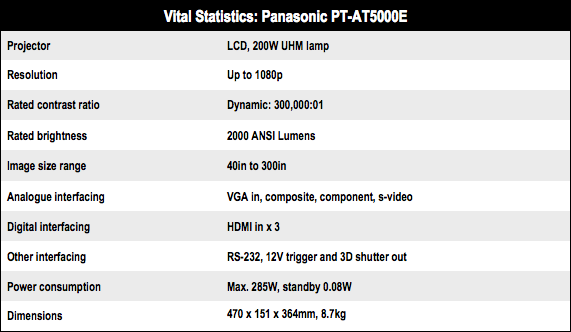 Active spectacles
3D monitor and picture balance controls can be used to mitigate against over enthusiastic parallax effects. You can display left and right eye images side by side with individual waveform patterns, to achieve the most comfortable stereoscopic balance.
Of course, whether you think all this faff is worthwhile just to watch Gnomeo and Juliet is debatable. One pair of 3D goggles is included in the box, although there are probably deals to be done with your local dealer if you need more.
The PT-AT500E features an integrated 3D transmitter which bounces IR sync codes to the Active Shutter glasses, off your screen. In my viewing room, this worked without any loss of sync. An additional transmitter (supplied) can be hardwired to one of the 12V trigger points, to ensure a wider reach in larger viewing rooms.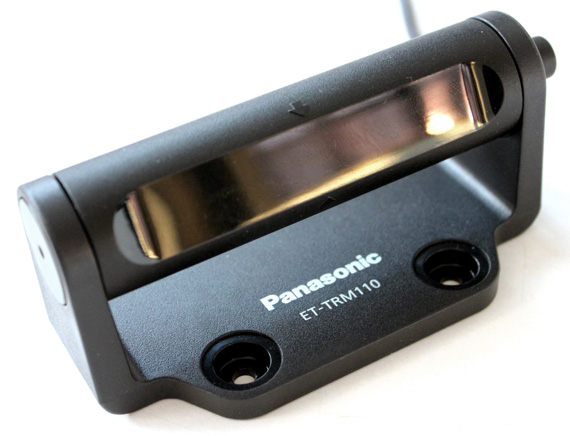 Supplementary sync transmitter
Image clarity is exceptional, although much depends on how you set the projector's Frame Creation modes. Switched off, motion resolution struggles to get much beyond 600 lines. Once engaged, this jumps to around 850 lines, enough to retain detail in rapidly panned objects.
There are three Frame Creation modes, but these incrementally introduce smudgy motion artefacts around moving objects. Mode 1 is the best bet: it wipes out horizontal panning judder yet contributes only a smidgeon in artefacts.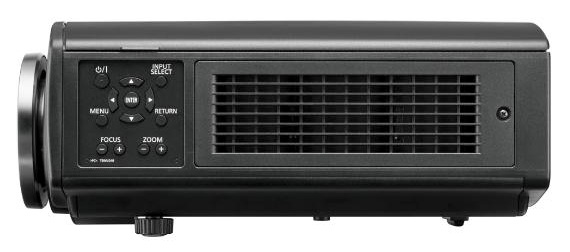 Fan noise is noticeable unless run in Eco mode
Black level and shadow details are phenomenal. Lady Gaga Presents: The Monster Ball Tour... (Blu-ray) is a great test of dynamics and dark detail, and with it the PT-AT5000E excelled. There's a depth and smoothness to its images which is decidedly cinematic.
Colours also ping, thanks to a new 200W Red-Rich lamp. With little adjustment, even the troublesome crimson hats of my Capulet gnomes on my latest 3D test platter positively glowed with authenticity. Operational noise is a tad high though. This model could be deemed intrusively loud if you don't run it in Eco mode; thankfully there's no significant visual penalty by going green.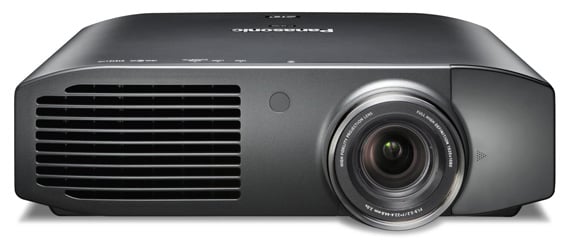 Visually satisfying
Verdict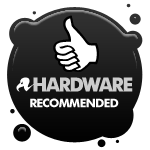 The PT-AT5000E is an astoundingly accomplished LCD projector. The cosmetic design may be thumpingly dull but its performance sparkles with Hollywood glitz. Heck, it even makes 3D look good. If you're serious about home theatre, this is a highly creditable alternative to far more expensive options. ®
More AV Gear Reviews

Sony
HMZ-T1
3D headset
Sony
VPL-HW30ES
3D projector
Viewsonic
PLED W500
portable projector
BenQ
W1200 HD
DLP projector
Lindy
Wi-Fi extender and
projection server