Original URL: https://www.theregister.co.uk/2012/04/16/review_third_generation_apple_tv_2012/
Apple TV third-generation (2012)
Set-top stop-gap for the 'iTV'?
Posted in Personal Tech, 16th April 2012 11:00 GMT
Review Well, at least we can get the hardware over and done with quickly. The latest Apple TV looks exactly like the old one, and it's innards aren't really any different either.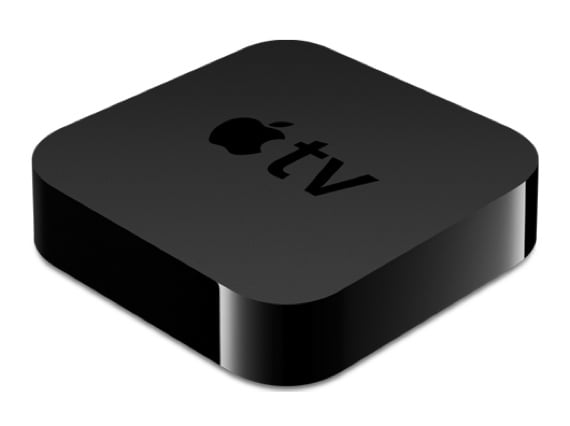 Box steady: no change to the look, little to the spec
For the record, there's an A5 processor on the inside in place of the previous model's A4, but that's effectively it. There are some small changes - there's no need to take it apart yourself, the very capable team at iFixit have already done so - but nothing that makes an appreciable difference to the user experience.
The 3G ATV's A5 chip is a single-core part, Apple having selected it over the A4 for its superior GPU. It's this that allows the ATV to play 1080p HD content, the new box's only functional improvement over its predecessor.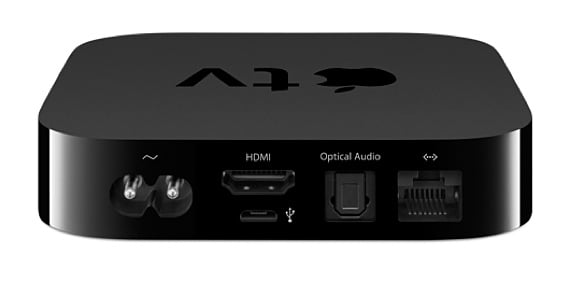 Not overflowing with ports, but enough to be getting on with
There's an HDMI connector to hook the ATV up to a telly, and optical audio for AV equipment. Apple doesn't bundle connector cables - you do get one of its slim, sexy metal remotes - as much to maintain the compact packaging aesthetic as a money-saving move.
Another cost-efficiency trick: incorporate a 10/100Mbps Ethernet port rather than Gigabit. But most folk will use the on-board 802.11n Wi-Fi adapter - it works in both 2.4GHz and 5GHz bands - and those that don't will probably, like me, use 200Mbps powerline technology to reach the router, and that runs at under 100Mbps in any case.

The remote is slick
Well, the ATV is just a £99 product...
The 3G ATV's most visible change is yet another UI. This is clearly where the ATV really is Apple's hobby project. Sure it's a set-top box for the rest of us. But it's also Apple's TV UI testing ground.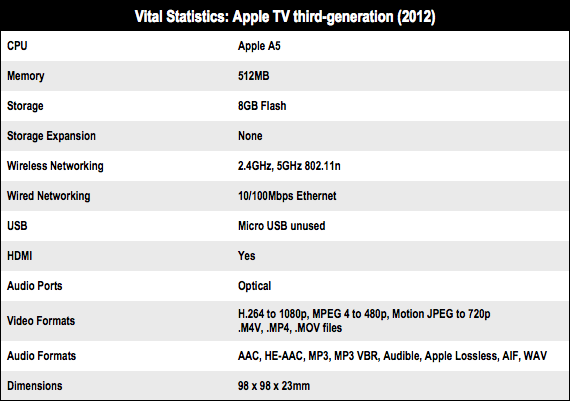 World's biggest UI beta test?
The first-generation ATV went from a UI derived from Mac OS X's Front Row media centre interface - big pic on the left, text menus on the right - to rotate through 90 degrees: pics on the top row, text menus ranged left to right beneath. This was ported to the 2G ATV, the first of the boxes bases on iOS, not that it matters.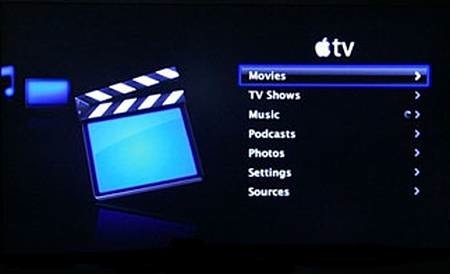 ATV UI evolution: from vertical menus...
The new ATV is iOS too - again, that's all but irrelevant to the user - but drops the text menus for a grid of icons. Maybe Apple will add iOS' icon page views like the main iPhone and iPad screens, but for now it seems new icons will extend the list downward.
The ATV many never be the app-splattered platform that the iDevices have become, but it's clear Apple has realised it can extend the ATV's functionality through apps and has adjusted the box's UI to accommodate them. That's necessary, perhaps, but I don't think the new UI is as attractive as its predecessor.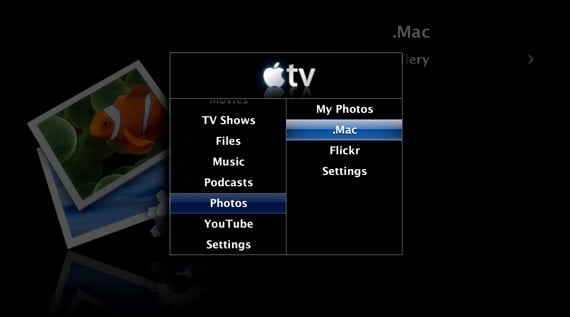 ...to slightly more sophisticated vertical menus...
The extended functionality of the ATV may be delivered by apps, but Apple isn't presenting them as applications. Here they're services and channels. Beyond the basic content types - Movies, TV Shows, Music, Podcasts, Radio - and networked Computers - the icons point to specific content sources, such as Netflix, YouTube and Flickr.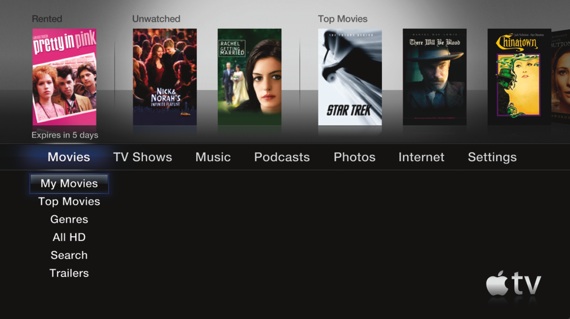 ...to better looking, horizontal menus...
That suggests Apple will retain tight control of what appears here, even if it opens up the platform to app developers. It doesn't want punters to be able to add heaps of generic apps like five different RSS viewers or three Twitter interfaces. These may come, but there will be one of each, branded appropriately.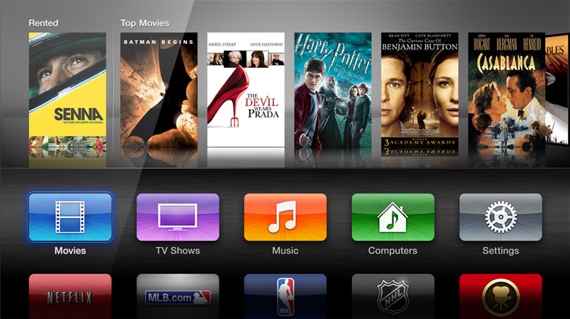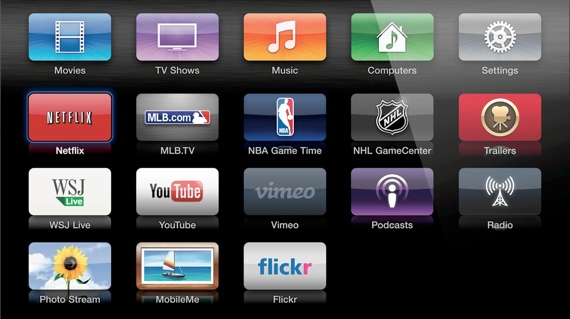 ...to icons
Games are a possible exception, but I'd say Apple wants us playing games on the iPad, iPod Touch or iPhone and simply streaming the screen over Wi-Fi to the ATV using AirPlay tech (nice). Games on the big screen make no sense without a controller. The Apple Remote's not up to the task. The iDevices are, and with better chippery will run them more smoothly than the ATV can. ATV plus iPad is doing now what the Nintendo Wii U won't do until the end of the year.
'iTV' stand in
Meantime, Apple needs for once to think about users outside the States. Yes, the ATV's Netflix app will work with Netflix's UK video catalogue, but not too many Brits will care much about Major League Baseball, I'd say. We want BBC iPlayer, we want Lovefilm, we want 4oD. A few even want Demand 5 and ITV Player. There's no shortage of UK content Apple could add if it had a mind to.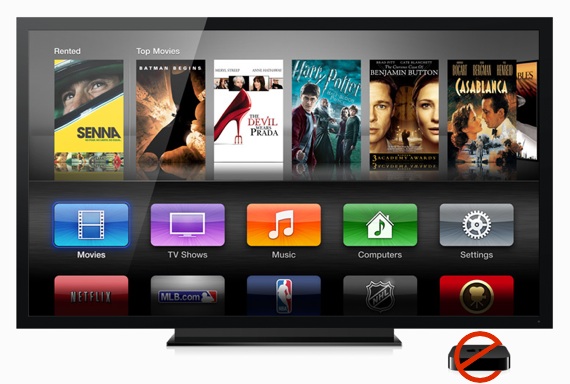 Just a TV, no set-top. Apple TV's future?
There are more content sources Apple could add for its American customers too. That it has shied away from doing so suggests it hasn't been able to make up its mind whether it wants the ATV to be merely an iTunes Store accessory or a broader IPTV platform.
Making other content sources more obvious - what else are those big colourful icons for? - points to the latter. No doubt the eagerly awaited arrival of the 'iTV' will make this bigger ambition obvious.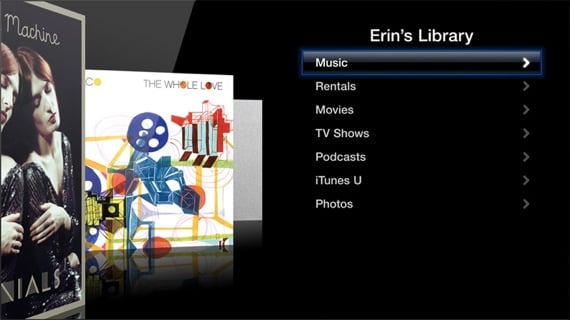 Access LAN-linked iTunes libraries but not Nas file-shares
The 3G ATV's UI, then, is a prototype, the box's userbase a focus group to be used to help Apple select the best UI for its HD TV, which, if it's to be a true success, needs to look beyond the iTunes Store for content.
Maybe a better UI is coming down the 'pike, but that doesn't help the ATV here and now. UI tweaks aside, this box doesn't really do anything the first-gen model didn't. Yes, there's 1080p playback, but you're still limited to the iTunes ecosystem, whether you get films and tunes from the Store or stream it from your computer.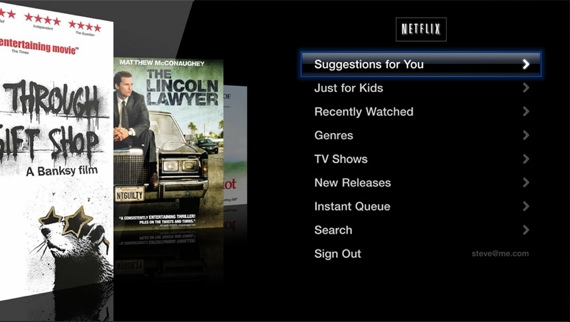 Apple, Netflix and iTunes are not enough.
If you want other formats, you'll have to jailbreak and install XBMC, like I did with my still-very-much-in-use first-gen ATV. Or ignore the Apple product altogether and buy something like the WD TV Live, which has a less attractive UI, but can talk to network shares, online services - including iPlayer - and directly connected storage.
Verdict
I like the Apple TV: the UI is easy to navigate and, if retrograde, nonetheless paves the way for apps; the remote is excellent; it's responsive, and playback is good; and the box itself is compact and doesn't need a power brick. It is one elegant, compact set-top box. But it's also useless if you're an iTunes refusenik, or you like to look over the garden wall from time to time. Yes, you can jailbreak it, but you should do that because you want to, not because you need to. Alas, with so few extra, non-Apple - and, crucially, non-US - content sources included out of the box, it's a necessity here. ®
More Media Gear Reviews

August DTV700B
Roku 2 XS
Ten... IPTV
set-top boxes
HD JuiceBox
Ten... Freesat
receivers