Original URL: https://www.theregister.co.uk/2012/04/16/pew_american_luddites/
Pew study finds one in five Americans still won't go online
Luddite fringe exposed as internet use plateaus
Posted in Networks, 16th April 2012 23:50 GMT
A hardcore 20 per cent of Americans ain't using the internet and don't want to neither, according to the latest survey data from the Pew Internet and American Life project.
The survey data showed that since 1995 internet use in the US had grown from around 10 per cent to just over 78 per cent in August of last year. The rate of internet use hasn't changed much in the last few years, indicating that the market has reached maturity, but there's still a group of neo-luddites who see the whole thing as pointless.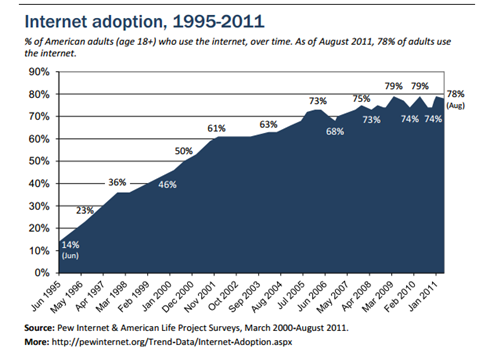 The stubborn hardcore of Luddites looks to be a permanent feature
Of the one in five who won't hook up to the interwebs, nearly half say they aren't interested because they don't see the internet as relevant to them. One in ten say it's too expensive. Meanwhile 2 per cent can't physically use a computer and 6 per cent live in an area where access - any access - is unavailable.
Pew identified the most likely people to stay offline as being people without a high school diploma, people earning under $30,000, senior citizens and respondents for whom English wasn't their primary language. Interestingly, the same demographic features typify groups who do use the internet, but primarily with their mobile phone, rather than with a computer.
Overall the study showed 88 per cent of Americans owned a mobile phone, with 56 per cent owning a laptop and 19 per cent owning an e-book reader and/or a tablet system. On the tablet front the young were likely to be early adopters, but not as likely as the 30-40 age group, who presumably have the money as well as the inclination to splash out on Apple's latest fondleslab. ®