Original URL: http://www.theregister.co.uk/2012/04/13/gizmo_week_feature_soup_up_your_home_network/
Soup up your home network
Tips for tuning a modern LAN
Posted in Personal Tech, 13th April 2012 07:00 GMT
Gizmo Week

There can't be many Reg Hardware readers who don't have a home network. In fact, these days you'd have to look hard indeed to find an ISP that sells its connection as strictly single PC only and just tosses in a USB modem rather than some sort of router.
A decade or so ago, just about any network would do. My flat still has thin Ethernet taps in some of the rooms, not to mention the serial cable for a long disused Wyse 50 terminal in the kitchen. The network connection was a 64Kbps kilostream and, since people didn't tend to turn up with laptops and phones that they wanted to connect to the internet, it worked just fine.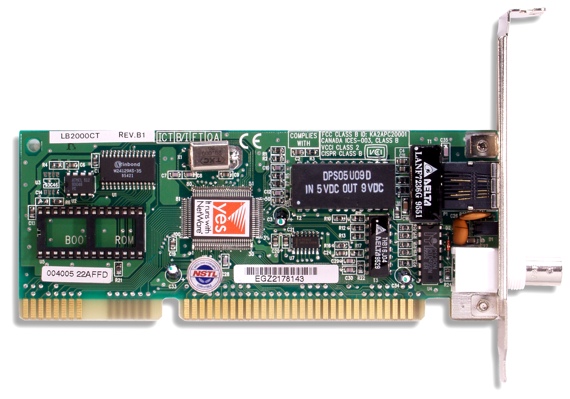 NE2000 cards, like this one from Arbor, were once all the rage
Now, though, with some broadband services boasting download speeds that can knock an NE2000 card into a cocked hat, not to mention streaming media in the home, and an ever increasing number of connected devices, from VoIP phones and iPads to security cameras and set-top boxes, it's worth putting a bit more thought in to how you can make the most of your home network.
Wireless wonders
For many people, a wireless network is essential, partly because the lack of wires makes it much more acceptable to those with inclinations towards neatness, but also out of necessity, with many devices having no other way to connect them. Where once my flat just had a couple of computers connected to the net, now there are over 20 devices, not including kit belonging to the neighbours, who I allow to use my network too.
With so many ISPs giving away wireless routers with their broadband, congestion is starting to become a real problem for Wi-Fi users in some areas. In one Amsterdam hotel I visited, 22 different networks were visible from my room. I can see dozens from my desk here at home.
The more networks on a given channel, the more time each will spend communicating with the others and giving them space to send and receive data.
Most Reg Hardware readers will know that you can change the channel on your basestation to find a less busy one. But with each Wi-Fi channel overlapping the two on either side of it, and only 13 channels to choose from - or 11 if you live in the States and some other territories - you're still going to suffer from congestion caused by too many networks operating in a small area.
With broadband top speeds now easily capable of outperforming an 802.11b connection – and sometimes even an 802.11g network too – even without congestion, many of us will need to take remedial action.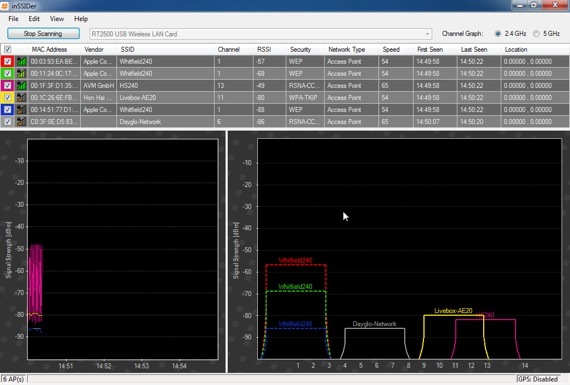 Tools like InSSIDer and iStumbler will help you pick a less congested Wi-Fi channel
Modern routers often have an 'automatic' channel setting, which should find the best channel – but it's worth remembering that it's only checking at the basestation. It's well worth using a tool like InSSIDer or iStumbler to see what other networks are active in the places you'll actually be using a laptop or other wireless devices.
Dual Mode
All that can still leave you with poor performance – stuttering online video, sluggish file transfers, or complete signal drop-outs. The best advice for many is to flee the clogged 2.4GHz band used by most Wi-Fi equipment and head for 5GHz band, which – so far – is relatively clear, and you'll get much better performance with 802.11n 5GHz kit, on the whole.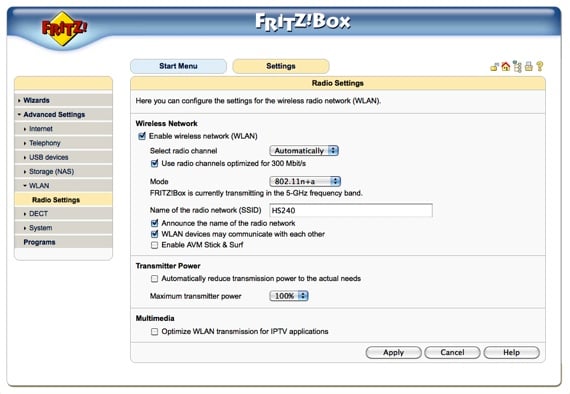 The 5GHz band will give you better performance, but I recommend using the 2.4GHz too
There's one problem with that, though: it may be fine if you want to connect a brand new laptop or an iPad, but lots of other equipment still doesn't work at 5GHz, only at 2.4GHz. That means you'll need a wireless router that can operate on both frequencies simultaneously or, alternatively, two separate networks. If you want to be able to access everything from any device, a dual-mode base station will be the best solution.
The other advantage, of course, of going 'dual band' is that the connection to your 5GHz devices won't be slowed down by those devices that have to operate in 802.11b and g modes. Unless all your devices are operating in 'g' mode, the network will slow down to 'b' speeds anyway.
It's worth looking, too, for models that have a guest network option, such as Apple's latest iteration of the Airport Extreme and kit from D-Link, Netgear and others. These will ensure that visitors can connect to the internet while they're in your home but can't, for example, go rummaging through the contents of your nas box.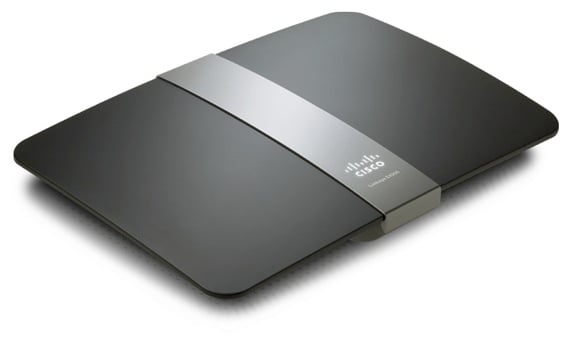 Many modern routers, like the Linksys E4200, operate 2.4GHz and 5GHz networks in parallel
If you have a large home, or one with walls that aren't particularly friendly to wireless, frequency and channel changes or separate networks for slower devices still may not solve your problems.
Not spots
Gigabit Ethernet would have seemed overkill a few years back, but these days there are sound reasons for using it in at least a few parts of your network. If you have a nas, for example, and backup your computer to that, or need to shift around large video files, it'll be much better than 100Base-T.
A wireless connection may be fine for backing up day to day, for example, but if I'm backing up 70GB of photos, it's a lot less painful using Ethernet. Some readers might also think of using the 'Jumbo frames' option if it's present on their nas, though it's unlikely to make as much of a difference on modern equipment as it used to. There's a great article here explaining why that's the case.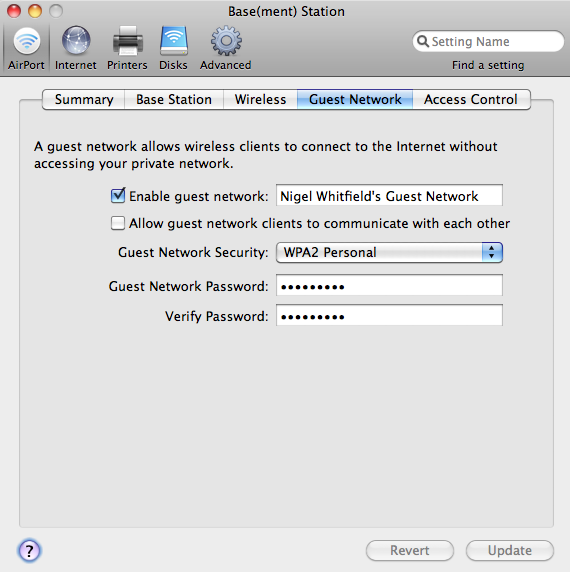 Many basestations, such as Apple's AirPort Extreme, let you run a separate network for guests
Mac users wanting to reap a real-world benefit should try using AFP with their nas, rather than SMB. Different protocols have different throughput efficiencies.
Mains course
Of course, Ethernet cabling draped around the skirting boards isn't a look that everyone can pull off, and few of us will have the opportunity to rewire a home with Cat 5e or 6 cable to every room. For many – and despite the inevitable outrage from radio hams – the best way to extend the reach of your network is to use powerline networking, of which the most widespread version at the moment is HomePlug AV, with a quoted speed of 200Mbps equating to around half that in practice.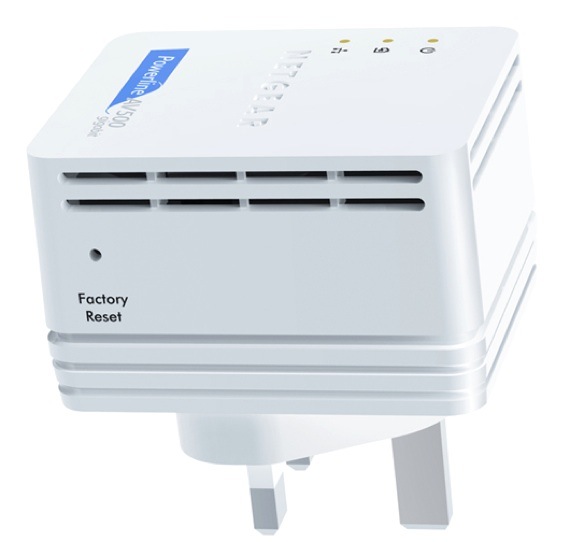 HomePlug AV now encompasses 500Mbps adaptors
There are also 500Mbps and 1Gbps variants too, though while both will communicate with 200Mbps versions, the 1Gbit and 500Mbps units can't talk to each other. Gigabit powerline effectively has a 200Mbps HomePlug AV unit bolted on to allow interworking.
A few years back, powerline adaptors were largely confined to plug-in units with a single Ethernet port. While that still accounts for the bulk of what's available, there are now more multi-port adaptors, giving you three ports on a single unit, for example.
Solwise now has a replacement wall socket, which provides a single 13A outlet together with four Ethernet ports, providing a 'built in' look that will please the house-proud. With many living rooms now having games consoles, media players, and connected TVs, it's a neat way of providing a decent number of connections.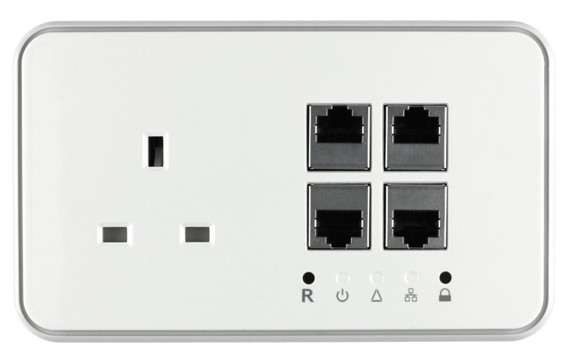 Solwise's Net PL 200AV Wall 4PE integrates an powerline adaptor and four-port switch into a mains plate
What I'd still love to see, though, is a unit that provides power over Ethernet too, making it simple to turn any mains outlet into a VoIP telephone point, for instance.
Point of entry
If you're trying to improve your home network, it's probably also worth considering your router too, and perhaps even your ISP – sometimes a change of the latter will necessitate the former, as when my ADSL changed from a BT-hosted to a C&W-hosted service, and my old Zyxel router refused to work reliably, while a new Draytek Vigor 2820 has been rock solid.
A new router may also give you a faster switch at the heart of your network, with Gigabit ports rather than 100Base-T, and extras like an improved firewall, or VoIP for those brave enough to make the switch.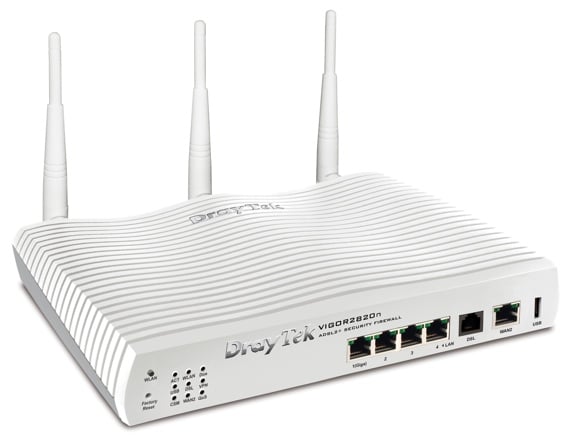 Plenty of geek-friendly antennae, ports and LEDs: Draytek's Vigor 2820
If you're thinking of changing ISP, perhaps to take advantage of faster services, it's also worth looking around at some of the smaller companies, where you're more likely to find options such as fixed IP addresses at no extra cost – useful, if you want to port your phone line to SIP, for instance – or IPv6 support.
The right solution for any network will, of course, depend on what you want to do with it. If I had to pick one thing to do, I'd use 5GHz wireless for those devices that can handle it, and keep a separate 2.4GHz network for slower devices and guests. ®