Original URL: http://www.theregister.co.uk/2012/04/11/antique_code_show_jazz_jackrabbit/
Jazz Jackrabbit
Easter Bunny?
Posted in Personal Tech, 11th April 2012 11:00 GMT
Antique Code Show What with Easter's inextricable link with bunnies, it seemed in order to revisit an old lop eared friend. Jazz Jackrabbit is a side scrolling platform game and one I consider to be DOS shareware gaming at its finest. Who would have thought our friend Jazz would come from the same stable as a Gears of War Nemacyst?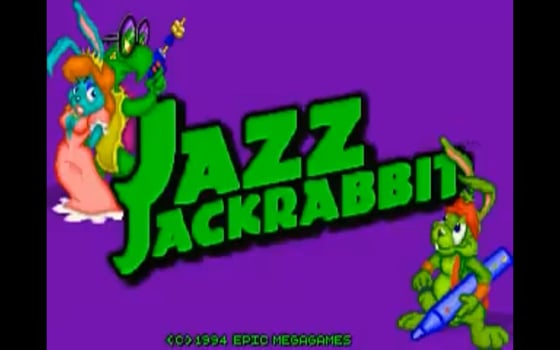 Aesop's fable gets an alternative treatment
The shareware version of Jazz Jackrabbit was released free to get me hooked just enough for Epic Megagames to cash in by offering bonus levels for a fee. But hey, the company even threw in a Jazz Jackrabbit comic so, as a Forbidden Planet regular, I didn't complain.
Jazz Jackrabbit's cartoony innovative graphic appearance and animation was way ahead of its time, although I am not sure the same can be said for its decidedly groovy soundtrack.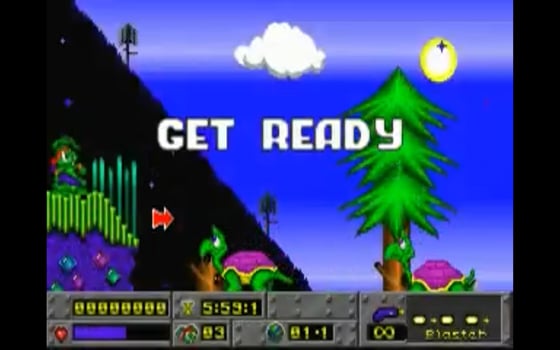 You had to shell out to get bonus levels
Inspired by Amiga games Turrican and Zool, cross-bred with Gunstar Heroes and Sonic the Hedgehog, Jazz jackrabbit comes over all Bugs Bunny meets The Toxic Avenger.
The plot is about as simple as it gets and doesn't take itself too seriously. Seemly based on the old Aesop fable about The Tortoise and the Hare but 3000 years into the future, it flips the story on its head by making the hare the good guy instead of the tortoise. Anyway, in this version the tortoise wants to take over the world – Carrotus. Hey, I guess people change.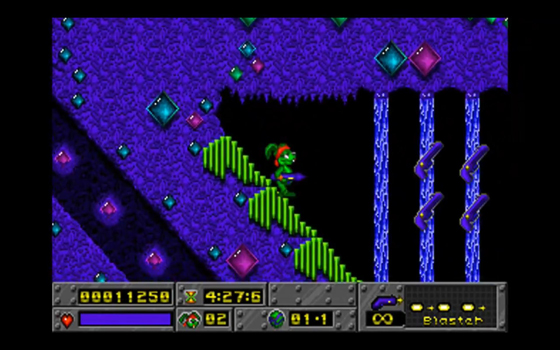 A gem of a game
Jazz is a mutant rabbit superhero mercenary committed to rescuing a damsel in distress, Eva Earlong from Devan Shell, the tortoise. Luckily Jazz has the LFG 2000 (little fucking gun) to help him out. To get Eva back from the evil clutches of Devan, Jazz has to journey to a number of planets where Devan has left his henchmen to carry out his evil plans.
Jazz score
Each chapter of the game – of which there are six main ones and three bonus ones – features two to three planets, each with two levels, followed by a boss fight. The planets have specific themes some even involving water and swimming, with corresponding music, enemies, and even colour schemes.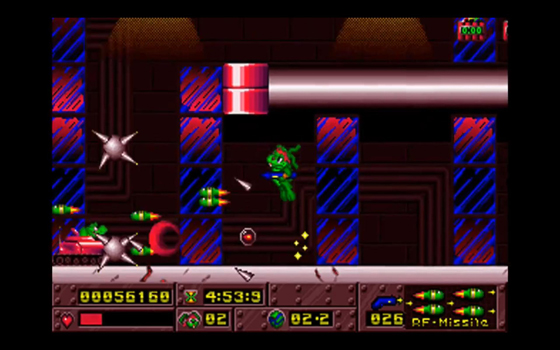 No Acme dynamite for this bunny
The levels consist of Jazz running, jumping and shooting his way past various enemies, grabbing carrots for points, collecting ammo and power-ups. Power-ups include "rapid fire" upgrades, invincibility, and the standard speed boots. Collecting a red gem gives me access to a 3D bonus level where I can get my paws on even more goodies.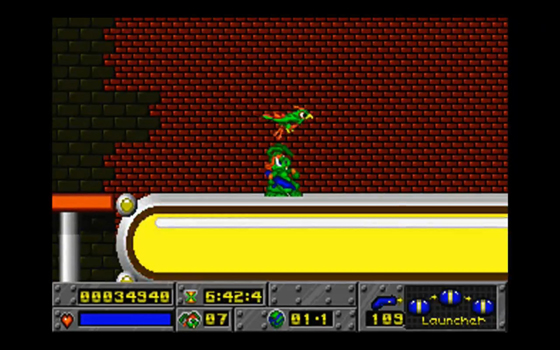 Airbourne assistance
The points help give the game epic re-playability, together with that crystal meth obsession of finding every item and killing every enemy in each level – I'm a pretty twitchy bunny. Oh, and don't forget to free a caged hip hop for some bird based back up!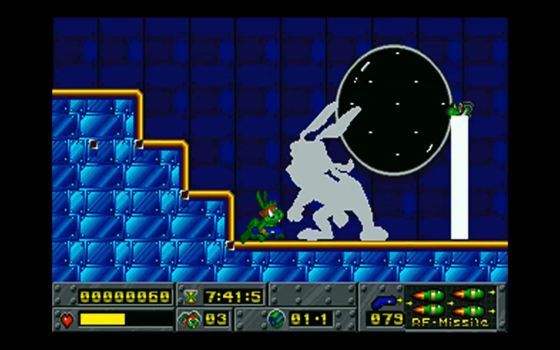 Boss battles are a little unsophisticated by today's standards, but there are difficulty levels
The game-play is enjoyable and fairly simple, my only quibble with it is that it's a little too simple when it comes to the boss fights, but I can choose from four different difficulty settings including turbo which pictures Jazz as a muscle-bound Rambo type.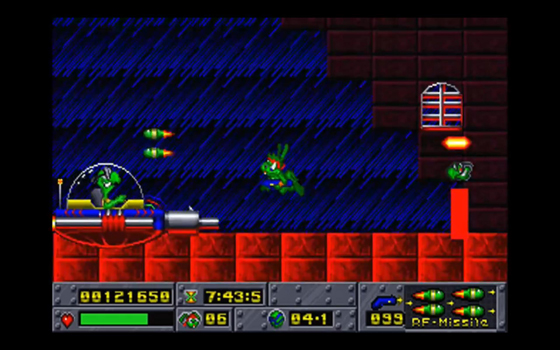 Hi-tech tortoise hell-bent on global domination – seems perfectly feasible
The graphics are eye bleedingly bright and colourful with a level of detail that still looks good nearly 20 years later. The game play animation is smooth and on re-inspection surprising unglitchy.
I can rely on Jazz Jackrabbit for hours of enjoyment over the Easter holidays and, seriously, how many games these days can boast slow-motion rabbits and 3D level design? Now where did the ferrets hid my Gravis PC gamepad? ®
Antique Code Show is published every two weeks on Wednesdays
Developer Epic Megagames, Arjan Brussee
Publisher Epic Megagames
Year of release 1994
Platforms DOS/Windows
More Retro Games

Rock'n'Roll Racing
Carmageddon
Leisure Suit Larry
System Shock
The Dizzy Series