Original URL: https://www.theregister.co.uk/2012/04/10/preview_renault_twizy_electric_car/
Renault Twizy budget e-car
Get your knickers in a Twizy
Posted in Science, 10th April 2012 10:48 GMT
First Look Some vehicles are more suited to certain geographical locales than others. Case in point: Renault's new two-seater electric runabout may not make much sense in central Manchester on a cold, dark, drizzly December evening.
On the other hand, on a sunny afternoon on a Mediterranean island it could be right at home. Lucky, then, that Renault is holding the European launch for the Twizy - the name is a car crash between Twin and Easy - on Ibiza.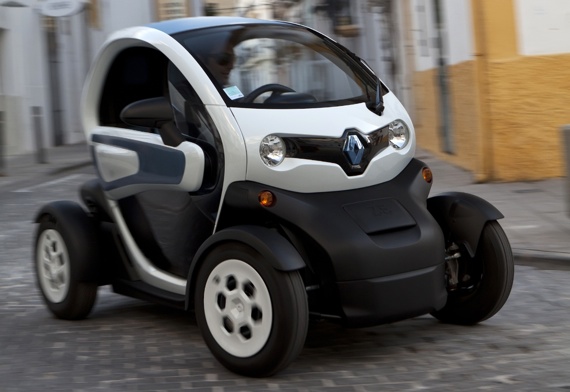 Twizy in motion, in Ibiza
The Twizy is a car - sorry, heavy quadricycle - with an unapologetically exact target audience. Potential owners are likely to be affluent urban dwelling latte-drinkers in their late teens, twenties or thirties who'd rather not partake of the dangers and discomforts of scooter riding.
A scooter is actually the best motorised analogy for the Twizy because the performance is scooter-like, thanks to a 13kW (17bhp) electric motor delivering a top speed of 50mph. The fastest indicated speed I managed on the flat was 86kph - just over 53mph.
With the 0-60 dash out of the question, you will have to make do with Renault's quoted times of 0-28mph in 6.1 seconds and 18-37mph in 8.1. But it all feels faster than it sounds thanks to the absence of doors and 57Nm (42lb-ft) of torque available from the off.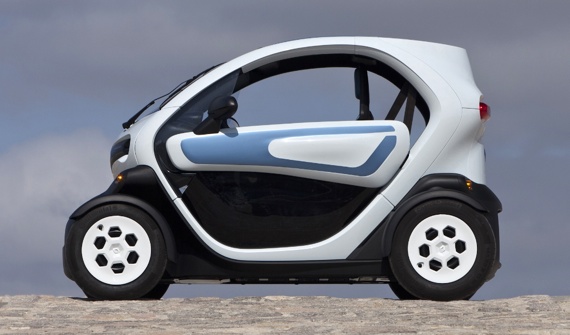 Door bar
Renault's Ibiza test routes didn't include much in the way of urban driving, but I can't honestly say I'd have any qualms about mixing it with the traffic in central London in a Twizy.
Despite the strange looks, the Twizy is remarkably car-like to drive. It has a steering wheel, seat-belts, stalks, pedals and an instrument binnacle. Put it this way,: you feel like you are sitting in a small hatchback not on a large scooter.
Throw it into a corner and any fears that it will just fall over soon evaporate. You see the whole vehicle only weighs 450kg and 100kg of that is the lithium-ion battery pack below the driver's seat, giving it a very low centre of gravity.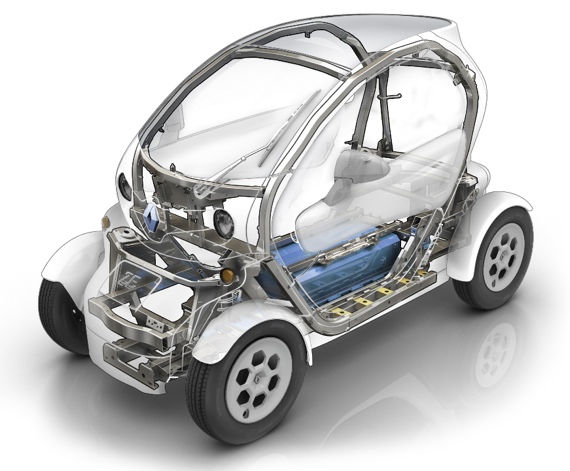 A low-slung battery for a low centre of gravity
That makes the Twizy a hoot to drive. With too little power to get you into serious bother, you just charge around with a manic grin plastered to your face. I've not enjoyed driving something this much for a long time.
Fun, fun, fun in the sun, sun, sun
The steering is very direct, with no power assistance getting in the way. The turning circle is an impressively tight 3.4 metres, and visibility superb which makes for top-notch urban manoeuvrability.
In fact, the only dynamic criticism I have is the ride, which is just a bit harsh over rough surfaces. I can imagine this becoming a chore on the cobbled rues and callés of Paris or Madrid, but that's the price you pay for the Renaultsport-tuned chassis and the fun factor. It's a price I would gladly pay.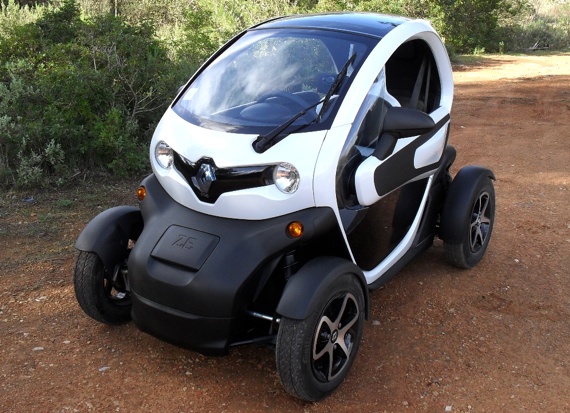 Looks - and feels - more like a car than a quadbike...
The electric motor is a bit loud, no doubt down the almost total lack of sound insulation and doors. But it's a sound I rather like. It reminds me of a TIE Fighter.
Inside - well, as inside as it's possible to be in something where the in and the out are divided by perception rather than steel - everything is well appointed if basic. To make it go, you just turn it on, press the D-for-drive button - or R-for-reverse if you want to go backwards - push the throttle pedal and off you go.
The dash consists of a simple LCD display that shows your speed, remaining range - Renault say the maximum is 100km or 62 miles - and how hard the motor is working. Take your foot off the gas and the latter gauge changes to show the regenerative braking feed.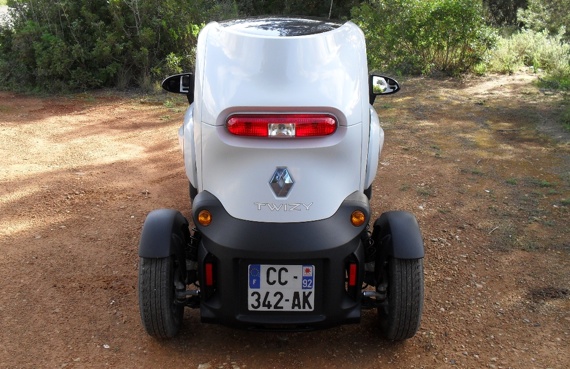 ...but still a bit 'invalid carriage' from the back
How close to the money are Renault's range estimates? One the first test day I drove like a maniac and only got 52km (32 miles) from a charge. On the second day, I put my sensible hat on and was looking at a projected 85km (53 miles) when I handed the keys back at Ibiza airport.
There's no fast-charge option, but with only a 6.1kWh battery charging the Twizy from a 13A socket isn't that big a faff. Unless you run it absolutely flat, a two-hour charge should top it right up.
To provide the driver with some degree of protection there is a simple beam in place of a door which opens forwards, scissor-fashion on a pivot on the A-pillar. A transparent plastic panel fills the gap below the beam to keep spray and small animals out of the cabin.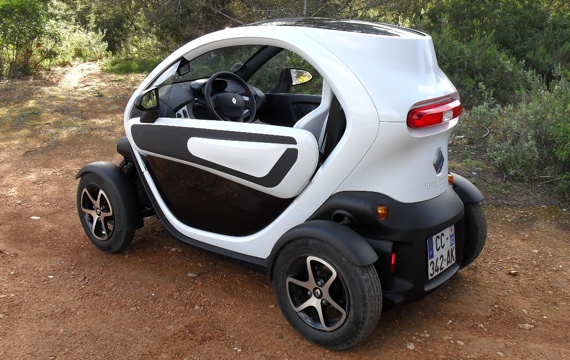 There's a posh model with alloy wheels, too
The space above the beam is open no matter what the weather, hence the functional interior trim which has to be weather proof. So, no carpets or leather, and drainage holes in the floor and seat. There's no heating system either, a clear nod to the Twizy's warmer clime target market.
Details: the Renault Twizy in pictures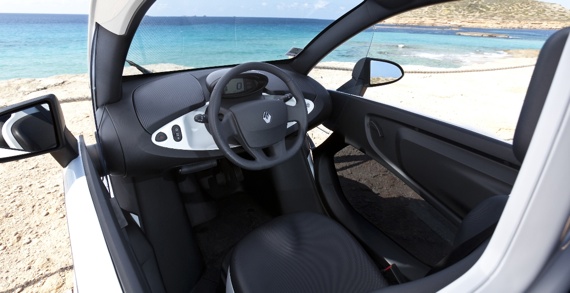 Interior, meet exterior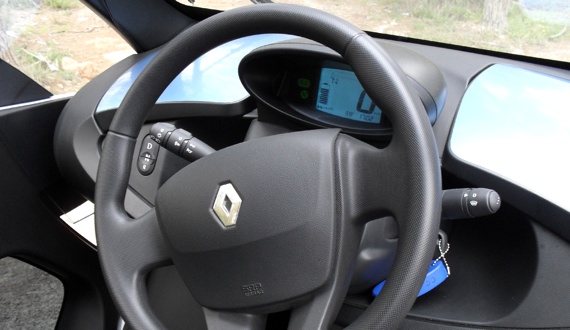 A single LCD is the only instrumentation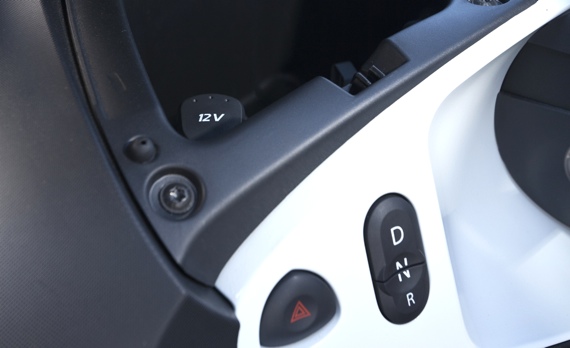 The DNR switch is the gear selector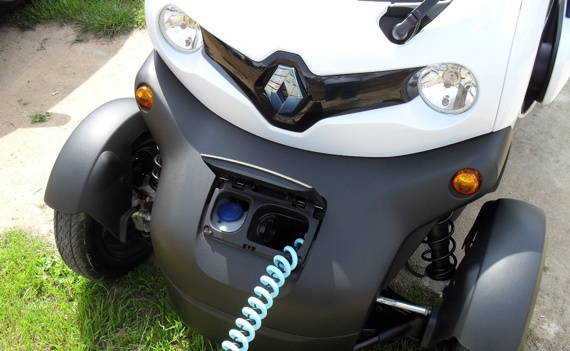 Plug to charge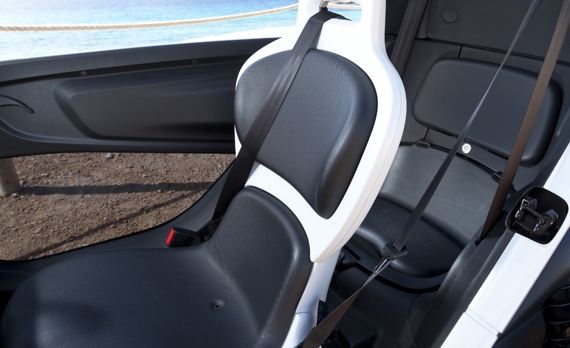 The drainage hole in the seat for inclement weather - or going way too fast round corners?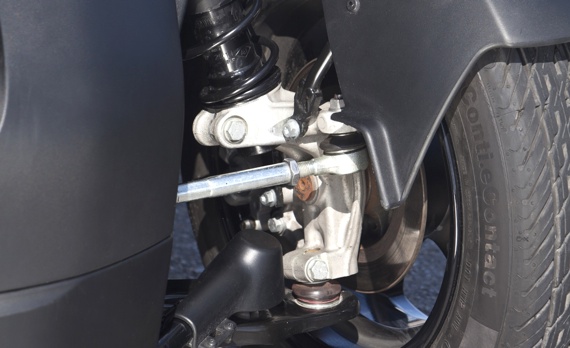 Too tight suspension for cobblestone crossings
E-drive of your life
As standard there is no stereo but an optional Parrot kit is available for £270 which will let you stream your music over Bluetooth, or from a USB stick, through a couple of speakers mounted in the roof. I've heard the system in action and it's pretty good.
To prevent someone nicking your Twizy, there's a standard fit steering lock and an electronic immobiliser though I still wouldn't want to leave mine any place that urban ne'er-do-wells could get at it.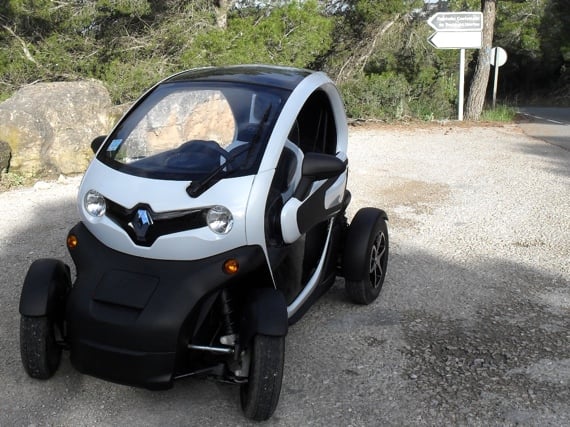 As for luggage and passenger space, there's a padded chair behind the driver with a lockable 31-litre luggage cubby below it and two front glove boxes. The finished cubby design wasn't fitted to my test car, so I can't tell you how well it works. Ditto the various mesh pockets Renault plans on fitting.
The seats are supportive and comfortable, despite the driver's chair only moving backward and forward. There's no height adjustment and the angle of the backrest if fixed as is the steering column.
The rear seat may not look very easy to get in and out of but as long as the front seat is fully forward it isn't too much trouble. All said, it's a practical layout and a darned sight more comfortable and safer than a moped.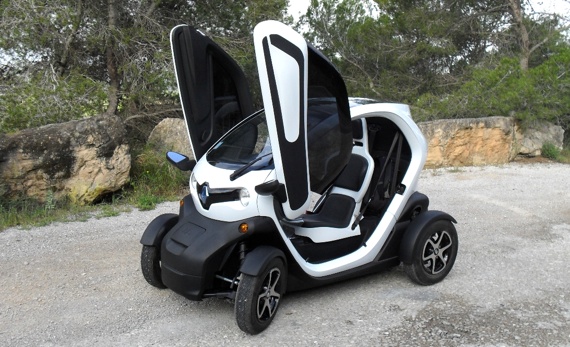 Present... doors
How much will all this urban chic set you back? Just over six and a half grand for the entry level model, though you will need to factor in £45 a month for the battery lease based on a three-year and 4500 miles per year contract.
As for running costs, the included 'Renault 4+' package includes free servicing, a replacement battery if the maximum capacity drops below 75 per cent and a four-year warranty. Renault estimates that a two-hour charge will cost the average Brit a quid. That's not a bad price to pay for a fun-filled day of Twizying about.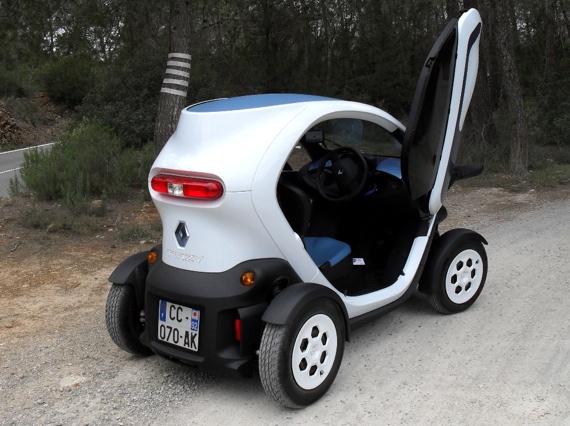 'ear, 'ear
If Renault decides to launch a personal contract plan for the Twizy and the battery together for anything close to £100 a month, I'm having one, Manchester weather and no heater notwithstanding. I'm being serious - for that money I'm sold. ®
More E-car Reviews

Ten... e-cars
Nissan Leaf
Renault
Fluence ZE
Peugeot iOn
Smart FourTwo