Original URL: https://www.theregister.co.uk/2012/04/06/review_htc_one_x_android_smartphone/
HTC One X Android smartphone
Quad-core corker
Posted in Personal Tech, 6th April 2012 06:00 GMT
Review HTC messed up in 2011 by releasing too many similar handsets. There was nothing actually wrong with phones likes the Sensation, Sensation XL, Sensation XE or Incredible S but equally none of them had me itching to upgrade my Desire HD ahead of schedule.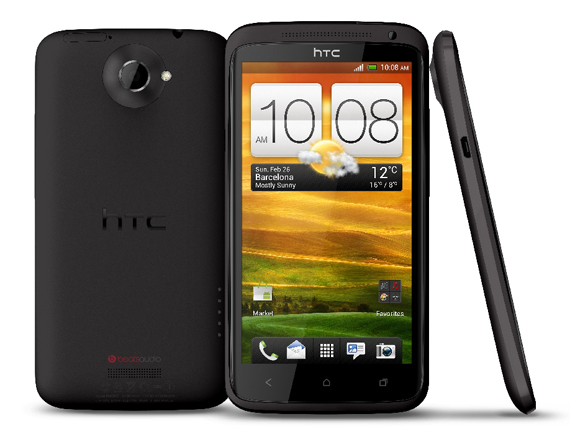 The X factor: HTC's One X
Now HTC is hoping to turn things around by putting its eggs in the One basket. For the penurious it has the One V. For middle income types the One S. But what I have here is the top tomato, the One X. A phone HTC is hoping will be considered the best you can get.
Let's start with the headline specs. The screen is a 4.7in 720p affair with a pixel count of 312dpi. The CPU is a 1.5GHz penta-core Nvidia Tegra 3 unit with 1GB of Ram. Keeping all that in step is Android 4 Ice Cream Sandwich allied to HTC's new Sense 4.0.

Long and slim
The exterior of the One X is a gently curved and understated affair and the back has a pleasant matte surface. The look works for me because it doesn't try as hard to impress as Sony's new Xperia devices or the Samsung Galaxy Nexus. Build quality is rock solid too, due to the body being carved from a single chunk of polycarbonate plastic much like the Nokia N9 and Lumia 800, while the screen is good old Corning Gorilla Glass.
Below the screen you will find three capacitive buttons – back, home and recent apps – rather than the four of previous HTC handsets. I never use the fourth search button on my Desire HD, so it's a change I can't complain about.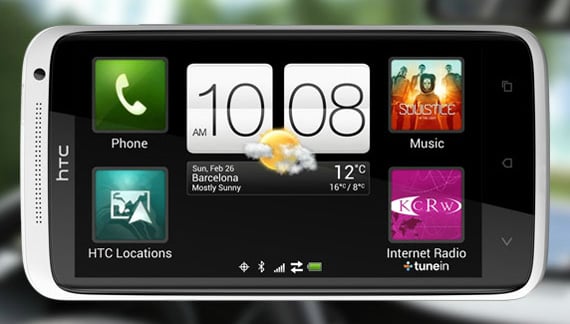 Screen resolution is a pin sharp 312dpi
The edge of the handset is interrupted only by a 3.5mm audio jack on the top, the power and volume controls and a micro USB port – with the optional AC M490 cable this connection provides an HDMI output. There's no memory card slot but with 32GB on board I can live with that. The X takes a micro SIM rather than standard-sized card.
Chart topper
At 130g HTC One X is 5g lighter than the Galaxy Nexus and 10g lighter than the iPhone 4S. Yes it's taller and wider than the iPhone but it has a much bigger screen, so what do you expect? Unless you have the hands of a child, the size is no impediment to use.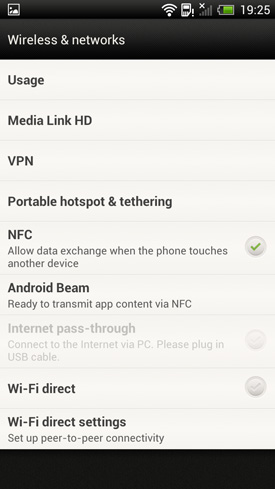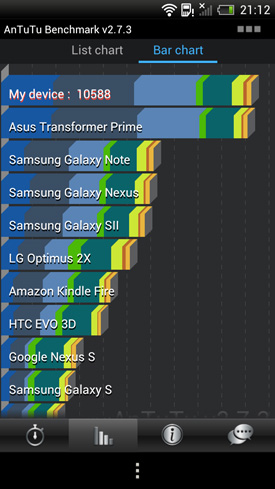 NFC options and a hotspot of a different kind – the AntuTu score
Wireless connectivity is bang up to date with Bluetooth 4.0 and NFC accompanying the usual (2.4GHz only) 802.11n Wi-Fi. At the moment, the first two are more about future-proofing than anything else but better to have them than not. Oh, and if you're inclined to use the HTC One X as a PMP with a Bluetooth headset, it also supports AptX audio coding that's claimed to deliver an output as good as a wired signal.
With that Tegra 3 chip you'd expect this handset to go like the blazes and you'd be quite right. Just like the Asus Transformer Prime the HTC One X returned an AnTuTu score of over 10,500 and runs almost supernaturally quickly. The UI is supremely slick.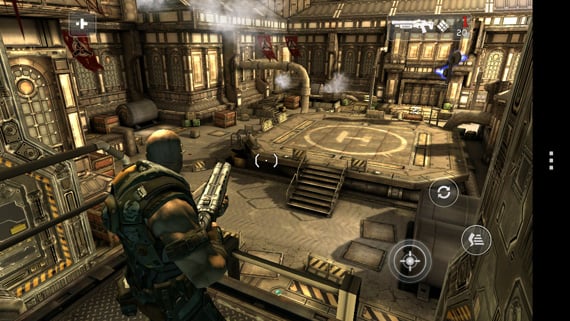 Shadowplay running at 720p
The One X's ability to run 3D games like Shadowgun and play 1080p video in any and all formats is so all-encompassing it's easier for me list the things it can't do. Which is nothing. And, boy oh boy, do games and videos look good on that HD screen.
Is the display better than that of the Samsung Galaxy Nexus? Tough call. The Samsung OLED manages a better absolute black, but colours look more natural on the HTC's IPS LCD panel. Both are bright and have very robust viewing angles.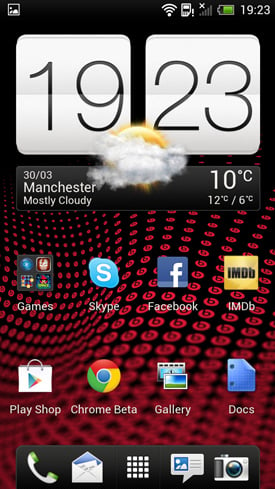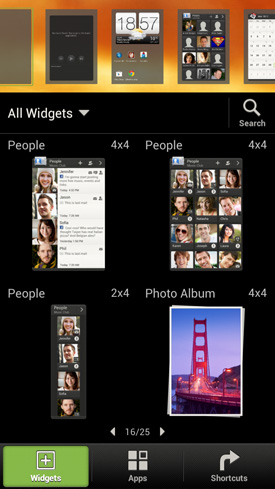 Home screen and 25 pages of widgets
Enough has already been said about Ice Cream Sandwich – including by yours truly – and like it though I do in vanilla form, HTC's Sense 4 does make a case for itself. There are widgets aplenty and integration with Evernote, SkyDrive and Dropbox as well as the usual social and photographic suspects. One X owners also get an extra 25GB of Dropbox storage free for two years.
AV aficionado
Thanks to an f/2.0 aperture lens, a back-illuminated sensor and the ICS panorama capture facility the 8Mp camera fitted to the One X closes the gap on the best from Sony and Nokia. Even casual snaps look rather impressive and you get more shooting effects than you can shake a stick at and the ability to take still images while recording video. It's a fast camera too.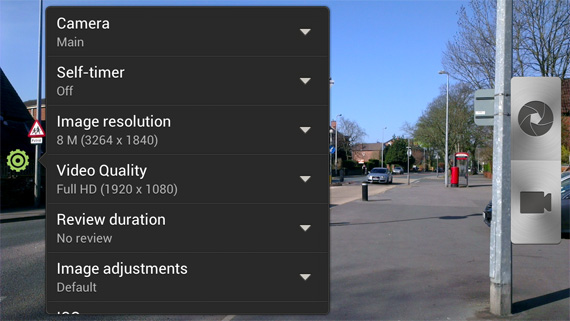 Easy access to camera settings
Talking of video the main camera shoots at the expected 1080p but the 1.3Mp webcam can record at 720p which is handy for capturing yourself in HD. Both output content as H.264 and the front camera also supports Skype.
As goes the visual, so goes the audible. This is a Beats Audio phone and the sound quality it produces knocks the Desire HD and the other-half's iPhone 4S into a cocked hat. The bundled Beats earphones are very impressive both in terms of sound quality and of comfort. Call quality is good and the single speaker is powerful and composed enough to make watching films without earphones a pleasant experience.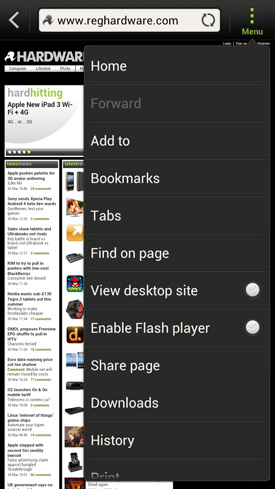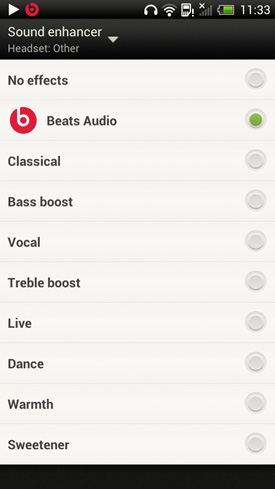 Plenty of browser options and Beats Audio settings
Chinks in the X's armour? Well, the Flash player didn't work until I found and installed a firmware update, the Wi-Fi radio sometimes took its own sweet time to connect and HTC's excellent e-book reader app seems to have vanished, which is a shame.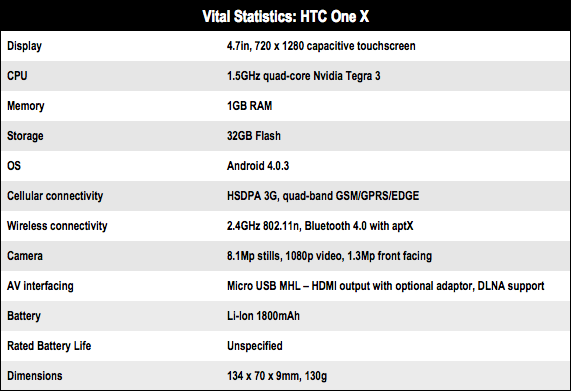 Brain drain
Battery life could be better though looking at the spec sheet nobody should be surprised by this. Looping a 720p MP4 video file drained the battery in 5 hrs 35 mins. Playing Shadowgun for 2 hrs 55 mins did the same.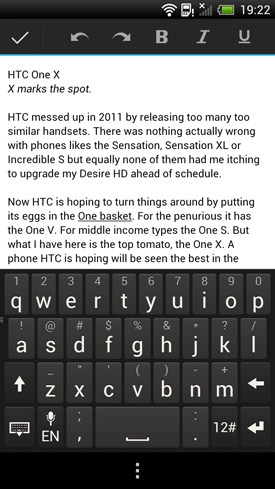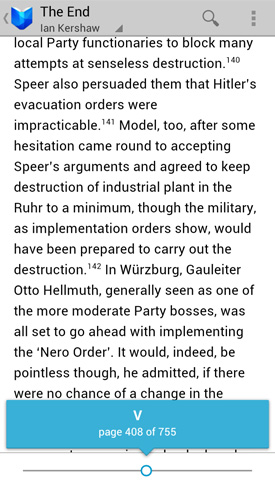 Google Docs with HTC keyboard and Google Books
The same daily routine that sees my Desire HD need a top-up every 12 hours saw the One X needing the same, despite my HD only having a 1250mAh battery - the X's is 1800mAh - and being 18 months old. Personally I can live with the X's hunger but then I never leave home without my 7,000mAh rechargeable juice pack.
As for cost, expect to pay about the same for an unlocked One X as you would for an iPhone 4S with its tiny 3.5in screen and easily-filled 16GB of storage. On contract you are looking at around £40 a month over two years.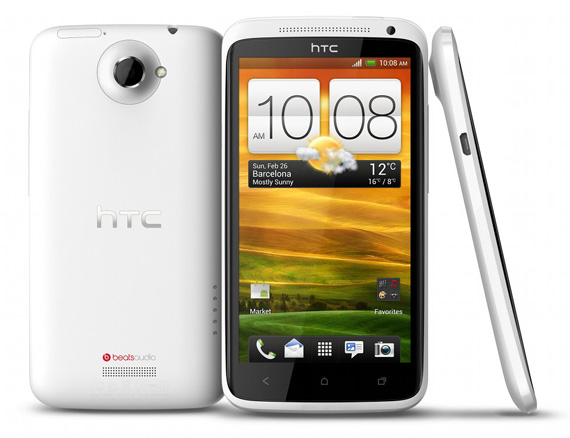 Par for the course battery life, but performance is in a different class altogether
Verdict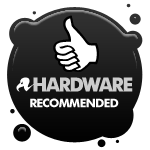 A perfect smartphone? Very nearly. Some will bemoan the absence of Micro SD expansion and the lack of a dedicated HDMI port. I expected better from such a large battery too, but the screen is huge and glorious, the CPU powerful enough to run a small country, both cameras are good and the build quality superb. Suddenly my Desire HD feels like the relic of a bygone age. ®
More Android Phone Reviews

Motorola
Motoluxe
Sony
Xperia S
NXT
Ten… Androids
to outshine
the iPhone 4S
Samsung
Galaxy
Nexus
Prada Phone
by LG 3.0