Original URL: https://www.theregister.co.uk/2012/04/05/review_netgear_powerline_nano_500_xav5101_ethernet_adaptor/
Netgear Powerline Nano 500 Ethernet-over-mains adaptor
Mains-line networking
Posted in Personal Tech, 5th April 2012 06:00 GMT
Review When a vendor puts a colour-coded performance guide LED onto a powerline Ethernet product and admits that "best" throughput - the light is green, natch - is "greater than 80Mbps", you immediately realise how big a gap lies between the technology's reach and its grasp.
Netgear's latest adaptor, the XAV5101 500 Nano, is labelled "Powerline AV500 Gigabit", which will suggest to some that it can do 1Gbps. Or maybe that 500 tells you it's capable of 500Mbps.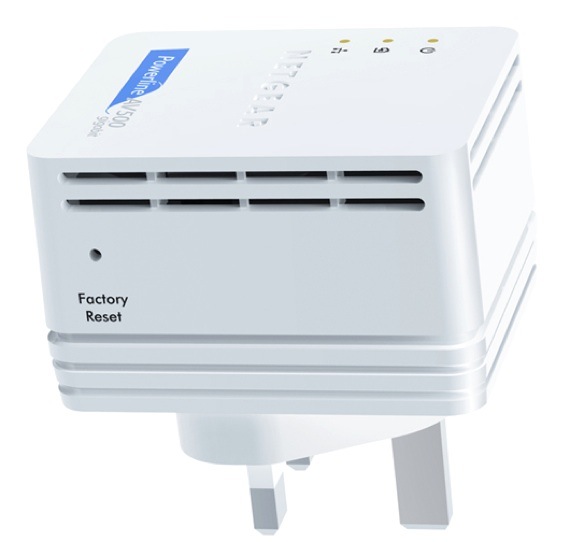 The Nano 500 is much more compact than past Powerline adaptors
To clarify, the world "Gigabit" is there because the Nano has a 10/100/1000Mbps Ethernet port on board. But, as the packaging reveals, the device has a maximum speed of 500Mbps. In the cheeky parlance of powerline networking kit makers, that speed adds the uplink and downlink speeds together - 250Mbps each way, in other words.
Either way, it's still a much bigger number than 80Mbps.
The Nano is compliant with the 200Mbps HomePlug AV specification which is part of the IEEE 1901 powerline standard, and it's this the delivers the higher speed. Bottom line: it'll work with most of the powerline adaptors out there, but not older HomePlug 1.0 devices.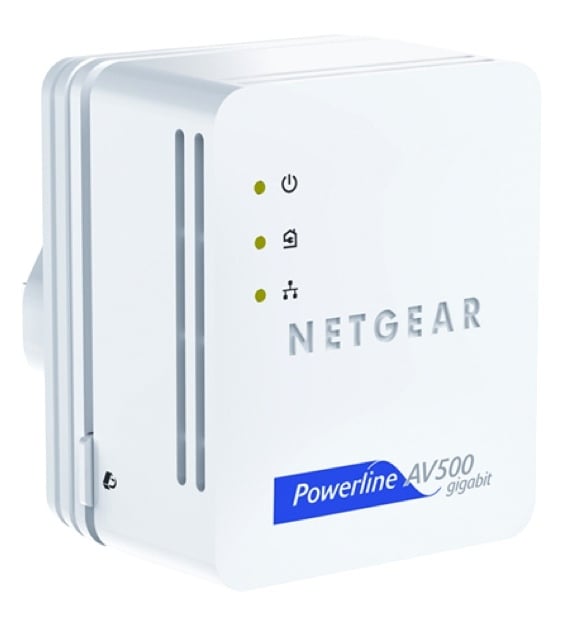 The lower two LEDs show the Powerline link speed grade, and whether the device is connected to a local Ethernet port
The Nano's other selling point, beyond speed, is its size. It's rather smaller than many a powerline adaptor being not so very much larger than a mobile phone power brick. So even though the Ethernet adaptor faces downward, there's plenty of room to get the cable in and out if you're using the Nano in a low-mounted power sockets.
It's a lot smaller than last year's XAV5001 adaptor - it's 67 per cent of the latter's volume - which offered the same spec. But it too sports a data encryption button which gives you two minutes to press the equivalent button on all your other adaptors, at which point they'll jointly negotiate and share a 128-bit AES encryption key.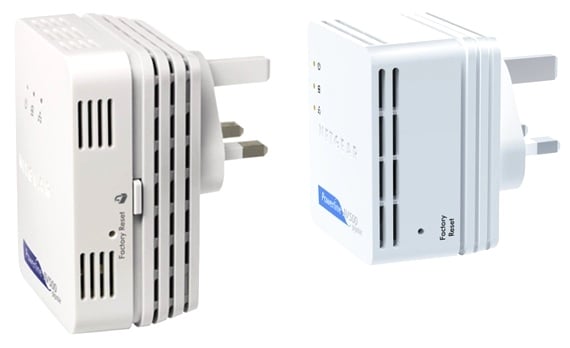 Netgear new and old: XAV5001 and XAV5101 back to back and to scale

Wire oh wire
Like all powerline adaptors, the Netgear Nano gets warm in use, but not excessively so. They're cooler than my regular-size Devolo 200Mbps adaptors. The XAV5101 also consumes the oligatory half a Watt or less when it's not actively transmitting or receiving data.
My real-world testing of the XAV5101 involved pulling files down from a Nas box over the powerline link - the kind of thing most folk installing this kind of kit will do - and observing the measured throughput.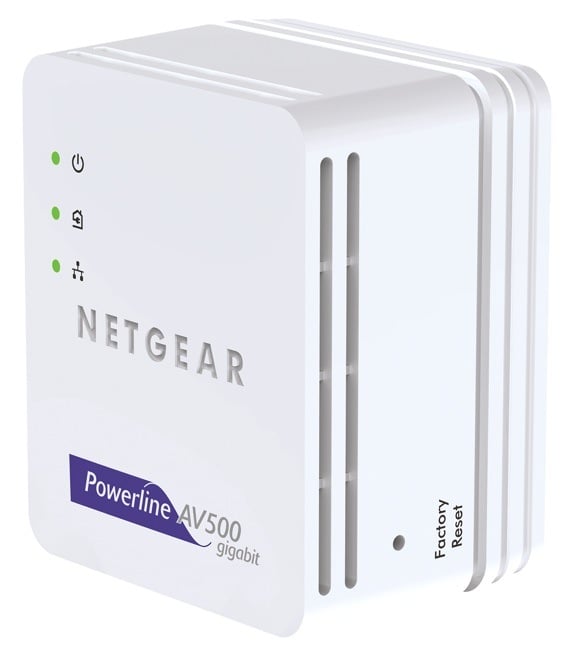 Doesn't run hot
Downloading from a WD MyBook Live network hard drive, connected by AFP, to my 15in MacBook Pro yielded a speed of 11.8MBps - 94.4Mbps. Of course this doesn't give the raw throughput - different data transfer protocols have higher or lower overheads; the same file copied over the same system but this time using SMB saw the time fall to 52Mbps, for instance. Moral: pick your protocols carefully.
The state of your home's wiring will have an effect too, so your mileage is going to vary. Here's how the new Netgear adaptors compare with the previous generation, to give you a guide to relative performance. Note that the Devolo product is a 200Mbps and so comes with a 10/100Mbps Ethernet port.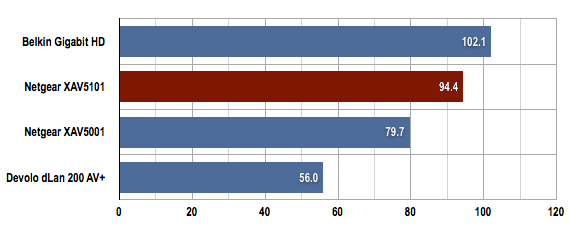 Download throughput in Megabits per Second (Mbps)
Longer lines are better
Using the iperf 2.0.5 bandwidth measure on the Vulture Central lab bench to fill the powerline pipe to capacity, I got a ten-run average one-way bandwidth of 182.1Mbps. These adaptors are clearly capable of getting much better performance than I got at home.

iperf average max bandwidth in Megabits per Second (Mbps)
Longer lines are better
Try as I might, I couldn't get the Netgear kit to interfere with either my DAB radio or the FM tranny I have in the kitchen. Well-behaving powerline adaptors are 'notched' to prevent them transmitting on used frequencies, and in all instances I've seen of powerline kit causing noise, the receivers have been placed near the adaptor.
Noisy adaptors there are, but I'm sceptical even these bad-behaved adaptors - notching does reduce performance - will be filling the ether with high-frequency noise will be sending police cars up the wrong street and causing aircraft to fall from the sky.
Verdict
Netgear's latest powerline adaptors deliver a decent performance, but it's their reduced size that's the real selling point here, ensuring they take up far less wall space than powerline Ethernet boxes of yore. They're clearly much faster than 200Mbps adaptors, though perhaps not sufficiently so to warrant replacing existing HomePlug AV kit. ®
More Networking Gear Reviews

Lantronix
xPrintServer
Netgear
ReadyNas Duo
Lindy
wireless
extender
LaCie
LaPlug
Solwise
Net-3G-A10