Original URL: https://www.theregister.co.uk/2012/04/05/apple_tells_staff_to_replace_wifi_troubled_new_ipad_3/
Apple tells staff to 'capture' iPad 3s with Wi-Fi troubles
No-quibble replacements offered
Posted in Personal Tech, 5th April 2012 07:50 GMT
Apple is investigating the growing number of claims that the New iPad - aka the iPad 3 - suffers from weak Wi-Fi woes.
Information provided by Cupertino to support staff and Apple Store employees across the US, snapped by a worker and send to 9to5Mac, shows the company is now replacing iPad 3s brought in by customers who claim to have found the device's wireless networking facilities wanting.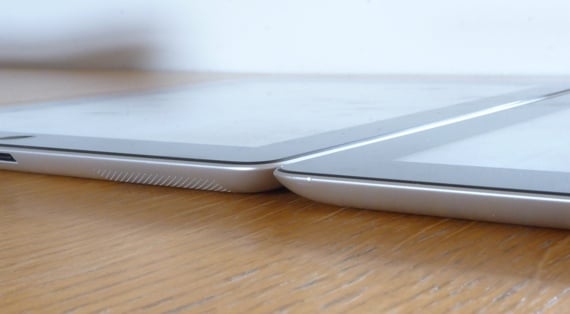 Thinner one on the right has better Wi-Fi?
The intranet page shows Apple is focusing on the Wi-Fi only model. Probems that will trigger a replacement - a "capture" in Apple argot - include "intermittent connectivity, slow Wi-Fi speeds [and] Wi-Fi network not seen".
Since the release of the iPad 3, a trickle of complaints about the tablet's Wi-Fi performance on the Apple Support Forum has become a flood. Typically, the new iPad will show a lower signal strength than an iPad or iPad 2 held at the same distance from a wireless access or router. Some punters have also said they experience much lower data throughput. ®