Original URL: https://www.theregister.co.uk/2012/04/04/top_ten_adf_based_inkjet_all_in_one_printers/
Ten... ADF-based inkjet all-in-one printers
Feed me, feed me now
Posted in Personal Tech, 4th April 2012 06:00 GMT
Product Round-up Inkjet all-in-one printers have two different focuses: photos and documents. Those aimed at document handling often forsake things like card readers and twin paper trays, in favour of fax and Automatic Document Feeders (ADFs). With an ADF you can scan or copy multi-page documents unattended, giving you extra time to drink hot beverages or consult twitter.
On test are ten ADF-equipped all-in-ones, ideal for handling home office correspondence or for helping with school or higher education projects. They range from just over £50 to £200, but most can be had at discount prices, with a bit of searching.
Brother MFC-J430W

This is a neat and simple all-in-one with all the basics in place, including fax facilities. The 20-sheet ADF feeds upside down, passing paper upwards from the top of the scanner lid, but it works fine. The simple control panel has a full-colour LCD and number pad for fax dialling and there's a single 100-sheet paper tray at the front. It can print at up to 7.7ppm, which is good for class and the four ink cartridges – which plug in easily from the front – give reasonable page costs of 2.6p for ISO black and 7.6p for ISO colour. Print is a bit fuzzy, due to ink spread.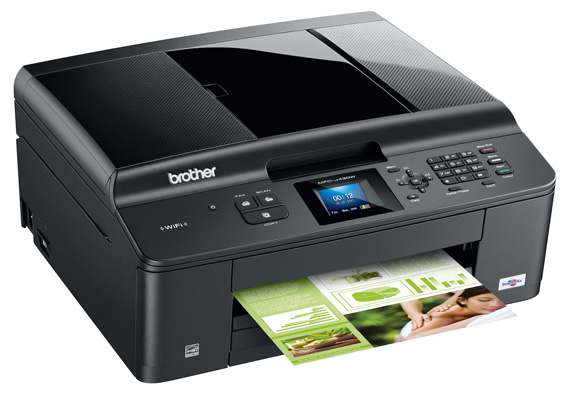 Reg Rating 65%
Price £108
More info Brother
Brother DCP-J925DW

Much higher up Brother's all-in-one range, this machine includes a double-width touch-screen, 15-sheet ADF, duplex print and facility to directly print CDs and DVDs, though there's no fax. The 100-sheet paper tray is topped off with a 20-sheet photo tray, though it has to be engaged manually. Photo card slots and a PictBridge socket are provided. Brother claims a top speed of 12ppm and I saw 9.2ppm, which is good for an inkjet. The machine, like many other Brothers, is let down by its fuzzy plain paper print quality, and running costs are only fair at 3.0p and 8.9p for ISO black and colour.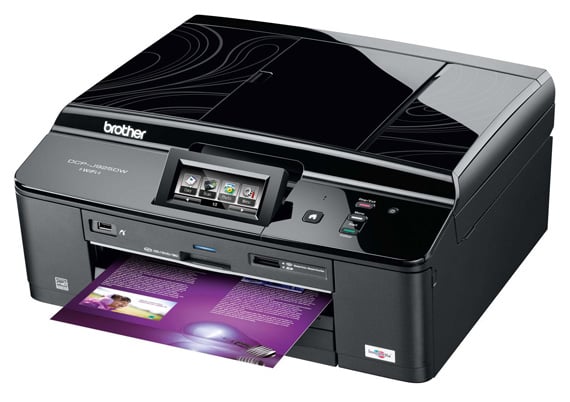 Reg Rating 65%
Price £174
More info Brother
Canon Pixma MX420

Perhaps more often thought of as a photo all-in-one producer, Canon's range of MX machines are well suited to plain paper documents. The Pixma MX420 includes a 30-sheet ADF, a 62mm colour LCD and slots for memory cards and PictBridge, so photos aren't left out. A single, 100-sheet plain paper tray at the back is the only paper source. I saw 9.6ppm and 5.3ppm for ISO black and colour print, both quite quick and refreshingly better than Canon's claims. Duplex print is supported. Print quality is excellent, with sharp, dense black and bright colours, though running costs, at 3.6p for black and 8.4p for colour, are nothing special.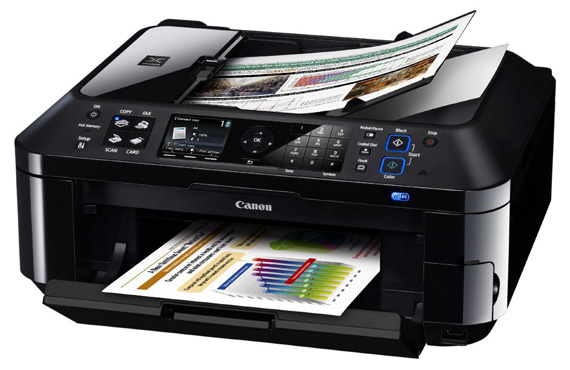 Reg Rating 75%
Price £129
More info Canon
Dell V715w

Most of Dell's inkjet all-in-ones are made by Lexmark and you can see the heritage in this one, with its slightly flared case, leading up to an ostentatious, 50-sheet ADF. The fixed control panel offers a 61mm colour LCD, together with a numeric pad for fax and there are sockets for memory cards and USB/PictBridge print. There's a single, 150-sheet paper tray with no separate photo feed, though duplex print is supported. I saw print speeds of 6.5ppm and 3.6ppm for ISO black and colour, both uninspiring, and running costs of 4.3p for black and 11.5p for colour are high, too. Print quality is OK on plain and photo documents.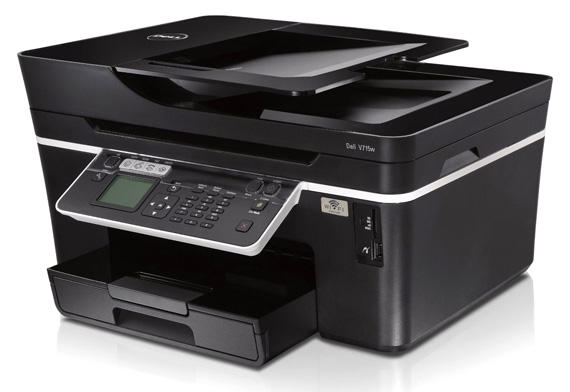 Reg Rating 60%
Price £60
More info Dell
Epson Stylus Office BX305FW

The entry level office all-in-one in Epson's range, this machine has most of the design features of its bigger siblings. The signature curved top provides a 30-sheet ADF and although the control panel only offers a two-line, mono LCD, it's sufficient for most tasks. The only feed tray is a 120-sheet, near-vertical one at the back and that feeds to a telescopic output tray at the front. I saw nothing like Epson's claimed speeds, clocking 3.6ppm and 1.3ppm for black and colour; both very slow. Black text quality is noticeably jagged, though colour graphics are bright and photos presentable. Page costs using high-yield cartridges are 2.6p and 9.6p, with the colour cost being high.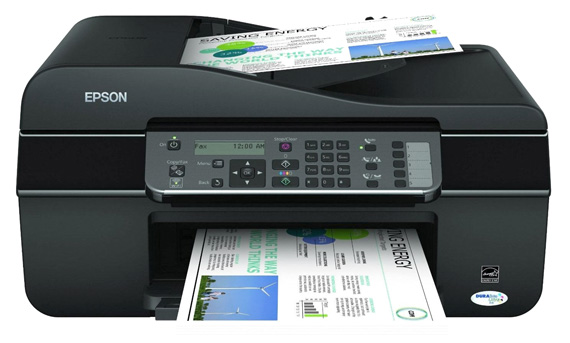 Reg Rating 60%
Price £100
More info Epson
Epson Workforce Pro WP-4525DNF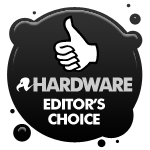 This hunky all-in-one sits in the middle of Epson's Workforce Pro range. It has a 30-sheet ADF and a 63mm colour LCD in the centre of a well-organised control panel, which includes a numeric pad for fax. There are USB and Ethernet sockets, but no wireless connection. A 250-sheet front paper cassette and an 80-sheet rear tray for special media provide comprehensive paper handling. The printer offers 13.6ppm in black and at 8.5 sides per minute duplex, as fast as a budget laser. Print quality is excellent, from a newly designed print engine, and running costs can be as low as 1.1p for ISO black and 4.3p for ISO colour. An exceptional all-in-one, available online for about £80 less than the RRP.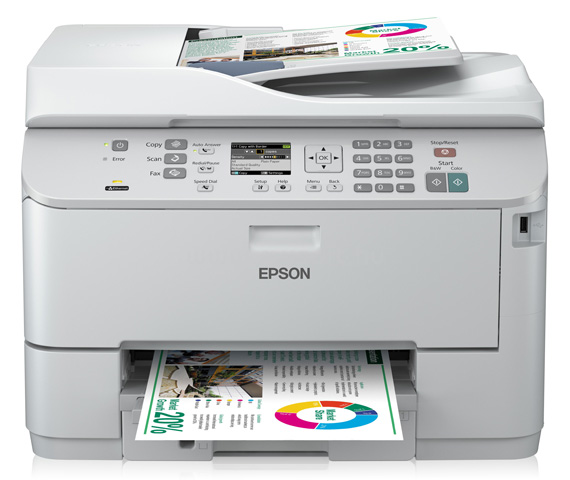 Reg Rating 90%
Price £263
More info Epson
HP Officejet 4500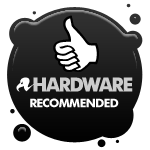 The cheapest all-in-one in this survey, this little machine offers a lot for a small outlay. A simple but effective 20-sheet ADF sits on top of a wide, but shallow machine with a basic control panel centred on a single-line LCD display. The 100-sheet paper tray has no dust cover and USB and Ethernet connections are standard, with a wireless version available for an extra £15. Speeds of 6.0ppm and 4.0ppm are claimed and I saw 6.1ppm and 2.6ppm in black and colour. Print quality is very good for an entry-level printer on documents and photos and page costs of 2.8p and 6.5p are a little better than average.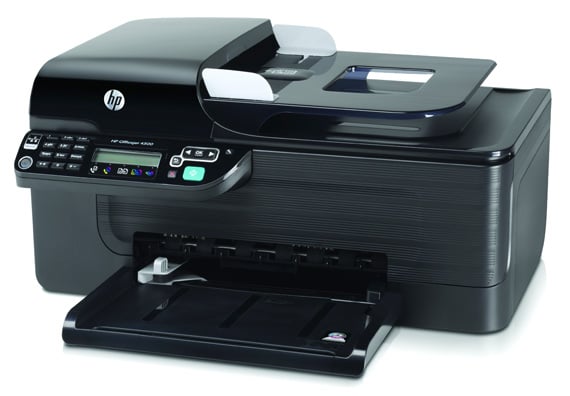 Reg Rating 85%
Price £54
More info HP
HP Officejet 8500A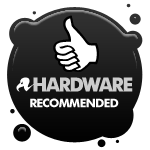 This is a big, sleek all-in-one for somebody who expects to get a good day's work out of a printer. From the rakishly styled ADF to the touchscreen controls in a panel hinged at the right-hand end of its front, it's trying to do chic. There's a 250-sheet paper tray, though no special-purpose feed, and memory card and PictBridge slots support photo print. Under test, it reached 12.4ppm in black and 5.6ppm in colour, though it only manages 3.7 sides per minute, duplex. Black text print is sharp, colours are bright and photos are very good, too. The high yield ink cartridges give very low page costs of 1.1p for black and 4.0p for colour.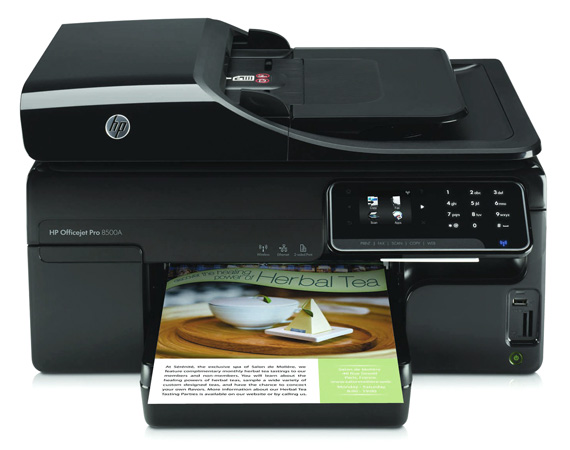 Reg Rating 85%
Price £169
More info HP
Kodak Office Hero 6.1

The only all-in-one in the group to sport a duplex ADF, which means you can copy a duplex document as one task. A duplex scan takes three passes, though, so isn't particularly quick. The control panel boasts a 63mm LCD and well laid out controls and there's a single, 200-sheet paper tray with no special media feed. USB, Ethernet and wireless connections are standard and Kodak offers remote printing using Google Cloud. Print speeds are uninspired at 5.4ppm for black and 3.1ppm for colour and, strangely, duplex prints and copies come through around 10 per cent smaller than single-sided ones. Print quality is good in both black and colour and page costs, at 1.5p and 4.3p, are attractively low.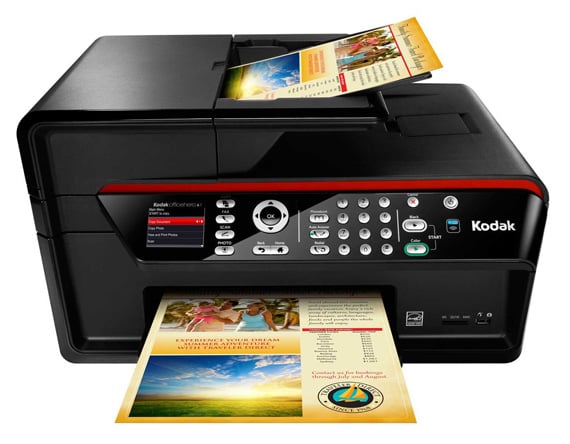 Reg Rating 75%
Price £170
More info Kodak
Lexmark Pro715

A recent makeover in Lexmark's range of all-in-ones, this machine offers the Vizix 2 ink system, giving better quality print on plain and photo papers than its predecessor. The case has had a face-lift too and is now very square-cut. A single, 150-sheet paper tray is the only paper source and the machine connects through USB, Ethernet or wireless, with the wireless connection supporting both Android devices and AirPrint. Print speeds of 7.6ppm and 3.9ppm for black and colour are fair, though the duplex speed of 3.3 sides per inch is a little sluggish. Print costs, with the extra-cheap black cartridge, are 1.6p (low) and 7.0p (about average). ®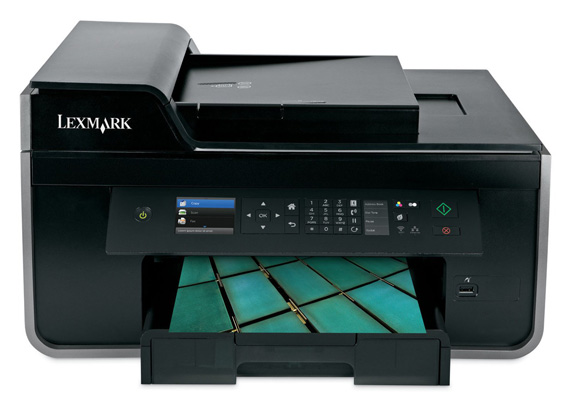 Reg Rating 70%
Price £199
More info Lexmark