Original URL: https://www.theregister.co.uk/2012/04/03/review_samsung_yp_g70cw_galaxy_s_wifi_5/
Samsung Galaxy S WiFi 5.0 Android media player
Small tablet or big PMP?
Posted in Personal Tech, 3rd April 2012 06:00 GMT
Review I reviewed Samsung's first Android media player just over a year ago and frankly thought it was awful. I'm sure I wasn't alone. Undaunted, Samsung tried again with a new device packing a larger screen, faster CPU and bigger battery but only costing £40 more.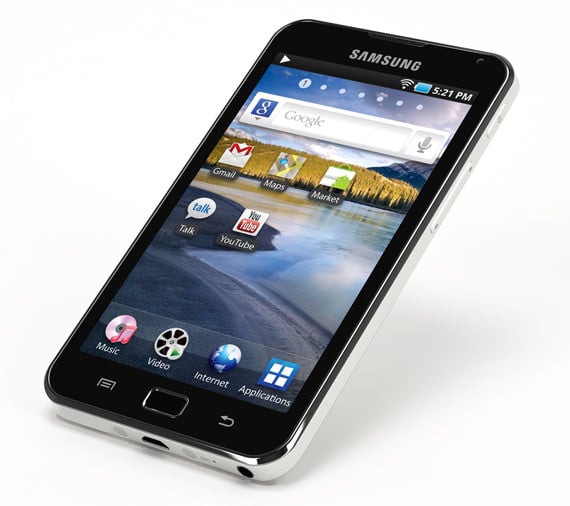 Second listen: Samsung's Galaxy S WiFi 5.0
Physically the Galaxy S 5.0 Wi-Fi looks and feels much like the Galaxy SII phone. With the same rounded corners, chrome vanity band and optical track pad you would be hard pressed to tell the two apart. Thanks to a bigger battery it is noticeably thicker and heavier but the larger screen hasn't had too much impact on the width or length.
The screen's 187dpi count can't match the SII's 217dpi, let alone the Galaxy Note's 285dpi because its 800 x 480 pixels are here spread across 5in rather than 4.3in. The S 5.0 also has to make do with an LCD rather than AMOLED panel.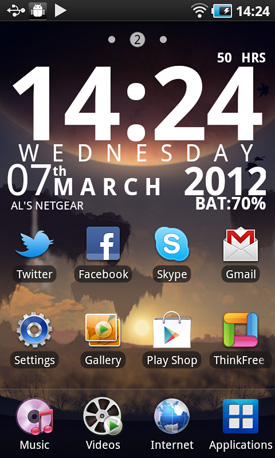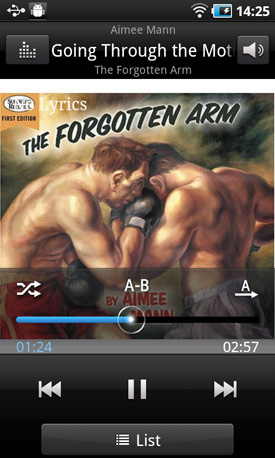 TouchWiz smartens up Froyo – stick one on the music player
Despite those caveats, the Galaxy S 5.0's screen is colourful, bright and reasonably sharp. More to the point for watching movies, playing games or reading e-books five inches is the perfect compromise between screen acreage and one-handed convenience.
The Galaxy S 5.0 makes do with Android 2.2, which is a bit long in the tooth but when combined with Samsung's TouchWiz overlay the OS still does a decent job. There is a Gingerbread update available in some parts of the world which you can download using Samsung's Kies software but it has yet to reach European shores.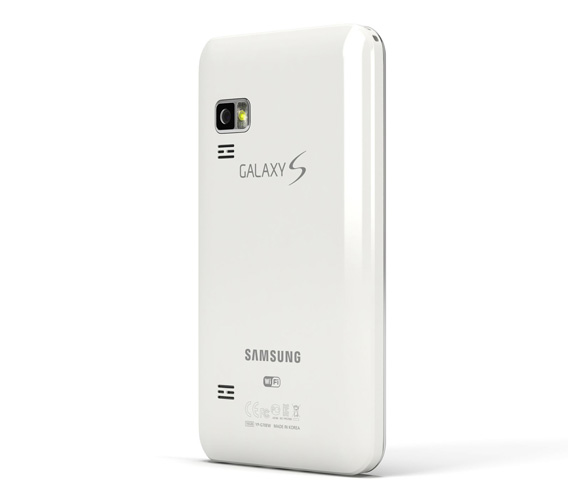 Only a 3.2Mp stills camera but it records 720p HD video
If you want an even more modern version of Android, the Galaxy S 5.0 is easily rooted using SuperOneClick and I suspect it will run custom ROMs like the imminent Ice Cream Sandwich-based Cyanogen Mod 9 just as well as the Galaxy S and SII.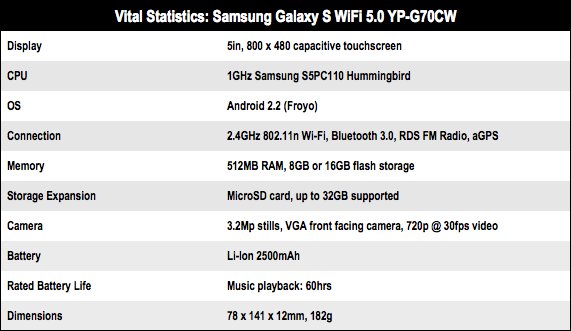 Ever ready
The single core 1GHz Hummingbird CPU is hardly state-of-the-art either but the Galaxy S 5.0 never feels slow or hesitant, even with multiple apps running. On the gaming front even something as demanding as Shadowgun ran smoothly.
Gaming with Shadowgun runs smoothly
My review device came with 8GB of built-in Flash storage though a 16GB version is also available. Both models come have a MicroSD card slot. Usefully 2 of that 8GB can be used for system storage.
The main camera is a mediocre 3.2Mp autofocus affair with a rather puny LED lamp but it can shoot video at 720p and 30fps and does a good job of it. You also get a web cam, in this case a VGA unit that works well with Skype video calling.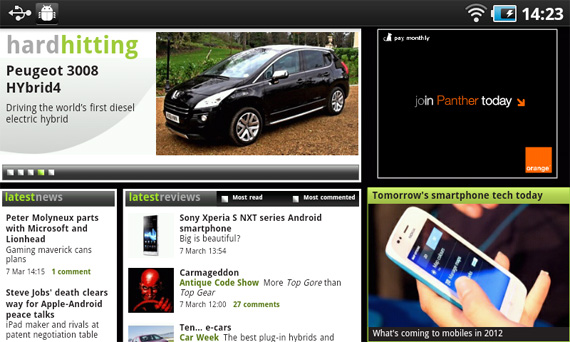 Browsing on a 5in display
Bundled apps are a bit thin on the ground other than the ThinkFree Office suite and a video player that supports MP4, WMV, MKV and DivX/Xvid files up to 720p. Like any kosher Android phone, you also get all the Google apps, access to the Google Play Shop – as the Android Market is now branded – and GPS.
Music and video soundtracks can be enhanced using Samsung's SoundAlive system, and rather fine it is too. Combined with the excellent bundled earphones and equally handy 1.3W stereo speakers I can't imagine anyone taking issue with the Galaxy S 5.0's audio abilities. The music player also supports MTP playlists.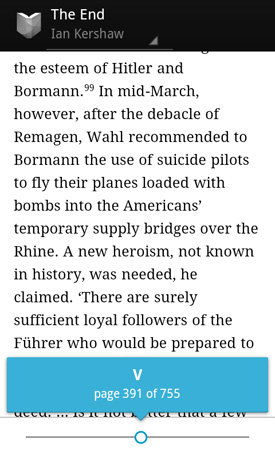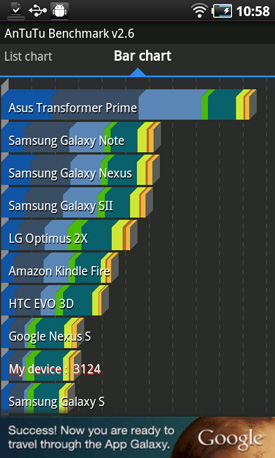 Google books and AnTuTu scores
Where the Galaxy S 5.0 really gives Android phones a slap in the face is battery life. Apart from not having a cellular radio to power, the Galaxy S 5.0 has a 2500mAh battery, or to put it another way one and a half times the capacity of the battery in the SII.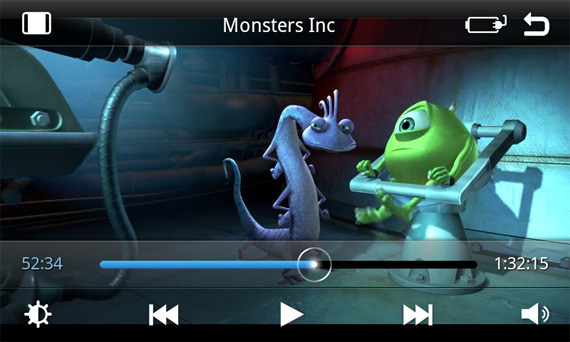 Video player supports 720p HD content
Looping a 720p video with the screen brightness and volume set at 75 per cent I got six hours five minutes from a charge. Listening to music or reading ebooks you can expect to get 48 hours of continuous use between visits to a socket.
You can pick up a Galaxy S 5.0 for £190 at the moment, which strikes me as quite a bargain but if that's too pricey for you, Samsung also make 4in and 3.6in versions, the last having a 480 x 320 screen but otherwise identical innards for only £115.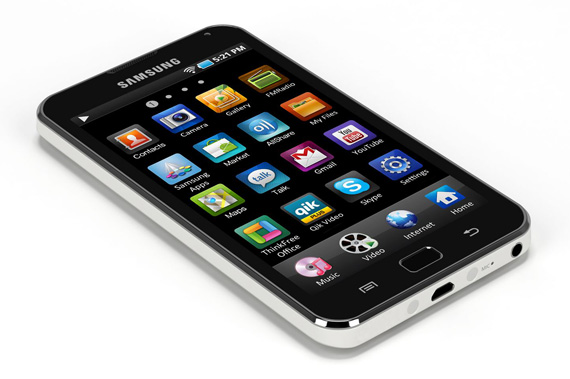 Works in seconds, lasts for hours and hours and hours...
Verdict
If you want a large screen Android device as a media player or mini-tablet but don't fancy being lumbered with an expensive mobile phone with single day battery life then the Galaxy S 5.0 has a lot to recommend it. Android 2.2 may be a bit behind the times but it does the job and everything looks and sounds just dandy. You could argue that a £170 BlackBerry Playbook is a better buy but it's bigger, heavier and drains its battery faster. And it won't be that price for ever. ®
Thanks to PC World for the loan of the Samsung Galaxy S WiFi 5.0.
More Tablet Reviews

Apple
New iPad
Wi-Fi + 4G
ViewSonic
ViewPad 10e
Orange
Tahiti
Motorola
Xoom 2
Media Edition
Archos
G9 101