Original URL: https://www.theregister.co.uk/2012/03/29/tf2_proposal/
With this ring, I thee frag
Marriage proposal in Team Fortress 2 after Valve helps with free virtual bling
Posted in The Channel, 29th March 2012 06:28 GMT
A female employee of Australian internet service provider Internode has used the February 29th loophole that says women can propose to men to pop the question – inside Team Fortress 2 (TF2).
Internode tells that employee Taryn Hicks dropped a line to Valve co-founder Gabe Newell to ask about a virtual ring that would be sold in-game for $100, thinking that she could surprise her TF2-obsessed boyfriend Derek Adams on the big day. Newell arranged for an account to be issued, complete with free ring (pictured below).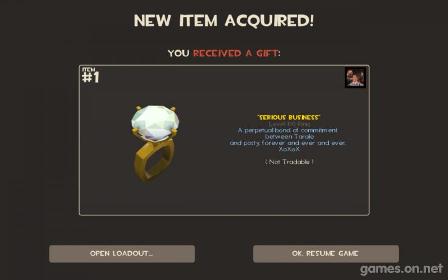 Taryn then logged on to the game and initiated a trade, which Derek ignored until Taryn got rather insistent, as the following chat transcript provided by Internode records.
TARYN: "Accept my trade!"

DEREK: "No!"

TARYN: "Accept my trade, b#*!h!"

DEREK: "No! Stop it! I'm trying to cap!"

Taryn (playing as Pyro) then sets fire to Derek (playing as Scout).

TARYN:NOW YOU'RE DEAD! ACCEPT MY TRADE WHILE YOU'RE IN SPAWN DAMMIT!" DEREK: "FIIIIIIIIINE"
Taryn then did the down-on-one-knee thing in the Internet café the pair were visiting.
After repairing to a restaurant, Derek agreed to the proposal.
The pair are yet to set a date for their nuptials, but Taryn said the ceremony will be "very nerdy." ®