Original URL: https://www.theregister.co.uk/2012/03/29/review_digitech_ipb_10_guitar_effects_pedalboard_for_ipad/
Digitech iPB-10 guitar effects pedalboard for iPad
Kerrang!
Posted in Personal Tech, 29th March 2012 06:00 GMT
Review When the Digitech iPB-10 arrived, I duly dispatched an e-mail to a muso mate with a link to this ultimate iPad guitar pedalboard. The wag replied: Nice machine you're reviewing, but I don't know whether 87 pedals, 54 amps and 26 cabinets is quite enough for me...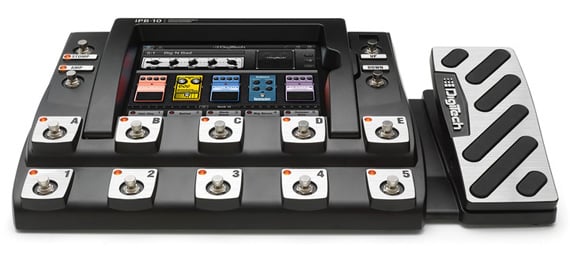 Heavy metal: Digitech's iPB-10 features a cast alloy build to withstand serious stomping
Now those dizzying figures would have most people assuming that there's a load of preset dross in there, but what makes up those numbers is an extensive roster of acoustically modelled gear from both past and present. You use these building blocks of axeman ecstasy to create custom programs and there's 100 truly impressive factory tones to get things going. Furthermore, the My Tones library can store an unlimited number of user programs that you can pick and choose from.
Stomp through the banks and you come across names like Rhapsody and Gilmour hinting at songs and artists that, from the first note, leave you in no doubt that this is a serious piece of kit. A solid lump of ten hardware stomp switches along with a wah/volume pedal, the Digitech iPB-10 is in a different league to the basic app and cable combo for jamming on your iPhone such as IK's AmpliTube/iRig or Griffin's iShred/GuitarConnect. At the heart of it all are two dedicated effects DSPs with the iPad on GUI duties – its screen displaying the configurations of up to 10 pedals along with an amp and speaker cabinet available for just one program.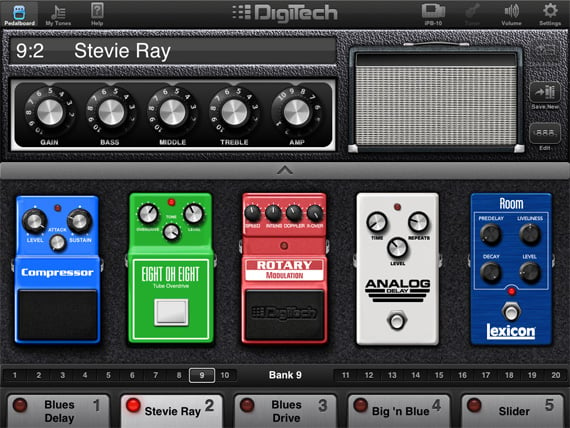 Twenty banks with five programs per view delivers a hot 100 setups you can can stomp through
First things first though. You do need an iPad – any iPad. And you need to download and instal Digitech's free iPB-Nexus app.
The iPB-10 has a short integral iPad dock cable – which is the only fondleslab connection you need to make. There are two plastic inserts to suit the different iPad casing styles. You undo two screws to swap them over and the extra thickness of the new iPad shouldn't be an issue here. A hinged frame snaps shut around the tablet to keep it in place.
Plug in and power on and you can begin with the fancy footwork. This does take a bit of familiarising though. The bottom row of five numbered footswitches each relates to a program shown at the bottom of the iPad screen. Hit one of these and you switch from some sizzling solo stack with fuzz and flangers ablaze, to some mellow clean combo with just a smattering of chorus and cascading delays. Audibly, it's instantaneous although the display takes a blink to refresh between programs.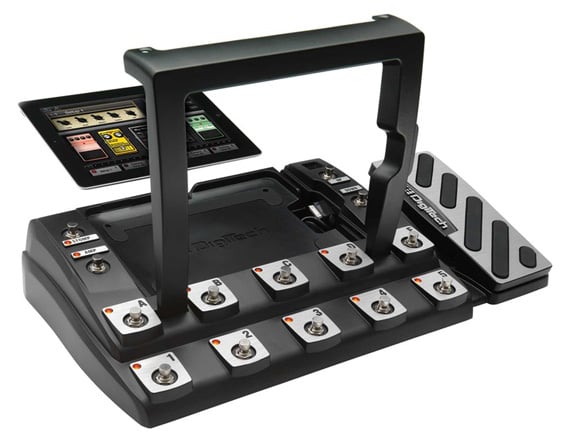 Compatible with any iPad and even works without one if you can remember the program numbers
In short, the numbered pedals change the entire program and to get beyond the five that are showing, you hit the Up and Down switches next to the expression (wah/volume) pedal to move through the banks. The row of five lettered switches above change the individual pedals so, for instance, you can click an phaser off and on and retain all the other aspects of the preset. Given that you can use up to ten effects – but can only see five at a time – you have to decide which ones you want to have control of from a footswitch.
Pedal power
This isn't as bad as it sounds as you probably won't be using 10 effects that all require toggle activation – think EQ, compressor, noise gate. Even if you did, then it would be possible to duplicate the preset and have effects assigned differently to pedals A to E – a simple drag and drop operation.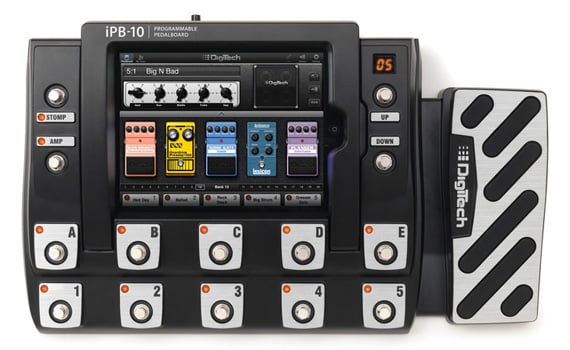 The lettered footswitches relate to the effects pedals showing on-screen
While all this is all perfectly logical, it takes a while to get your head round the fact that these large footswitches relate to five small pedals and five named presets below them. Apart from the middle switches, the iPad icons and the footswitches don't line up at all. Aesthetically, you can see where Digitech is coming from – plastering each pedal with a letter ABCD or E would look awful, as would some snaking lines to point to the physical switch for each effect. Likewise, having the switches closer together wouldn't work either, so you just have to learn the layout.
Two switches to the left of the iPad screen deal with external devices so that you can introduce an amp or a favourite pedal (stomp) or two into the effects loop. A nice touch is that you can insert these two options anywhere in the signal chain of virtual devices by placing the Amp or Stomp icon in between the pedals in your configuration. The expression pedal defaults to switch between volume and wah duties and even has a calibration feature in the app settings section. Incidentally, you get three wah types too, each offering distinct colourful resonances.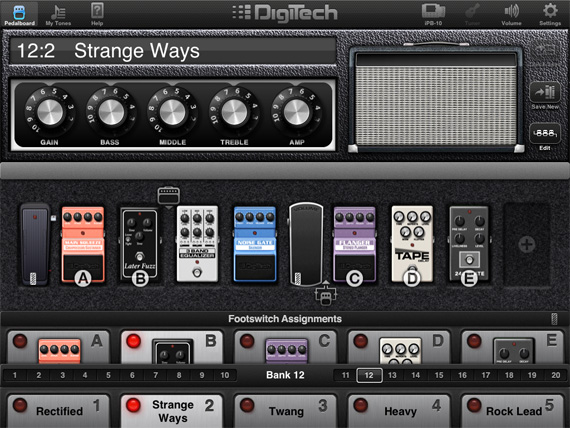 To rearrange assignments simply drag and drop an effects pedals to a lettered footswitch while in Edit mode
Click for a larger image
Having the iPad display this effects array certainly avoids squinting at some cryptic pedalboard screen to initiate changes. Indeed, the whole process of stringing together effects and saving presets is quick and easy to manage. You want a different amp? Just tap on the one showing and the My Gear window appears with a lengthy row of amp heads to choose from, including Dreadnaught [sic] and Jumbo options that transform electric guitars into acoustic emulations. The same tap and choose approach goes for the speaker cabinets too.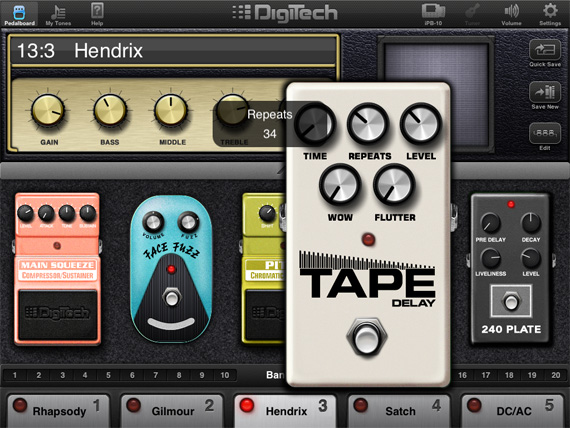 Dialling in changes is made easier if you double tap to enlarge – the pop-up shows the parameters too
Selecting and swapping pedals around is slightly more involved. The iPB-Nexus app has icons for different functions in light grey along the top of the iPad screen. On the right side are those for saving custom presets and the edit option for the effects assignments. Here you can see all the pedals lined up – and can rearrange, add or remove them as necessary.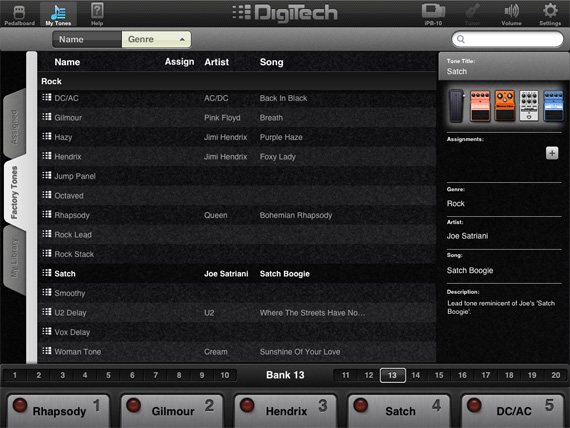 Sort out assignments and sift through the factory and user presets on the go from the My Tones library
Click for a larger image
Get out of edit and you can make changes to the dials on display – a double tap on an effects pedal enlarges it to make knob twiddling easier. Indeed, making changes on-screen is very responsive and an additional values box appears so you can view alterations more precisely. At this point you might be thinking that there's an awful lot of crouching going on as you tweak pedals and amp settings from the iPad screen with the iPB-10 on the floor. While that is certainly true, the iPB-Nexus app does allow you to make changes without being tethered to the iPB-10 pedal board.
Session player
Admittedly, you won't hear a sound, but it helps become more familiar with the app, scroll through all the available tones and even string some new ones together to try out later. Moreover, if you already have a stack of custom presets that you need sort through and put in order for a gig, you can even do this in the van on the way there.
One last thing on the pedals, a single tap on one brings up all the available effects for that particular group. For instance, the modulation listing goes on for miles, but there are only five reverbs – one spring, one plate and four Lexicon effects. And if you've never heard of Lexicon, let's just say, its reverb hardware and software has graced most of pop music's finest moments in the last thirty years.

Interfacing features ground lift and level matching along with USB audio functionality for recording
Click for a larger image
Talking of studios, the USB interface on the iPB-10 is not only for firmware upgrades from the NetUpdater application, but it also enables the behemoth to work as an audio interface with 44.1kHz/24-bit resolution. I hooked it up to Apple Logic Studio and made a big mistake that took a fair bit of headscratching to sort out.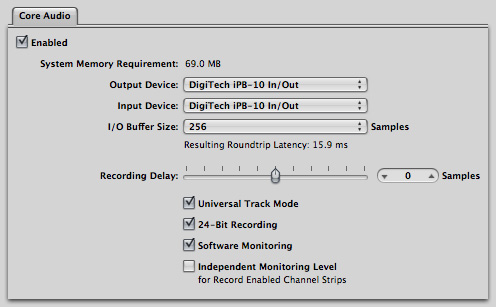 Works as a stereo audio interface too – shown here in Apple's Logic Studio
First, I set the Record Out level from the iPB-Nexus app and had a healthy signal, complete with effects, ready for track laying. For plumbing into a conventional mixer, not only do you get a standard line level output on 1/4in jacks, but there's a balanced output on XLR jacks to deliver a low noise analogue signal. So I monitored from the 1/4in output and turned it up full from the settings. And that's where I went wrong.
This settings slider is a balance control – it says 1/4in Mix – and varies the level from USB and the iPad. In use, the USB level is the return signal you get from your computer. The iPad level is the guitar output of the iPB-10. With this slider sat somewhere in the middle you'll be able to play along to existing recordings all monitored through the iPB-10.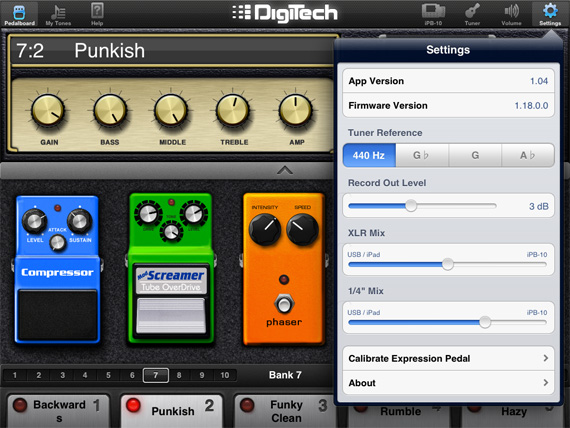 Just be sure to get the balance right
However, in my haste for fun-packed thrills, I'd shifted this balance control all the way to the right – in effect, iPad-only. So Logic's meters bounced up and down when recording the iPB-10 output, but I couldn't hear a darn thing on playback. To make matters more confusing, the headphone output has no balance control so you do hear everything from that. And even without music software, you can use the iPB-10 as your main audio interface so you can jam along with YouTube clips or anything else that takes your fancy.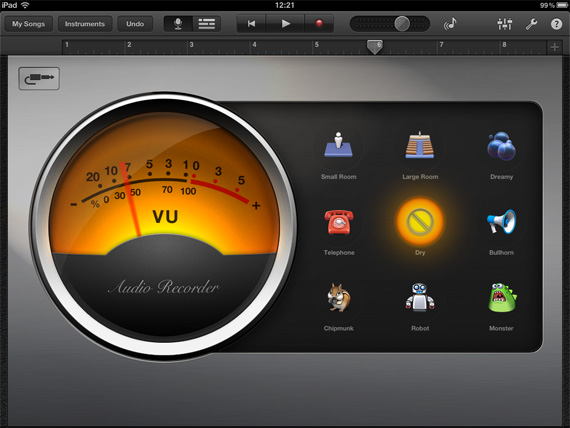 The iOS version of GarageBand will record the iPB-10 out – use the Dry option to record without this app's effects
Another surprise was you can even record to iOS version of GarageBand and other similarly equipped apps running within the iPad. I tried this out and it worked fine, but you need to choose the Audio Recorder instrument option and have it set to Dry, so no additional effects from GarageBand are recorded. This does involve a bit of flipping between apps, but once you have the iPB-10 sorted with the set-up you want, you can remain in the recording app and the pedals will still switch effects even though you are flying blind. And if you just want to practice and play along with some songs, iTunes on the iPad can run in the background while you let rip.
Setting the tone
I began tests on the Digitech iPB-10 with Reg Hardware's own trusty Yamaha Pacifica 120H – its humbuckers with coil tap switching giving a good tonal range to bring out the colour of the amp and chorus effects. Interestingly, there's no input volume level or any confidence metering on the iPB-10, but if you press and hold the active bank pedal, a tuner appears. And if you're struggling to hear anything don't forget there's a good old fashioned output volume knob at the back and, of course, the volume pedal.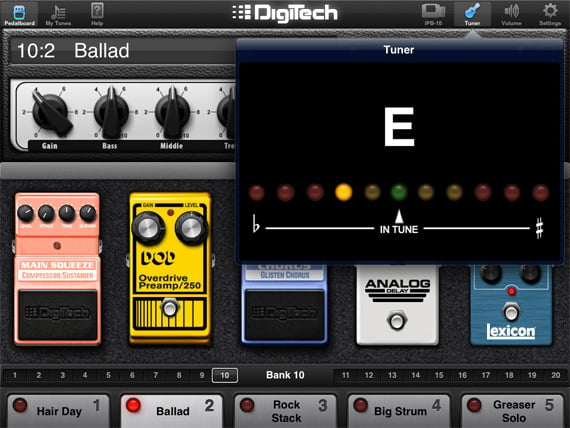 Press and hold the program pedal and the tuner appears
Without doubt, the presets are pretty much spot on if you play the riffs or styles associated with them. Rhapsody (as in Bohemian) really does have you sounding like Brian May with its tightly contained distortion and extreme gating. A thinly disguised Vox AC-30 amp also appears described as British 30 with its British 2x12 cabinet. Likewise, Gilmour superbly imitates the jangling chorus strumming in Breathe with compression and overdrive on hand to engage for the delinquent licks in Breathe (Reprise).
The amp heads aren't entirely faithful though, as they all have the same set of controls, so Marshall fans won't find a presence setting, but I doubt they'll miss it. Playing with the effects can leave hours of your life unaccounted for. The chromatic pitch shifter tracks notes extremely well and will bring out the repressed prog rocker in any guitarist – Owner of a Lonely Heart, anyone? There are analogue charms too, with old school delays featuring rapidly fading repeats along with wow and flutter controls for added realism.
As far as toetapping goes, my first complaint was to do with the expression pedal which was all too easy to switch modes going from warbling wah-wah to silence as the volume pedal engaged accidentally. However, much to my surprise, the pedal calibration function also includes switch pressure sensitivity that can be altered to suit your footwork. Brilliant.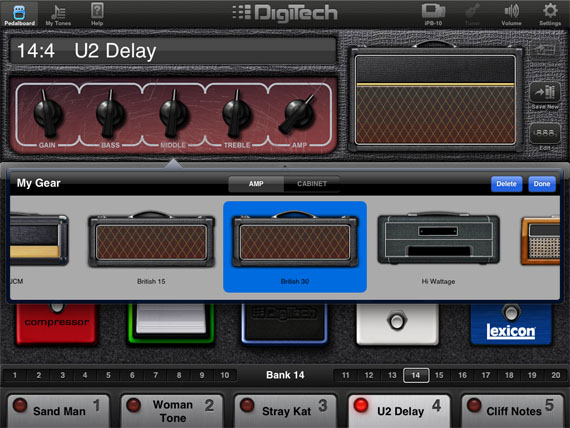 Amped up: the same controls appear on all the amp heads but they do the job with gusto
Click for a larger image
Next up, I plumbed in my US Fender Telecaster and invited a mate over for a second opinion who plays in a covers band. Having the sound of instantly recognisable artists and groups available at touch of button wasn't lost on him. Indeed, it's the level of detail that the iPB-10 offers that gives its emulations such authenticity. For guitarists, it's all about tone and the rich harmonic palette – of select amps combined with the unique honking resonances of specific speaker cabinets – that the Digitech delivers can be both subtle and striking, but certainly not samey.
I do have a couple of concerns though, the external PSU has a short lead and will all too easily get lost or mixed up with others somewhere down the line – I'd have preferred mains power, but no doubt there are safety reasons here. The other issue is having an iPad on the floor and exposed to the vagaries of stagecraft. It only needs a mic falling from the stand or a guitar strap coming undone to do some serious damage. A simple transparent cover – that can be detached or flipped open – would offer some protection from potential hazards.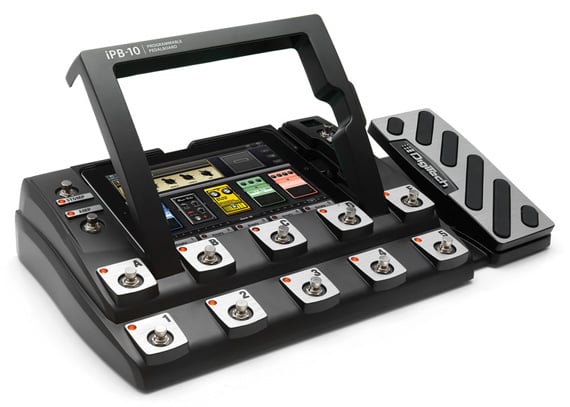 Apart from the iPad itself, the iPB-10 has it all... and a price to match
Verdict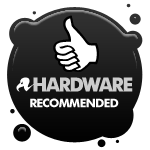 Without doubt, the Digitech iPB-10 is a dream machine for guitarists, but given its price – and the cost of an iPad too – that's all it is likely to be for many. Indeed, it is only the expense that impacts on its overall rating here, but shop around and you'll find it for just over £400. Of course, if you totted up the value of all the gear it emulates, then it seems like a bargain.
But as I sit here with it at my feet, I am flanked by a Vox AC-10 – which is getting on for its 50th birthday – and an early Peavey Studio Pro 20W that's just hit 30. I've owned both amps for decades and, while they aren't as versatile as the Digitech iPB-10, I reckon they'll be around for another 10 years or more. I'm not sure the same could be said of the Digitech. Rather, the iPB-10 is a different kind of investment. Even if its lifespan lies in the longevity of the iPad, for live and studio work, it certainly has the potential to be more of a money-spinner than lugging around an ageing amp is likely to achieve. ®
Thanks to Sound Technology for the loan of the Digitech iPB-10.
More Audio Gear Reviews

Mackie
Onyx Blackjack
USB audio interface
Pure
Highway 300Di
car DAB radio
Ten...
mini hi-fi
systems
Ten...
boomboxes
Colorfly
Pocket Hi-Fi C4