Original URL: https://www.theregister.co.uk/2012/03/28/review_motorola_motoactv_gps_fitness_tracker/
Motorola Motoactv GPS fitness tracker
For the wandering weight watcher
Posted in Personal Tech, 28th March 2012 06:00 GMT
Review Motorola may be pitching its "world's first" GPS fitness tracker as the ultimate fusion between exercise and music, but I reserve that accolade for mosh pits. In fact, I'm more inclined to agree with Henry Ford who once said "Exercise is bunk. If you are healthy, you don't need it: if you are sick you should not take it."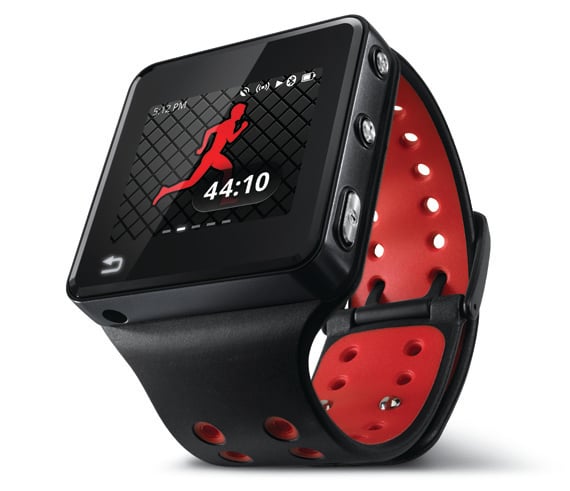 Sports illustrated: Motorola's MotoActv
Either way, I put the MotoActV through its paces this month, hoping it might actually encourage me to conform to this exercise malarkey and raise my heart rate into triple figures for the first time since PE class.
The ActV shares a similar form factor to the iPod Nano, with a slighter larger 46mm square body and 1.6in touchscreen display. Unlike Apple's diddy MP3 player, physical buttons are spread across two sides of the square, with a 3.5mm headphone socket on the bottom and a microUSB port on the left.

Watchstrap option – there's an armband alternative too
Corning Gorilla Glass coats the display, protecting it from knocks, while the rear is protected by a metal plate, used to slide the device onto a wrist-strap. Et voila! A nifty digital watch. While the strap itself is refreshing, with a dual-pin fixing and chunky strap, the package as a whole is far too bulky for my liking.
Athletic aesthetics aside, the Motoactv synchronises to a user's Android device – provided it's a Motorola – so the fact I have had a Defy+ floating around certainly helped put things to the test. Even so, it seems a bit shortsighted that Moto limits use to its own devices, though.

A nod to the iPod Nano: it plays MP3s and has an FM radio too
The sync aspect comes in handy for picking up calls on the move, with message updates also appearing on screen. A headset of some kind is required to answer through the Actv though. Moto's supplied SF200 sports earwear sounds fine and is practical too, it won't appeal to everyone, as having a cable running from the 'watch' up your arms can become annoying after a while. There's always the Bluetooth option, but you'll want to ensure that they are secure enough for the workout.
Sweating it out
While Facecrack and other message notifications were a feature I took full advantage of, the Actv is focused on a fitness quest. Programming your gender, height and weight is easy to configure along with the Motoactv on-line user account. This uploads activity results directly over Wi-Fi without the need to hook up the device through a computer.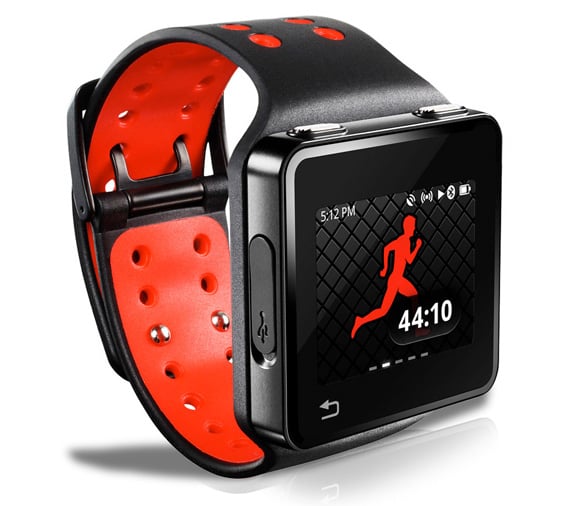 The range of activities it monitors expands with each update
UI is basic and easy to navigate using the touchscreen, with workout, clock, music and notifications all accessed on the carousel menu. The display is customisable too, not as much as the iPod Nano, but enough to homescreen whichever workout factors appeal the most.
Users can keep tabs on running, walking, cycling and other sweat-fests, so long as you program it first. Using the GPS functionality, the Motoactv calculates elements such as distance travelled and average speed. With this in mind I found myself hitting the kerbs for a spot of jogging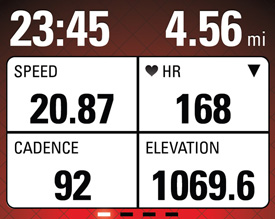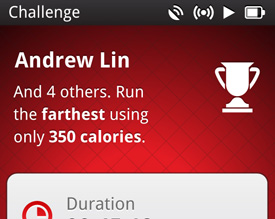 Beat your best times and challenge others
It's über accurate and there is added encouragement to push harder each workout. For instance, you can set goals for each training session or even race yourself based on previous times. The Actv will also give spoken commands through a headset, letting you know when you enter your target zones.
This month Motorola introduced an update bringing a further 40 custom functionalities to the Actv including activities such as yoga and skiing. A nice touch (or not as it happens) is the ability to activate the screen with a wrist-flick rather than having to rely on prodding the power button.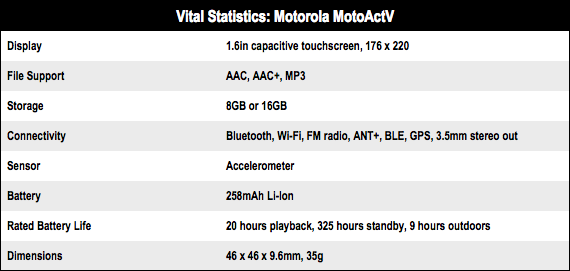 Walk the line
For those who like to whistle while they work out, the MP3 player functionality is fabulous with 8GB or 16GB onboard storage – plenty of space to store a reasonably large collection. It syncs up to iTunes or Windows Media Player and automatically create playlists based on music that clearly gets you breaking sweat. A snazzy feature for the longhaul listener. There's an FM tuner so casual ramblers can listen to Radio 3 and take to the hills with The Lark Ascending.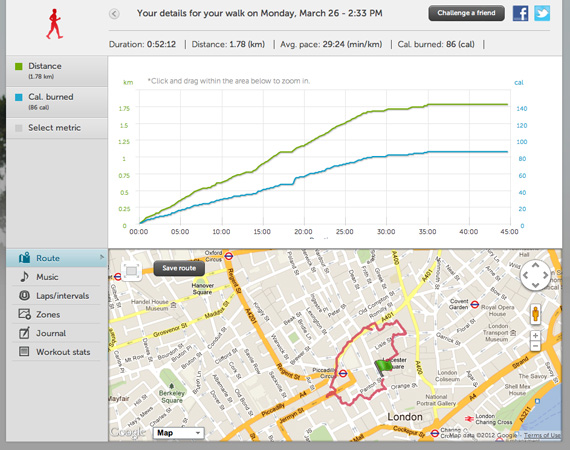 GPS data reveals your route and the likely burn when you log on to the Motoactv site
Battery life is pretty shabby with a nine-hour rating for sporting activities, but it didn't seem that long to me. Still, if you're only a casual user, it should get you through the week. In standby it still drains at an unacceptable rate and certainly doesn't stretch Moto's claims of nearly two weeks.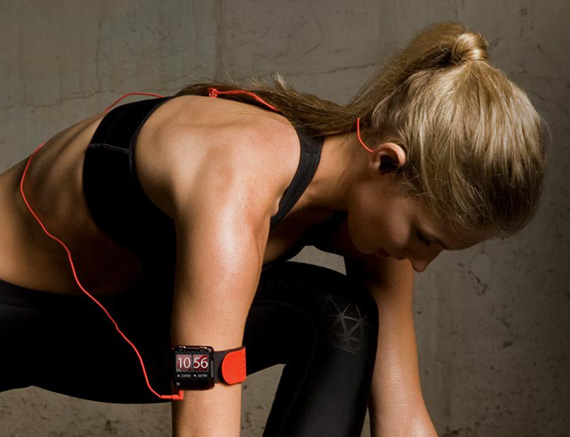 Strap it on and slug it out
Verdict
Compared to other fitness watches I have had the discomfort of using, the Motorola Actv is a thing of beauty. If you mind is willing and your flesh needs a tweak, then provided you have a Motorola phone, it has all you need to shed a few pounds – and you'll certainly shed a few when buying it. For the price, you could purchase a second-hand Ford and follow the founder's advice, but you'll be more likely to gain a spare tyre than lose one. ®
More Gadget Reviews

Pure
Highway 300Di
in-car digital radio
Scosche
MyTrek
health monitor
Jawbone
Up
Colorfly
Pocket Hi-Fi C4
Heatmiser
Wi-Fi thermostat