Original URL: https://www.theregister.co.uk/2012/03/23/review_game_resident_evil_operation_raccoon_city/
Resident Evil: Operation Raccoon City
Dead again
Posted in Personal Tech, 23rd March 2012 07:00 GMT
Review At the core of zombie fiction lies a deep-seated sense of hopelessness and inevitability. That no matter how hard you fight, no matter how many lucky escapes you pull off, and no matter where you flee to, your eventual, grisly demise is assured by the indomitable Pepé Le Pews of horror.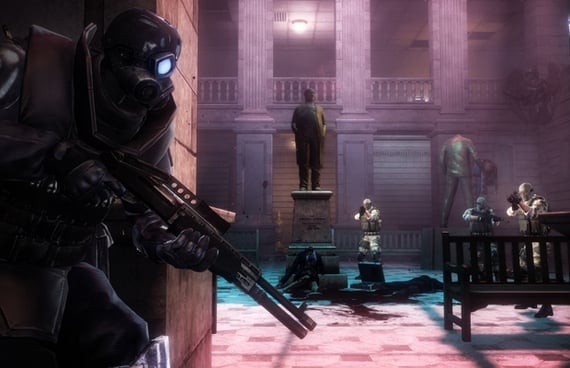 Is statue hiding behind there?
That central theme remains so compelling that zombies still manage to draw a crowd despite their decade-long onslaught on gaming, cinema, television and, more recently, the real world. But while it's given us such undead gems as Left 4 Dead, REC and Walking Dead, it's also seen a relentless horde of Diary of the Deads, Land of the Deads (sorry, Romero) and Dead Islands rise up to eviscerate the genre.
A hopelessness and inevitability now surrounds the genre itself, then: that zombie fiction will eventually, and rather appropriately, eat itself.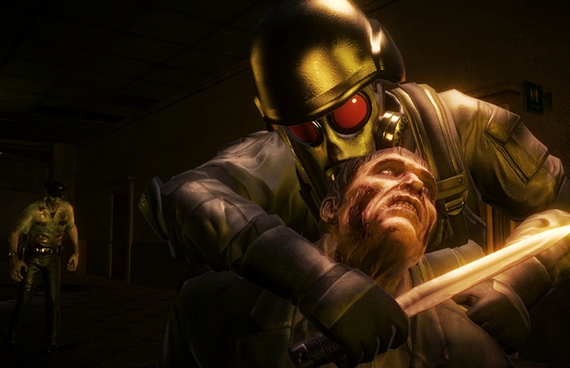 Cutters choice
On paper Resident Evil: Operation Raccoon City at least promises a distinctive way-point on the road to that genre apocalypse: a mash-up of Six Slant Games' tactical squad-based warfare with Capcom's relentless survival horror.
In practice, however, it's little more than a new SOCOM re-skinned with decomposing, ambulatory cadavers – and an achingly average one at that.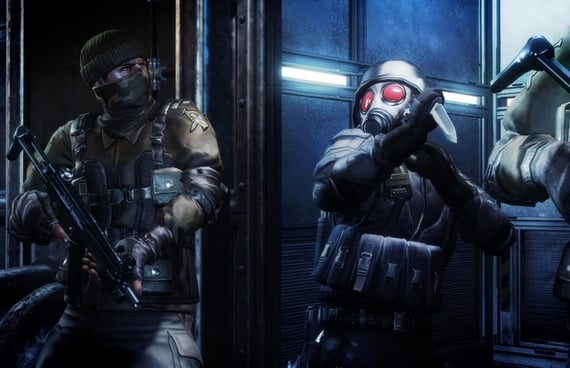 Anonymous hacker
It certainly looks like a Resident Evil game. A side-story to RE2 and RE3, Six Slant Games' recreation of Raccoon City at the height of the T-Virus outbreak is remarkable for its attention to detail. From familiar landmarks – such as the police station and underground lab – right down the burning police cars and ambulances strewn about the city streets.
When in roam
The freedom to roam through these iconic, once-rendered locales makes for an enjoyable trip down memory lane. As do occasions when you cross paths with famous characters and monsters – from an early encounter with the G-Virus-infected Brad Vickers and repeated fights against Tyrants, to shoot-outs with Leon S. Kennedy and Ada Wong.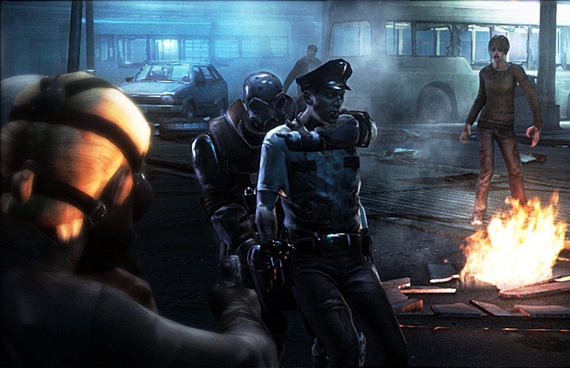 Don't shoot, or I'll kill this dead thing
In principle, it also plays like a Resident Evil – at least, RE4 and onwards. Killing zombies with headshots remains as irresistible as ever, but that's where the mechanical similarities with Capcom's work end.
Everywhere else Six Slant Games imposes its own trademark sensibilities and, aside from an impressively diverse stream of zombie types, Bio-Organic Weapons and human Special Forces opposition throughout, the results are mostly disappointing.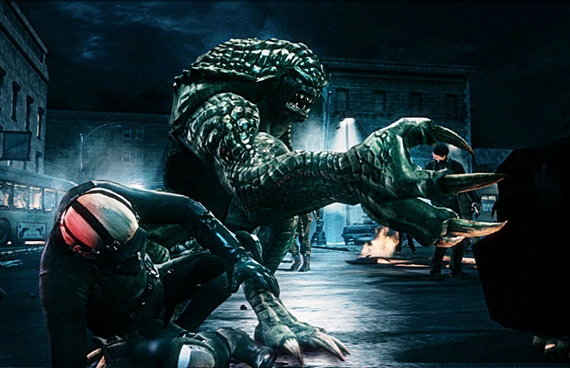 Dead as a claw nail
Just how disappointing depends if you're playing solo or with human team-mates. So often the case with squad shooters, there are obvious drawbacks to both. Go it alone and you're at the mercy of the game's egregious AI. Indeed, you may witness team-mates using their class-specific abilities but then again you are just as likely to watch them emptying full magazines into walls for no apparent reason or standing blithely in fire as they burn to death.
However undependable they might be, AI team-mates are still preferable to the lack of challenge presented by co-op, even on the highest difficulty setting. There's scant requirement for teamwork outside of perfunctory heal and revive mechanics, and gameplay rarely demands use of class-specific abilities.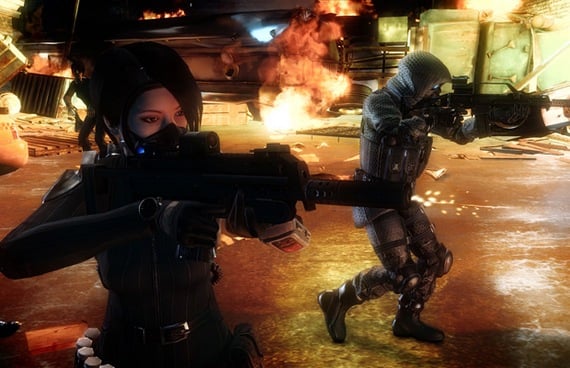 Warming corpses
Devoid of distinguishing co-operative features, it's a serviceable campaign at best. It's one where dubious enemy AI conspires with monotonous level design and strict linearity to make for a four-player turkey shoot that is as mindless as it is forgettable.
Flatline the pacemaker
Whichever way you play, you'll also be hampered by lacklustre third-person gunplay, shoddy cover mechanics and crude and unsatisfying mêlée combat. That might have been acceptable in the more measured gameplay of RE4 and RE5, but Operation Raccoon City's frenetic pace demands a greater responsiveness and finesse than its typical survival horror control scheme affords.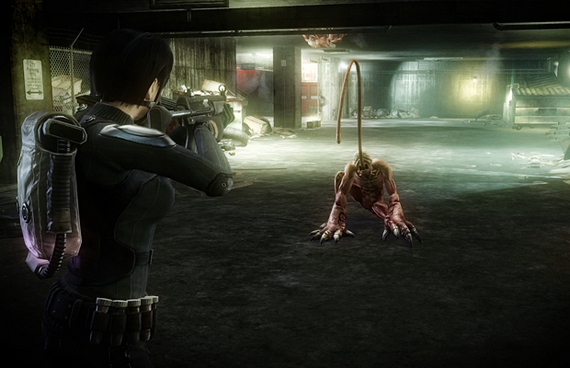 Lick a shot
Barely forgivable in the campaign – where enemies invariably attack from the front – it proves highly reductive amid the omnidirectional combat of multiplayer. With large numbers of zombies and B.O.Ws cluttering minuscule maps, success depends largely on which way you're facing when the shooting starts.
It's not the only design flaw in the agonisingly familiar and simplistic multiplayer offering. Respawn points are static and undefended, and consequently too easily dominated. And class-specific abilities are poorly balanced, with skills like temporary bursts of infinite ammo easily out-muscling others, such as the ability to control zombies.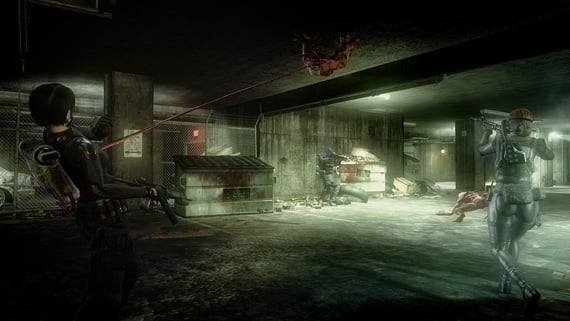 Where's Steve Irwin when you need him?
Perhaps most disappointing of all for a zombie game, when infected, you're unable to control your zombie form, reducing you to a spectator as it shuffles into a hail of bullets while the respawn clock counts down.
Verdict
At best, Operation Raccoon City is a merely competent third-person shooter. In attempting to expand the Resident Evil universe, Six Slant Games replaces the seminal survival horror with a generic, humdrum shooting gallery, one doomed to be defined more by what's missing than what it offers. ®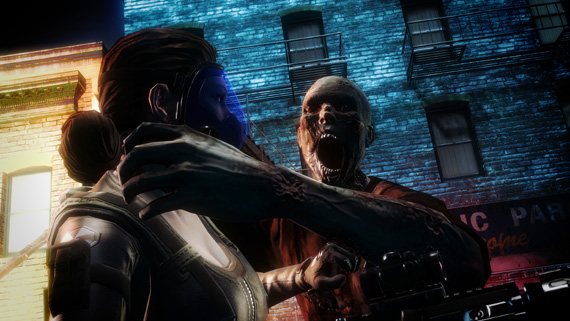 Necks please
More Games Reviews

Twisted
Metal
Mass Effect
3
Syndicate
The Darkness 2
Kingdoms of Amalur:
Reckoning