Original URL: https://www.theregister.co.uk/2012/03/22/sydney_giant_screen/
440m2 screen has fewer pixels than iPad
Sydney horse racing track gets slightly grainy mega-ultra-jumbo-tron
Posted in Data Centre, 22nd March 2012 21:57 GMT
Punters who trot off to Sydney's Rosehill Gardens will soon be able to watch horse racing on a 40 by 11 meter screen.
Construction on the new screen started in January and is scheduled to conclude in time for a race meeting on March 31st. The screen rests on a four-tier steel frame and is so heavy that piles have been sunk eight metres below the turf. A project manager working on the display said it has also been the subject of "wind engineering".
A 185-metre tunnel was bored beneath the track to wire the massive display to its control room, where an all-fibre network shuttles video around at impressive speed.
US company Daktronics, which has built all sorts of stadium screens all over the world, supplied the kit for the new display. Rosehill tells us that Daktronics' DVX-500-15HD display modules got the gig.
We've been waiting for a couple of days for Daktronics and the Australian Turf Club (ATC), owner of Rosehill, to tell us the resolution of the screen.
But we're tired of waiting because it seems possible – thanks to miracle of division - to make a decent guess because the spec sheet for the DVX-1500_HD module says each packs 24 lines of 24 pixels into a 365.76mm by 365.76mm frame.
So let's do the maths. A metre is 1000 millimetres, so the screen is 40,000mm wide. That means it is 109.36 DVX-1500_HD modules wide. Let's call it 109.
We also know the screen is 11,000mm deep, or 30.06 modules. Let's call that 30.
Another bash of the calculator later and we get 2616 pixels wide and 720 pixels deep, for a grand total of 1,883,520 pixels, rather less than the 3,145,728 pixels on the new iPad's 2,048 by 1,536 screen. But then we suppose it's rather hard to play Angry Birds on Rosehill's monster, pictured below.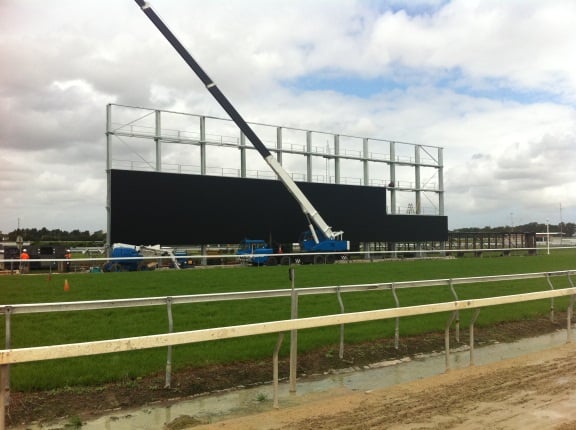 That's not in the ATC's plans, anyway. Instead the club expects to show horse races from multiple angles as they are run. As the screen rather conveniently faces a grandstand (and has been wired into it's sound system) the club is also dreaming up other events it might stage. Rock concerts apparently aren't on that list as promoters like the screen, but touring bands generally bring their own. ®