Original URL: http://www.theregister.co.uk/2012/03/21/antique_code_show_rock_n_roll_racing/
Rock'n'Roll Racing
Driving you insane
Posted in Personal Tech, 21st March 2012 12:00 GMT
Antique Code Show Having just reviewed the Steelseries SRW-S1 steering wheel on some pretty serious racing games, I was reminded that I have had a soft spot for a certain genre of racing game but it was a long time ago and involved some particularly severe riffs.
In my humble opinion - and yes I did go to Download and Sonisphere last year - Rock'n'Roll Racing is always going to be my favorite racing game. Battling revved up aliens in souped up cars equipped with projectile weapons while listening to Black Sabbath or Deep Purple just can't be beat.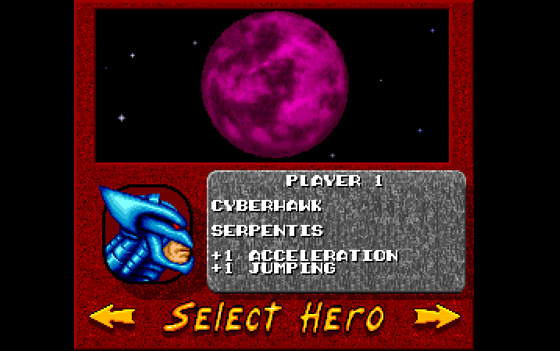 Pick of destiny
The game kicks off with me picking a character - Olaf the Viking seemed like a good choice, in retrospect, as a nod to good old Norwegian black metallers Mayhem. I am a new racer in the intergalactic racing league, and I start by purchasing a vehicle and then tailoring it with weapons and armour so I can trek the solar system battling extraterrestrial racers in road duels to the death.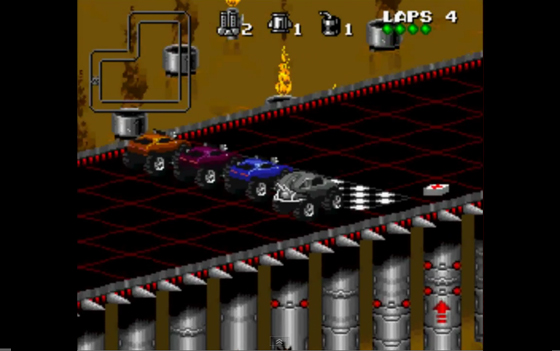 Metal on metal
Battling is a large part of Rock'n'Roll Racing and I need to invest in rockets, mines and oil-slick sprays to make sure I don't end up looking like Alice Cooper. But performance also counts, so shocks, nitrous-oxide and armour also need a look in.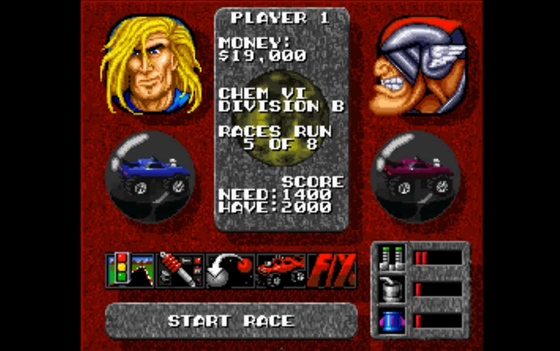 Shout at the devil
I choose one of three cars at the beginning to race with and upgrade in game. Kicking alien ass in each race is vital to get money for new parts - and to score points.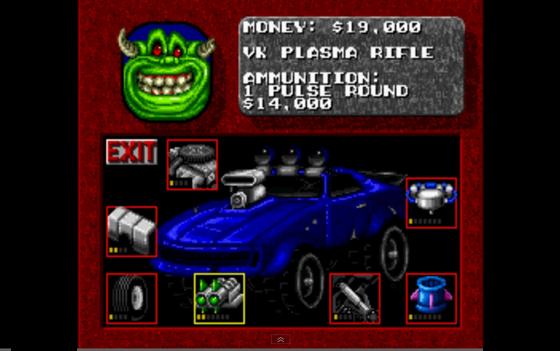 Orcs with torque
One of the great things about Rock'n'Roll Racing was that at the end of each level I can obtain a password that allows me to continue with my souped up space ride from that point onwards.
Make mine metal
After two levels I get to progress to a new planet where there are new cars to buy and new villains to race such as new Mojave's Roadkill Kelly who, in my imagination, would come across a lot like The Toecutter from Mad Max.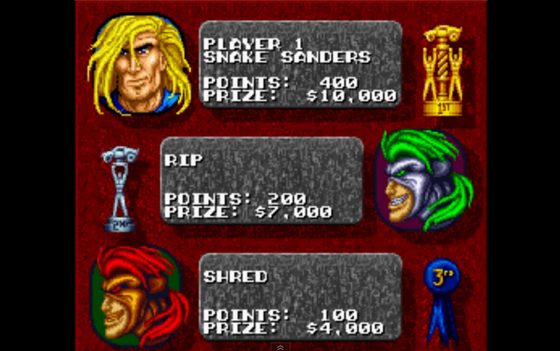 Bleederboard
Rock'n'Roll Racing on the SNES is wonderfully simple to play. Drifting like a boss round corners is an easy pleasure even in an purple, alien isometric world. The tracks were all pretty straightforward with some ramps, bumps and sharp corners to negotiate. But avoiding getting shot while targeting my opponents is the real challenge. Two-player mode always ended in tears at my house with someone not getting enough points and being jeered at by the game itself: "Leave your loser friend behind?"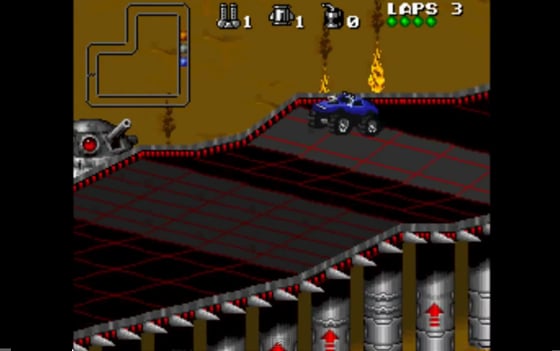 Pyromania
The commentator, Loudmouth Larry, shouts out casual quips at the ensuing bloodshed and gives this game some unique humour, screeching tires and explosions as cars are hit by different missiles make me feel like a real road warrior.
It may have lacked refinement but Rock'n'Roll Racing's alien theme, upgradeable vehicles, profound riffs and some downright violent gameplay makes it my most fondly remembered racing game and undeniably bad to the bone.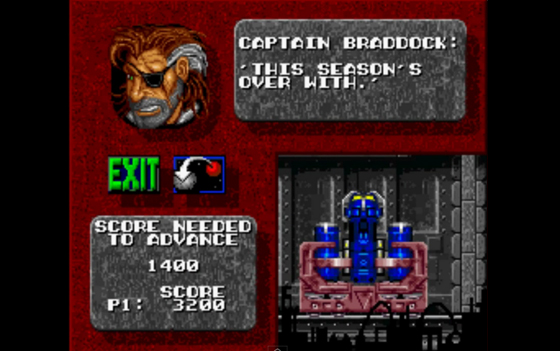 The end of daze
Developer Silicon & Synapse didn't do so badly for itself, either. It went onto to become, a year after Rock'n'Roll Racing's release, an outfit called Blizzard.
Can we have a 2012 remake with some Wolfmother, please? ®
Antique Code Show is published every two weeks on Wednesdays
Developer Silicon & Synapse
Publisher Interplay
Year of release 1993
Platforms SNES, Sega MegaDrive, GameBoy Advance
More Retro Games

Carmageddon
Leisure Suit Larry
System Shock
The Dizzy Series
Doom