Original URL: https://www.theregister.co.uk/2012/03/20/review_game_twisted_metal/
Twisted Metal
Crash and burn
Posted in Personal Tech, 20th March 2012 07:00 GMT
Review David Jaffe's vision for car-based deathmatching has always split gamers down the middle. Its love-it-or-hate-it mix of crass humour, barely there vehicle handling and everything but the kitchen sink approach to weaponry won't appeal to everyone. Nevertheless, Twisted Metal still garnered a sizeable following in its heyday.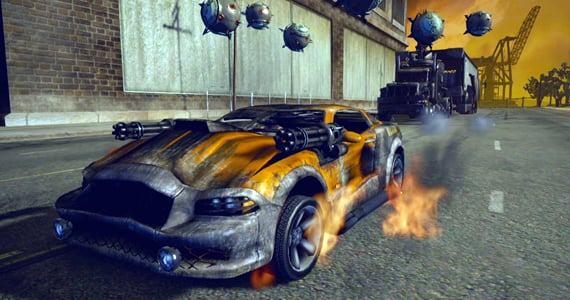 Come on baby, light my tyre
This PS3 outing retains the familiar formula and once more proves about as subtle as a battering ram in its depiction of car-mashing mayhem. Calypso, a devilish MC of sorts, returns to unleash devastation on backwater America through his unique take on Destruction Derby.
The prize for the successful combatant? To simply have whatever they desire, no questions asked. Understandably then, the character roster is a little on the strange side.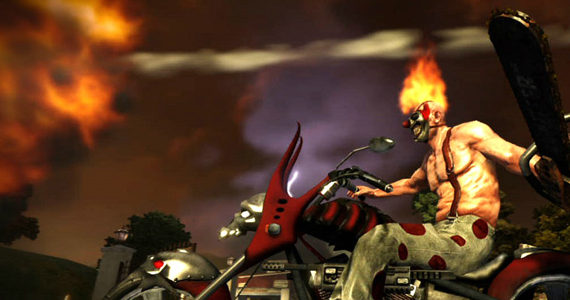 Hot headed
Take Sweet Tooth the clown, the first character you'll be introduced to during the stunted single-player campaign. Sweet Tooth is just your average combatant, which, in Twisted Metal terms, means he not only sports an eternally burning flame atop of his head, but also happens to be a frustrated serial killer. Anyone looking for wholesome family fun should look away now.
His CGI opener is dark stuff indeed, depicting him as a psychopath intent on entering the Twisted Metal Tournament solely to have the location of his 'one that got away' revealed.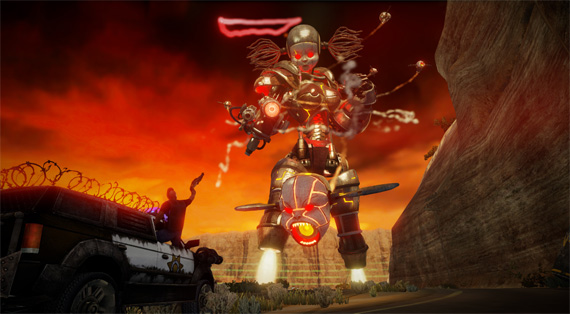 Dolly mixture
Dark and violent, the CGI is disturbingly top notch and indicative of what might have been an amazing LA Noire type of game. Indeed, upon remembering that the game you're playing is essentially a migration of an ageing PS2 concept, the return to reality comes as something of a disappointment.
Twisted thinking
Away from cutscenes the single-player options consist of a series of arena battles which are essential solely because it's from their completion that you unlock the game's extra vehicles and weapons. Alas, these missions feel like an unnecessary grind. The AI-driven cars are simply not varied enough in their play to really entertain and the upshot is strain on your patience.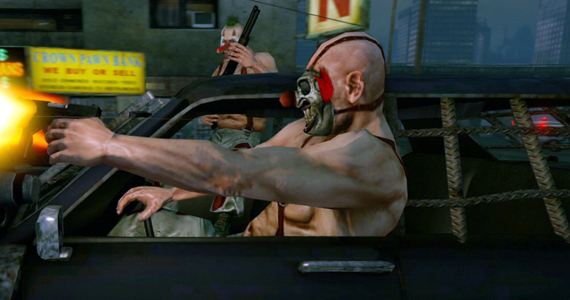 Masked intent
Then there are those visuals which might be said to be functional, at best. Yes it's possible to ram straight through buildings – though only certain parts of them – and unleash hell at the click of a button, but never is there a stop-and-stare moment to behold, nor a crunching blow followed by a suitably show-stopping visual response to really savour.
At least the solo missions can be used to learn the layouts of the multi-storied arenas, which hold any number of secret pick-ups. For instance, Vertigo takes place across the tops of LA's skyscrapers – cue much shunting of your fellow drivers off the sides – while the backwater town of Sunsprings, California has numerous homes and even a church all containing munitions secreted away.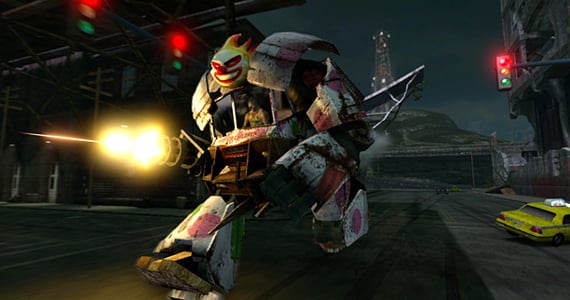 Transformed character
Arenas can also be played over a variety of game types. Deathmatch is the traditional kill-or-be-killed formula we know so well. Hunted is a glorified game of tag and then there's a take on Capture the Flag called Nuke, where the enemy's leader must be chained to a missile before being blasted at a Statue of Liberty type effigy.
Finally, there is Last Man Standing, which bestows each player with a number of lives which have to be preserved if you're to win. Not so easy to do when faced with 16 players looking to do likewise.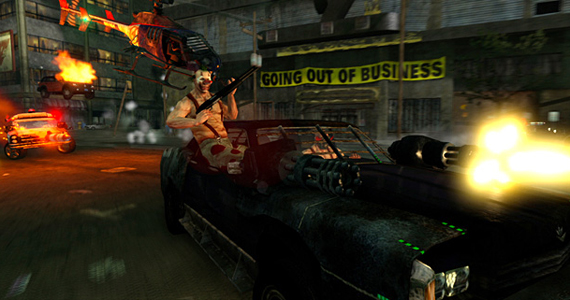 Buster cap
For those not au fait with the rudimentaries of Twisted Metal's moves and controls, each car is able to perform a variety of stunts. Turbo boosting is your meat and drink – perfect for ramming unwary opponents – while jumping can help you clear obstacles. Each car also has access to constantly regenerating shields and immobilising freeze blasts, while vehicles – regardless of size or number of axles – are all able to turn on a sixpence at the touch of the handbrake.
Cartillery
Then there's the huge array of weaponry available throughout, ranging from the standard to the downright strange. Scattered throughout arenas are a variety of missiles and bombs as well as shotguns, remote bomb buggies and even napalm.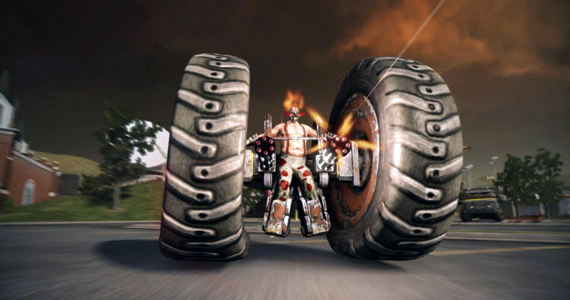 Clown in a round
On top of this, cars come equipped with standard armaments – think uzis and the like – and a special attack unique to each. Expect to see ice cream vans transform into bipedal mechs and rapid-fire assault cannons unload at the push of a button.
Taken on-line this surplus of arms translates into breathless insanity as missiles and bullets are incessantly exchanged. In fact, so fast is Twisted Metal's action that it's almost too intense.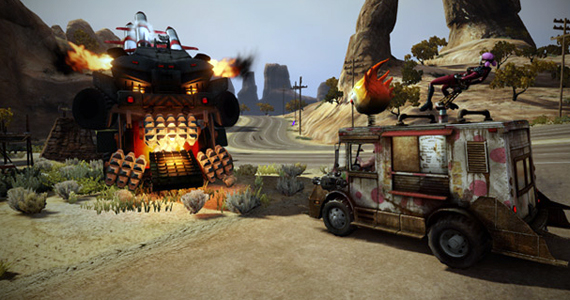 Holy truck
With barely a fraction of a second available in order to select and prep the right weapon, you're constantly left frustrated as you either miss your window of opportunity while clicking buttons, or else find yourself blown to bits by an unseen assailant in the meantime.
Even so, what could never be levelled at Twisted Metal's on-line content is that it's ever anything less than entertaining. Once you adapt to the Quake III Arena pace, the potential for high-octane thrills is just as present as in previous games in the series, and the resulting carnage often hilarious. With just those four modes available, however, there aren't too many new experiences to behold after a few hours of play.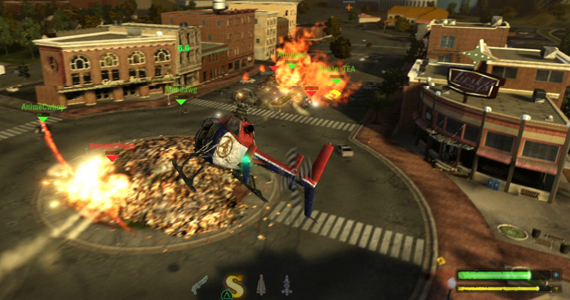 Chopperholic
Verdict
With David Jaffe freely discussing the game's transformation from an on-line-only PSN title, to a full-price shelf release in mid-development, the question of whether there's enough content here is surely one for debate. Yes, on-line play is most assuredly amusing, but the unnecessary bloating caused by that grafted-on solo experience ultimately detracts from what could have been a killer multiplayer PSN release. ®
More Games Reviews

Mass Effect
3
Syndicate
The Darkness 2
Kingdoms of Amalur:
Reckoning
Final Fantasy
XIII-2