Original URL: https://www.theregister.co.uk/2012/03/16/preview_hands_on_with_xbox_kinect_star_wars/
Hands on with Kinect Star Wars
Forced to exhaustion
Posted in Personal Tech, 16th March 2012 13:03 GMT
First look I had a chance this week to play on a near-final build of the upcoming Kinect Star Wars to get an impression of the game ahead of its launch early next month.
The title has come a long way since its E3 2011 build - my last attempt to wield an invisible lightsabre. If you exclude any in-front-of-the-mirror embarrassments at home, that is.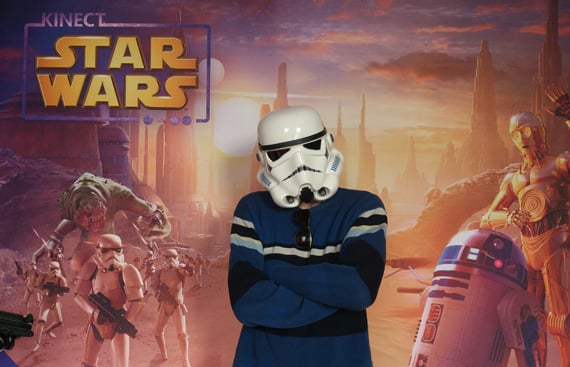 Unfortunately, the game drew more frustrations than excitements and as time went on, the potential I saw last year was soon forgotten. While there are five different modes to keep gamers occupied, the only audience likely to find huge amounts of enjoyment are those born after The Phantom Menace hit cinemas.
First off, there's the extremely linear campaign mode, "Jedi Destiny". Here your character is taken through a story set between the end of Episode I and Episode III, and you get to swing lightsabres, use the Force and jump around like a frog on amphetamines.
There were plenty of instances where the Kinect didn't register my moves and despite the silhouette of a human in the bottom left-hand corner of the screen telling me what I need to do, I was often baffled. Do I use telekinesis, jump, swing my weapon, or what?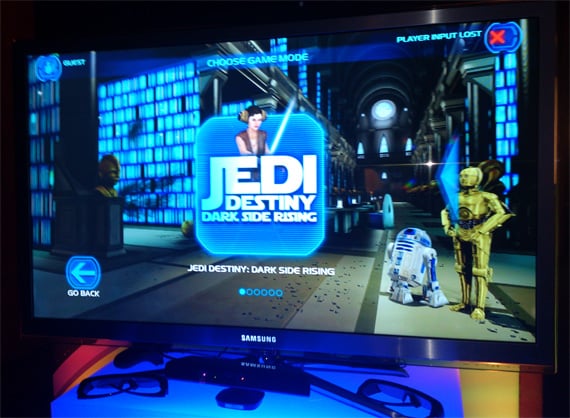 The menu system, hosted by the quirky droids of the Star Wars galaxy
While the lightsabre does match the movement of my arm without actually having one in hand, the constant waving soon became too much of a frustration to bear. Perhaps a port to PlayStation Move could solve that issue, but waving a glowing orb around is hardly my idea of acting like a Jedi.
Leaning forward to move was often unresponsive, and overall I just got bored - and extremely tired - very quickly. Gameplay was too repetitive and nothing really grabbed me as that entertaining. The linearity, an almost rail-like system, felt slightly Time Crisis-esque, although if I entered an arcade in the 1990s and had the choice to slot coins into a Kinect Star Wars machine, I'd soon go and spend my money elsewhere. Air Hockey anyone?
I decided it was time to try some of the other modes, ones that I hadn't yet seen, such as the much hyped Pod race feature.
Campaign and Podracing modes
Here, the fact you have to hold out your arms in front to steer the vehicles meant more punishment for my already aching limbs. Pulling back and releasing forward gives the Pod a power boost, but other than that, there isn't much to it. Stunning visuals in 3D does little to claw back dignity. Star Wars: Episode I Racer on the PC back in the day may not have had the same graphical prowess, but it was a far more riveting game.
Princess Leia faces her knockers
Next up, there's an even more exasperating mode, "Rancor Rampage", which sees players take control of a giant beast asked to complete tasks, such as throw people a certain distance, crush droids, or simply cause as much damage as possible. On paper that doesn't sound so bad, but in practice it was just as unresponsive and random as the other modes. Yawn.
Rancor Rampage and Galactic Dance-off modes
Those that enjoy games like Dance Central will no doubt lap up the "Galactic Dance-Off" mode, which as previously reported, sees Princess Leia boogie about in skimpy clothes. This was just a distraction, if I'm honest, but either way, I'm not a fan of these kinds of games. On the plus side, there are 15 popular modern tracks to choose from, each given a Star Wars twist. That was probably the highlight of the entire game for me.
Finally, there's a mode where you get to do what every Star Wars fan wants: fight to the death with Darth Vader. Gamers are given the chance to attack and generally beat the Sith out of the dark knight of the Dark Side. Not much cop if I'm honest, but I was playing an unfinished version. Maybe the completed code will be better.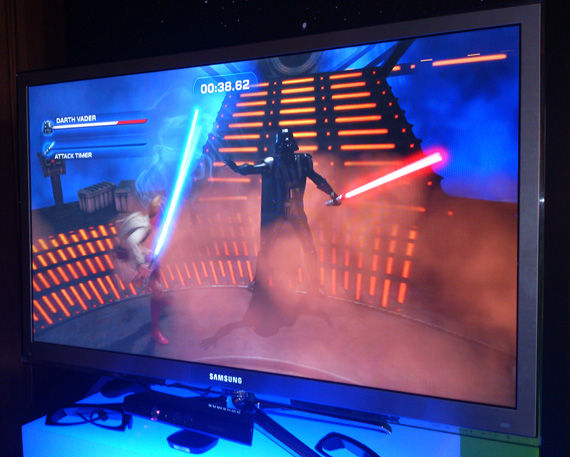 The chokes on you
It was a fun afternoon out of the office, but after arriving back with aching limbs and sweaty armpits, I did question if the game was worth the exhaustion.
I'm a huge fan of Kinect, but unfortunately there are far too many games that don't cut the mustard. This Star Wars effort seems to be another. I'm hoping that the final build will be rather more enjoyable than this pre-release version proved to be. It's set to hit shop shelves on 3 April.
If my hands-on experience was anything to go by, you'll have to Force me to play it again when it gets launched. And that's a real shame, because I've been looking forward to Kinect Star Wars for a long time, and so have many other fans of Kinect and of Star Wars.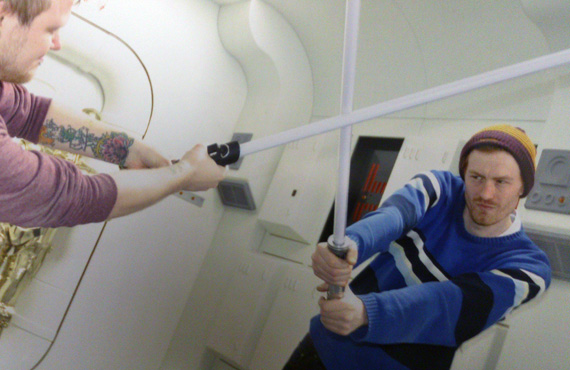 Nothing quite like the real thing
Guess I'll have to stick to waving imaginary lightsabres around in front of the mirror after all. ®