Original URL: https://www.theregister.co.uk/2012/03/16/apple_ipad_launch_fanboi/
SF iPad launch subdued as Apple fans wise up
Why queue when you can shop online?
Posted in Personal Tech, 16th March 2012 18:16 GMT
Apple's rabid fans may be getting smarter, if the subdued launch of "The new iPad" at the Apple's flagship store in San Francisco was anything to go by.
For the iPad 2 launch in March 2011, fans (and this unlucky hack) lined up around four sides of a city block in order to get a camera-equipped fondleslab. This time, however, the line didn't even make it down one side of the block.
Maybe the cachet of the new iPad wasn't enough, or the morning's light drizzle put people off, but hopefully enough people have now got over the iPad and realize they can buy it online – or a little later in the day.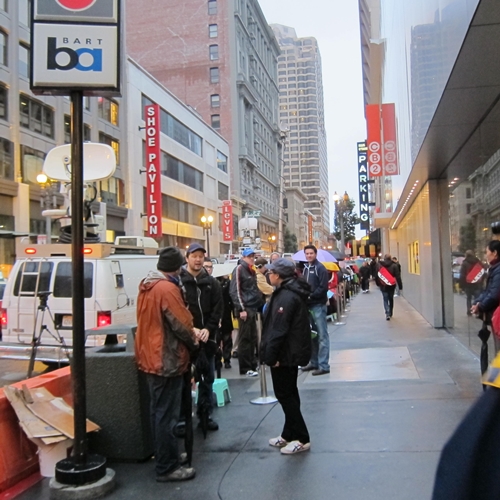 Some people in iPad line haven't learned the delayed gratification of ecommerce
High-profile protests promised by Change.org outside Apple's San Francisco store failed to materialize on Friday morning, as the inclement weather appears to have trumped concern over worker's rights.
"Demonstrators will demand Apple create a worker protection strategy to prevent workplace abuse, injury, and death, including how to keep workers safe during labor-intensive releases of new products like the iPad 3," said Change.org in a media advisory earlier this week, which promised "Brand-jammed banners; colorful, brand-jammed handouts, posters with comments from Apple users around the world."
But when welding instructor Scott Miner became the first person though the doors of the Apple's San Francisco store, there was nary a banner to be seen. Miner waited from 9:30pm last night to be the first to get his "The new iPad", and had to leave shortly afterwards lest he be late for work.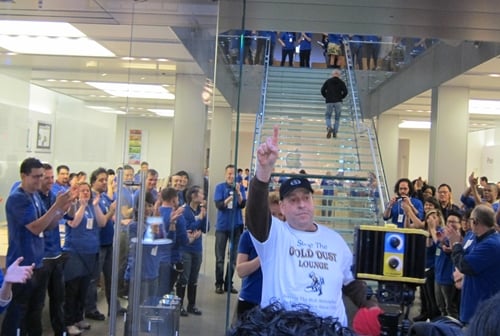 Scott Miner gets the first SF iPad (and displays his support for a threatened local dive bar)
"It took too long to buy it online, this was the only way of getting it," Miner told El Reg. We would suggest that he accept that delayed gratification is a key to a happier life – but we're not holding our breath.
A Change.org spokeswoman told El Reg that protestors were in place for 30 minutes from 8am, and a contact at the store says he did see a few, but Apple CEO Tim Cook is hardly quaking in his boots. This El Reg hack was there for the first ten minutes of the launch and saw no one making a fuss.
Probably the smartest person in the queue was Salesforce.com software engineer Yanik Grignon. He was first in line for the pre-ordered sales, which meant that although he had to wait a few minutes before being allowed into the store, he did get to spend the night in a warm, dry bed, and didn't have to turn up until 6:30am to get his place in line.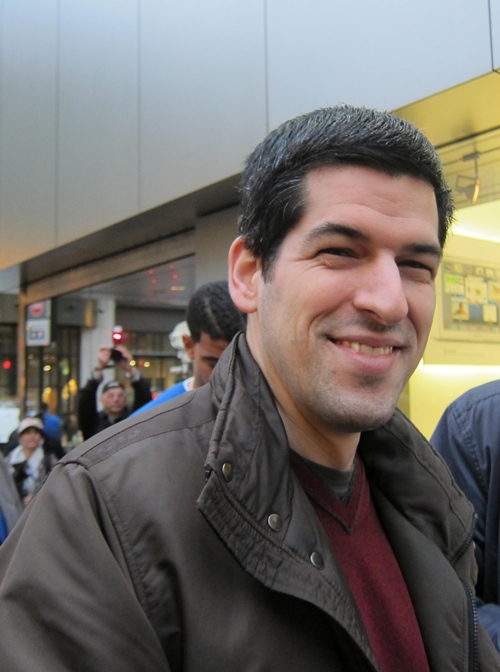 Yanik Grignon, probably the smartest fanboi in line
"I didn't really want to be the first in line," he told us. "I had early meetings in the city today and am flying back to Boston this afternoon, so I figured I'd get into work early and pop by first."
One of the traditional sights for a new Apple launch is the portly visage of Steve Wozniak waiting in line to get his latest toy and bask in the adoration of Apple fanbois. Woz and wife queued overnight at the Century City store in Los Angeles, and said that new gadgets were the most important things in our life.
"It's become a ritual almost," he told a camera crew from Whatstrending.com. "It's not something that you have to do, nobody has to wait in line. I'd rather be in there like the real people. Apple is that important to so many of us."
If you want to meet Woz next time there's a new gadget on sale, he suggested monitoring his FourSquare account to see where he'll be lining up. Maybe you'll be able to get tips on Segway polo, running a school computer network, or the best place to get split pea soup. ®