Original URL: https://www.theregister.co.uk/2012/03/15/review_viewsonic_viewpad_10e_android_tablet/
Viewsonic Viewpad 10e tablet
Android take on iPad aspect
Posted in Personal Tech, 15th March 2012 07:00 GMT
Review 'Budget tablet' is a phrase that tends to crop up in reviews that only ever reach one conclusion: the product is pretty awful. But the new Viewsonic Viewpad 10e may be the exception that proves the rule, because this £200 Argos-exclusive ain't half bad.
Viewsonic's Viewpad 10e adopts the iPad's 4 x 3 aspect ratio
To start with it's smart, slim – only 9.1mm thick – and at 620g reasonably light. It's well made too, with no physical rough edges and no flex to its body. The back is made of matt black plastic, but none the worse for that.
Up top and out of the way, you will find a power toggle, microSD, mini HDMI, micro USB and power sockets – alas no USB charging. There's also a 3.5mm combo mic/headphone jack. On the left side is a volume rocker and on the right, a reset button that I never had to use.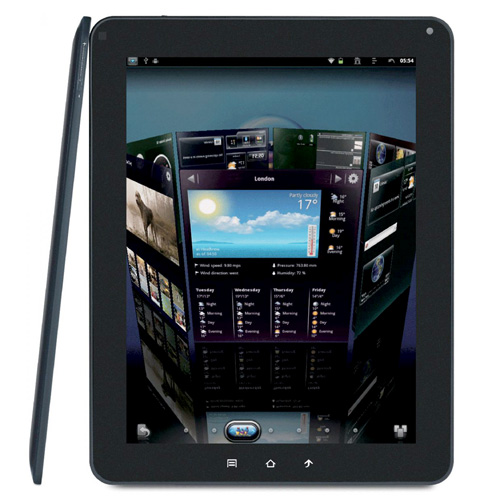 Budget price, but a bevy of features
What separates the 10e from the herd is its glass 9.7in, 768 x 1024 132dpi screen which makes the it the only Android tablet with an iPad-like aspect ratio. The LCD panel is also colourful and bright – to the tune of 400 nits, since you ask – while viewing angles are impressively robust.
Powering the show is a 1GHz single-core ARMv7 chip with 512MB of RAM which keeps everything moving along at a perfectly reasonable rate of knots and provides a smooth UI experience. Granted, it's no Asus Transformer Prime but if anyone tells you it's unusable or frustratingly slow, they are talking utter rubbish.
The 10e runs Android 2.3.1 but an Ice Cream Sandwich update is promised by ViewSonic any day now. To give a bespoke look to the UI you get a licenced version of SPB's visually impressive Shell 3D launcher.
After market
Out of the box, the Viewsonic Viewpad 10e lacks any Google goodies or the official Market but a ton of free apps can be found in the preloaded 1Mobile Market. I found up-to-date versions of GMail, Skype, the SwiftKey keyboard, the official Facebook, Twitter and BBC News apps and Google Maps to name only a few.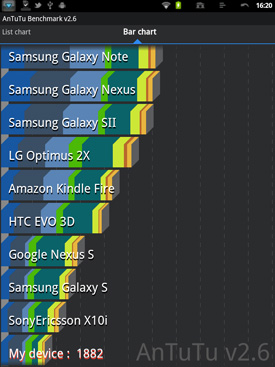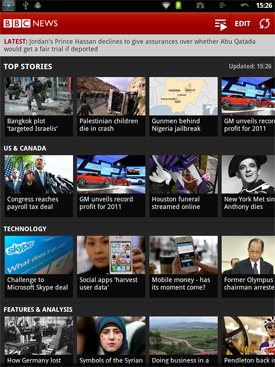 AnTuTu score appears low but performance remains more than acceptable – BBC news content tiles
If you want the real deal there is a very simple instal process to add the Android Market and key Google apps. Alternatively, you can download Amazon's Appstore which should start to work in the UK as soon as the company's Kindle Fire is released here. Adobe's Flash Player comes preinstalled and works a treat, even when running 1080p YouTube content in the stock browser.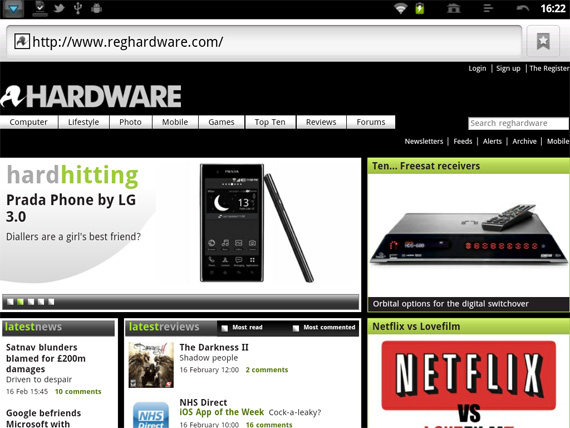 Browsing
Internal storage is a so-so 4GB, but at least it's been divided up sensibly so you get 2GB for files, 1GB for applications, and the rest..? Well I can't actually track the rest down, but the MicroSD slot is good for cards up to 32GB, so who cares?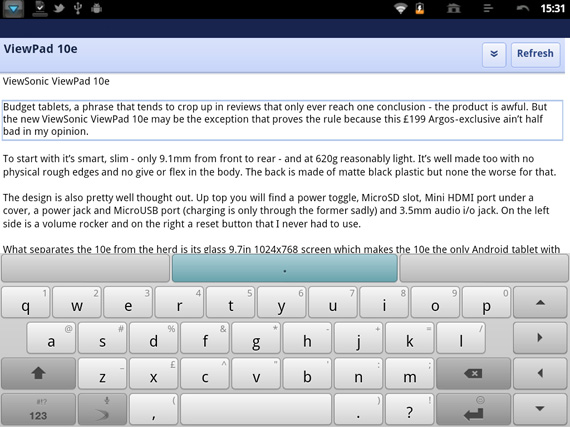 Docs and Swiftkey
In the top right hand corner you will find a 1.3Mp camera that works a treat with Skype video calling. There is no main camera but that's not a loss in my book.

Slimline at just over 9mm
Music sounded pretty good through the two speakers tucked away at the bottom. Furthermore, all 720p video content – no matter what format – and most 1080p MP4 files played smoothly in the bundled Vortex media player. Also, games such as Angry Birds and Sprinkle ran perfectly.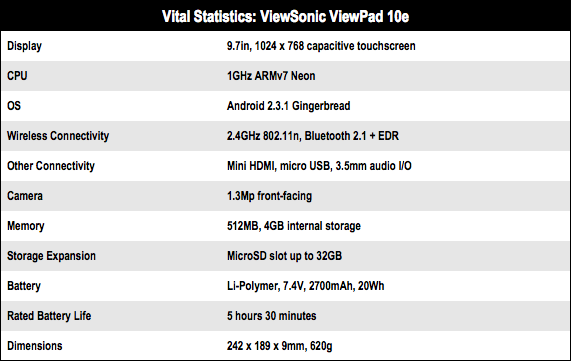 Low life
Like the iPad, the Viewpad 10e's screen is the perfect size for reading e-books, so all you need do is download the Kindle app or Google Books – both available from 1Mobile – and bibliophile heaven beckons.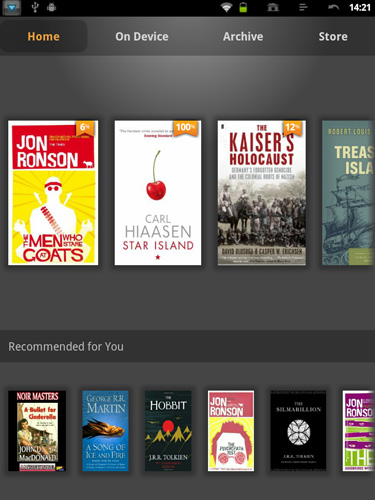 Kindle app in action
The only fly in the ointment is the Viewpad's battery life. Fair play to ViewSonic for being honest about the 2,700mAh power pack only offering around 5.5 hours and, indeed, between four and five hours is all you can expect. Loop a 720p video and the lights go out at just over the 3 hour mark.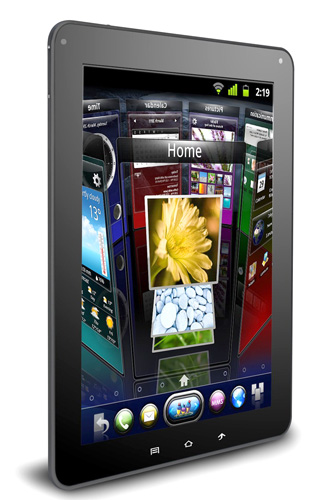 Great value if you can cope with its battery life limitations
Verdict
As it stands the Viewsonic ViewPad 10e is a rather impressive large screen tablet with an attractive price tag. There are a few rough edges, like the absence of the Android Market and mediocre battery life, but nowhere near as many or as serious as I've encountered on other budget tablets. Battery life aside, its other shortcomings can be easily dealt with or should be eliminated by the imminent ICS update that it's due. ®
More Android Tablet Reviews

Lenovo
Thinkpad
Tablet
Motorola
Xoom 2
Media Edition
Ten high-end
Android
tablets
Orange
Tahiti
Sony
Tablet P