Original URL: https://www.theregister.co.uk/2012/03/15/ee_1800mhz/
Everything Everywhere's 4G party bus could run Three off a cliff
MPs, rivals hit the roof over LTE monopoly
Posted in Policy, 15th March 2012 13:38 GMT
Ofcom's proposal to give Everything Everywhere a year's monopoly on 4G raised the eyebrows of MPs, and the hackles of the competition, who can't see how it could possibly be fair.
The plan to let EE deploy LTE in its massive stockpile of 1800MHz spectrum was published on Tuesday, and interested parties have until April 17 to respond. Out of nowhere we've had a Parliamentary debate on the subject and at least one operator threatening to storm out of the country in disgust; Ofcom's attempt to placate everyone doesn't seem to be going as well as hoped.
Three's argument has been taken up by Vale of Glamorgan MP Alun Carins, who raised the issue at a Private Members' Debate yesterday. Clearly well briefed by Three, the MP put the announcement in the context of the forthcoming mega-auction (of bands at 800MHz and 2.6GHz) and argued that "the operator without 800 or 900MHz would either walk away, or be subject to a takeover by one who had the desired spectrum".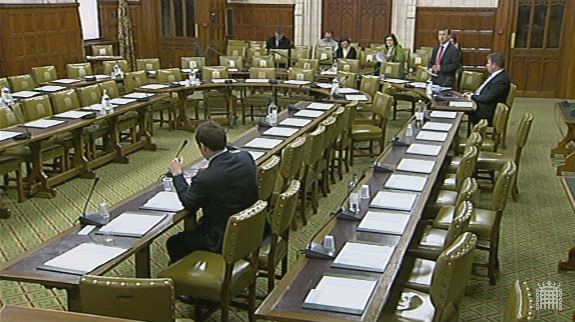 Amazing how a debate on spectrum policy can bring in the crowds
Clearly EE is not going to walk away nor be taken over. The honourable member is talking about Three.
The UK's spectrum soap opera
Ofcom's original proposal for the 4G mega-auction placed bidding restrictions on Vodafone and Telefonica because they already have considerable holdings at 900MHz. Vodafone and Telefonica got very angry about ruling, so the regulator revised the proposals: it removed those restrictions along with the provision to make Vodafone and Telefonica pay market rates for the 900MHz they were allocated way back when.
That made Vodafone and O2 very happy, but pissed off Everything Everywhere and Three. EE was formed by the merger of Orange and T-Mobile, so has more than twice the radio spectrum of its nearest competitor, but nothing below 1GHz (which is the good stuff for penetrating buildings or getting a decent range). So EE wanted auction rules that would ensure it got such a holding. Ofcom declined, but letting EE deploy LTE (4G) a year ahead of the rivals, with this latest proposal, should prevent it kicking up too much of a fuss and leaving all the operators (except Three) happy.
Three isn't publicly threatening to storm off in a huff, not this time around, but privately it is still saying that things can't continue as they are - Three is the only operator that didn't get free spectrum allocated to it when it launched, and as the plan is to sell off the 800MHz band in three chunks of 20MHz it's quite likely that Three will be squeezed out of the mega-auction unless the rules can be bent to its favour.
Ofcom's avowed intent, reiterated by communications minister Ed Vaizey during the debate, is to maintain a competitive market of four operators in the UK. But even Vodafone thought it necessary to remind the world of that objective in its public statement on the new proposals:
It comes as a surprise that the regulator is now considering giving the largest player in the market permission to use its existing spectrum for 4G services before the rules for the auction have even been concluded ... we seriously doubt that consumers' best interests will be served by giving one company a significant head start before any of its competitors have a clear path to 4G.
Into all this comes Apple, with its "new iPad" boasting "4G" networking. That 4G won't work in the UK; the US bands aren't used over here, but as Apple controls all the advertising materials it might yet insist on the iPad being branded a "4G" device, which should raise some interesting debates at the network operators and the ASA.
Vaizey hopes the proposals won't be legally challenged: "The time to have these arguments in the courts has long since passed," he said, responding to the question. It's nice that he feels that way, and Ofcom would surely agree, but it's far from clear that the aggrieved network operators concur. ®