Original URL: https://www.theregister.co.uk/2012/03/14/idc_forecasts_android_will_overtake_ios_by_2016/
Android to pwn iPad market share by 2016
Microsoft no bother to either
Posted in Personal Tech, 14th March 2012 16:04 GMT
Android isn't going to overtake iOS until 2015, but at least Apple doesn't have to worry about Microsoft, RIM and others.
That's the outcome forecast by market watcher IDC based on its latest take on the state of the tablet arena.
Apple's tablet market share isn't going to dip below 50 per cent for five years, and even come 2016, it'll only lie just three percentage points behind Android.
"Apple will remain dominant in terms of worldwide vendor unit shipments," IDC said. "However, the sheer number of vendors shipping low-priced Android tablets means that Google's OS will overtake Apple's in terms of worldwide market share by 2015. We expect iOS to remain the revenue market share leader through the end of our 2016 forecast period and beyond."
That's not so very far from the prediction made by fellow researcher, IHS iSuppli last week.
Apple's trajectory was fed by Q4 2011 shipments of 15.4m units - more than three times its closest rival, the Amazon Kindle Fire, which chalked up shipments of 4.7m units, IDC reckons.
That puts Amazon's market share at 16.8 per cent - an impressive figure for a company that launched in the quarter under consideration and only shipped into the US, not globally. Apple's share was 54.7 per cent, third-placed Samsung's 5.8 per cent.
Amazon's success drove Android's market share to 44.6 per cent. RIM's share fell to a negligible 0.7 per cent. Windows didn't trouble the scorer.
For 2011 as a whole, Apple's share came to just over 59 per cent, with Android just over 38 per cent.
Tablet market shipment volumes forecast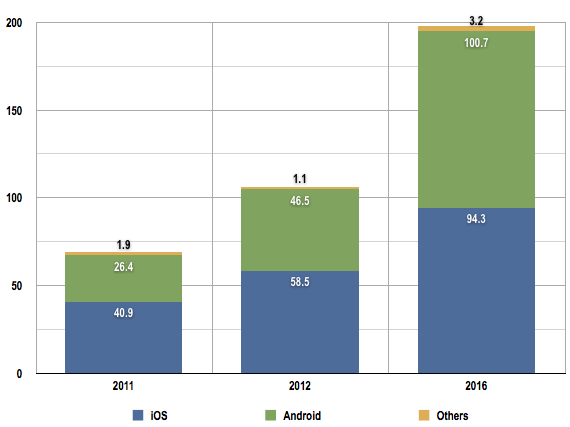 Data source: extrapolation from IDC market share data
This year, IDC reckons, those shares will be around 55 per cent and 44 per cent, respectively, rising to 48 per cent and 51 per cent in 2016.
Totting those percentages up shows a progressively smaller and smaller slice of the pie taken by other tablet operating systems.
It's worth noting though, that though the Others' 2016 percentage is tiny, they will still see significant growth over 2012's unit-shipment figures, rising from, we calculate, around 1.1m units to 3.2m.
But that's still a drop in the ocean of 198.2m tablets IDC believes will ship in 2016, up from 101.6m units this year.
E-book readers fared well in Q4 2011 - the gift-buying season, of course - with worldwide shipments up to 10.7m units, up from 6.5m the previous quarter and 64.3 per cent up on Q4 2010's total.
Good numbers, to be sure, but still well below those of the iPad and tablets as a whole. You can see why Amazon was so keen to break into the tablet market. ®