Original URL: https://www.theregister.co.uk/2012/03/13/review_panasonic_cf_53_toughbook_rugged_laptop/
Panasonic CF-53 Toughbook 14in rugged laptop
A bit of a hard case
Posted in Personal Tech, 13th March 2012 12:00 GMT
Review Skinny Ultrabooks may be getting all the press at the moment but what it you want a laptop that will withstand the knocks, drops and tribulations of use on the road and in the great outdoors rather than the board-room? Panasonic's semi-rugged CF-53 Toughbook may be just the ticket.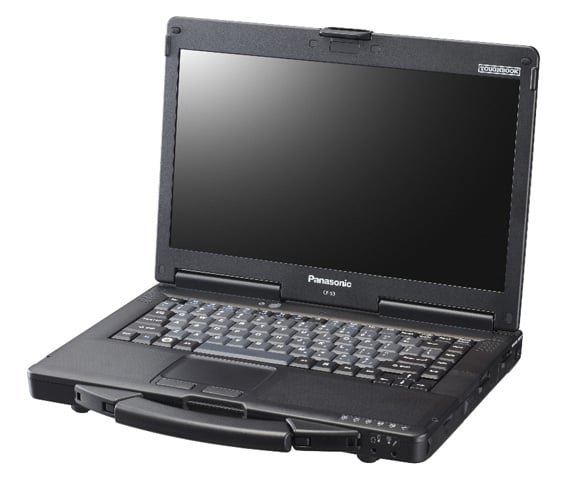 Ready for the rough and tumble: Panasonic's CF-53 Toughbook
Semi-rugged is the best way to describe the CF-53. It's water and dirt resistant rather than proof and is designed to withstand drops from around one metre, rather than down mine shafts. Similarly, it will work at temperatures between 60˚C and -20˚C, but set it on fire or put it in an oven at Gas Mark 7 and you are stuffed.
The Panasonic CF-53 Toughbook certainly feels a solid lump. Inside, is a magnesium alloy chassis and the lid is covered with brushed aluminium. Fold the lid down and a solid clasp keeps it shut, so you can take hold of the robust carry handle and swing it around your head while singing King of the Swingers with no fear of it opening.
Handling stress
The lid houses a 14in 1366 x 768 matt screen and it's one of the brightest I've ever seen on a laptop. This, combined with the anti-glare finish, means you can use the CF-53 Toughbook in just about any lighting condition you care to imagine. The rest of the body is made from very sturdy black plastic, which may not be all that pretty but should take some serious abuse before it starts to look scruffy, let alone fall apart.
The keyboard is as solid as a rock but it's not backlit and some of the keys – especially the space bar and return key – are a little on the small side. The multi-touch track pad and two distinct click-buttons work very well.

Water tight?
In keeping with it's semi-rugged credentials, spills of 175ml or less are shrugged off like water of a duck's back. By way of a test I poured half a glass of water onto the keyboard deck, turned it over to drain and carried on typing this review with no harm done.
Drop box?
I then knocked the CF-53 Toughbook off my dining room table onto the carpeted floor to see if the shock protected HDD can take a punch. It can. I could have been more brutal but I want Panasonic to lend me one of its toughened Android tablets next month and handing the CF-53 Toughbook back in bits would most likely jeopardise that. Also the CF-53 Toughbook is supposed to cater for users who are active and mobile, not clumsy and stupid.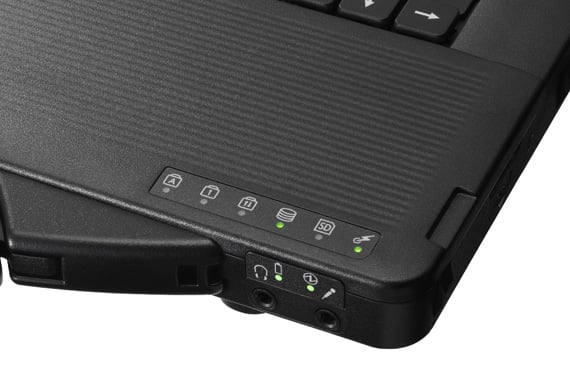 Lugs cover the interfacing apart from the audio jacks at the front
To prevent the ingress of dust or moisture all the CF-53's ports apart from the 3.5mm audio and microphone jacks at the front are covered by flaps. The doors aren't watertight but seem more than capable of keeping building site detritus and the like at bay.
The right-hand side of the CF-53 houses a USB 2.0 and USB 3.0 port, a SD card reader, ExpressCard slot, power jack and a compartment for the 6750mAh Lithium-ion battery. A DVD burner occupies the left side while two USB 2.0 ports, Ethernet, VGA, HDMI and serial ports live around the back. Flip the machine onto it's back and the covers for the WLAN, memory and HDD bays are all easily removable, the last without even needing a screw driver.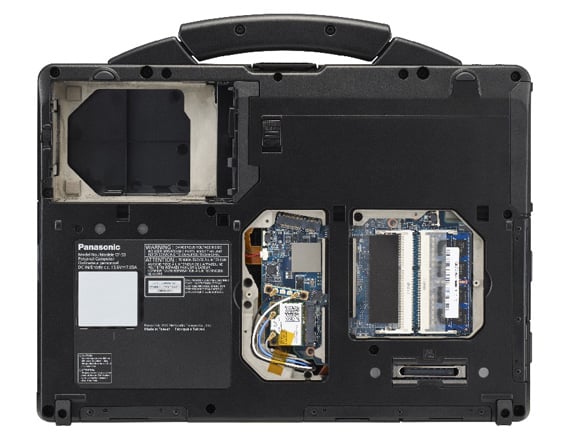 Pit stop style parts swap
Oddly for a machine designed to be used out of the office, a webcam is an optional extra. I'd have thought the ability to quickly video-call support staff using Skype would be a vital feature for this sort of machine.

The 2.5GHz Core i5 CPU in this model is getting on a bit now
Inside you will find a 2.5GHz Intel Core i5-2520M CPU with 4GB of RAM running Windows 7 Professional. That means it runs just like all the other hundreds of similarly specified laptops made since this Core i5 chip appeared about a year ago, and like them it is no gaming demon due to it sole reliance Intel's flaccid integrated GPU.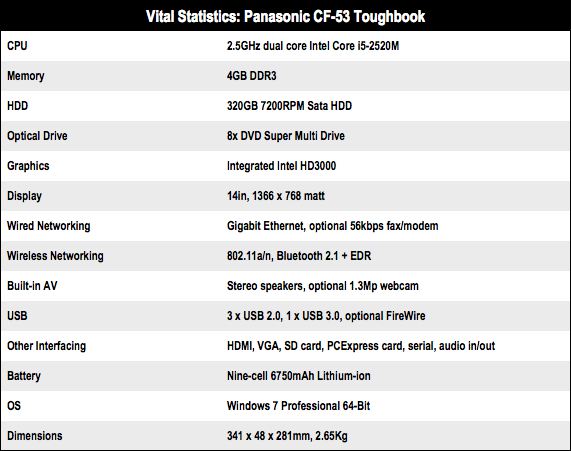 The rough with the smooth
The PCMark 7 and 3DMark06 scores of 2173 and 4120 respectively were wholly unremarkable and in the case of the latter, wholly irrelevant because this clearly is not a machine you buy to play Crysis 2 on. The flip side of those lightweight numbers is that the CF-53 Toughbook is both very quiet and very cool even when running under load.
Benchmark Tests
PCMark 7 Results

Longer bars are better
Panasonic reckons the battery is good for 10 hours and it is not far wrong. With the screen brightness set at 60 per cent and the Wi-Fi radio on, I easily managed to get to the 7hrs 30m mark, even when three of those hours were spent watching HD video. Run Futuremark's new Powermark battery benchmark and you get a result of 3hrs 42m but that's the power-use equivalent of taking hold of someone's goolies and squeezing very, very hard.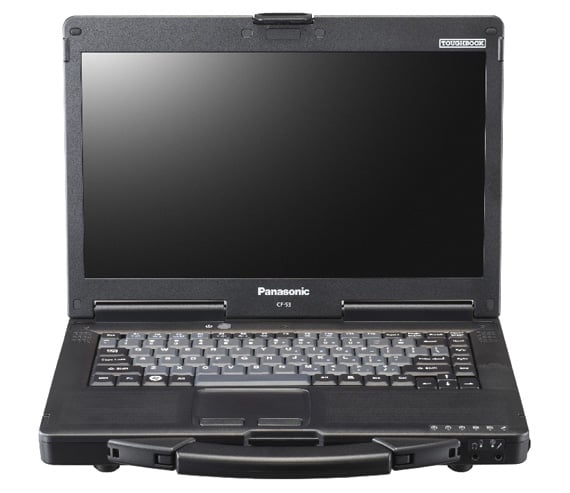 Made for the long haul
Verdict
Built like Hadrian's Wall and likely to last just as long, the Panasonic CF-53 Toughbook is perfect for anyone who wants a laptop for use beyond the office and domestic bliss. The bright non-reflective screen is ideal for outdoor use and the chunky battery means you won't be forever searching for a power socket. For the price though, I'd really like to have seen a standard-fit webcam, a backlit keyboard and maybe even a 3G modem. ®
More Notebook Reviews

Toshiba
Portégé
Z830-10N
Dell
Latitude
E6220
Asus
Zenbook
UX21E
Samsung
Series 7
Chronos 700Z5A
Acer
Aspire S3
Ultrabook