Original URL: https://www.theregister.co.uk/2012/03/12/wtf_is_white_space_networking/
WTF is... White Space radio networking?
Channel surfing
Posted in Networks, 12th March 2012 12:00 GMT
Feature 2012 will be the year White Space radio starts delivering networks of unprecedented speed and range, but if it works then White Space will also change how radio is used across the spectrum.
The first commercial radio networks utilising White Space are already running, but in eagerness to associate White Space with the ever-popular home wireless networking standard, Wi-Fi, the industry has been busy binding the terms together, creating "White-Fi" and leading to considerable confusion.
After all, White Space has as much in common with Wi-Fi as a Renault Espace has with the M1.
Wi-Fi is a radio networking protocol, while White Space is a frequency band into which one can deploy low-powered radios. For historical reasons, White Space is cut into blocks that aren't even wide enough to fit a Wi-Fi signal, so a more accurate comparison would be a Renault Espace with a cycle path.
White Space could, more-appropriately, be compared to the 2.4GHz Industrial, Medical and Scientific (ISM) band where Wi-Fi is deployed - it's in the 5GHz band too - and Bluetooth also finds its home. The 2.4GHz band was reserved for unlicensed use globally, mainly because it was considered worthless given all the interference generated by microwave ovens - 2.4GHz is the frequency at which water absorbs radio signals, so good for heating food, but means Wi-Fi is blocked by wet leaves or fleshy bodies.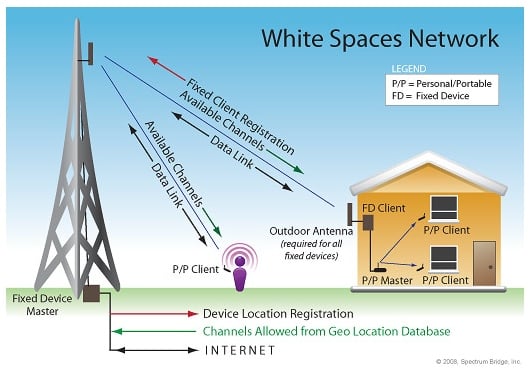 White Space usage
Source: Spectrum Bridge
The White Space band is way down the dial, at around 700MHz, so won't interact with water and propagates over much greater distances than 2.4GHz at the same broadcast power. But just as 2.4GHz gets filled with Wi-Fi, Bluetooth, baby monitors and loads of other kit using proprietary protocols, so White Space will get cluttered with all sorts of different radios, but with one important difference: the White Space bands have an incumbent user which can legitimately demand exclusive use.
That user is broadcast television, whose enormous transmitters fill the airwaves with vitally-important repeats of Top Gear and The Jeremy Kyle Show. But the one-to-many architecture of broadcast systems, established decades ago unrestricted by concerns about spectrum shortages, leaves great swathes of the dial necessarily empty, and this is where the White Spaces lurk.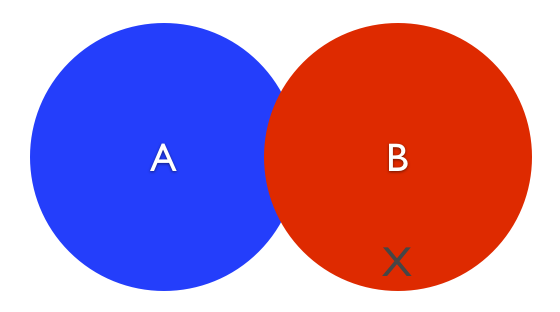 Transmitter A, above, broadcasts on, say, 622MHz, and covers the blue region with its signal. Transmitter B broadcasts the same bundle of television channels, but at 702MHz to avoid interfering with transmitter A. That means a low-powered transmitter at point X could use 622MHz for local-area networking without interfering with Eastenders.
Is it safe to play here?
The problem is that the device running at point X has to know the frequencies that transmitter A is using, and while various detect-and-avoid technologies have been tried only an online look-up table of locations listed against available frequencies has been shown to actually work.
So a White Space device, regardless of the protocol it will eventually use, has to first query a database to establish which frequencies are available at its current location. If a star topology is being used - such as a single Access Point providing internet connectivity to nearby clients - then only the centre of the star needs to check with the database, the clients can take guidance from the hub.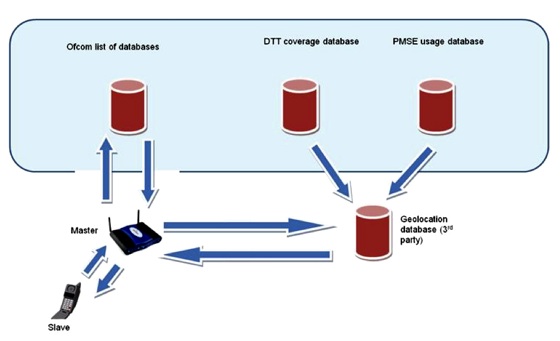 To use White Space frequencies, you router and devices may have to check there's available capacity from multiple databases
Source: Ofcom
Until the first of these databases was established, in December 2011, broadcast TV had exclusive usage of every White Space frequency. The US broadcast trade body, the NAB, recruited the pneumatic Dolly Parton and an evil, animated telephone to its campaign against the exploitation of White Space, claiming that White Space usage would inevitably interfere with broadcast pictures, despite the US Federal Communications Commission's insistence that there was room for everyone to play.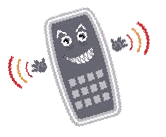 An angry, White Space-phobic phone, yesterday
In the UK, the Church of England and Andrew Lloyd Webber were roped in to support a similar campaign, centred not on the claim that White Space would knock out broadcast TV but that the White Spaces had hitherto been the exclusive preserve of wireless microphone users.
Professional wireless mics, used in everything from West End shows to Celebrity Big Brother, already use a similar database system to allocate frequencies by region, but the limited quantity of microphones in use has never required real-time dynamic allocations. Touring shows generally know were they're going to be well ahead of time.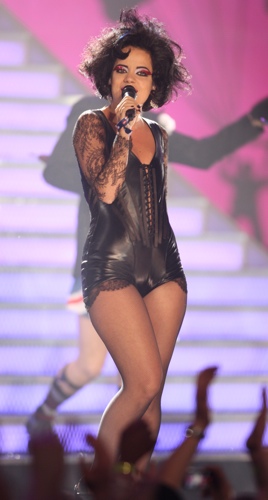 A popular radio mic user is undaunted by White Space networking
Source: Sennheiser/John Marshall
The Joint Frequency Managers Group (JFMG), an organisation set up specifically to manage those bands for wireless microphone users, has run the monopoly database for years but has done so with the willing co-operation of the whole entertainment industry.
In the US, the White Space rules conceded a couple of channels for exclusive use by wireless microphones. Something similar will probably happen over here. The entertainment business may feel a bit squeezed, but the rest of us get masses more bandwidth to play with.
Radio Waives
That bandwidth will be free to use, as long as the devices check in with the database before transmitting. Device manufacturers will sign deals with database operators, so the cost of maintaining the data will be part of the purchase price of White Space kit. Database operators will compete with value-add offerings such add international information, fast look-up times and special features, such as incorporating data sourced from White Space devices themselves.
This is where White Space becomes really important to the future of all radio communications. When deployed devices stay contributing to a live feed of which frequencies are being used and where, then the model becomes applicable to other parts of the radio spectrum, perhaps even all of it.

Wi-Fi range in metres using 802.11g modulation
White Space slots are 8MHz wide in Europe - though only 6MHz in the US because that's how analogue TV was organised - so once a device has been provided with a list of locally-available slots it can start transmitting. But it might well find that another White Space device, or a freak of meteorology, means that some of the slots are already filled. So it will have to run some checks locally before launching into a network operation, and is the result of those checks which could be valuable to the database operator.
A device could, in theory, report back to the database with an even more accurate list of available bands, and the database could then supply that modified list to the next device which asks. In theory, a database could even supply different ranges of channels to different devices located near each other, to avoid interference happening before it could be detected.
Look up for access
If that all works - and it's still a big if - then the same model could easily be expanded into other areas of the radio spectrum. Candidates include the bands around 2.5GHz, which are used by radar systems, and FM radio bands right at the other end of the dial, either of which could be more-efficiently utilised though the application of 'where can I play?' look-up databases.
Once a White Space device has identified a usable band, and has established that it's not already occupied, then it can start transmitting. What it's going to transmit, and why, is still very much under discussion. UK-based Nuel has proposed a standard called Weightless which is ideally-suited for machine-to-machine communications.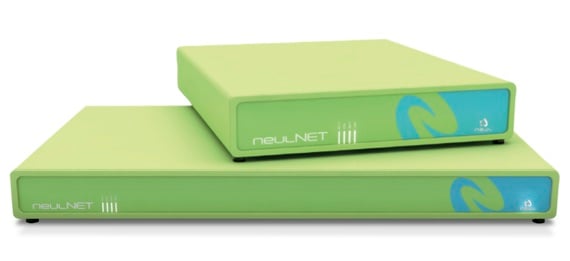 Neul's Weightless kit extends networking into white space bands
Meanwhile, the IEEE international standards body is working on a dedicated networking protocol. Huawei has been testing LTE in the band, while researchers at Microsoft have been slicing up Wi-Fi signals to see if they can be slotted into White Space gaps.
White Space is going to be huge, everywhere it's deployed, not only in providing users with fast wireless with a range measured in kilometres but it could also redefining how we look at licensing of radio spectrum. What is clear is that White Space is no replacement, or extension, to Wi-Fi, no matter what the companies involved decide to call it. ®