Original URL: https://www.theregister.co.uk/2012/03/08/review_car_renault_megane_265_trophy/
Renault Mégane 265 Trophy 2.0 turbo
Tuned to perfection
Posted in Science, 8th March 2012 12:00 GMT
Review

Lap times around the fearsome 13 mile Nürburgring have become a touchstone for performance road cars in recent years. Renault's new Mégane 265 Trophy has been hustled around in 8m 08s, which is the current lap record for a front-wheel drive car.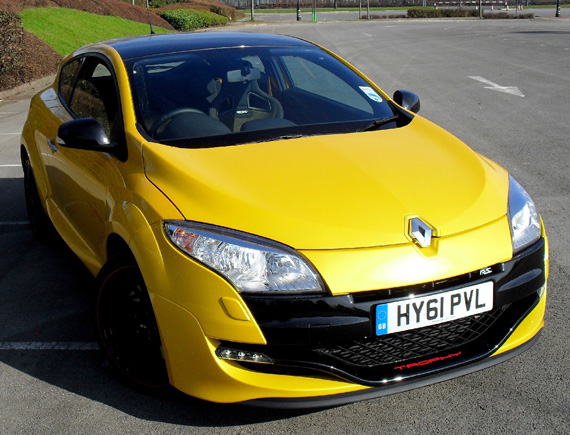 Not a subtle car
To put that into context, a well driven Porsche 911 GT4 can do it under 7m 30s, while the best I've ever managed – driving a Volkswagen Golf R32 – was 12m 32s. Yes, I know it's possible to get a Ford Transit around faster than that. So what we have here then is the hottest of hot hatches that certainly spices up Car Week.
The 265 Trophy's 2-litre turbocharged petrol engine is a wee bit more potent than that found in the common or garden Mégane Cup. For a start, the Turbo boost has been pumped up to 2.5bar and the engine management has been remapped to liberate an extra 15bhp and 20Nm of torque.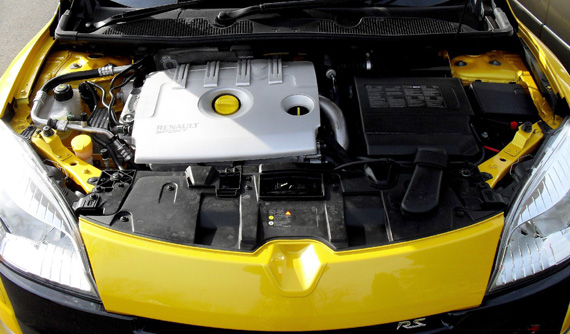 Not much to look at but a truly excellent engine
These increases take the Trophy's power and torque totals to 265bhp and 360Nm at 3,000rpm, respectively and deliver a power to weight ratio of over 191bhp per tonne, which isn't at all bad for a hatchback costing less than 30 grand.
There have been no changes made to the Mégane 250 Cup's excellent chassis, Renaultsport rightly reasoning that it is more than good enough as it stands. However, a set of high performance and, apparently, Formula-One inspired Potenza Bridgestone RE050A tyres on 19in alloy wheels have been added.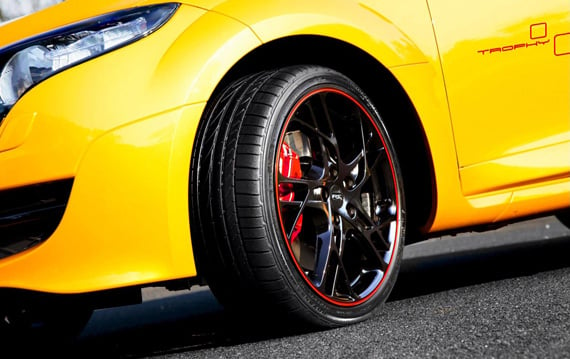 F1 inspired tyres and Trophy decals
The impact of the extra power and torque is as subtle as it looks on paper; the top speed is nudged up by 2mph to 158mph, and the 0-62mph time falls by a tenth to six seconds on the nose. On the road, power is delivered in a very progressive manner and, thanks to the slick six-speed manual gearbox's relatively long ratios, you don't need to swap cogs too frequently. In short, this an easy car to keep moving at high speed.
Torque of the town
And it's just as easy to keep moving at low speeds. Such is the engine's tractability that if you find yourself stuck in slow moving motorway traffic, you can easily cruise along at speeds as low as 20mph in 6th and still accelerate smoothly when you press the throttle.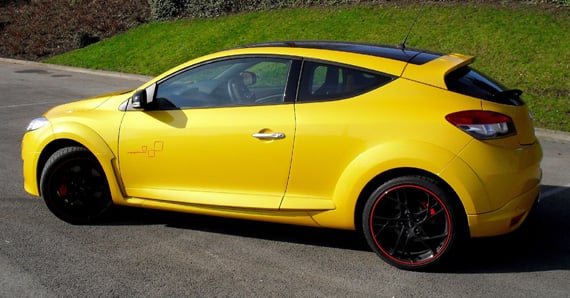 Faster than a rocket-powered banana
With so much power going through the front wheels, torque-steer is evident despite the mechanical limited slip differential and is especially noticeable when pulling out of tight, slow corners. Still, it's better contained than I expected and does little to get in the way of the Mégane's innate agility.
The brakes are nigh-on perfect. The new wheels and tyres have done nothing for the ride though, which is very firm especially at low speed over urban roads with broken or pot-holed surfaces. At higher speeds, and along smoother tarmac, everything settles down nicely. So long distances can still be covered at pace and in comfort.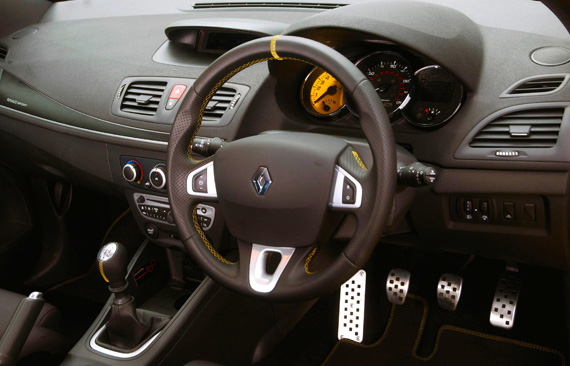 Interior a bit cheap but everything in right place, apart from handbrake
The steering is very precise and gives the driver plenty of feedback about what's afoot at the sharp end. The amount of grip the Trophy finds and the minimal understeer, is a testament to the highly successful partnership between the fancy rubber and the finely tuned electronic stability system. The Trophy also sounds as good as it goes. At full throttle, the lovely mechanical growl is complemented by the sucking noise emitted by the turbo-charger. And complaining about that, is like moaning about there being a vocal part in Beethoven's Ninth.
Inside the car things take a bit of a turn for the worse due to an expanse of grey plastic. Yet for the cabin to match the mechanical underpinnings, it would need be a mix of Jaguar XKR and Lockheed Martin F-22.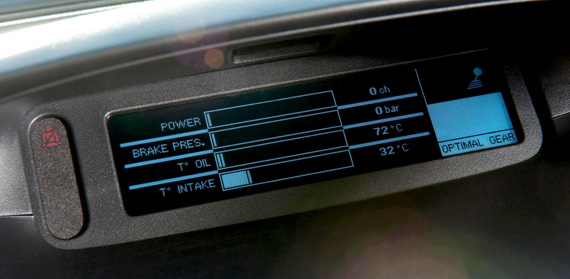 How hot is my turbo?
On a more positive note, the Recaro seats are superbly supportive and surprisingly comfortable even after several hours behind the wheel. The driving position is spot-on too, with the pedals perfectly positioned and the footrest exactly where it ought to be.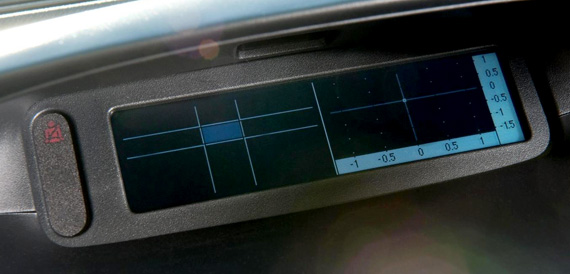 G-force meter
With a nod to track day enthusiasts, the on-board computer can show you transverse and longitudinal acceleration, record 0-62 and standing quarter mile runs, keep track of lap times. It also shows various technical parameters such as the temperature of the air in the turbo charger and the turbo boost pressure. You can even adjust the throttle pedal's sensitivity.
In and around the Renault Mégane 265 Trophy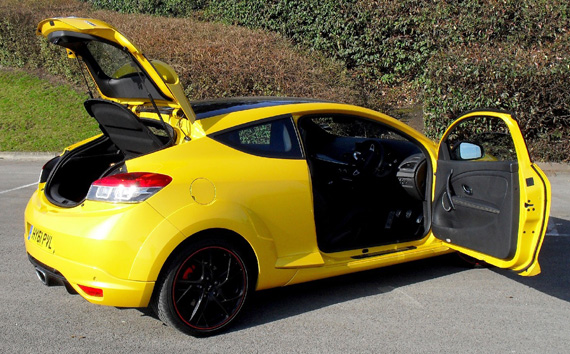 Big doors make for easy access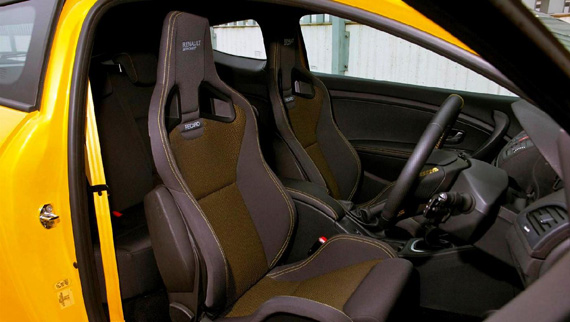 Excellent Recaro seats, hold you firmly but comfortably, just like a good hooker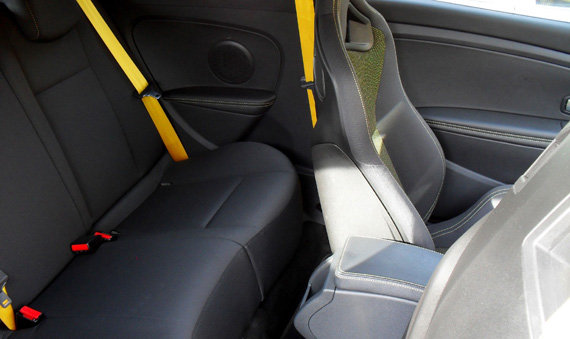 Room for little'uns in the back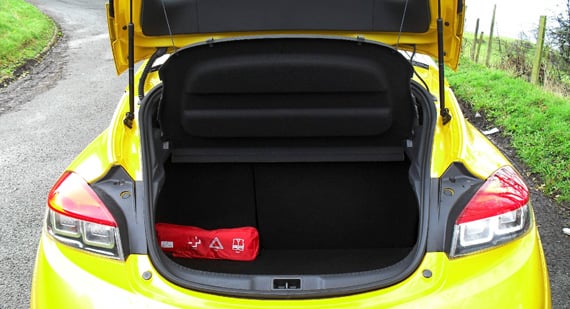 Decent-sized boot
Handbrake turns
If I had to pick a hole it would be the positioning of the handbrake, which is clearly optimised for left-hand drive. The problem is that the angle of the lever combines with the design of the bucket seats to guarantee that using it involves stroking your passenger's thigh. Not an issue when I had the missus in the car, yet less than ideal when I was using the Mégane to rush the tough as nails lead singer of Salford rock band HankyPark to a gig.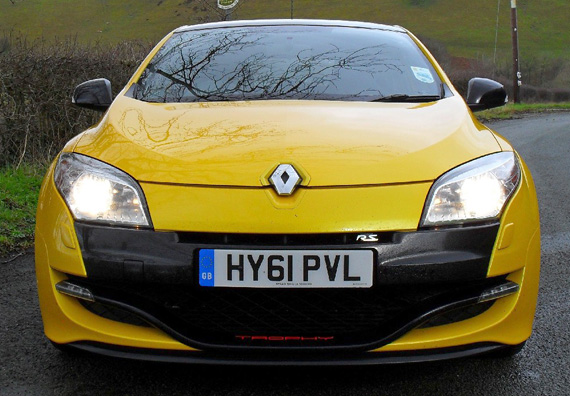 Works in the wet too
There's also no USB port for your music, something now fitted as standard to many cheaper but more modern Renaults. At least the Bluetooth phone connection is easy to set up and proved completely reliable in operation.
Back to the block now though, and what effect has all this tweaking and tuning had on economy? Impressively, on the urban and extra-urban text cycles, the Trophy is actually more economical than the Cup returning 25 and 43.5mpg respectively.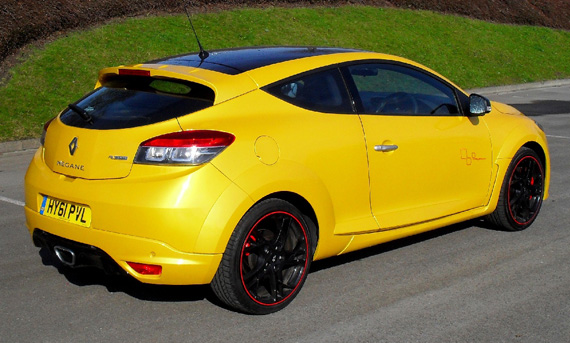 Rear spoiler get the tailgate dirty but looks good doing it
The combined cycle average consumption of 34.4mpg and CO2 emission figure of 190g/km are the same suggesting that when all is said and done there's little in it. During my week with the Trophy I averaged 32.5mpg.
If you want a 265 Trophy you will need to move fast. Only 500 have been built and only 50 have made it to Blighty. But the good news is that the same engine will be fitted to the new Mégane Renaultsport 265, which will be launched in April. Incidentally, buy a 265 Trophy and you get free access to all Renaultsport's UK track days in 2012, which is worth around £650, though you will probably burn through that saving in tyres.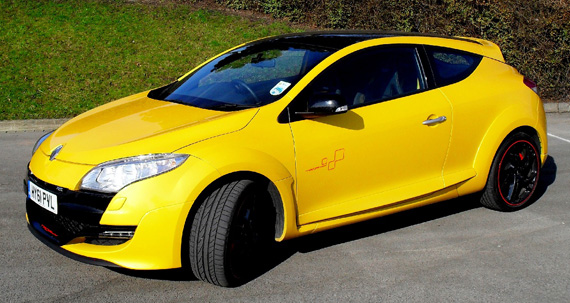 Looks the business and attracts attention
Verdict
As hot hatchbacks go, the Mégane Trophy is one of the very best. How Renault has managed to get this much power and torque through the front wheels – and still end up with a car that is so drivable – is a mystery but I'm glad it has. The cabin is a bit on the cheap side but everything works and, more importantly for a performance car, the driving environment is ergonomically sound. ®
More Car Reviews

Kia Rio
Nissan Leaf
2011's Best...
cars
Toyota
Yaris
Smart
Fortwo