Original URL: https://www.theregister.co.uk/2012/03/08/preview_apple_new_ipad_3_tablet/
Hands on with the Apple iPad 3
We fondle the new fondleslab
Posted in Personal Tech, 8th March 2012 10:11 GMT
First look Last night, Apple CEO Tim Cook revealed the company's latest tablet. It's the new iPad, folks. And this year it's just called "the new iPad", not iPad 3 or iPad HD. To some, it means that 2011's model, the iPad 2, sounds newer than the latest, 2012 one. But more important than the name, should you buy one?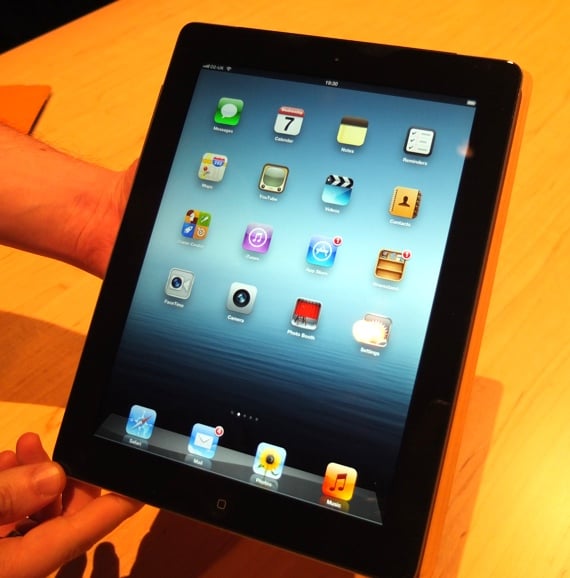 Ladies and gentlemen, the iPad 3... er... 'new iPad'
This is the first iPad with a decent camera. The very first iPad didn't have one at all, of course, and last year's wasn't much to write home about. This year, there's a 5Mp sensor, matching that on the RIM BlackBerry PlayBook, for instance.
Few tablets feature really outstanding camera sensors, not least because – well, have you tried holding a big flat piece of metal and glass up so you can take pictures on it?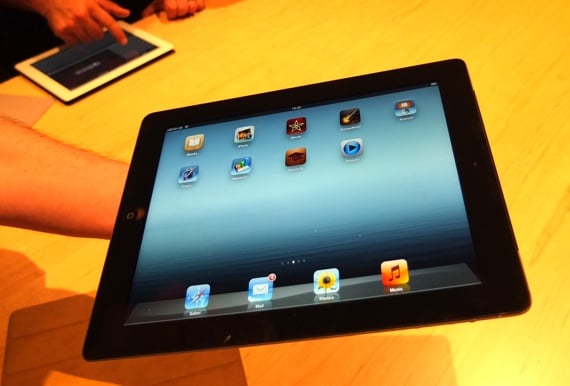 Smart covers still work, BTW
Note that there's no flash on this camera, so deploying it for stills or video is best suited to brightly lit situations. The video camera capabilities have been enhanced, too, so now it can shoot 1080p HD footage, up from the 720p last year's model managed.
But the real benefit of all this comes when you play the images or movies back. This is thanks to the new iPad's "retina display", a 264 pixels per inch, 2048 x 1536 panel which is designed to be so high-resolution you can't see the individual pixels.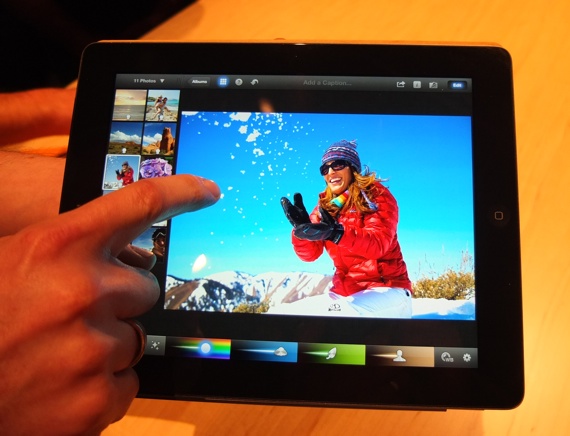 The retina display is gorgeous
Take one glance at it and you can see Apple's claim is true. This screen is very impressive. It's not an OLED display, but it is still very vivid, and able to display rich colours.
Apple promises it has 44 per cent more colour saturation. Maybe it has - I didn't have the calibration kit with me last night to confirm that. But to my eyes, it's bright, crisp and crystal clear.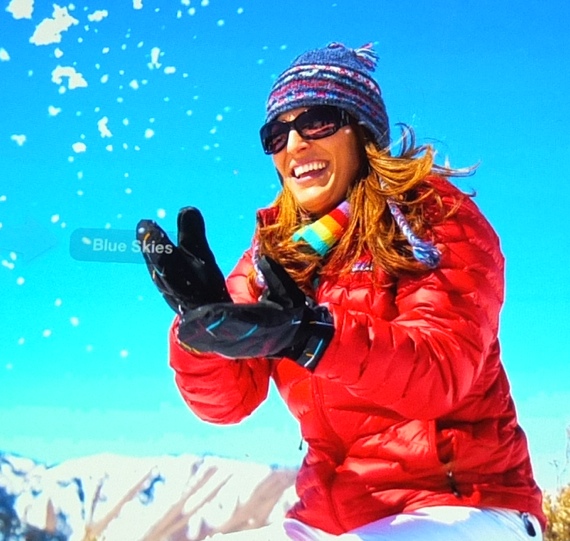 Even close up, you can't see the joins
There are phone displays with a higher pixel density – including Apple's own iPhone – but tablets don't match this. Text is super-sharp, the jagged edges of letters quite invisible. It stops reading e-books being the strain on the eyes viewing iBooks on the iPad and iPad 2 was.
Video shines, and games designed to show off the screen's effects are deeply immersive, with pretty dazzling graphical effects.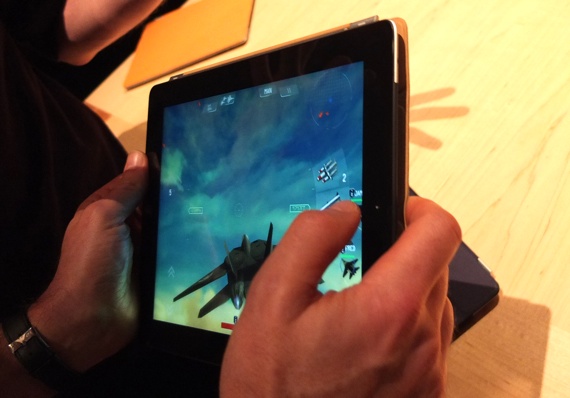 Game graphics are impressive, but don't chuck out your PS3
It's a clever point of differentiation which rival manufacturers, even those with 1920 x 1080 screens will struggle to beat.
Souped up CPU
The high-resolution screen needs powerful grunt to make it work. The A5X processor is not quad-core, as some had hoped, but it has twice the graphics performance of the iPad 2, I'm told. I tested a couple of games and they played very smoothly, with advanced graphics, to boot.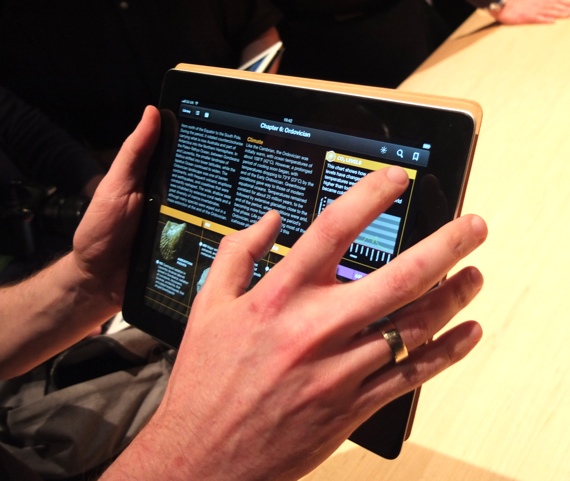 Text is so much crisper on the new screen
There's no Siri on the iPad, which is a shame. But at least the best part of Siri, the capability to dictate emails, text messages and the like, is here, accessed using the same microphone icon that's found on the iPhone 4S' keyboard.
If you've used Siri for dictation, you'll know it can be cranky – if you get a word wrong you have to start over. Here, you can edit and correct easily. Though, to be honest, Nuance's Dragon Dictation does just as good a job.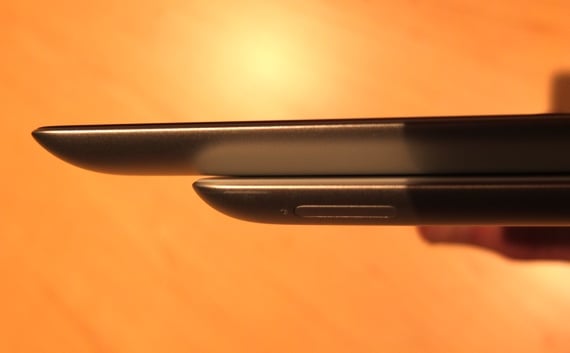 The new iPad (top) is only fractionally thicker than the previous model (bottom) but it's the extra weight you notice
Incidentally, you may be wondering, why haven't I talked about the look of the new iPad. Well, you know the iPad 2? That's what it looks like. It's identical, near enough. Sure, it's thicker by about half a millimetre, but it's hard to spot this.
More noticeable is the weight. It's 50-55g heavier than the last edition, but still not exactly heavy. But there are lighter tablets on the market, most notably Toshiba's Android-based AT200.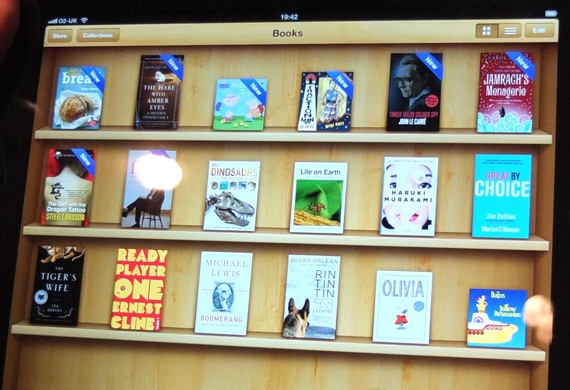 The iPad finally comes into its own as e-book reader
Apple showed off an app or two last night, mostly games that made the retina display look good, but also iPhoto, a more advanced programme for image manipulation, editing and organisation than the iPad's built-in Photos app.
The best feature here came from the app's intelligent way of recognising images. As you create an album, you can add a map and the app creates one according to GPS info on the images. Add a calendar and it drills down to find the date the photos were shot.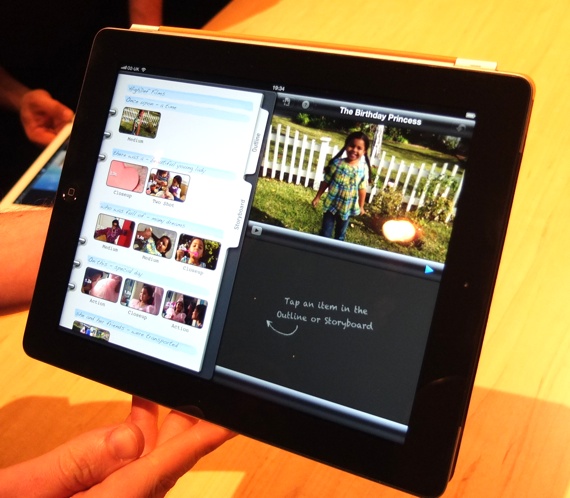 Apple's apps are getting retina display makeovers
And, even better, add a weather banner and the app finds out the temperature on the day the photos were taken, in the place you took them, and adds that. Very cool. Other apps, like the already available Garageband and Apple TV Remote added extra features and support for the higher-resolution display too.
So, should you be ordering a new iPad? If you haven't had a tablet computer before, this looks like it is head and shoulders above the competition, but the iPad 2, which will be re-released at £329 for the 16GB Wi-Fi model, is better value.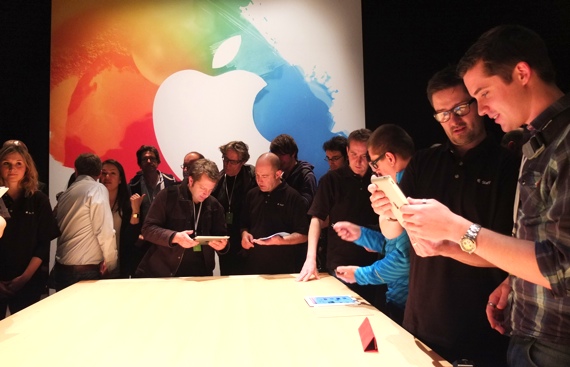 Fanboys and fangirls plan their upgrade strategies
If you have the iPad 2, the glorious 2048 x 1536 screen is reason enough to upgrade. But think carefully about how many apps you use that will take advantage of the higher pixel count. Existing apps will be upscaled to fit, and they don't look as good as retina display compatible software does.
At least Apple isn't charging extra for the new machine – it matches last year's pricing, starting at £399 for the 16GB Wi-Fi only model, rising to £659 for the 64GB 3G/4G version. Apple is taking orders now, and the new kit will arrive on 16 March. ®
More Android Tablet Reviews

Lenovo ThinkPad
Tablet
Asus
Transformer
Prime
Motorola
Xoom 2
Media Edition
Amazobn Kindle
Fire
Ten high-end
Android
tablets