Original URL: https://www.theregister.co.uk/2012/03/05/microsoft_cloud_projections/
Microsoft: Cloud will fluff 14 million jobs by 2015
New revenues, as well: $1.1 trillion annually
Posted in Cloud, 5th March 2012 22:43 GMT
A study commissioned by Microsoft reckons that global cloud services will generate nearly 14 million jobs between 2011 and 2015, and that "IT innovation created by cloud computing" could produce $1.1 trillion in new annual revenues by 2015.
"The cloud is going to have a huge impact on job creation," said Microsoft cloud wrangler Susan Hauser in a statement announcing the IDC study. "It's a transformative technology that will drive down costs, spur innovation, and open up new jobs and skillsets across the globe."
About half of those jobs, the study says, will be created in China and India. More specifically – extremely specifically, truth be told – the study concluded that by 2015 there will be 4,631,956 cloudy jobs in China and 2,120,194 in India.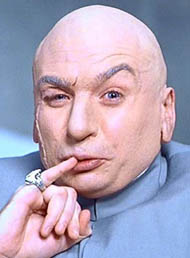 'One trillion dollars,' says
Microsoft CEO impersonator
The US will lag beind India, but still ranks number three with 1,099,800 cloud-related jobs. That number, however, will represent 0.7 per cent of the total US workforce, while China's percentage will be 0.57 per cent and India's 0.41 per cent.
Reg readers in the UK and Australia may be interested to know that the study projects 226,864 and 125,579 cloudy jobs in those two countries, respectively. The UK's percentage-of-workforce number is a healthy 0.71 per cent, and Australia's tops the chart for countries surveyed, with a full 1 per cent of the workforce toiling away in cloud-related tasks.
Among those tasks, the study concluded that more than one-third of the global total will be in communications and media, banking, and "discrete manufacturing". Of all the new jobs, about half will be in big business and half in smaller outfits.
Latin America will see the largest growth rates, the study found. Between 2011 and 2015, Columbia's cloud-related employment growth will be 389 per cent, tops among all countries, with Brazil close behind at 386 per cent, and Mexico, Chile, and Argentia all in the high-300s.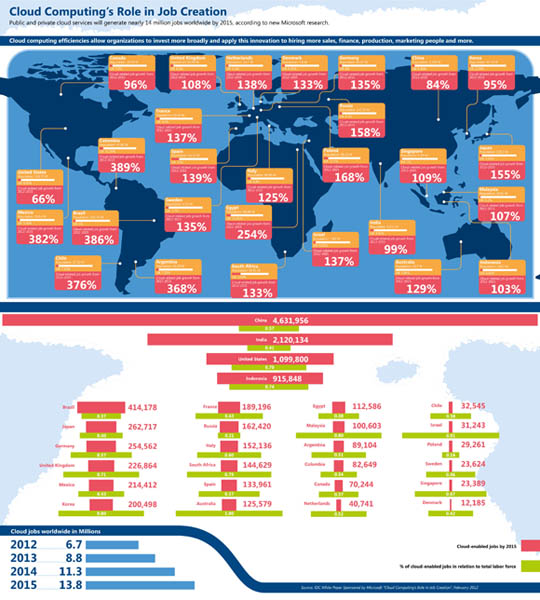 (click to enlarge)
The lowest growth rate, the study says, will be 66 per cent – and that's in the US, which is already a rather cloudy clime in comparison with the rest of the world. Although IT spending in the US last year was 35 per cent of the worldwide total, for example, US public IT cloud spending was a full 62 per cent of the worldwide total.
That mind-boggling $1.1 trillion incremental revenue growth, says the study, will be largely due to freeing up business dollars from maintenance of legacy systems and routine upgrades – what the study calls "legacy drag" – and shifting it to what the study calls "IT innovation that supports business innovation".
That means, the study explains, that with less need to spend resources – both cash and talent – on in-house infrastructure and IT management, businesses can more easily invest in efforts that'll pump up their bottom lines.
Hauser, whose formal title is Corporate Vice President, Worldwide Enterprise and Partner Group, say that the cloud is top-of-mind for CIOs worldwide. "They want to know how they can use it to fuel growth," she says. "And they want to be sure they have the right people and skills in place to make it happen." ®