Original URL: http://www.theregister.co.uk/2012/03/05/car_week_future_car_tech/
Future car tech
What's coming under the bonnet and in the cabin
Posted in Science, 5th March 2012 12:00 GMT
Car Week

You are probably expecting me to start this feature with a hymn of praise to the electric car, but I'm not. The Nissan Leaf has been on sale for the best part of 12 months and all the e-cars on the horizon, from the Renault Zoe to the Tesla Model S, are simply variations on the theme. The electric car is here. It's today's tech, not tomorrow's.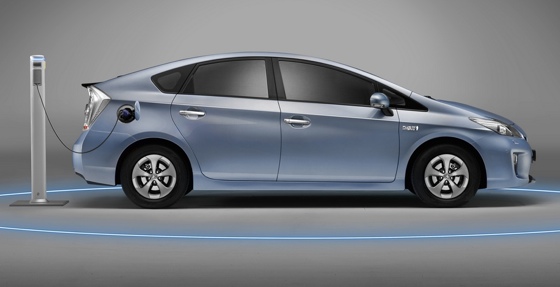 Does the future belong to plug-in hybrids like the next-gen Prius?
But the future belongs to the plug-in hybrid electric vehicles (PHEVs). With electric motors, compact lithium-ion battery packs and internal combustion engines these cars offer by far the most sensible balance between e-car low - zero at the exhaust pipe - emissions, economy and conventional petrol engine practicality.
Within the next three months you'll be able to chose between Toyota's plug-in Prius and Vauxhall's Ampera. Just over the horizon are PHEVs from Peugeot and Citroën, both using the impressive diesel-electric "HYbrid4" system.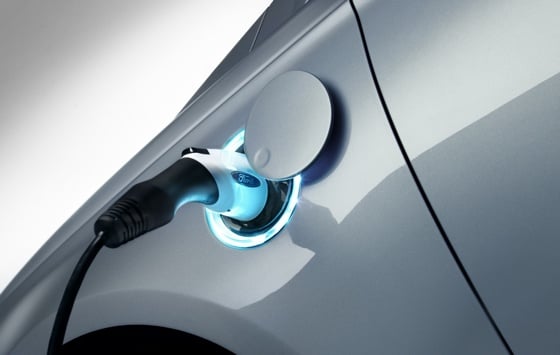 Plug-in power: coming to a Ford Mondeo near you in 2013
Peugeot, in particular, has already signalled its PHEV intent with the HX1, a stunning four-door concept powered by a 204bhp, 2.2-litre HDi turbo diesel and a 70kW (95bhp) electric motor. The li-ion battery pack is good for 20 miles of e-driving while the average fuel consumption is said to be an impressive 88.2mpg.
Ford, meanwhile, will soon be launching PHEV versions of its new Mondeo and C-Max MPV, while Volvo will be getting in on the act with its V60 Plug-In Hybrid. Even Mitsubishi is close to launching a plug-in hybrid SUV based on the Concept PX-MiEV II show-car.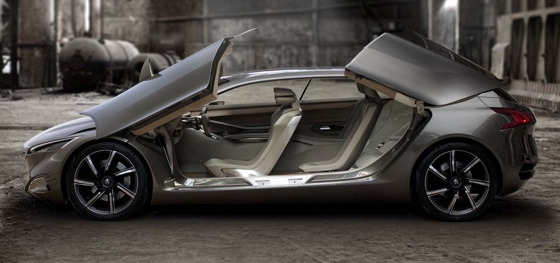 Hybrids can be sexy: Peugeot's HX-1 concept
In an effort to squeeze more cars onto the roads, the Sartre (Safe Road Trains for the Environment) Project and its only car-maker member Volvo have been perfecting ways of getting vehicles to travel safely with only a couple of meters between them in a platoon.
The most recent tests saw a three-car vehicle platoon following a truck while being driven entirely autonomously at speeds of up to 55mph with a gap of no more than six metres between each vehicle. As well as getting more cars into a given stretch of road, fuel consumption and CO2 emissions are reduced by 20 per cent.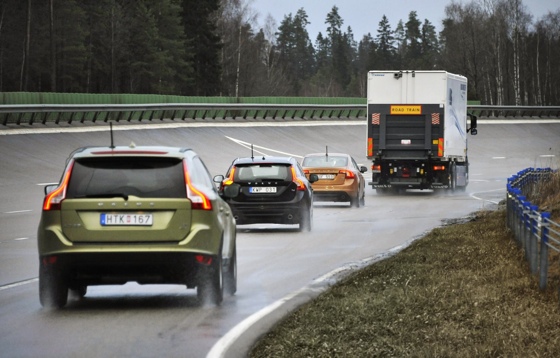 With Sartre, the vehicle in front controls its followers
Now admittedly you can see those kind of gaps and speeds on the M6 on any weekday afternoon, but under Sartre guidance, the end result shouldn't be a multi-car pile up thanks to on-board radar and data links between the vehicles.
There are certain obstacles still to be overcome, not least how to reassure users that the lorry they are platooning behind isn't being driven by a twerp.
Road train
Sartre requires no road-based infrastructure depending entirely on telematic links between the slave vehicles and the leader of the pack. Entering or leaving a platoon will be handled entirely automatically by the system using information collected from cameras and radars built into the platooning vehicles.
If you took a look at the car tech on display at the Consumer Electronic Show (CES) in Las Vegas this year then the big idea was quite clearly head-up displays as the preferred way of relaying ever more info to the driver.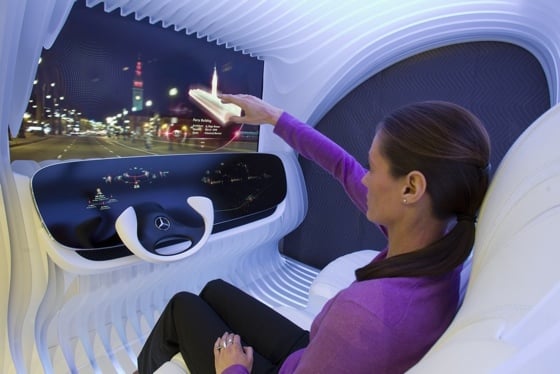 Heads up: Mercedes-Benz's DICE will hopefully not be used while you're driving - and appear in a more tasteful interior
Mercedes-Benz's vision of the future is the Dynamic & Intuitive Control Experience, aka DICE, a system that floats a virtual instrument panel over where the dashboard usually sits and projects everything else onto the windscreen.
Whether or not having incoming calls, local POI information and Facebook updates suddenly flashing up between you and the road ahead is a good idea remains to be seen, but there is no doubt that the system is visually very impressive.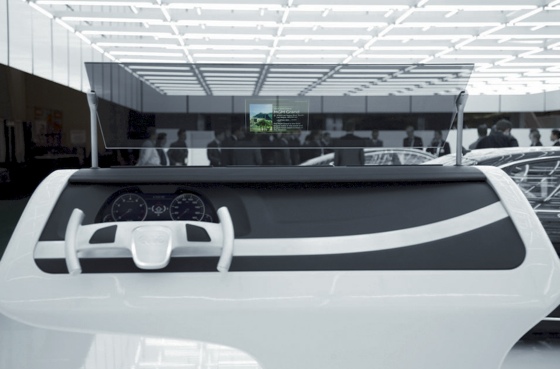 Audi's Super Head-Up Display
Displaying rather less imagination with its naming Audi has called it's super head-up display the Super Head-Up Display. This system looked much closer to production to me than Mercedes' offering and features three screens that are projected onto the windshield.
One is for the driver, one for the passenger and there is a shared one in the middle so you can argue over who controls the stereo.

Hyundai's 'Hologram' HUD is designed to appear in 3D, and ties in with its driver-monitoring tech
The clever bit about the Audi system is that it can project images in such a way that they appear much further down the road than usual - 30 meters plus - so satnav guidance graphics can be pasted over the real world in line of sight and at life size, augmented reality style.
General Motors' take on all this is use the rear side windows of your motor as a touchscreen gaming platform. The system is called Windows of Opportunity, or WOO, which is the noise the young 'un makes when looking out of the side window of a car for too long makes him car sick.
Staying alive: autonomous emergency systems
With all that distraction in the cabin it's perhaps just as well that an increasing number of safety and survival issues are being taken out of the drivers' hands.
Crashing a 2012 Ford Focus at speeds less than 10mph is already almost an impossibility. If the forward-facing IR radar sees a car in front of you and reckons you're about to hit it, the power is cut, the brakes charged and then automatically applied.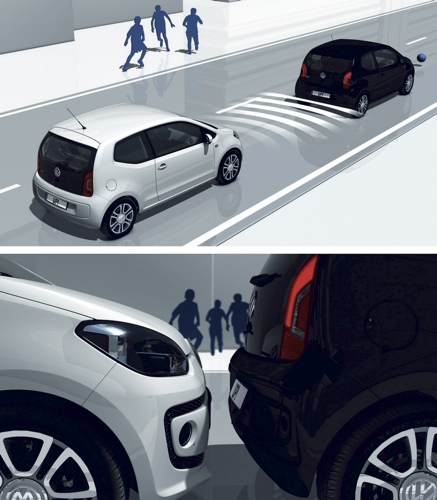 VW, Ford and others are equipping cars with anti-shunt tech
Similar systems are already appearing in selected new Volkswagens, Volvos and lowlier Mercedes-Benz models though Ford deserves the credit for bringing them to the attention of the average car buyer.
Vauxhall/Opel is more worried about night driving, so its Adaptive Forward Lighting swivels your headlights in the name of better distance vision along darkened roads.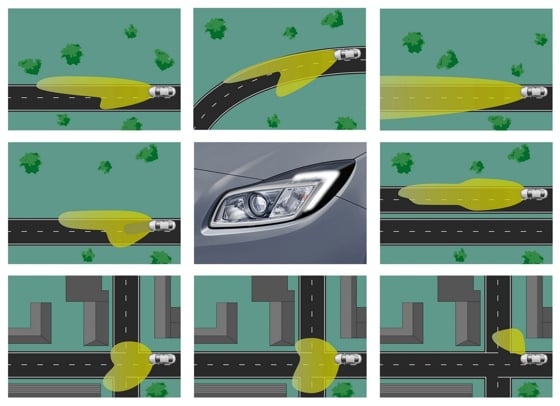 Vauxhall is working on smarter headlights
That's nothing new - a 1970 Citroën SM could do the same - but with AFL secondary side lenses help illuminate the area immediately alongside the headlamp cluster when you apply a lot of steering lock, the better to see common urban obstructions like bollards, wheelie-bins and drunken hoodies.
If all that fails and you find yourself upside down in a field, you'll be wanting eCall, a standardised Europe-wide system which eventually will be able to automatically contact the emergency services when you have a prang. The full standard for eCall should be defined before the end of the year.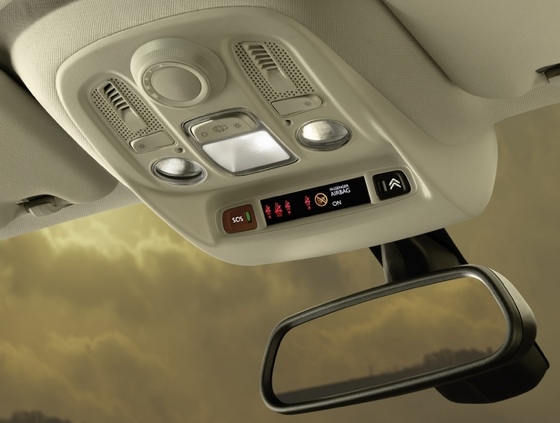 Citroën already fits a button to punch in emergencies
Peugeot and Citroën already fit several models with an SOS button which contacts a control centre in the driver's own country, relays a GPS fix and opens voice communication with the car over the GSM network. Ford's Sync system, due to to arrive in the European Focus this year, will do the same.
Unique to BMW's Assist Advanced eCall is the ability of the system to tell how severe the crash has been by monitoring how many airbags have deployed, whether the vehicle has rolled over and what stress the seat belts have been subjected to.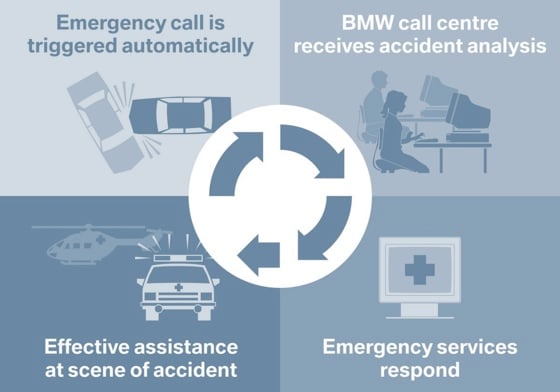 BMW's Assist Advanced eCall uses the eCall standard to automatically deal with emergencies
Once eCall is fully up and running - by 2015, all being well - there will be no need for car makers to have their own call centres because all the relevant information will be automatically relayed to the local emergency services by your car's black box. In theory this will improve response times by up to 50 percent in rural areas. ®