Original URL: https://www.theregister.co.uk/2012/03/03/ten_gaming_mice/
Ten... gaming mice
The big cheese
Posted in Personal Tech, 3rd March 2012 08:00 GMT
Product round-up The three qualities I look for in a gaming mouse are: comfort, aesthetics and accuracy. And considering the imminent financial meltdown of the entire world, I'd like to think that I can get these three qualities for less than a week's shopping at Sainsbury's.
Compared to last year prices, what's on offer seems to be slightly more realistic but splashing out on the wrong mouse could be a costly mistake and I'm not just talking carpal tunnel problems. This being a round-up I've tried to stick to any improvements from previous models reviewed and to pinpoint unique qualities and relative advantages. For testing these products were used in game with 

World of Warcraft, Left 4 Dead 2 and the current demo of the hotly anticipated 
Mass Effect 3.
Corsair Vengeance M60 laser gaming mouse

Corsair is usually all about chips – RAM and SSDs – and so I was surprised to discover it has also has a range of peripherals. Marketed for FPS – as opposed to the M90 which is for MMOs – the M60 has a dedicated sniper button with its own dedicated DPI adjustments. This was a good idea in theory but hard to get used to in game. Not the most comfortable mouse out there either because of the side button placement.
It took me a few hours to get used to but once it had settled in there was no lag or skipping even at 5700 DPI and it was consistent on my cloth and plastic surfaces and extremely accurate. Unfortunately, the set-up software is particularly grey and unattractive compared to some of the eye candy offered by other manufacturers. Still, the M60 and M90 are Corsair's first foray into gaming mice and they are definitely on the right track.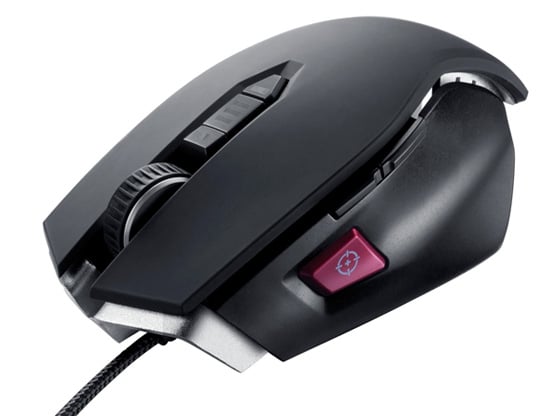 Reg Rating 75%
Price £60
More info Corsair
Corsair Vengeance M90 laser gaming mouse

With looks like Sauron's chest plate, this unusual combination of metal and plastic left me impressed by its sturdy build quality, especially the heavy duty metal scroll wheel. With an impressive 15 buttons – nine for macros – and a 5700 DPI sensor, with a few tweeks this could be a great MMO mouse. However, I found the thumbs buttons needed getting used to and were quite hard to differentiate between in the heat of a raid.
Still, the new beta 2.12 software released in January for the M90 seems to have cleared some outstanding issues. I think as Corsair's range develops, it will give the Razer Naga Hex a run for its money, as my MMO mouse of choice. And really, Corsair needs to break out the airbrush to give this mouse some real character, I can think of the perfect logo and it watches over Mordor.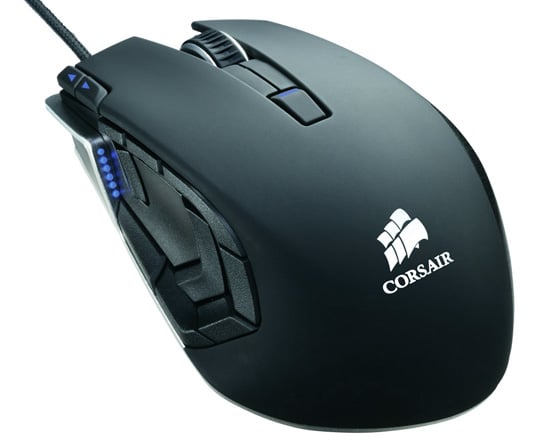 Reg Rating 80%
Price £60
More info Corsair
Logitech G9X laser mouse: made for Call of Duty

Logitech always does me proud and even though I'm not a huge CoD fan my forays into the Modern Warfare 3 world are made easier by such an outstanding piece of kit. Having used the original red G9x, I can't escape the CoD branding with a large MW3 logo stamped on the interchangeable covers, to the night vision green LEDs.
Some gamers moan that the G9x mouse is too short if you have large hands but I think that the intuitive placement of the buttons overcomes this. Superior software, adjustable weight system and accuracy makes sure that hardcore Call of Duty fans can use this to laud it over their console buddies – just don't mention the price.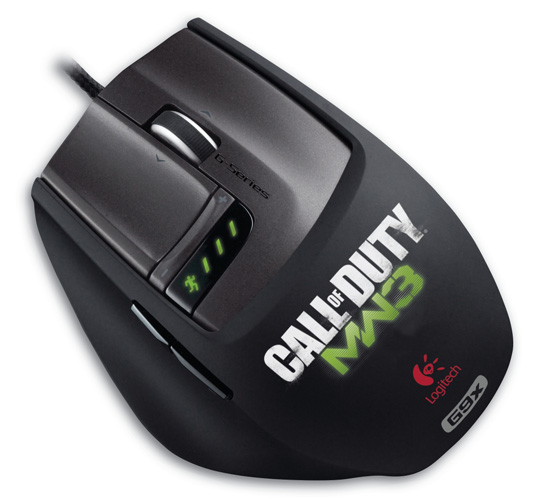 Reg Rating 80%
Price £60
More info Logitech
Logitech G300 gaming mouse G300

Diametrically opposed to the G9x, the Logitech's G300 could be considered too petite and insubstantial for comfortable pro gaming. But Logitech isn't exactly new to peripherals and knows its strength lies in delivering solid consumer products.
Three built-in profiles reflect the general appeal of this mouse: there's one for MMOs, one for FPS and another for everyday tasks such copy and paste. The G300's nine programmable buttons and 2,500dpi laser aren't going to put it at the top of my list, but they're certainly respectable for only £35.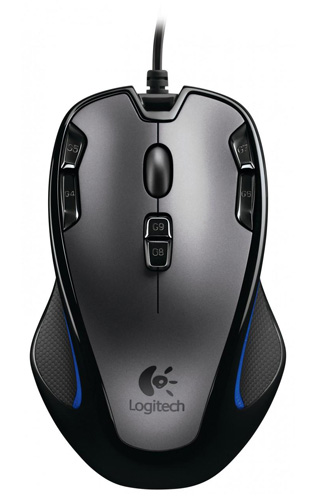 Reg Rating 70%
Price £35
More info Logitech
MadCatz Cyborg MMO 7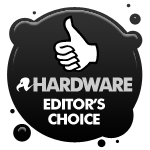 The most expensive mouse in this review sure looks like it's worth my hard earned currency, super cool packaging and unique design are always going to catch my attention. Inside the box there's more goodies in the form of a mini spares kit, so I can customise constituent hardware parts for comfort. The Allen key, that is actually part of the mouse, allows me to add my pinkie and textured palm rest. The DPI knocker below the scroll wheel took me up to an impressive 6400 DPI. A pre-configured MMO profile pack made casting spells a breeze – I categorically owned at PVP.
Retrieving the dedicated WoW add-on left me chuffed when I saw it only had 128 other downloads. My guess is that I should have a pretty good advantage over the other 29 million WoW players then. I am not a fan of the orange used to highlight the new features on the MMO 7 but have to admit it does co-ordinate well with some of my WoW Cataclysm goodies.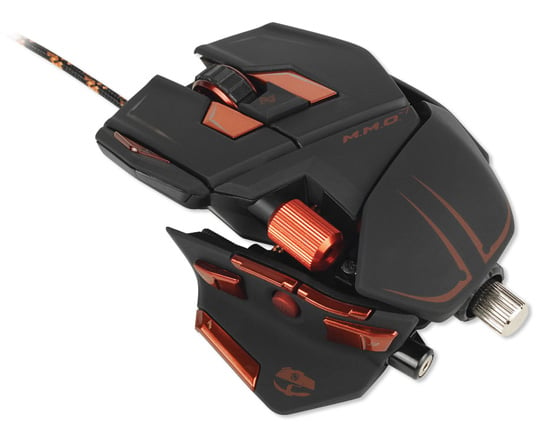 Reg Rating 90%
Price £100
More info MadCatz
MadCatz Cyborg R.A.T 7 – the Albino

It is not often you see a white gaming mouse and it certainly grabs your attention. The Albino has the same unique customisable construction of the MMO7 and the same impressive 6400dpi. But unlike the MMO7, it has a precision aim button for sniping that allows you to slow down for pin point targeting. It was hard to get used to, but worth persevering with as it increased my accuracy by at least 10 per cent.
The second scroll wheel for my thumb not only looks great but was really useful for scrolling through weapons. Downloadable profiles or specific games are really useful to save time programming yourself. Where this mouse gets let down for the price is the software, which, unlike Roccat's Kone [+], doesn't come close to being as customisable as the mouse itself.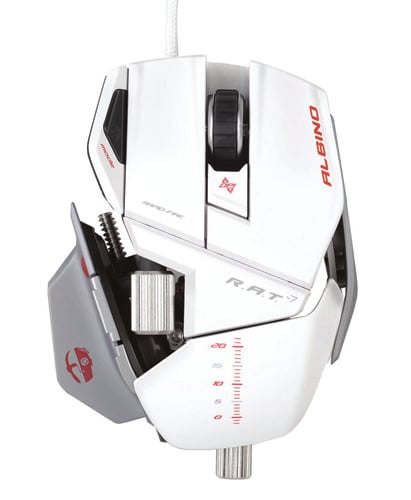 Reg Rating 80%
Price £90
More info MadCatz
Razer Imperator 2012

2012 seems to be the year of the mouse upgrade and the Razer Imperator boasts a notable makeover with more refined sensors and a chassis improvement for right-handers. The 4G is the Imperator's all-new dual sensor system – combining optical and laser tech – is definitely a talking point and is extremely impressive.
Razer should be lauded for listening to its users, learning from its mistakes and remedying the original Imperator's lacklustre laser accuracy. With this light and fast 6400 dpi mouse I kick ass in any FPS. Granted, not the top of the range but a good price for cutting edge Razer technology.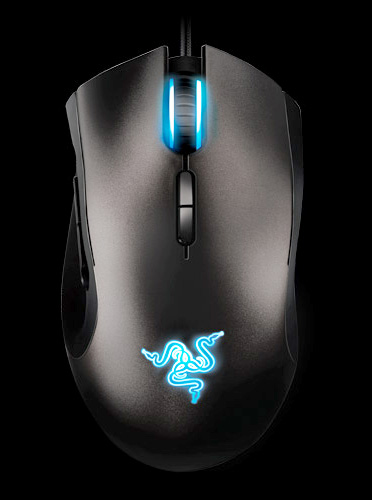 Reg Rating 80%
Price £65
More info Razer
Razer Naga Hex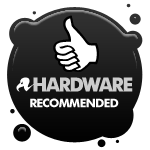 I really like the Naga Hex. It looks like something found on the bridge of the latest Romulan battle ship – all green lights and six hexagonal buttons which can be bonded to specific spells, skills and abilities. Yet unlike the truth bug put in Captain Pike's mouth, it feels fantastic.
The hexagon of enjoyably springy buttons circling a squidgy pad are easily accessible by my thumb. Five PTFE feet on the bottom propel it smoothly around my mouse mat and the 5600dpi laser sensor inside has precise, accurate tracking. Need a new mouse for DotA 2 or Diablo III but still want to be able to afford the actual game? Then the Naga Hex is definitely worth considering .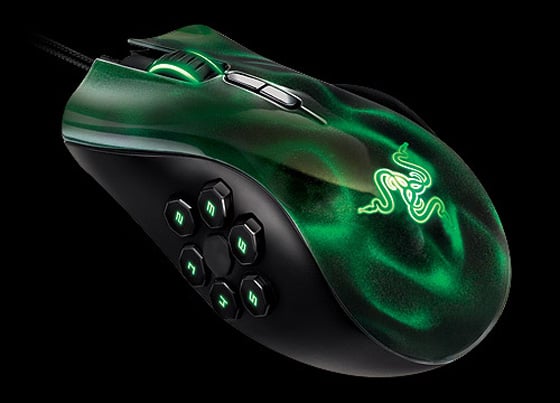 Reg Rating 85%
Price £70
More info Razer
Roccat Kone [+]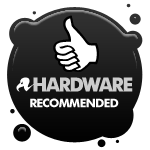 Again, another upgrade with an improved hyper sensitive 6000dpi laser. I have come to love the Kone. It might be expensive and not quite as bling as some of the mice here but it has an irresistible number of plus points.
The Kone's software is consistently impressive – it's innovative Easyshift button, even though strangely placed, knocks it to the top of the customisation table with almost infinite personalisation. Like the shift button on your keyboard, it opens up a wealth of secondary functions. Being able to control Windows Media Player through my mouse is just plain awesome – of course, anyone can point and click, but its programmable macros are something else. The mouse features a tracking control surface test that makes sure I have no jitters, even at the highest DPI. I think Roccat should be applauded for attention to detail here, as the Kone [+] is solidly built and incredibly accurate.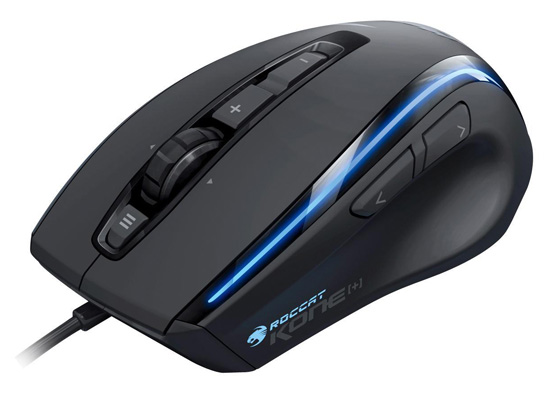 Reg Rating 90%
Price £60
More info Roccat
Steelseries Kana

There is a fine line between looking simple and stylish and looking cheap. Alas, I feel the SteelSeries Kana manages to achieve the latter. Keeping things simple means you can also keep your costs down and the ambidextrous Kana offers a good mix of price, features and performance. The optimised 6-button layout has a 3600FPS optical sensor which was impressively responsive. The illuminated scroll wheel with LED has intensity settings that compliment the Kana's simple aesthetic.
Two large-sized buttons are well placed and comfortable too and its Teflon mouse feet glide across cloth or plastic mouse mat surfaces smoothly. The Kana's respectable hardware specification matched by easy to use software and a realistic price. However, this Kana is somehow seriously lacking a wow factor compared to other mice featured in this review. ®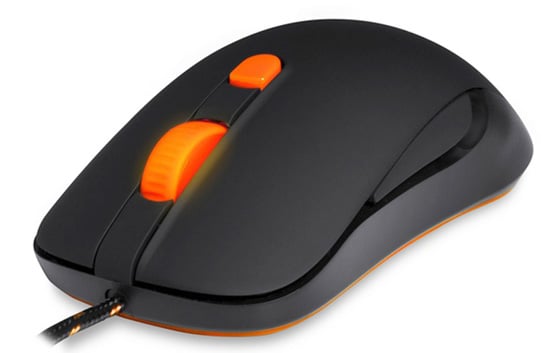 Reg Rating 75%
Price £50
More info Roccat