Original URL: https://www.theregister.co.uk/2012/03/02/win_8_consumer_technology_preview_review/
Windows 8: Sugar coating on Microsoft's hard-to-swallow tablet
Refreshing, delightful, puzzling, awkward, annoying
Posted in Software, 2nd March 2012 10:17 GMT
Preview review How do you bring legacy-encrusted Windows into the mobile era? Microsoft's solution is to take all that baggage and place it into a compartment labeled desktop, while reinventing the Windows user interface in a second compartment called Metro.
Metro is primary, and conceptually the old desktop is now an app in the Metro Start menu. You can think of Metro as loosely equivalent to Apple's iOS, whereas desktop is like OS X. A key difference is that in Windows 8 they are side by side.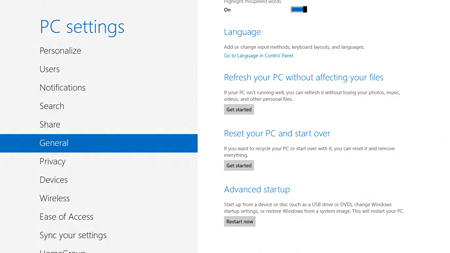 Metro comes to the familiar settings and a "repair your PC" option
The snag with this plan is that there are no Metro apps, aside from what comes bundled with Windows plus whatever Microsoft can persuade third parties to come up with in time for the launch later this year. A second issue is that touch screens are not the norm in the Windows world - hardly surprising given that the user interface of Windows 7 and earlier works so badly with fingertips - so most users will need new hardware in order to get Windows 8 running as designed.
I have been using Windows 8 Consumer Preview on a Samsung Series 7 slate since the launch of the beta on 29 February at Mobile World Congress in Barcelona, Spain. The story overall is that on this third attempt (counting the Tablet PC as the first and the ill-fated Origami as the second) Microsoft has made an excellent tablet operating system.

Explorer has a ribbon UI: it works, but no real change over Windows 7
The problem area is the combination and interaction between the old desktop and the new Metro-style platform. It is a complication, since most desktop apps still do not work well with touch alone - though we have yet to see how Microsoft will modify Office to work better in that respect - and if most Windows 8 machines end up saddled with add-on or built-in physical keyboard and pointing device, then they will not compete successfully with Apple's iPad or Android tablets on convenience or price.
Life with Windows 8 begins with the Start screen: it's summoned by pressing the Windows key, or by swiping in from the left to raise the Charms menu that includes a Start button, or by moving the mouse to the bottom left corner and clicking the Start rectangle which appears there. Confusingly, not all apps appear in the chunky Start screen by default. You need to swipe up and tap "All apps" for the full set, or else start typing if you have a keyboard. The desktop is an app, as I've already mentioned, or you can launch desktop apps individually. Even desktop users have to use the Metro Start menu, a curious design decision that may be explained by a desire to ensure that nobody can ignore Metro completely.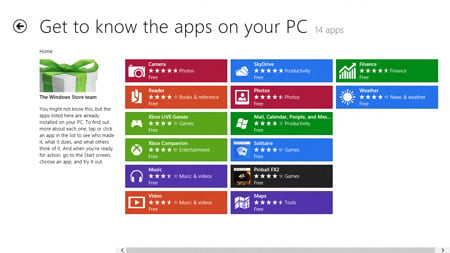 The Windows Store shows the apps you've installed
On the Metro side the Consumer Preview comes with key apps that were not present in the Developer Preview from September.
Store is the normal route to find and install Metro apps, though enterprises will be able to bypass it. The store is nicely done, with the usual search and ratings. Everything is free during the preview, and new apps will appear there as developers upload them.
Map is based on Microsoft's Bing Maps service and looks great in full-screen view. There are road or aerial views, directions, and traffic display.
Mail and Calendar can handle multiple accounts, currently supporting Windows Live, Google and Exchange. There is also a People app, borrowed from Windows Phone, that aggregates information from Facebook, Google, LinkedIn, Hotmail and Exchange. There is more to it than that though, since when I logged in using the same Microsoft Live ID as on a Windows Phone, it also picked up Twitter messages from the account I had set up there. In other words, the Live ID aggregates incoming data from various sources.
Windows in the cloud
SkyDrive is an app that hooks into Microsoft's Windows Live services. Images I had uploaded to SkyDrive from another PC automatically appeared in Windows 8. You can also use Office Web Apps for online creation and editing of Office documents.
Microsoft seems to be aiming for the same kind of seamless synchronisation that is Apple's target with iCloud. That said, while logging in with a Live ID is the default, you can also set Windows 8 to use a local account. "Your settings won't sync between the PCs you use," the settings dialog warns. Music and video are handled by separate apps that - again - are nicely done, though it will be interesting to see if Microsoft is able to set up online music and video stores that work in all territories by the time of the final release.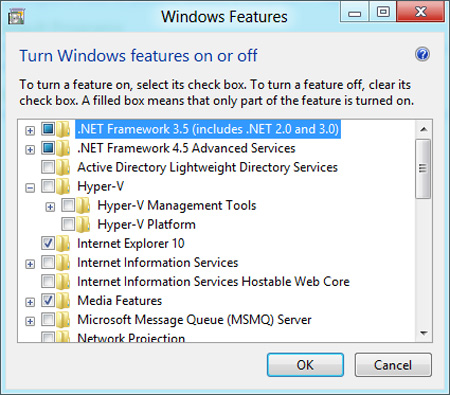 Microsoft's server virtualization is present by not enabled by default
Microsoft has given some thought to problem solving and streamlining the process of reinstalling the OS when it all goes to pot: buried in General Settings are options to refresh your PC without affecting your files, and to reset your PC and start over from scratch. If users do buy into the cloud connected concept, even a full reset might not lose much data. The snag, again, is all those legacy apps, which will continue to store data locally.
Windows 8 lets gamers sign in with an Xbox Live account and it looks as if Microsoft is finally building sensible links between Windows and its games console platform, a move that should boost its consumer appeal.
All of this is on the Metro side; what is there for desktop users for whom Metro will be little more than a distraction? There are a few things, including a new copy dialog with rich graphical progress reporting, and a revamped task manager that is mostly prettification but also adds new information. Explorer has a ribbon UI that works well, but is not a dramatic improvement on what was in Windows 7.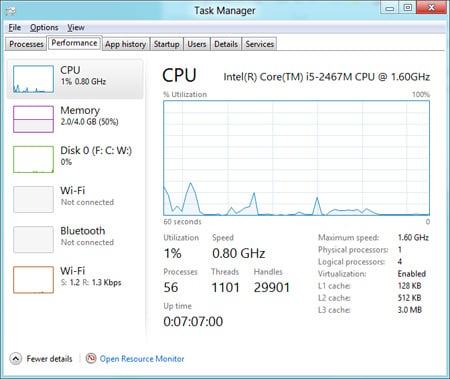 Task manager is mostly just prettied up
Hyper-V virtualisation will be supported, bringing together Microsoft's client and server virtualisation technology. Storage Spaces promises to simplify the business of expanding local storage by adding new hard drives. These are really server features that are coming in cut-down form to the client. Hyper-V is in the Consumer Preview if you enable it in Windows Features. Storage Spaces is not yet evident in the user interface.
It's worth mentioning the fast boot of the Consumer Preview, markedly quicker than Windows 7 on this slate and less than 10 seconds from cold. Sleep seems to work better in Windows 8 as well.
Another feature interesting to enterprises is Windows to Go, the ability to boot and run Windows 8 from a USB storage device. This could be used to give an employee a work-related Windows environment that could be used on a home PC, isolating business and home use and data.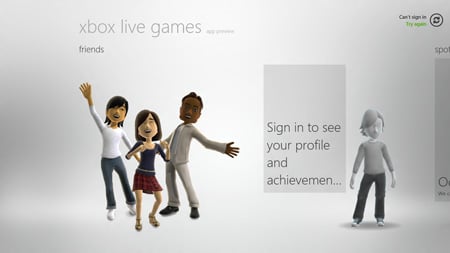 Sign in to XBox Live via Windows 8: a sensible link at last
Microsoft has promised to talk more about enterprise features in Windows 8 at the CeBit conference in Hanover, Germany, later this month. That said, executives at the launch would not give me a straight answer when I asked whether Windows on ARM PCs will be able to join a domain. Questions about Windows on ARM are referred to Windows and Windows Live group president Steven Sinofsky's lengthy blog on the subject, but more remains to be revealed.
Windows 8 is at times refreshing and delightful, at times puzzling, and at times awkward and annoying. Microsoft is presenting it as the next generation, but in truth it will be a transitional release. The good news is that Metro Windows 8 runs nicely, and Microsoft deserves credit for its decision to enforce asynchronous calls for the slower parts of the Windows API thereby making Windows Runtime apps more responsive. Windows 8 on a slate does have appeal.
The case against is that there is little here for desktop users, that Windows 8 tablets may be too expensive and complicated, and that Metro apps will be lacking at launch, leaving users stuck in the desktop most of the time.
That said, when I have handed the Windows 8 slate to others and asked for opinions, most have said that they like the way it works, and that it really is "fast and fluid" on the Metro side. This is a bold move from Microsoft, but it just might work. ®