Original URL: http://www.theregister.co.uk/2012/03/02/review_lenovo_thinkpad_android_tablet/
Lenovo ThinkPad Tablet
The formal fondeslab
Posted in Personal Tech, 2nd March 2012 07:00 GMT
Review

Lenovo currently fields three Android tablets. The IdeaPad A1 and K1 are aimed at the general consumer while the third model carries the revered ThinkPad moniker and with it expectations of brick outhouse build quality, business-user friendliness and no-nonsense styling.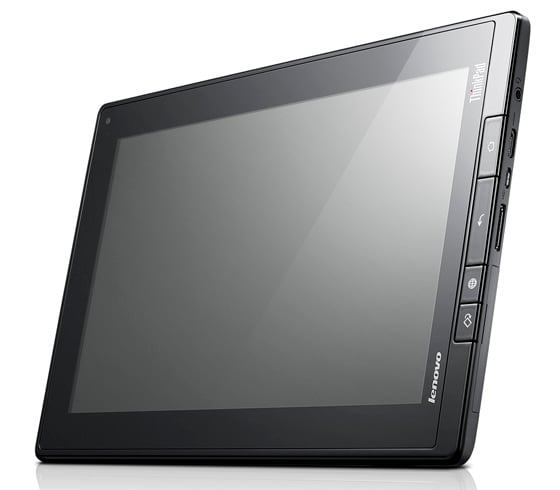 Lenovo's ThinkPad Android tablet
Make no mistake, the ThinkPad is a big, black beastie of a tablet. It weighs a hefty 750g with the upshot that it feels solid enough to beat your boss to death with while the all-black colour scheme and ThinkPad badges also help advertise its serious intent.
Take a quick tour of the ThinkPad's 14mm deep sides and you will find quite a scatter of controls and sockets including an on/off button, volume rocker, 3.5mm audio jack, mini-HDMI port, microUSB socket for charging and syncing and a docking connector for the excellent but optional £80 folio keyboard.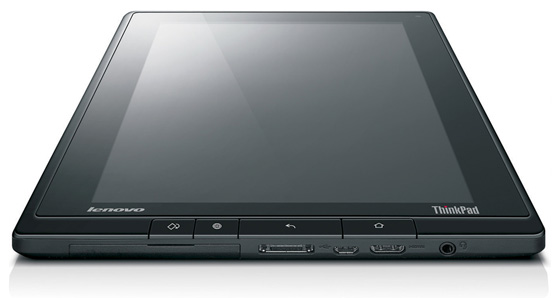 Interconnnects
Next comes a flap under which you will find slots for a 3G SIM and full-sized SD card, a sliding door which conceals a USB 2.0 socket and finally a receptacle for the the N-trig stylus.
Inside the ThinkPad is absolutely bog-Tegra 2 standard so you get 1GB of RAM, a 1GHz dual-core CPU, support for Flash and stable 720p video playback. Out of the box it runs Honeycomb 3.1 but on its website, Lenovo declares an ICS upgrade for May.

The sides have just a couple of adornments for power on and a full-size USB port
The 10.1in 1280 x 800 IPS screen is sharp and bright but the accompanying speaker lets the side down badly, as there is nowhere near enough volume available. Even in a quiet room it's difficult to follow the dialogue in films.
Buttoned up
Thankfully the bundled earbuds are very good and come with a funky ThinkPad-branded toggle bag. Even so, if you plan on using the speaker as the main audio source from your tablet I would seriously suggest you look elsewhere.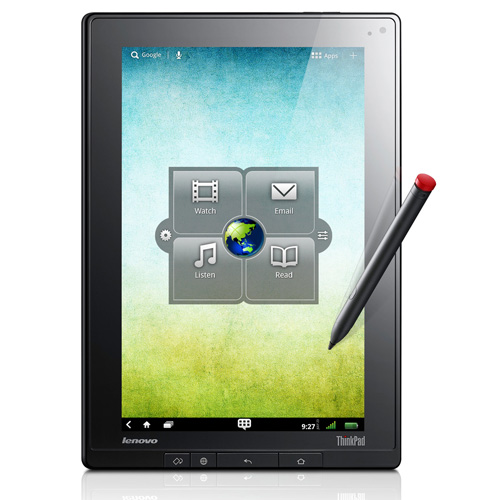 You don't have to use the stylus, but it may come in handy
Unique to the ThinkPad are the four physical buttons that reside below the screen when you hold the device in portrait which seems to be the way the maker imagines it will be held most of the time, judging by the orientation of the logos.
As well as the expected home, back and browser launch buttons the fourth locks the screen orientation. In my book this is a very good idea, though Lenovo has missed a trick by not back-lighting the keys. If they start to irritate you, the hardware keys can be disabled.

The 3.5mm audio jack supports headsets and given the speaker quality you'll probably need to use one
Also separating the ThinkPad from the herd is the red-topped N-trig digital pen. Alas, there isn't the same degree of built-in-at-ground-level pen technology as the Samsung Galaxy Note enjoys. For instance, there's no facility to take a quick screen grab and doodle on it.
The ThinkPad's pen also only supports 256 levels of pressure sensitivity compared to the 512 of the Note's Wacom pen and it requires an AAAA battery to work. For general system navigation and note taking, it works a treat but it's a bit disappointing that Lenovo's own App Shop contains not one pen-optimised application.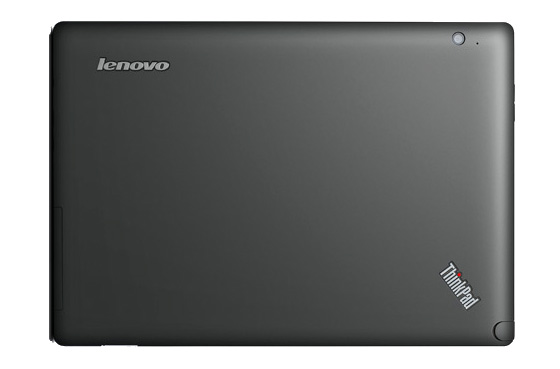 No flash on the main camera, but who takes photos with a tablet anyway?
The main 5MP camera is a flash-less and mediocre affair but the forward facing 2MP lens works well with Skype and makes for very crisp and clear video calls. Yet again, you'll need to use the earphones to hear what's being said to you.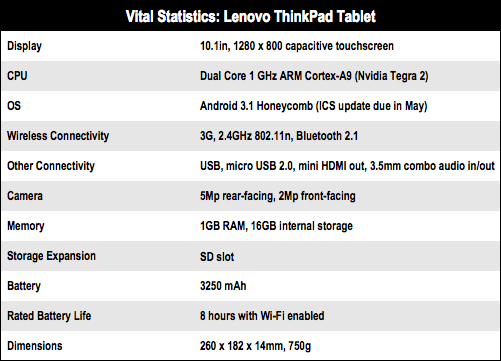 Access denied
When it comes to preloaded apps Lenovo gets a pat on the back for including full versions of Documents to Go, Citrix Receiver, McAfee Security and the excellent FlexT9 keyboard, but a slap for the duplicate music and video players neither of which are much good and eBuddy which is now well off the pace as the best Android IM app.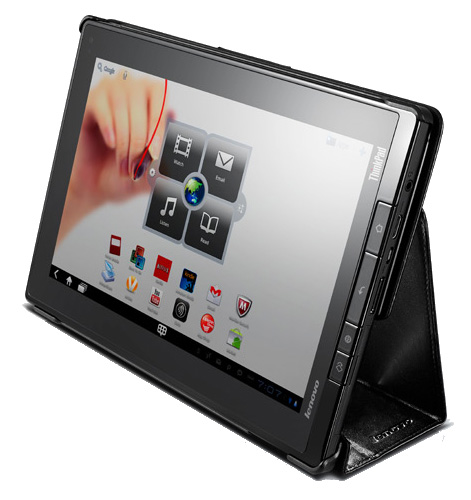 Folio stand... as standard
Lenovo's light reworking of the Honeycomb UI includes a handy carousel app launcher and a bespoke widget with five zones for quick access to key apps. The last has a drawback though in that it takes up a huge amount of real estate over and above its visible footprint.
I'd usually show you some screen grabs at this point but I couldn't get the ThinkPad to talk to the Android SDK on either my Linux or Windows machines – a first time failure for me – so would-be developers beware.
The battery is only rated at 3250mAh, so performance on this front is merely adequate. Loop a 720p video and you will run out of juice in under four hours. Perform less demanding day-to-day tasks but with the 3G and Wi-Fi radios on and you can make it to the seven hour mark but little further.
Verdict
Heavy, black and hewn from the finest plastics known to man, the ThinkPad Tablet is exactly what you would expect a 'droid tablet carrying the TP moniker to be. The smart and business-like design is complemented by a solid range of physical connectors and the N-trig digitizing pen is sure to find fans, even if it's not as talented as the Wacom stylus you get with the Samsung Galaxy Note. The only major grumbles are the abysmally quiet speaker and merely adequate battery life. ®
More Android Tablet Reviews

Asus
Transformer
Prime
Motorola
Xoom 2
Media Edition
Ten high-end
Android
tablets
Orange
Tahiti
Sony
Tablet P