Original URL: http://www.theregister.co.uk/2012/03/01/review_motorola_defy_mini_android_smartphone/
Motorola Defy Mini rugged Android smartphone
Lifeproof caller gets smaller
Posted in Personal Tech, 1st March 2012 12:00 GMT
Review

The original Motorola Defy from 2010 was aimed at a niche that no-one else knew was there – rugged cool. The thinking was that rugged phones that were hard to damage were a great idea, but that chunky rubber casings and hard-to-press buttons tended to put people off.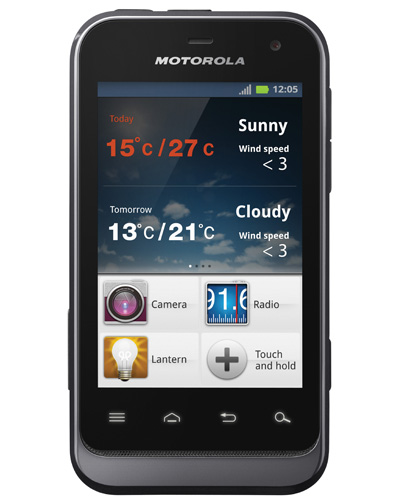 Downsizing: Motorola Defy Mini
The original Defy looked more or less like a normal phone, but came with Gorilla Glass, a tough but svelte shell and protective grommets for its orifices, as did last year's Defy+ update. This latest version has all that too, but in a more compact package, and with a few interesting updates.
Its name may give the impression that it's small but actually, there's really not that much of a risk of you losing the Defy Mini down the back of the sofa. At 109 x 59 x 13mm it's still way bigger than Sony Ericsson's Xperia Mini Pro (90 x 52 x 17mm) for instance, and closer in size to HTC's Explorer (103 x 57 x 13mm) which it actually shares the same CPU with; – Qualcomm's revamped low-end Snapdragon S1 MSM7225A. So it might seem slow on paper, but this actually a fairly recent chipset.
The case is still tougher than most though, made of rubberised plastic, with the 3.5mm headphone jack neatly sealed by a rubber grommet that slots into the port, and the micro USB slot hidden behind a sturdy cover made of the same stuff as the casing. The back plate is secured with a lock switch which makes it easy to open, though it's not clear if this in any way helps to seal the casing any tighter than normal.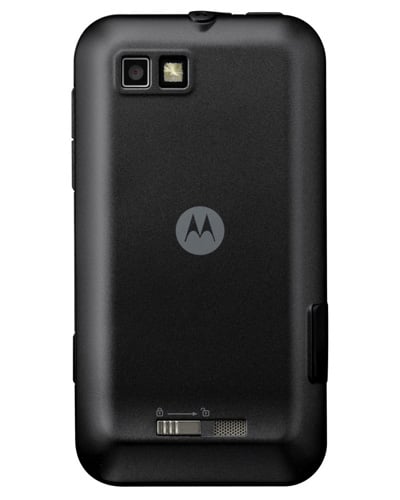 Water resistant, not water proof
Despite some claims on the web that it's meant to be waterproof, Motorola itself makes no such claim, just that it's water resistant, and sure enough, the bung hiding the microUSB port doesn't look like it would withstand being submerged in water for very long, though it will certainly protect against splashes and drips.
But yes, that Gorilla Glass by Corning is pretty tough, at least it stood up to an attack by an irate bunch of keys and some change without a scratch, as well as a couple of drops onto a stone floor from shoulder height. That doesn't mean you should expect it to survive being thrown from a speeding car or that it will save your life by stopping a bullet – it might be a bit tougher than the average decently put together phone, but not much tougher.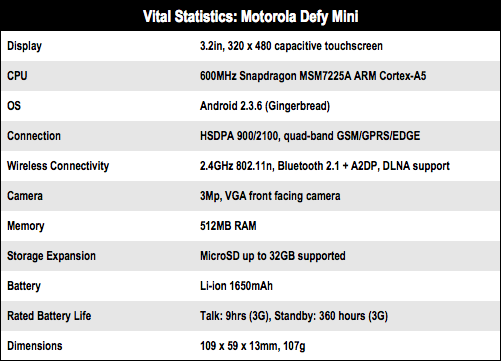 Outdoor activities
The 3.2in capacitive touch screen, shrunk from the Defy+'s 3.7in, offers a resolution of 480 x 320 pixels, which even allowing for the reduced size, means it's considerably less sharp than the Defy+ with its 854 x 480 resolution.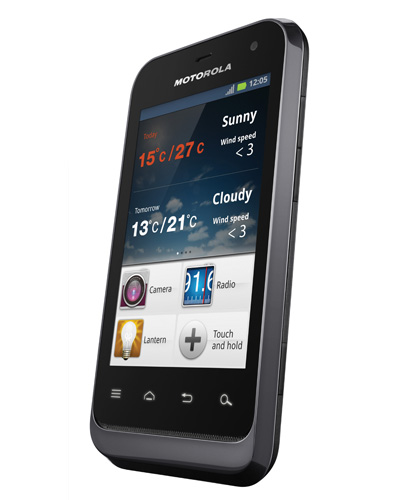 Worth splashing out for?
It's running Android 2.3.6 Gingerbread, but given Motorola's form on delivering updates in beyond the US, I wouldn't hold your breath for version 4.0 Ice Crean Sandwich even if they do end up being owned by Google. It's also running the Motoblur skin UI over the top, which isn't as pretty as HTC's Sense, for example, but offers its own take on the usual Android widget experience.
The 600MHz processor is backed by 512MB RAM and, although it's this design is said to be more efficient, in use it is a bit of a slugabed, consistently taking its time when switching between apps and rendering web pages. The HTC Explorer's performance wasn't too bad, so it would seem that Motoblur might be the inhibiting factor here.
A smaller phone doesn't have to mean a less capable camera, but with the Defy+'s 5Mp snapper being abandoned in favour of a 3Mp model, that's exactly what you get. It offers autofocus and an LED flash but picture quality feels like a distinct step down from its predecessor. There's also a VGA camera on the front for video calls.
This being a phone intended for the great outdoors, there are a few outdoorsy apps included, such as the DashBoard, which offers a programmable range of apps and readings you can access easily while you're out and about, such as your training counter, camera, compass and radio, or you could switch the display to include a map, up-to-date weather info or your music player. Incidentally, there's 120MB onboard memory for your tunes which can be expanded via microSD up to 32GB.
The 1650mAh battery is just a sliver smaller than the Defy+'s 1700mAh capacity and does an okay job, delivering a comfortable day and more of fairly heavy use.
Verdict
The Motorola Defy Mini seems a little like a solution in search of a problem. It's a bit tough, but then, not very tough. The water resistance may come in handy, but aside from that it's hard to see how it can defend itself against the elements more effectively than any other phone you've bought a decent cover for. Still, it's a cheapish budget Android with couple of interesting outdoorsy tricks up its sleeve.
More Android Phone Reviews

Motorola
Motoluxe
Prada Phone
by LG 3.0
Ten… Androids
to outshine
the iPhone 4S
Samsung
Galaxy
Nexus
Orange
San Francisco 2