Original URL: https://www.theregister.co.uk/2012/03/01/igamer_beat_sneak_bandit_for_iphone_ipad/
Beat Sneak Bandit
Clock rock
Posted in Personal Tech, 1st March 2012 10:01 GMT
iGamer Tap your finger to the beat. On the face of it, Beat Sneak Bandit's mechanic doesn't promise compulsive gaming. But developer Simogo squeezes more innovation from this single-finger iOS puzzler than many console and computer games manage by tying your hands in knots.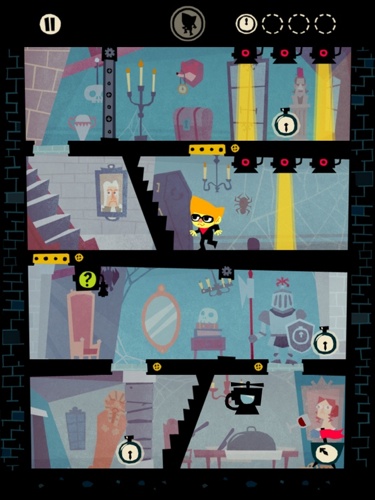 Drawn in a distinctive, angular 1960s animation style, Beat Sneak Bandit marries rhythm action with ingenious puzzling. You control the eponymous Bandit: a thief sent to catch a thief. Baron Von Clockface has stolen all the world's timepieces and you must infiltrate his mansion to retrieve them.
Each mansion room comprises a single-screen, four-storey puzzle in which staircases, security measures and traps must be navigated to collect as many small clocks as possible before reaching a main clock and thereby completing the level.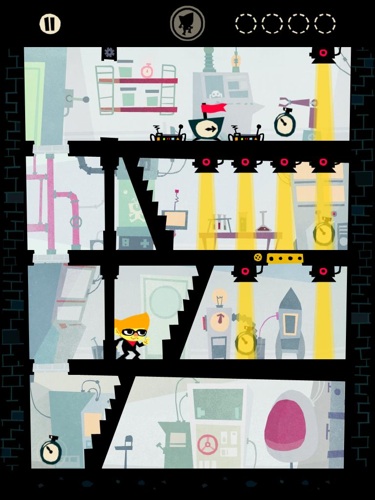 The catch is that every gameplay element functions according to a 4/4 beat. Security lights phase on and off, barriers and trapdoors open and close, security guards make their patrols – all to their own interpretation of the strict beat.
Bandit too is slave to the beat. Each tap moves him a single step in the direction faced, with walls and doors serving to turn him about. Tap the screen out of rhythm, however, and not only won't Bandit budge, but any small clocks on that storey will disappear.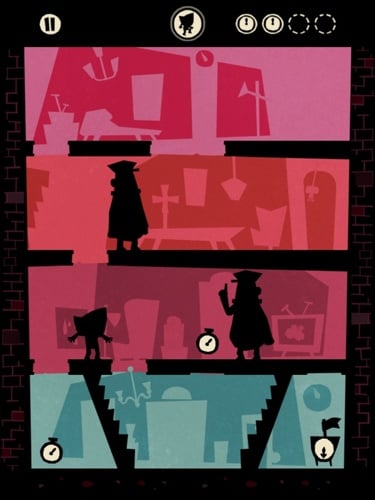 With main end-of-level clocks relatively easy to reach, it's these smaller timepieces which elevate the gameplay from mildly diverting to hellishly addictive. And they're not just a reward for the collectionists like Angry Birds' stars. They also unlock additional shadow levels, silhouetted rooms that have their own distinctive jazz piano soundtrack.
Different drum
Like every great puzzler, Beat Sneak Bandit draws you into its infuriation-elation reward cycle by starting off simple and gradually upping the challenge. As you inch towards the game's thrilling final boss battle, new mechanisms are layered upon each other: airborne vacuums that pursue and suck you up, teleporters that flash you to different floors and levers that freeze time.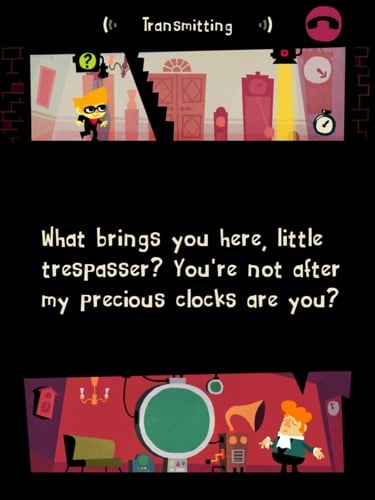 For all its wonderful rhythm, the game's true challenge arrives through dissonance. Moving to individual beats, it can be tough enough to pick out the mechanisms' squeaks, buzzes and swooshes from the hypnotic backbeats, but it's their visual disharmony that most distracts.
Success demands nothing less than Herculean levels of visual and aural focus, as you strain to recognise mechanical patterns through the cacophony of movement and sound. Lengthy play can prove exhausting - especially given the music.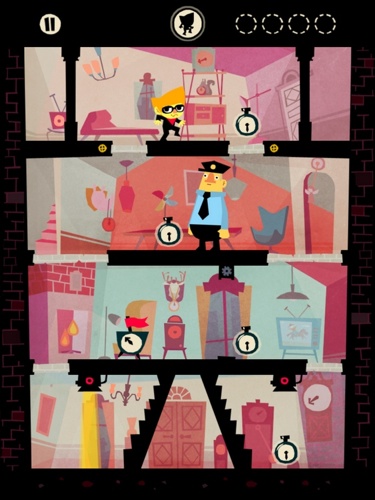 It's all highly infectious drum machine stuff, with catchy hooks sticking in the mind for hours afterwards, but it's too unvaried to prevent tedium during continuous play, meaning Beat Sneak Bandit is best consumed in ten-minute bites.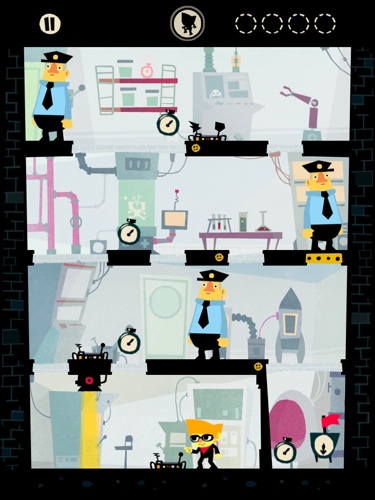 Verdict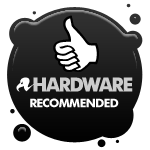 That tedium only detracts slightly from the aesthetic charm and near-flawless mechanics. Like the clocks you're compelled to collect, it's a game exquisitely engineered with meticulous precision. Simple to pick up and difficult to put down, Beat Sneak Bandits easily claims a place alongside the top iOS games. ®
iGamer covers the latest in mobile gaming on Android and iOS. If you think there's a great game we really should cover, please let us know.
More iGamer

Ten top
Android games
Infinity
Blade II
OnLive
The Dark
Meadow
Epoch