Original URL: https://www.theregister.co.uk/2012/02/29/what_is_coming_to_smartphones_in_2012/
Tomorrow's smartphone tech today
Look what's coming to mobiles in 2012
Posted in Personal Tech, 29th February 2012 12:00 GMT
Feature

Technology, like time, moves on, and it doesn't half go at a hell of a rate. Tooth and nail competition means that mobile tech moves even faster than most, and it's extremely tricky to predict what's just around the corner. Fortunately, the annual phone industry shindig, Mobile World Congress (MWC), is here to point us in the right direction, so we'll have a go. Here are some things to look out for in 2012.
Better phones for less cash
There's a lot of competition out there in smartphone land, and manufacturers will be doing their level best to cram as much tech into their handsets and sell as many of them as possible.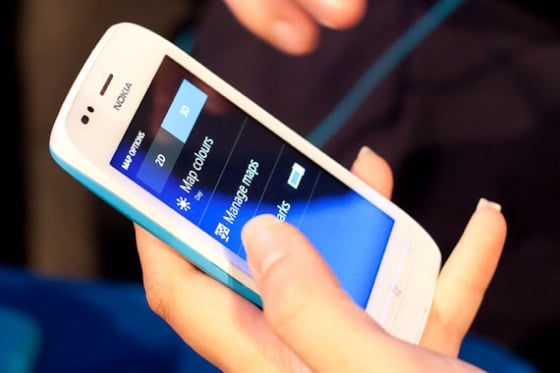 Low-cost Lumias: Nokia will launch cheap WinPho handsets this year
Last year smartphone penetration in the UK passed 50 per cent -the highest in Europe, according to a recent Google IPSOS survey, followed by France, and ahead of both the US and even Japan - and shows no sign of slacking off. Smartphones now account for 70 per cent of all phones sold in the UK and with more people using smartphones, it becomes more economical to make them even smarter for less outlay.
Conor Pierce, Nokia's Western Europe chief, says his company plans to focus on the "mid to low end" for its Windows handsets, which started off with a relatively high minimum spec but now look likely to evolve to cover all price bases.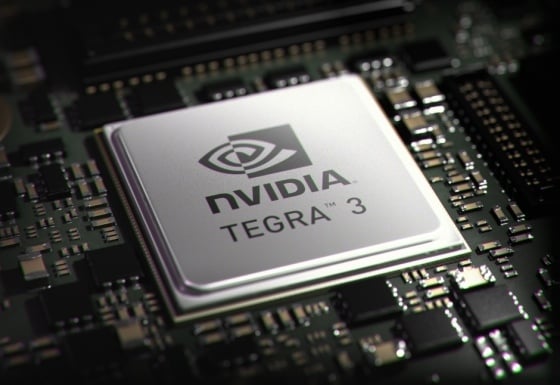 Five cores in your phone: Nvidia's Tegra 3
Higher tech handsets
At the high-end cutting edge, there'll be some technology debuts this year. Dual-core processors barely seemed to have arrived before there was talk of quad-core, and this year we can expect to try them for the first time.
It's said that Nvidia's Tegra 3 processor will be five times faster than last year's dual-core Tegra 2 - and more power efficient too. Fujitsu plans to launch a handset with one at MWC, and Samsung's Galaxy S III, expected to arrive in April, is believed to sport a quad-core ARM A9-based Exynos 4212 chipset, clocked at a furious 1.8GHz.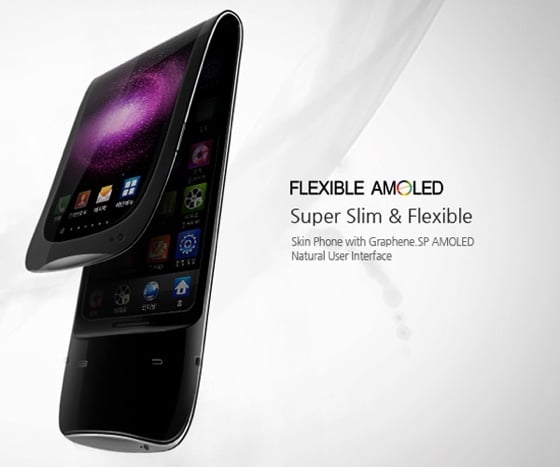 Samsung may well launch phones with curved screens - but not as way out as this concept
Samsung has said that it plans to launch handsets with flexible OLED (FOLED) screens this year - possibly beginning with the Galaxy S III. FOLED, unsurprisingly, means the phone doesn't have to have a flat screen but one that curves, leading to some interesting designs, though it's unlikely we'll see anything weird, like a roll-up screen, this year.
Android apps everywhere (almost)
Web browsers with support for HTML 5 have already started to appear and that should mean a richer surfing experience, with web pages able to access smartphone functions like GPS and the accelerometer as developers get on the bandwagon.
We're also expecting to see Android 5.0, possibly nicknamed Jelly Bean, and which is rumoured, but by no means confirmed, to have elements of home integration for computers, lighting and audio-visual gear.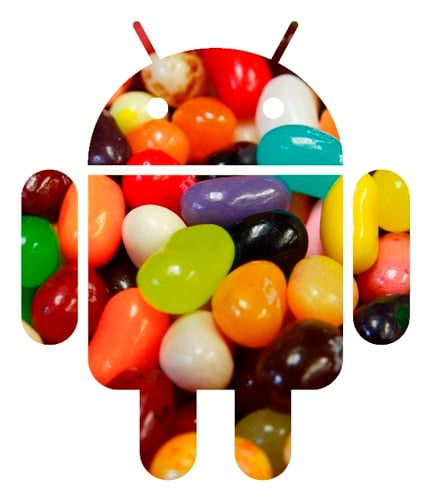 Android 5 Jelly Bean is set to debut in 2012 - but, as we've seen with Ice Cream Sandwich, it may take a while to arrive in phones
Reports of RIM's demise have been exaggerated, and the first handsets with the Canadian company's new feature-rich QNX operating system - aka BlackBerry 10 - picking up the baton from BlackBerry OS 7 are planned for later this year. RIM's PlayBook tablet OS, just released as version 2.0, implements Google's Dalvik Android app engine, and BlackBerry 10 will too. A Bold or Touch that can run Android apps? It'll happen, it seems.
That it won't run Android apps, at least not through an Apple-sanctioned app, is the one thing we can say about the iPhone 5, other than it'll arrive later this year.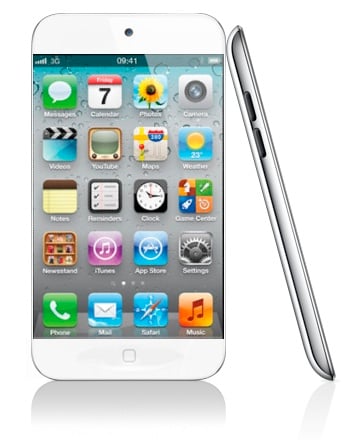 Will the iPhone 5 look something like this?
But the rumour mill is already a-churning, though as ever with Apple, nothing will be definite until the launch, likely to take place in September. Speculation centres on the iPhone 5 being a bit bigger, flatter, quad-core'd to the hilt, and equipped with NFC touch-to-pay tech and 4G networking, but really, who knows?
Virtual Money, Virtual Shops
NFC (Near Field Communication), which allows you to pay for stuff directly from your mobile, looks like it's set to break out this year. What started with Orange's Mobile Wallet in 2011 will be further developed now that Vodafone, Orange owner Everything Everywhere and O2 have all joined forces to make NFC payments seamless across UK networks.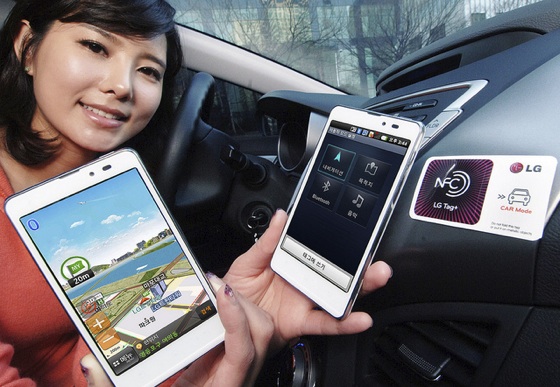 NFC will be found in more phones and used in more situations
Soon there'll be Google Wallet, too. It has already launched in the US and is expected to make it this side of the pond in time for the Olympics.
The great games
Speaking of which, Olympics sponsors Visa and Transport for London are also trialling NFC-based systems in preparation for the big event and there'll be a wealth of mobile coverage, with Vodafone UK CEO Guy Laurence promising that "no event goes un-tweeted, no views on a race go un-shared and no video of a medal-winning performance goes unsent".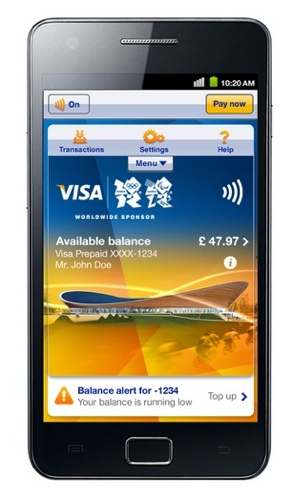 Pay by phone at the Olympics courtesy of Samsung, Visa and co
And of course, there'll be A LOT of Olympics-branded apps to cash in on the event, as well as at least one Olympic phone by sponsor Samsung, which is expected to be NFC-equipped for mobile payments. Or perhaps there may be an even easier way to pay by phone.
There'll be text to pay
Barclays recently launched the Pingit cash transfer service which doesn't use NFC, but lets you send someone cash direct from your bank account to their phone number – it's like texting money.
Similar systems are already hugely popular in Africa for making small payments to shops and family, and the new Barclays system, which is expected to be rolled out to other banks over the coming months, means we're likely to see a lot more of it here.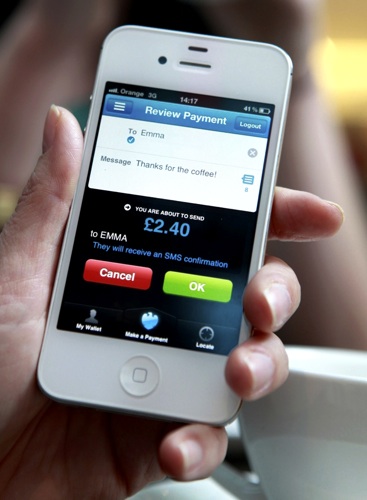 That'll do nicely: Barclays' Pingit sends cash by text
Then again, the whole idea of shops is beginning to change, with some retailers beginning to think of their shops more as showrooms than point-of-sale places. Korean shoppers can scan products' QR codes with their smartphones, and Tesco Home Plus will deliver the items to their door.
If they're too busy to go to the store itself, they can scan billboards on the subway.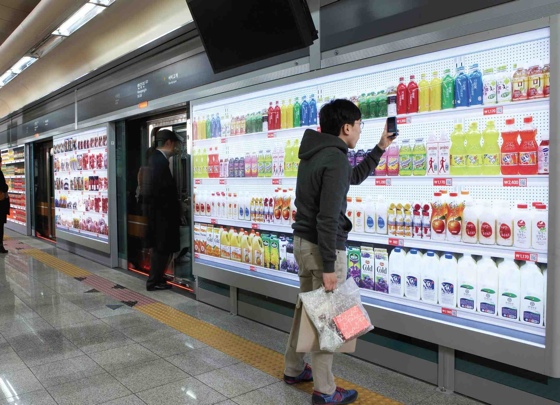 Tesco Home Plus' virtual shop shelves ready to be scanned by phones in the Seoul underground
Source: Do Re Mi
Net-A-Porter and John Lewis have already run similar trials in the UK – it's only a matter of time before virtual shopping using your smartphone becomes normal.
4G for you and me
4G is likely to loom larger later this year as plans to auction off the spectrum come to a head. There are lots of obstacles to be overcome, not least competition concerns, and the eye-wateringly high prices paid for the 3G spectrum a decade or so ago.
But if it happens as planned towards the end of the year, and as 4G-capable handsets become available, it should open up possibilities for better quality streaming video and more advanced online gaming possibilities. ®