Original URL: http://www.theregister.co.uk/2012/02/29/faster_mobile_data_the_path_to_4g/
Faster mobile data: the road to 4G
Better LTE than never
Posted in Personal Tech, 29th February 2012 07:00 GMT
Feature

The great thing about standards, as some wit once said, is that there are so many to choose from. Mobile phones are afflicted worse than most technology – a multiplicity of standards, nested within one another like a messy set of Russian dolls filled with alphabet soup.
The 'generations' of mobile networks are fairly loose, but appear roughly once a decade: the first, analogue, 1G cellular networks around 1981, then digital 2G in about 1992. The latest is 4G, but its not as clear cut a step ahead of its predecessors as they were to theirs.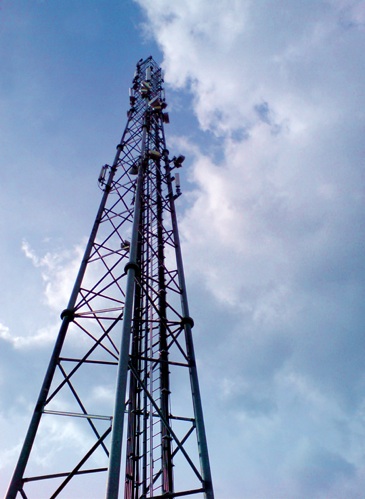 Source: Karl Baron
At the turn of the century, 3G was formally defined to mean data speeds of at least 200Kb/s by the International Telecommunication Union's IMT (International Mobile Telecommunications) 2000 specification. However, IMT -2000 didn't specify the "air interface" – the radio link from phone, tablet or modem to mast – so two competing standards developed out of the two prevailing 2G systems.
GSM, as used by about 85 per cent of the world, yielded UMTS (Universal Mobile Telecommunications System). UMTS uses the W-CDMA (Wideband Code Division Multiple Access) air interface. It's the form of 3G we in the UK are used to.
The battle for the air interface
In America, Qualcomm upgraded its CMDMA technology to create CDMA 2000. It's used in the US and parts of Asia, predominantly South Korea. CDMA 2000 devices don't work on UMTS networks and vice versa, although both are 3G because that moniker dictates how fast they can move data, not the technology they use to do it.
Likewise, 4G is primarily a speed requirement. The successor to the ITU's IMT 2000 specification is IMT Advanced and was defined in 2008. It stipulates that 4G should deliver data speeds to users of around 100Mb/s if they are moving, rising to 1Gb/s if they're standing still.

LTE now comes in two flavours: FDD (Frequency Division Duplex) and TDD (Time Division Duplex)
Source: Qualcomm
Existing mobile networks have two, parallel infrastructures: one, circuit-switched, for voice calls, and a separate, packet-switched layer for data traffic. 4G is a pure packet-switched TCP/IP network, running everything over IPv6. Voice becomes just another data type.
By the time the ITU defined IMT Advanced, two competing systems were already under development, each formed from the two 3G systems. A group called 3GPP (3G Partnership Project) developed LTE (Long Term Evolution), a successor to UMTS. Meanwhile, the totally separate 3GPP2 was working on UMB (Ultra Mobile Broadband), an upgrade to Qualcomm's CDMA2000.
Exit one LTE rival, enter another
Fortunately, Qualcomm stopped working on UMB in 2008 and switched its efforts to LTE. As a result UMB is now effectively dead. So everyone is working to the same plan then? Not quite. Muddying the waters, the ITU said WiMax can be called a 4G technology too.
WiMax is a high-speed wireless data networking system, not a form of mobile phone network. Then again, that's all any other 4G network is, since voice is treated as data. More formally known as IEEE 802.16, WiMax is a medium-range wireless network akin to Wi-Fi, aka IEEE 802.11.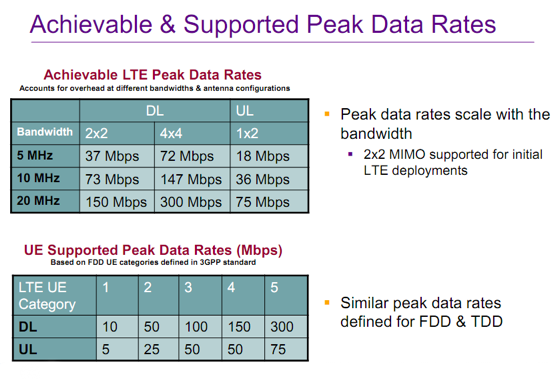 Source: Qualcomm
But whereas Wi-Fi is a short-range network for use inside buildings, 802.16 was originally intended as a wireless alternative to home broadband. WiMax networks can span up to 50km (31 miles) in direct line-of-sight operation with directional antennæ, or 6-10km (4-6 miles) with no line of sight mode and non-directional antennæ. Theoretical speeds range from 40 to 70Mb/s, although typical user speeds tend to be around 3-11Mb/s.
Originally, WiMax 1 (802.16-2004) limited client devices to a single basestation. WiMax 1.5 (802.16e-2005) aka "Mobile WiMax" enhanced this to allow devices to roam from one basestation to another.
It's fair to say that WiMax hasn't been a hit. It is out there, in a few areas, chiefly where it would be difficult or expensive to reach people with cables or fibre. There are also some urban networks in the US and in less-urbanised areas such as Pakistan, and it's being used to provide wireless "backhaul" for 3G phone networks in Africa.
Long Term Evolution evolved
LTE, meanwhile, is being rolled out. But it's not 4G, whatever the telcos' marketing departments say: it maxes out at a trifling 100Mb/s down and 50Mb/s upstream. If anything, it's 3.9G.
LTE - aka 3GPP Release 8 - delivers a lot of 4G's planned key benefits: it's a simplified, all-IP network; access speeds have gone up and latency has gone down; adaptors in phones and tablets can, in theory, switch between more different Radio Access Networks; it can cope with different sized slices of radio spectrum, scaling from 1.25MHz up to 20MHz; if it's given a pair of channels, LTE can use Frequency-Division Duplexing (FDD), but it can also cope with a single channel using Time-Division Duplexing (TDD); and, like 802.11n, it supports multiple antennæ – MIMO – for greater robustness and resistance to interference.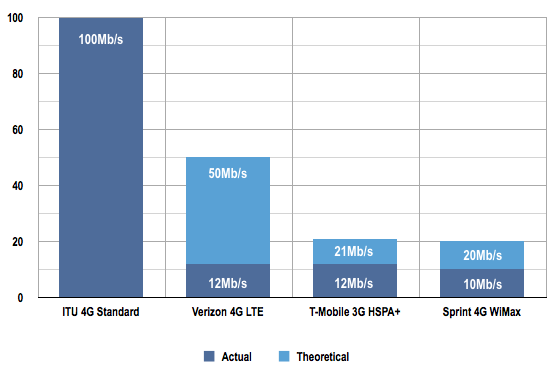 Nudging toward true 4G
LTE can get away with claiming to be 4G because of some ITU sleight of hand. In December 2010, the ITU ruled that LTE and WiMax can still be considered 4G since they are precursors of technology - respectively, LTE Advanced and WiMax 2 - that will deliver the speeds defined in IMT-Advanced.
Finally, true 4G
LTE Advanced is 3GPP Release 10, a compatible enhancement of LTE designed to bring the technology up to the ITU 4G speed stipulations.
LTE Advanced can aggregate up to five LTE radio channels into one – so if given 20MHz-wide channels, it could treat them as a single 100MHz-wide channel. LTE Advanced also opens up more possibilities for changing cell infrastructure, such as subdividing cells, and supports more antennæ in MIMO configurations – eight downstream and four up, as opposed to four down and one up. Devices can be used while moving at higher speeds – right up to 500km/h.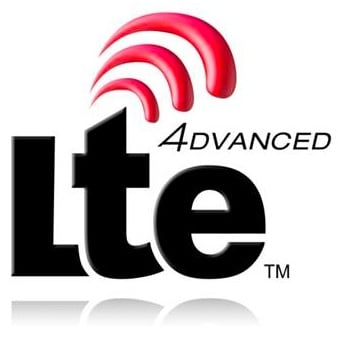 LTE Advanced: at last, true 4G
LTE Advanced is expected to be finalised this year. The WiMax 2 (802.16m) standard has already been ratified. Like LTE Advanced, it boosts speeds to the 4G-defining 100Mb/s for users on the move, and 1Gb/s for stationary users.
Eventually, all the world's current 4G networks - the many based on LTE, none of which yet offer 4G speeds, and the few on WiMax - will be upgraded to these true 4G technologies. Suitably-equipped phones will be able to talk to both LTE Advanced and CDMA 2000 networks, and conceivably WiMax as well, with which LTE Advanced shares its OFDMA multiplexing algorithm.
Blighty behind the curve
Here in the UK, we're well behind. There are commercial LTE roll-outs in many parts of the world, but here there are just a few, closed trials. Ofcom currently anticipates LTE being implemented in the UK in 2013-14, with "wide availability" by 2015.
Ofcom plans to begin auctioning 4G service licences later this year, but there's a real possibility one or more incumbent telcos will challenge the regulator in the courts.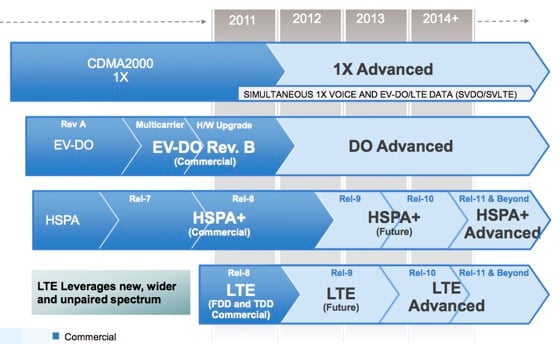 HSPA+ runs in parallel with the LTE-to-LTA Advanced shift
Source: Qualcomm
The advantage of waiting, though, is that we're likely to cut straight to LTE Advanced and the proper 4G speeds. And while we miss out on the growing range of LTE-equipped smartphones and tablets shipping in the US - the next iPad, for instance, is expected to support LTE, as do incoming top-of-the-line Android phones - we'll also bypass the massive battery drain that LTE creates. By 2015, hopefully, power packs and devices' power conservation algorithms will have properly adjusted to the network technology.
In the meantime, we have the ongoing evolution of HSPA, now capable of 21Mb/s and with the potential to attain 84Mb/s using HSPA+ - aka "Evolved HSPA", aka "3GPP release 7" - technology, though only Three is pitching this. ®
Tony Smith contributed to this feature