Original URL: http://www.theregister.co.uk/2012/02/28/mobile_ceos_against_the_world/
Mobile net kingpins v the world: 'Why should we pay the 4G tab?'
The data crunch is coming – and Apple makes the crunchiest phones
Posted in Networks, 28th February 2012 16:19 GMT
MWC 2012 Life's tough for a mobile operator. The regulators treat you like a cash cow and the over-the-top services are leeching all the money. And unless we get back to the good old days of the 1990s, they "won't be able to make the investments necessary for 4G".
This was the tone of the Mobile Operator Strategies Keynote at Mobile World Congress. Demand for data both from people and connected devices was as much a challenge as an opportunity, the speakers said.
The elephant in the room was Apple, and although the fruity firm was never mentioned by name, there were enough disguised side-swipes to make swatting them fun.
The speakers were Anne Bouverot from the GSMA; Li Yue from China Mobile; Ralph de la Vega from AT&T; Vittorio Colao from Vodafone; and Franco Bernabè from Telcom Italia. Between them, the five of them run the mobile phone networks for billions of people. Numbers they kept revisiting included predictions of billions more connected devices.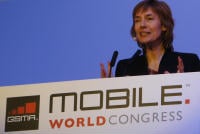 Anne Bouverot kicked off
the Mobile World Congress Keynotes
Anne Bouverot, the new director general of the GSMA and formerly of Orange set the scene. She said that if regulators didn't play ball on spectrum, the operators would not be able to deliver the services for education, healthcare and finance. She couldn't resist a plug for her particular passion: NFC.
What was especially refreshing was that none of the speakers mentioned delivering shareholder value.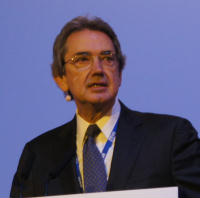 Franco Bernabè from Telcom Italia doesn't
like phones that misbehave on networks
Franco Bernabè is not just the CEO of Telecom Italia Group, he is also the chairman of GSMA, which appointed Bouverot as its DG last year. He echoed her comments about growth and regulation, saying that while there was a slowdown in the growth of active SIMs, the move to machine-to-machine (M2M) would change this and that the growth of mobile internet would help the poor to access education, healthcare and banking. He plugged SIM-based (single wire protocol) NFC and said he expected it to be responsible for $50bn of transactions in the next few years. (I've included this here so that in a couple of years I can come back and laugh at it.)
"Cloud services need to embrace security and are part of the operators' DNA," Bernabè said. He said operators need to lead the way, regardless of device and OS. He also talked about how the emergence of over-the-top players such as Skype has changed the market as both a "disruptive threat" and an opportunity. He said OTT players had understood, and at times generated, consumers' need for mobile data, which has built up its use to such an extent that the operators last year handled 600 petabytes of mobile data – more than whole internet traffic two years ago.
Making this run smoothly and economically is difficult and he railed against network outages caused by "smartphone" signalling overloads. By this he almost certainly meant Apple, although he didn't say as much. Apple is well-known for dodgy signalling, although it has worked with Nokia Siemens Networks to reduce the problems on the manufacturer's infrastructure, and with Google, whose VoIP app crashed the NTT DoCoMo network.
The problems are going to become more acute: smartphones are only 12 per cent of the installed base yet they account for 80 per cent of the data traffic. The most expensive users to run are those on Apple phones and tablets, although, again, Bernabè did not mention this. You start to wonder how devices with poor signalling and massive data appetites got a foothold among the operators, who usually have such strict approval demands.
As those customers become more demanding and as more people drop their feature phones for smartphones, Bernabè said he expects data consumption to rise by 18-fold over the next five years. There will be 353 million LTE devices in use in 2015 and getting all this working needs investment, he said.
And it's all tough on the operators. Average revenue per user is down from €26 in 2006 to €20 in 2011, yet building the networks to support the increased demand will cost the mobile industry $300m. He said that the business model needs to be revisited, so you might wonder who he thought was making all the money from the music and apps being downloaded to all those smartphones.
A little platform to support, er... a 3.7 million-person 'niche' group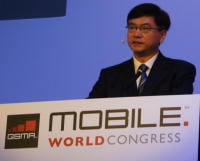 President Yue thinks 3.7 million
students a bit of a niche
Li Yue runs the biggest mobile phone network in the world, and it is only now moving from voice-centric to discovering data. He said that in the past, the function of China Mobile was to provide a service which allowed manufacturers to sell hardware, but that this was going to change.
He said this would require an open platform. He said China Mobile was building in vertical markets, including a system for college leavers developed in conjunction with 2,000 universities which will support 3.7 million users.
The numbers in China are big. Yue added that China Mobile is launching its own portal with content from most of the big companies like Disney. It's a road which most of the Western operators have trodden, failed in and ceded to Apple. Even in China Apple does much bigger numbers, but President Yue sees that as showing the scale of the opportunity.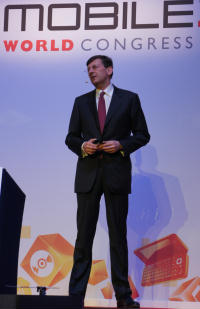 Voda boss Vittorio Colao could do so much
good in the world if regulators
would only cut him some slack
Vittorio Colao, Vodafone's chief executive, was just as excited as everyone else about figures. When consumers were asked what they would give up in exchange for a smartphone, 70 per cent said alcohol, 63 per cent said chocolate, 55 per cent said caffeine, 54 per cent exercise, 33 per cent sex and 22 per cent their toothbrush. Colao said he was surprised people valued a smartphone above "a really good session of eating chocolate", but was reassured that the survey only asked for a week's abstinence – so the world's population was safe and he didn't have to worry about penetration.
More market research showed how people mix work and leisure usage of their devices with 57 per cent using email, 53 per cent browsing the web, 38 per cent using social networking, 30 per cent downloading content, 25 per cent uploading content and 20 per cent streaming content. Colao said that data now accounted for 15 per cent of revenue, which falls far short of Vodafone's February 2000 prediction that data would grow revenues by 20 per cent.
Vodafone is good at understanding what consumers want, and is building a model on those demands. This is a huge amount of high quality data being transported which will need more infrastructure, particularly to deal with more video traffic.
Voda has lots of contact with consumers and works hard to keep itself well-regarded, Colao said. The world's eighth largest retailer also maintains contact with its users through YouTube and Facebook and allows its customers to buy stuff over the web but close the transaction on their phones. Building trust through all these channels plays to a customer need for security and privacy for all kinds of users, Colao said. This includes both corporate data and the protection of minors – and it all needs to be done easily with good tariffs and operator billing. Integrating all these aspects will need co-operation between fixed and mobile operators and an enlightened attitude from regulators, he said.
Get it right and there could be good social benefits: Vodafone technology could help farmers across the world increase incomes, he said. He cited a figure of $140bn by 2020. He said a scheme in Turkey that cuts out the middleman between the farmer and the buyer – and gives farmers real-time prices of crops in different markets through SMS – already has 600,000 farmers signed up. The use of SMS for stock control of malaria drugs has eliminated a substantial problem of centres running out and an education programme for children in India has been rolled out to 1,000 schools, he said. Colao also spoke about a charity programme run by Vodafone to eradicate obstetric fistula in Tanzania which has collected over €4m, adding that donations were being accepted on the Vodafone stand at the exhibition.
But being a good corporate citizen is expensive. LTE will cost Vodafone €30bn euro just in Europe and Colao wants regulators to cut him some slack. In particular he opposed the "autopilot of regulation with mobile termination rates (MTR)".
He provided an example. When you pay BT to make a call to a Vodafone customer, Vodafone bills BT: that rate is set by Ofcom. It has been driven down over the years on the premise that if BT pays Vodafone less, they will charge you less. Colao said that this was not true, and that "out of a 10 cent drop in MTR, only 2 cents ends up in the pockets of customers". If governments keep reducing revenue through pressure on MTR and roaming rates, and customers continue to consume more data, but pay less and less, the mobile industry wouldn't get the necessary infrastructure to support them, he said. This needed "effective industry collaboration for new services and networks", he said.
It's all about the spectrum...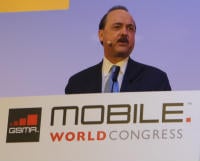 Ralph de la Vega was the man who
bought an iPhone from Steve Jobs
Ralph de la Vega, president & CEO Mobility & Consumer Markets for AT&T, was the last speaker, and probably the most upbeat of the lot.
"Spectrum is the lifeblood of the industry," he said. He described a virtuous circle that "leads to something wonderful": networks are built, services are developed and jobs are created, then apps and content are produced and this creates more demand so you need more spectrum.
He said that over the last couple of years there had been a customer shift in how technology is perceived – from data overload ("It's going to take over my life") to positivity ("It makes my life richer") – and that this is reflected in usage patterns.
He said AT&T had coined marketing terms for everyday tech use, including "digital intimacy" (sharing data), "digital kinship" (making calls and sending texts), "digital guardianship" (grandparents video-calling grandchildren, for eg) and "digital heroism" – remotely connecting burglar alarms and doing price comparison on your phone while out shopping.
Like the other speakers, he sees massive demand for data and also quoted the Cisco figures which predict an eighteen-fold growth in the next four years, adding that two-thirds of this will be video traffic. De la Vega challenged the industry to make it as easy to place a video call as a voice or data call. He wants to see this falling into place with standards, particularly IR.94.
Machine-to-machine will be big, he added. He said it was endlessly useful, providing metrics on water use to farmers, for example, "connecting dirt to the internet", helping them to "look at an open field and see revenue." He said the use of M2M could help realise the "value of trash", as a rubbish company could use connected dumpsters to save time by only collecting them when they were full.

These people run the networks that account for over half the world's mobile customers
All of the speakers agreed that there was a need for more spectrum at reasonable prices, because it was the over-the-top players who were making all the money while the operators had to put in the expensive infrastructure – and that a revisiting of the business model was necessary.
De la Vega just happens to be the guy who bought an iPhone from Steve Jobs, personally, not though sales and purchasing staff, and who created the model where the biggest OTT company in the world was allowed to put misbehaving phones on its network. ®