Original URL: https://www.theregister.co.uk/2012/02/27/dell_poweredge_12g_server_launch/
Dell flashes enhanced 12G racks of PowerEdge gear
Plus tower and cloud packages unveiled
Posted in The Channel, 27th February 2012 17:36 GMT
To say that the x86 server makers are a little anxious for Intel to launch the "Sandy Bridge-EP" processors and get the Xeon E5 transition under way is a bit of an understatement. They are positively champing at the bit.
Hewlett-Packard previewed its ProLiant Gen8 machine based on the Xeon E5s two weeks ago at its partner conference, and today Dell is hosting enterprise events around the globe to lift the veil a bit on its impending PowerEdge 12G iron.
Intel, of course, has not yet announced the Xeon E5s, and has said so far that it will only get the much-awaited processors out the door sometime in the first quarter. These processors will represent the bulk of CPUs sold into the server market in 2012, which is dominated by two-socket machinery in general and Intel Xeons in particular if you're talking about units shipped.
Dell can't talk about the specific processor options inside the new PowerEdge servers or the prices on the new boxes, but many of the feeds and speeds for the PowerEdge 12Gs are being divulged ahead of when they will begin shipping in volume in March.
For its PowerEdge 12G server launch, Dell has bent metal around the Xeon E5 processors in a number of different shapes and sizes, including one tower, three racks, one blade, and one cloudy box. The company is also whispering a bit about a future four-socket server aimed at database workloads.
Brian Payne, executive director of PowerEdge marketing at Dell, tells El Reg that the new PowerEdge 12G machines were designed with input from more than 7,700 customers from around the planet. Presumably this input was solicited formally by talking to existing PowerEdge server customers, and informally by talking to customers of other boxes.
Rack servers get a lot of the attention in the systems business, but you could argue that Dell's server business got its toehold thanks to cheapskate small and medium companies that started out with Dell desktops and laptops, graduated to a baby tower server, and then eventually grew into racks. (Or, as happens in many cases with no shame, a business stays small and doesn't need more than a tower server.) The point is, a significant number of Dell's x86 server shipments are in tower machines.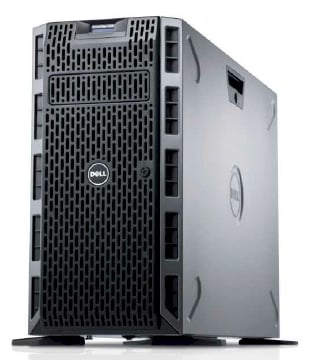 The workhorse tower: The PowerEdge T620
The new PowerEdge T620 is the kind of two-socket box that will probably be overkill for most small businesses, but a business that wants to buy with future expansion in mind would probably do well to think about buying a T620 instead of smaller single-socket T110 II or T310 series machines. The T110 II can be equipped with dual-core Celeron G530 or quad-core Xeon E3-1220 processors (found in the Sandy Bridge family, launched this time last year) while the T310 uses dual-core Celeron G1101 or quad-core Xeon X3440 processors from earlier generations.
The T620 can support up to 24 memory slots and a maximum of 768GB of capacity using 32GB DDR3 DIMMs, and has a whopping 32 drive bays for disk and flash storage in 2.5-inch form factors or a dozen drives in 3.5-inch sizes. Using disks, it tops out at 36TB of storage capacity.
The T620 supports a wide range of SAS and SATA drives spinning at 7.2K, 10K, and 15K RPMs, and has two Gigabit Ethernet ports on the mobo. The system has four x16 and three x8 PCI-Express slots, presumably running at the PCI-Express 3.0 speeds that supercomputers based on early shipments of Xeon E5 server nodes have sported.
Dell's PERC internal RAID and plain-vanilla controllers are also available on the T620, and the next-generation iDRAC 7 service processor that is part of all PowerEdge 12G servers is also in this machine. (The controller comes in Express, Enterprise, and Lifecycle Controller variants. More on that in a minute.) The PowerEdge T620 has three platinum-rated power supplies with 495, 750, and 1100 watt draws.
Rack 'em up
The PowerEdge R620 has similar feeds and speeds as the T620, and puts two Xeon E5 processors and up to 768GB of memory into a 1U rack chassis. The machine has enough room for up to ten 2.5-inch SSD flash drives or SATA or SAS disks (all of them hot pluggable) or for four hot-plug drives (SSD, SATA, or SAS) plus two fatter SSDs that link directly to their own PCI-Express slots rather than linking to the CPU through a Dell PowerEdge RAID Controller (PERC).
Options include the PERC S110 with software raid, the PERC H310, H710, and H710P for internal RAID arrays, the PERC H810 for external RAID arrays, and a non-RAID SAS disk controller sporting 6Gb/sec ports for external JBOD arrays.
If you want disks for storage capacity, you can have up to 10TB in the R620 racker. If you want a 10-drive bay option, you can have three x16 PCI-Express slots (one of them only has x8 bandwidth), and if you go for the SSDs running on their own PCI-Express slots, then you can only have two PCI-Express slots (again, one of them an x16 connector but only an x8 slot's worth of bandwidth.)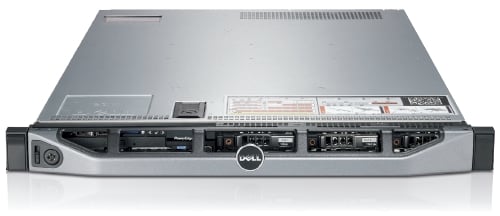 The workhorse racker: The PowerEdge R620
For networking, the PowerEdge R620 has a number of different options that snap into the mobo and therefore don't eat a peripheral slot. Dell is offering a quad-port Gigabit LAN-on-motherboard (LOM) daughter card from Broadcom that snaps into the R620 as well as a dual-port 10 Gigabit Ethernet unit that has SFP+ connectors and TCP/IP and iSCSI offload capabilities.
Dell also has network ports derived from Intel circuits, including a quad-port Gigabit Ethernet daughter card and another one that sports one Gigabit and two 10GE ports with Fibre Channel over Ethernet enabled on the 10GE ports. This machine does not support a snap-in for InfiniBand or for faster 40Gigabit Ethernet, but there's no reason that Dell's engineers cannot add this at some future point – particularly if supercomputing and database cluster customers ask for more bandwidth.
The PowerEdge R620 has 495 watt and 750 watt power supplies with a platinum efficiency rating and 1100 watt units with a platinum+ rating.
The PowerEdge R720 is a fatter version of this two-socket Xeon E5 box, with the same 768GB of max memory but because the chassis is twice as high at 2U, this rack machine can cram in more peripheral slots and storage.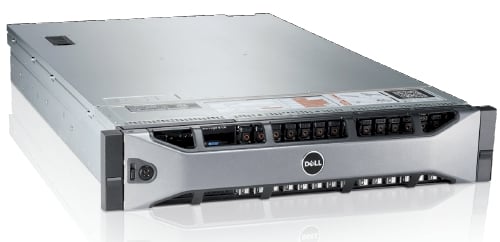 The 2U PowerEdge R720 rack server
Specifically, the R720 machine has room for eight 3.5-inch drives or sixteen 2.5-inch units, and packs the same PERC controller options as the R620. It has seven PCI-Express slots (again, presumably at the 3.0 bandwidth): four x16, two x8, and one x8 with an x4 slot's bandwidth. The PowerEdge R720 has the same network daughter card that the R620 does, offering a mix of Gigabit and 10 Gigabit ports. It has platinum power supplies at 495, 750, and 1100 watts.
A rack with fatter storage
There's a variant of this machine called the PowerEdge R720xd that packs substantially more storage wallop. It has the same two Xeon E5 engines and 768GB of memory capacity as the other machines, but this 2U rack server can hold twenty-four 2.5-inch drives or twelve 3.5-inch drives, plus another two 2.5-inch drives that slide into the back of the chassis. This system has only six PCI-Express slots (two x16 and four x8 slots) and sports the Broadcom and Intel daughter cards for networking options and the same power supply options as the R620.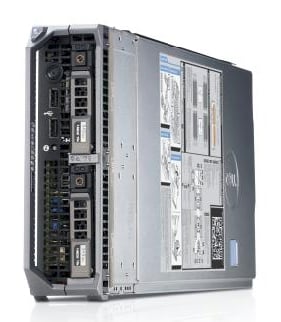 A new blade server sharpened on a Sandy Bridge
The PowerEdge M620 is a half-height blade server that slides into the existing M1000e blade chassis, which is a 10U enclosure that holds either sixteen half-height blades or eight full-height blades. Interestingly, the M620 blade sports the same two Xeon E5 processors and the same 768GB maximum memory as the tower and rack machines. This M620 machine sports a slew of I/O mezzanine card options based on silicon from Intel, Brocade Communications, Broadcom, Emulex, QLogic, and Mellanox Technologies, including Gigabit and 10 Gigabit Ethernet, Quad Data Rate (40Gb/s) and Fourteen Data Rate (56Gb/s) InfiniBand, and 8Gb/s Fibre Channel links.
The M620 has two hot-plug, 2.5-inch drive bays, and can have SSD, SATA disk, or SAS disk drives slid into those two slots. The PERC S110 controller with software raid and the PERC H310, H710, and H710P controllers for internal RAID arrays can snap onto this M620 blade. The M620 has two SD cards for redundant embedded hypervisors to sit on.
These five PowerEdge machines outlined above are the general purpose machines aimed at most enterprise customers. They support Microsoft's Windows Server 2008 R2 SP1 and its Hyper-V v2 hypervisor as well as Windows Small Business Server 2011. On the Linux front, SUSE Linux Enterprise Server and Red Hat Enterprise Linux are certified on the boxes (presumably SLES 11 SP1 and RHEL 5.6 and 6.1, but Dell doesn't say). If you don't want Hyper-V as your hypervisor, then you can use XenServer from Citrix Systems or ESXi from VMware (the exact versions and releases were not available at press time).
Generally speaking, Payne tells El Reg that the PowerEdge R620 is being pitched at server virtualization workloads: it can pack more than three times the number of virtual machines in a rack compared to the prior PowerEdge 11G machines through a combination of the increase in cores, in main memory and in networking bandwidth in the 12G boxes.
The M620 is similarly dense enough to be pitched at heavy virtualization or HPC workloads, and the R720xd is being pegged as the idea box for "collaboration", by which Dell means servers running workloads that need more storage than the typical two-socket box.
While there is no official certification for use in libraries, Payne says that the new T620 tower has "unprecedented acoustics" and is quiet enough to be used in a library. (Yes, people still go to libraries and we still fund them, thank heavens.) What I can tell you from personal experience is that a two-socket tower server of the Xeon 5400 generation, with a mere six drives, was enough for me to outsource my servers instead of having it make me deaf in my small office.
But wait, there are two more boxes
A few years back, Dell started commercializing some of the custom server designs that it had created for hyperscale data center operators such as Facebook through its Data Center Solutions (DCS) bespoke server unit. A few of these were made available on a special-bid basis as the PowerEdge-C line. With the Xeon E5 launch, there is one new official model of the PowerEdge-Cs and probably a bunch of internal ones that only DCS customers get to see.

Dell's Xeon E5 cloud box, the PowerEdge C6220
The C6220 is a 2U chassis that has up to four server trays in it, each one with its own two-socket Xeon E5 machine. Each node in the chassis has 16 DDR3 memory slots, holding a maximum of 512GB using 32GB memory sticks when they are supported. Right now, the machine tops out at 256GB using 16GB sticks. The chassis can have a dozen 3.5-inch drives or two dozen 2.5-inch drives mounted on the front, with the drives allocated as you see fit to the four nodes in the box.
The server nodes have mezzanine cards for Ethernet or InfiniBand networking and SAS host bus adapters. You can also use the x16 slots on the nodes to reach out to the C410x "mother of all graphics cards" PCI-Express expansion chassis that DCS started selling back in August 2010. Each C6220 node has two Gigabit Ethernet ports and can sport an LSI 2008 SAS controller or an LSI 9265-8i RAID controller.
The nodes are certified to support SLES 11 SP1, RHEL 6.0, Windows Server 2008 R2 SP1, including the HPC variant and the Hyper-V hypervisor. XenServer 5.6 and ESXi 5.0 are also supported on the nodes.
The chassis comes in two-node and four-node versions, and in the two-node version you have more I/O slots: one x8 mezz slot and two x16 PCI slots. The four-node version just has one x8 mezz slot and one x16 PCI slot. The nodes do not have the full-on iDRAC service processor, but rather just an IMPI 2.0-compliant baseboard management controller and support for Intel's Node Manager cluster management tool.
In addition to these six machines, Dell is also talking a bit about one other machine: the PowerEdge R820 rack server, which is being positioned as "the right server for database".
Sally Stevens, vice president of PowerEdge server marketing at Dell, would not confirm any of the feeds and speeds of this machine, except to say that it was based on a future Xeon processor capable of supporting four sockets in a single system image and that early adopters were playing around with an early version of the R820 right now.
It stands to reason that the PowerEdge R820 will be based on either the rumored four-socket Xeon E5 variant in the Sandy Bridge family or the "Ivy Bridge-EX" high-end kicker to the current Xeon E7. Intel has not said much about four-socket Xeon E5 variants, but they were on the motherboard roadmap that the company was showing off at the SC11 supercomputing conference last November.
Intel has said even less about whatever comes after the current ten-core Xeon E7 chips for machines with two, four, and eight sockets and much larger memory footprints than the two-socket Xeon 5600s could provide.
Dude, you're getting a control freak
Server management has been evolving at Dell over the years and continues to do so with the PowerEdge 12G server launch. The Dell Remote Access Controller 5 service processor that came out in 2006 was just what the name suggests: a remote access controller that allowed system admins to come in and monitor and manage key aspects of a PowerEdge machine out of band. With the integrated DRAC 6, or iDRAC 6 for short, service processor announced with the PowerEdge 11G servers three years later, the systems management software was completely rewritten by Dell to be agent-less and could deploy the servers and update them without having to put any additional software on the machines.
This may not sound like a big deal, but according to Kevin Noreen, director of Dell systems management marketing, managing the agents that in turn manage the servers can cost approximately $2.6m in a data center full of 10,000 servers over the course of three years. "We look at this as firing the agents," says Noreen.
With the iDRAC 7 coming out with the PowerEdge 12G machines, monitoring servers is now also agent-less in addition to deployment and updating them, explains Noreen. The PowerEdge systems can be babysat and fixed regardless of the state of the hypervisor and/or operating system running on the iron.
Just like with iDRAC 6, iDRAC 7 comes in an Express version, which has a lot more functionality than a baseboard management controller, and an Enterprise version, which has some more bells and whistles aimed at more complex server setups. iDRAC 7 is also able to run Dell's new Lifecycle Controller 2.0 server management tool, which puts all the drivers that you need for a particular machine on flash memory on the iDRAC unit so you can patch from there and not go hunting around for DVDs or files online. This Lifecycle Controller can hook into Microsoft Systems Center or VMware's vCenter consoles so admins can kick off Dell management jobs from these consoles if they want to stay inside these tools.
The media-less updating of Dell servers is not new – that was available with iDRAC 6 – but the autodiscovery of PowerEdge machines as they come online on the network is new. And because of the hooks into vCenter, admins will be able to patch the ESXi hypervisor from within the iDRAC and not have to do so by building a DVD from VMware's patches. You get the patch from VMware, push it out to iDRAC, and tell it to either patch it at a specific time or after the next PowerEdge system reboot.
The new iDRAC 7 controller can juggle over 5,000 different parameters on a PowerEdge system, monitoring the state of all of these components as they operate, and the iDRAC 7 controller now has enough storage capacity that Dell can create a "forever" log that can contain approximately 1 million server events. You can also store the complete system settings, right down to MAC addresses, on the iDRAC controller and if you blow a motherboard, you can move those settings over to another physical server and neither its applications nor the network will know it is not the same physical server when it comes back online. (The two servers will have to have identical iron, of course.)
Noreen says that along with the 12G systems, Dell is trotting out a new release of OpenManage Essentials tools for proactive hardware management. Dell's KACE 1000 management appliances do not do real-time hardware monitoring, but the new OpenManage Essentials will link into these KACE appliances and provide that functionality for Dell's servers, switches, and storage and send status alerts from the iron on up to the KACE appliance. Eventually, says Noreen, OpenManage Essentials will be extended to perform this function for non-Dell data center iron.
The PowerEdge 12G servers, when coupled with the new iDRAC 7 controller, will be able to deploy a server with 86 per cent fewer manual steps and 28 minutes faster, based on comparison tests Dell has done with prior generations of machines against the 12Gs.
Incidentally, Dell has sold 3.5 million servers equipped with iDRAC 6 controllers to date, and it is a big part of the value proposition that Dell uses to peddle its PowerEdgies.
Flash happy
Every server maker is flash-happy these days, and solid-state memory is a big component of any modern server, including the PowerEdge 12G boxes. The new servers are expected to come with Express Flash – the memory modules that plug directly into PCI-Express slots on the server without going through a controller. Depending on the server model, the 12G machines will offer two or four of these Express Flash ports, and a PCI slot will apparently be able to handle up to four of these units, according to Payne. On early tests, PowerEdge 12G machines with Express Flash were able to crank through 10.5 times more SQL database transactions per second than earlier 11G machines without flash.
Dell is also expected to launch data tiering software called Cachecade that automagically moves hot data in a system from cold spinning disks to traditional SAS-based SSDs in the PowerEdge machines.
Finally, Dell is also expected to talk about the sophisticated auto-tiering between the PowerEdge 12G servers and its Compellent disk arrays, which the company says can speed up database application response time by 86 per cent. ®