Original URL: https://www.theregister.co.uk/2012/02/27/alcatel_lucent_cell/
Telefonica zaps 100Mbps 4G masts with shrink ray
Think inside the box - a tiny 0.5W cube
Posted in Networks, 27th February 2012 09:18 GMT
MWC 2012 Spanish ISP and telco giant Telefonica is beavering away on 4G: it's holding trials in London, Madrid and Barcelona, and rolled out a service in Germany.
And while testing of the next-gen mobile broadband tech is underway in ten countries with all major vendors, on its home turf the company chose Alcatel Lucent and Samsung to bring its efforts to the fore at Mobile World Congress.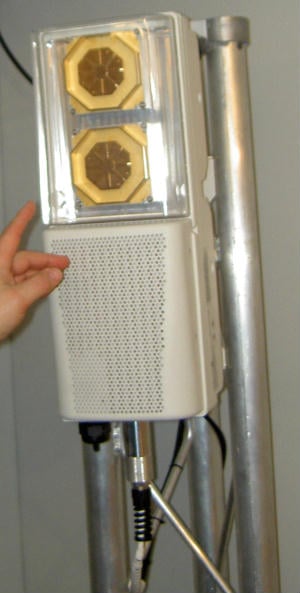 An Alcatel Lucent LightRadio Cell
Telefonica forecasts a problem. It sees demand for data growing thirtyfold in the next five years. Its network will need to handle petabytes of data.
Part of the solution is using more spectrum, but of course that's limited by regulation. Another part is wielding better technology and the move from the HSPA telecoms standard to HSPA+, effectively tripling the available bandwidth.
However, the ace up the sleeve is more cells: lots and lots of small cells typically using about half a watt as opposed to the typical 40 watts of an LTE cell - the radio mast that connects phones to the ground network and the area it covers.
Having lots of cells means making them small and the Alcatel Lucent cube, which is only a couple of feet tall and will shrink to half that, is ideal.
Combining these solutions will give Telefonica a 100-fold increase in data capacity and be more power efficient because the radio signal doesn't have to travel as far. As expected, they used the word "green" to describe this benefit.
Smaller cells should also help the battery life of device and solves coverage and capacity issues at the same time.
In a demo they showed an LTE Samsung Galaxy Tab 8.9 hitting a download speed of 49Mb/s and 12Mb/s up, and a dongle managing 90Mb/s down and 35 to 40Mb/s up. The top limit in the 2.6GHz band is said to be 100Mbps down and 60Mbps up.
They see real-time video blogging in HD as being a great application for all this bandwidth. While knocking on someone's door and asking them to put a box on the wall is much cheaper than building cell towers, a lot more paperwork and infrastructure will be needed to look after all this kit, but as the devices shrink it will get easier. ®