Original URL: https://www.theregister.co.uk/2012/02/25/visual_studio_beta_response/
Leap-day Visual Studio beta provokes 'passionate' response
Version 11 beta and new .NET to arrive Wednesday
Posted in Software, 25th February 2012 02:02 GMT
The early details of Microsoft's latest Visual Studio beta build, notably its changes to the layout and working environment, has provoked a storm of responses just days before its February 29 release.
"There's a lot of excitement about this release and a lot of passion about colors, designs, styles and icons. Know that we are listening to all your comments here, across social media. Keep the comments coming, both good and bad. We are reading them all," reads an update to developer user-experience director Monty Hammontree's introductory posting on the Visual Studio blog.
Microsoft has been giving some details on beta code for the next builds of Visual Studio and .NET Framework 4.5, and the changes causing all the kerfuffle stem from the decision to alter the toolbar command systems and change the visual style, and eliminate color except for notification or status change purposes on the page and tools palette.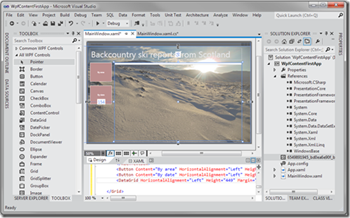 The new interface available in light grey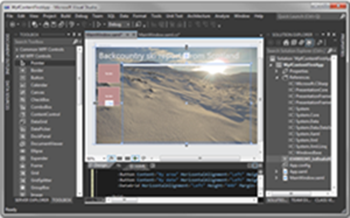 Or a slightly more emo version
Redmond said the typefaces and spacing on the site have also been redesigned, with the goal of increasing the useful screen real estate for users. It estimated the new design would give an extra 42 pixels of vertical space, enough for two or three more lines of code.
The fuss has rather overshadowed the actual workflow changes that Microsoft has made. There's an improved searching system for code lines, a combination workflow page to reduce the number of windows needed for operations, and preview tabs added to allow easy scanning of documents. In-team collaboration tools have also been upgraded.
Visual Studio 11, widely expected to be released in a 2012 edition later this year, will come in four builds. The Ultimate edition contains the whole package of tools, Premium beta leaves out most of the architecture and modeling kit, and a Professional beta dumps lab management and the software and development testing routines. The test professional version is stripped down to the new Team Foundation Servers and labs management systems, with a packet of testing tools.
Within the .NET Foundation, beta C# and Visual Basic get improved support for writing asynchronous code, and the Common Language Runtime has been tweaked for better performance across a range of tasks. There will also be a free five-person edition of Team Foundation Server Express to try out.
"In addition, our work has been highly influenced by the proliferation of devices and a passion for enabling developers to focus on building high-quality, modern applications with data that seamlessly flows from one device to another, easily incorporating intuitive interfaces such as touch and voice. We want developers to be productive in building such applications, whether they're using C++, JavaScript, Visual Basic or C#," said S. Somasegar, corporate vice president of Redmond's developer division, in a statement.
Microsoft has been making promises about Visual Studio since the last BUILD conference in September 2011, and it's going to be key to getting developers behind Windows 8 – be it the x86/64 build or Windows on ARM.
There's obviously a lot of demand in the developer community for an update, but it's clear that Microsoft still has some persuading to do. ®